The Rainbow Bridge

Just this side of heaven is a place called Rainbow Bridge. When an animal dies that has been especially close to someone here, that pet goes to Rainbow Bridge. There are meadows and hills for all of our special friends so they can run and play together. There is plenty of food, water and sunshine, and our friends are warm and comfortable.
All the animals who had been ill and old are restored to health and vigor. Those who were hurt or maimed are made whole and strong again, just as we remember them in our dreams of days and times gone by. The animals are happy and content, except for one small thing; they each miss someone very special to them, who had to be left behind.
They all run and play together, but the day comes when one suddenly stops and looks into the distance. His bright eyes are intent. His eager body quivers. Suddenly he begins to run from the group, flying over the green grass, his legs carrying him faster and faster.
You have been spotted, and when you and your special friend finally meet, you cling together in joyous reunion, never to be parted again. The happy kisses rain upon your face; your hands again caress the beloved head, and you look once more into the trusting eyes of your pet, so long gone from your life but never absent from your heart. Then you cross Rainbow Bridge together....
Author unknown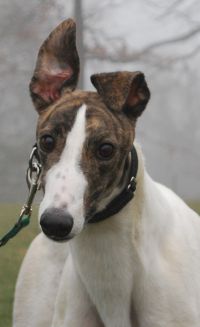 Eddy (Eddy Man)
2/8/2011 - 8/2023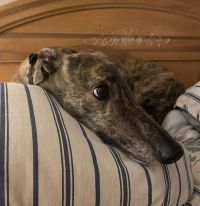 Maine (IMH Maine)
4/4/2017 - 6/27/2023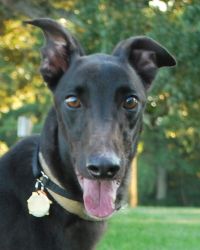 Oliver (Artec Oyster)
1/1/2016 - 7/20/2023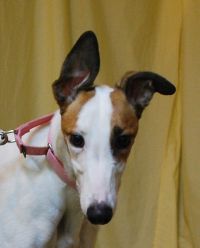 Holliday (Pocono Laurel)
8/27/12 - 5/14/2023
Olive (Par Fanny)
5/23/2011-4/7/2023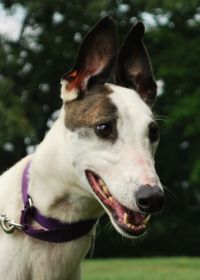 Cannon (Jet Cannon)
5/16/2012 - 3/2022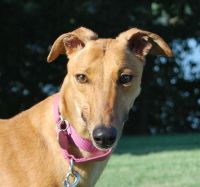 Honey (Stuck on Impulse)
9/17/2015 - 1/2022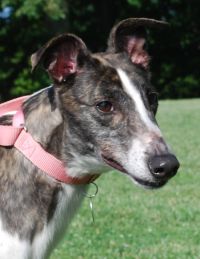 Allie ( Pat C Bag Lady)
8/22/2012 - 9/8/2021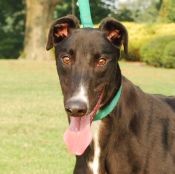 Jager (D's Mustachio)
4/7/2009 - 7/19/2021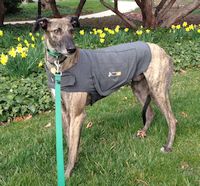 Rockne (B's Donnieosmond)
11/11/2008 - 6/20/2021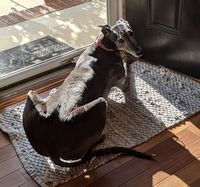 Candy (LK's Distinction)
9/10/2010 - 2/5/2021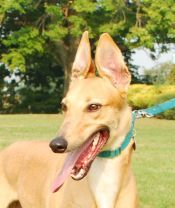 Pippa (Kiowa Porter)
3/21/2009 - 11/2/2020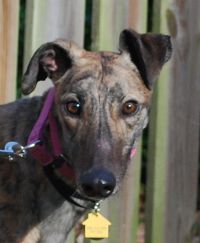 Ally (TNT Glory Days)
10/26/2012 -8/11/2020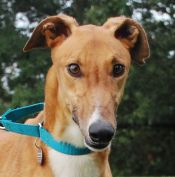 Daytona (It'sa Rumble On)
4/17/2008 - 5/2020
Genevieve (Oneco Paris)
8/8/2008 - 5/19/2020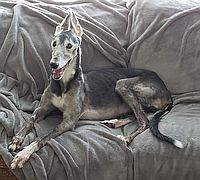 Leah (Gabe's Seabiscuit)
6/6/2008 - 9/8/2020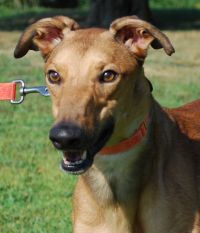 Tracker (Ale Star Packer)
11/28/2009 - 12/3/2019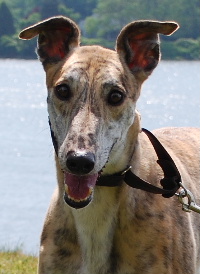 Adam ( Dark Vintage )
7/25/20016 - 11/4/2019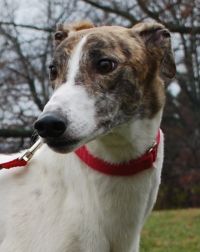 Storm (Jack's Hi Storm)
2/7/2010 - 11/3/2019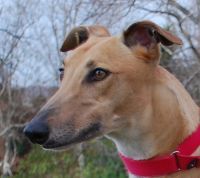 Sider (WTD Outsider)
11/1/2006 - 4/25/2019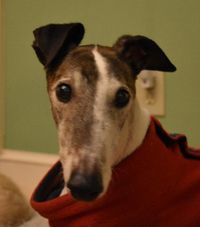 Trubador (Crimson Trubador)
1/1/2008-3/20/2019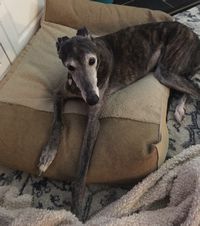 Newton (Superior Newton)
11/24/2006 -1/26/2019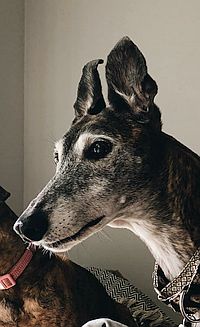 Amber (Amber Wave Cat)
7/9/2008 - 12/20/2018
Boots (Boots N Bones)
11/13/2009 - 12/1/2018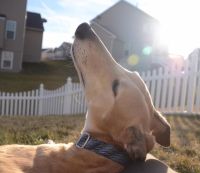 Fraction (KB's Red Fraction)
2/23/2008-11/13/2018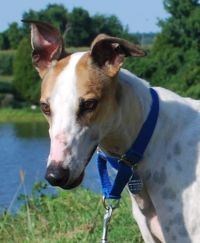 Apollo (TK Apollo)
1/16/2009 - 10/19/2018
Piper (Potrs Tumbleweed)
9/11/2005 - 10/18/2018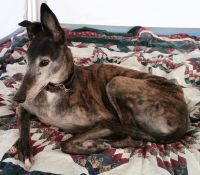 Rooster (Ice Breaker)
3/5/2007 - 8/28/2018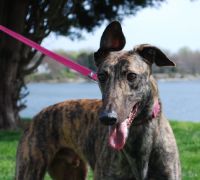 Oscar (BF Oscar)
4/12/2008 - 6/20/2018
Fig (Philip Glass)
3/8/2008 - 5/10/2018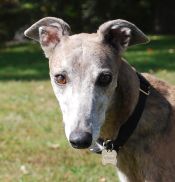 Vixen (North Pole Vixen)
7/3/2006 - 5/19/2018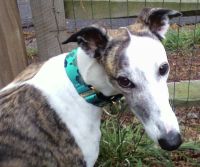 Tailteann Frost
4/15/2004 - 4/17/2018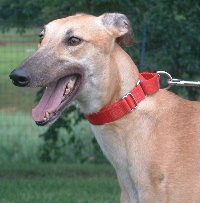 Lindsey (Linda's A Lady)
6/23/2004 - 3/27/2018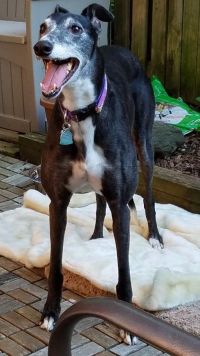 Cinco (LIttle Moments)
7/27/2007 - 3/29/2018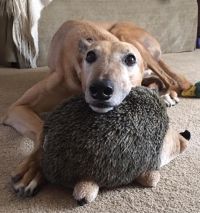 Jack (LD Weihl Jack)
11/3/2008 - 3/27/2018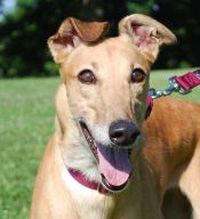 Callista (Kaias Sand Hill)
9/20/2004 - 3/9/2018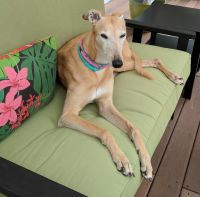 Sunshine (GS Jazz)
4/17/2017 - 11/7/2017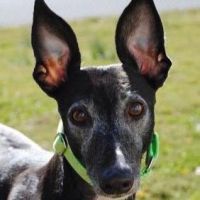 Dixie (Shine Pretty)
4/20/2006 - 8/26/2017
Kowboy (Kodiak Kowboy)
10/13/2006 - 8/9/2017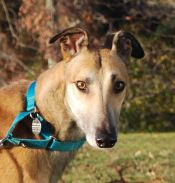 Cobra (Flying Cobra)
10/5/2017 - 3/2017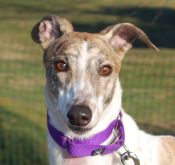 Crookshanks (Kiowa Packers)
12/3/2008 - 3/31/2017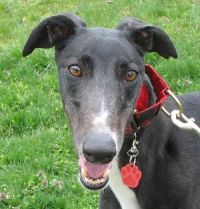 Lady (Bb's Lovely Lady)
10/31/2005 - 3/17/2017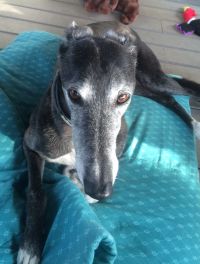 Gem (Make a Gem)
10/1/2008 - 3/10/2017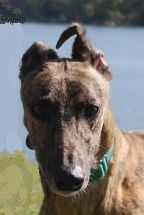 Ella (Stoke The Fire)
5/25/2005 - 8/2015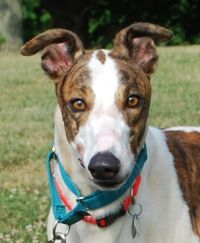 Freedom (MRL Freedom)
8/11/2007 - 1/24/2017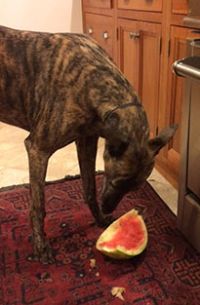 Condor (KB's Condor)
6/3/2011 - 10/29/2016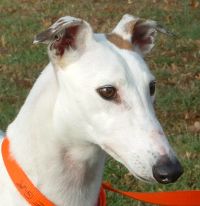 Vanilla (AMF Boom Boom)
11/3/2002 - 8/2016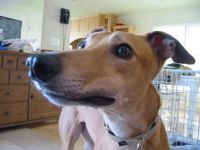 John (Johnny Jazz)
8/30/2002 - 10/26/2016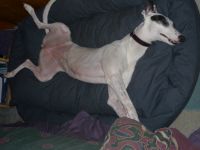 Lacey (Art of Being)
1/5/2004 - 10/19/2016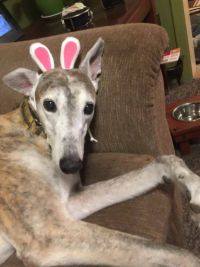 Turner (B's Turn Around)
2/26/2004 - 10-10-2016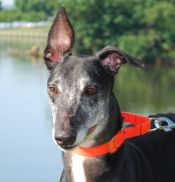 Liam (Simple Lee)
2/11/2008 - 9/19/2016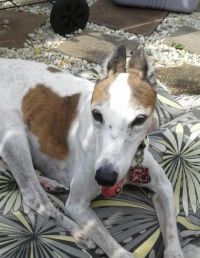 Lili (Dontmesswith Lisa)
5/9/2004-9/10/2016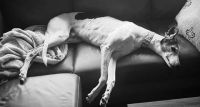 Chester (Chester's Wonder)
9/2/2004 - 9/8/2016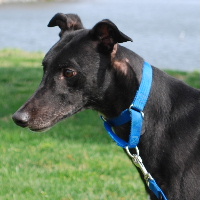 Cris (Chrisad's Lad)
4/3/2006 - 8/29/2016
Lola (RWC Run Lola)
1/3/2008 - 8/26/2016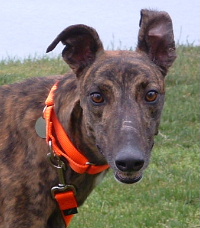 Brady (Alice's Brady)
6/23/2004 - 8/20/2016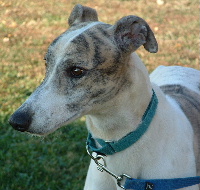 McGee (Starz Zoom)
2/10/2006 - 7/24/2016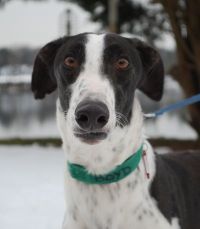 Chuy (ZE's Chuy)
2/8/2007 - 5/19/2016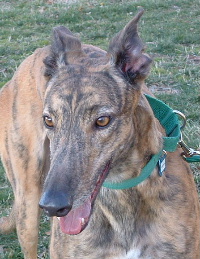 Nubbins(DK Sugar Sugar)
4/4/2005 - 2/2016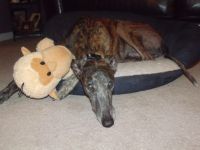 Warren (GS Warren)
8/10/2006 - 5/2/2016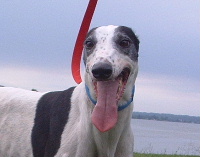 Peggy (Spectator Sport)
12/16/2001 - 2015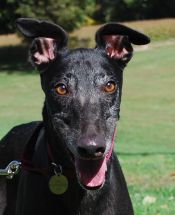 Mia (Reefa)
1/10/2008 - 4/27/2016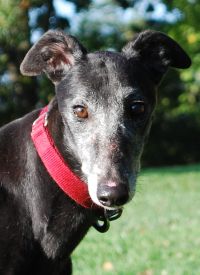 Edy (Cherrie Baby)
5/8/2012-4/2016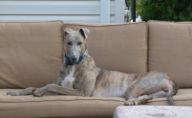 Dexter (Pak My Way)
6/27/2006 - 3/24/2016
Boo (Birdie Golf)
11/28/2004 - 1/08/2016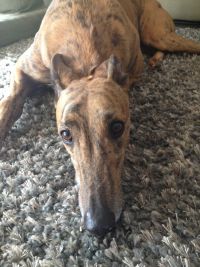 Gabe (Gabe RPM)
5/1/2008 - 1/9/2016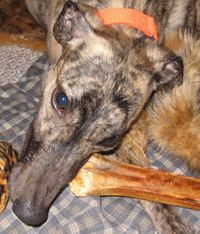 Madeline (UMR Madeline)
10/28/2003 -10/14/2015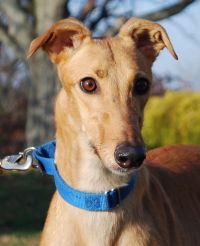 Penny (Potrs Driver)
4/29/2008-10/2015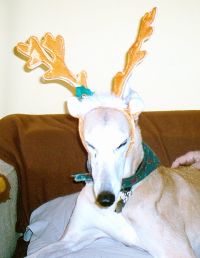 Red (Red Flambeau)
3/1/2003 - 10/21/2014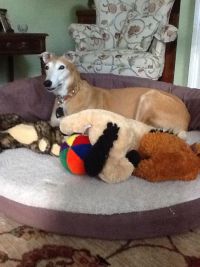 Hannah (Hold Hands)
5/12/2001 - 9/9/2015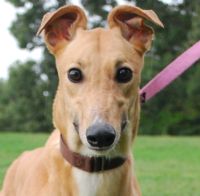 Goldie (Nothin On)
9/26/2007 - 9/2/2015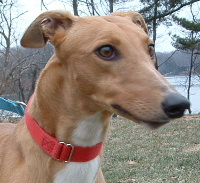 Leah (Jawa Leah)
9/9/2005 - 7/18/2015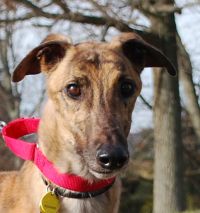 Rudy (TRS Rickster)
8/1/2009 - 8/15/2015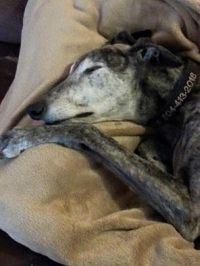 Pop (Scat)
10/4/2003 - 7/6/2015
Hot Shot (Absolutely Hot)
5/22/2015 - 7/6/2015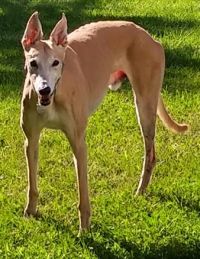 Ripley (BTR Ripley's Fire)
6/6/25003 - 7/3/2015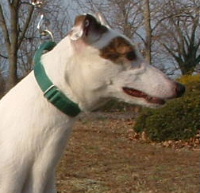 Macey (Sobe Macey)
5/27/2002 - 6/3/2015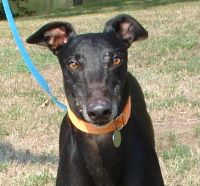 Jordan (It Wasn't Jordan)
1/12/2004 - 5/?/2015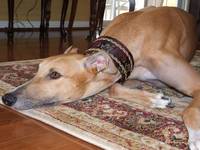 Murriot (Rifle)
10-16/2002 - ?/2015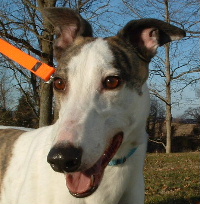 Stella (Zos Stella)
11/7/2001 - 4/27/2015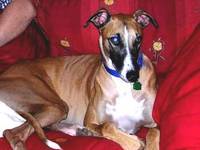 Galen (Isiah)
8/3/2002-3/7/2015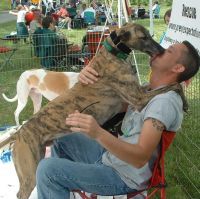 Bragi (Fast Crazy)
7/25/2003 - 2/5/2015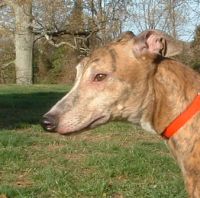 Bear (NV Bear)
9/30/2000 - 2/4/2015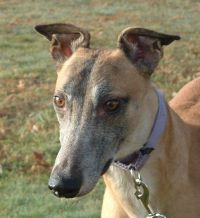 Redd (PJ's Redd Fox)
11/29/2002 - 1/16/2015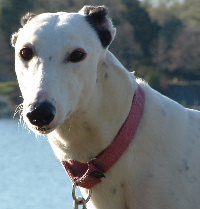 Misty (Sav's Miss Fit)
6/1/2001 - 1/6/2015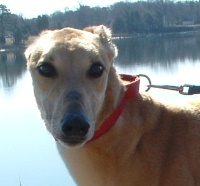 Jetson (USS Jetliner)
7/13/2004 - 12/31/14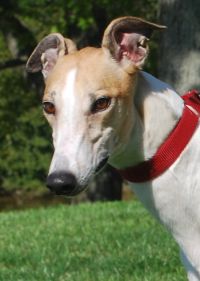 Tiera (Wisedebpeltier)
6/24/11-11/9/14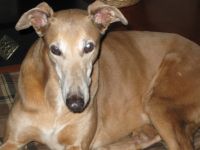 Wilber (Big Cat Williams)
4/10/02-11/8/14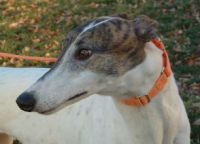 Sophie (Ppz Cindy)
4/11/2005 - 11/2/2014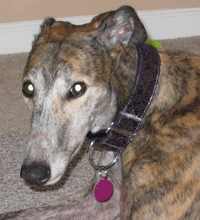 Alice (Dutch Riva)
7/23/2001 - 9/5/2014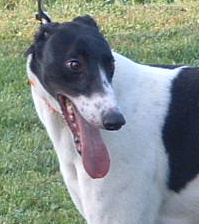 Aislin
1/5/2002 - 9/5/2014
Clutch (CJwhosyourdaddy)
8/6/2001 - 9/2014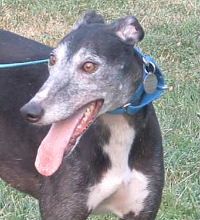 Magic (Kams Black Magic)
9/21/2002 - 10/23/2014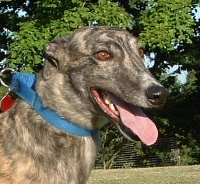 Charliegh (Charlie Green)
6/4/2003 - 10/6/2014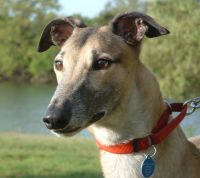 DC (Haven't Decided)
7/2/2002-8/23/2014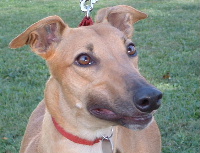 Pumkin (FTK Zodiac)
11/10/2006 - 05/2014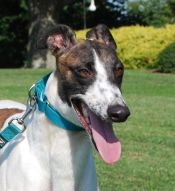 Jazz (Rover's Flame)
9/26/2008 - 6/8/2014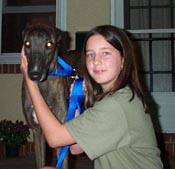 Taz (Tyville Get Away)
9/22/2000 - 4/2013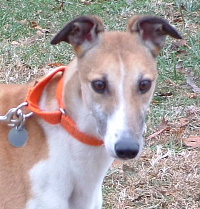 Abby (Chasmos Crackers)
12/19/2005 - 4/26/2014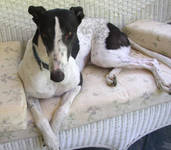 Fern (Oakland Faith)
March 2002 - July 2013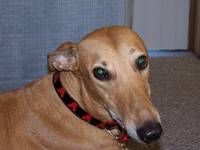 Sparks (Chicas Flake)
5/30/2003 - 4/18/2014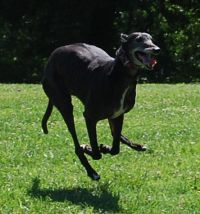 Lady (Wwtakechargelady)
3/9/2003 - 4/10/2014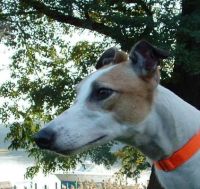 Rocky (Yeah Whatever)
1/7/2002 - 4/8/2014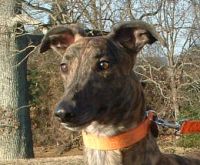 Leo (Fighting Souza)
8/7/2004 - 4/3/2014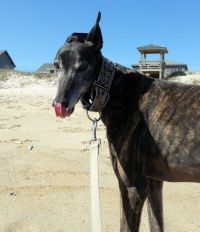 Fury (Fighting Fury)
August 7, 2004 - March 20, 2014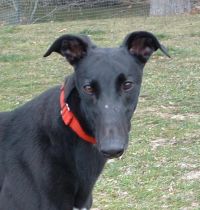 Cash (King Cashalot)
09/29/20004 - 2/9/2014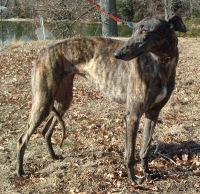 Amber(Breezy Mary)
3/7/2005 - 2/10/2014
Lad (Ballyvaughn Lad)
6/3/2001 - 1/27/2014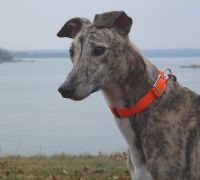 Jo ( NV Grayboy)
9/30/2000 -12/6/2013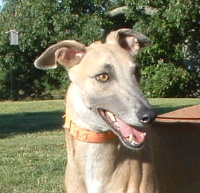 Daphne (Bn's Lucky Lady)
10/7/2004 - 11/21/2013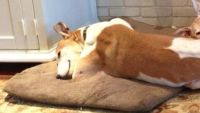 Tyler (Fanatic Elective)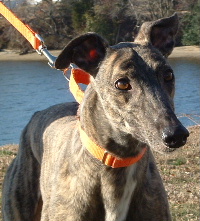 Bonnie (CJ Pretty n Pink)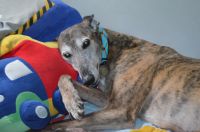 Splash (Splash Mcbones)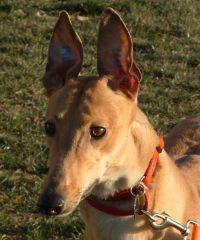 Lucy (AMF Trolly)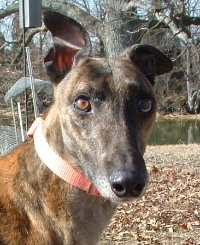 Colby (Brook's Colby)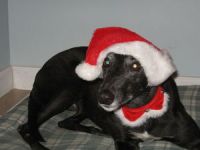 Maggie (Shk Sea Note)
Crystal (CJ Raisincrystal)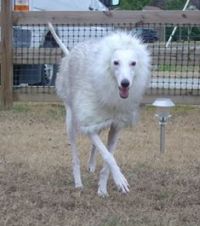 Snowie (IRS Patty)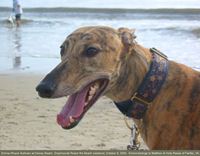 Emma (Royce Sullivan)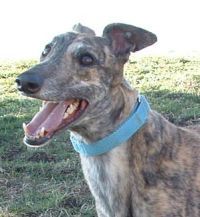 Sadie (Dodgedthebullet)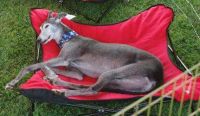 Echo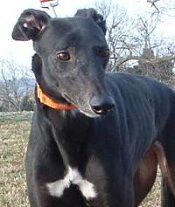 Alicia (My Sweet Alicia)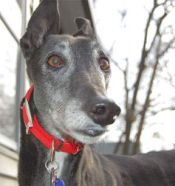 Sam (Solas Scott)

Wolfie (GW Icewolf)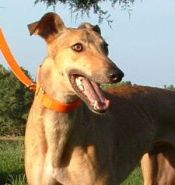 Dory (Doris Green)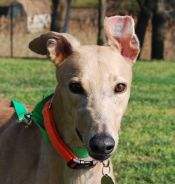 Prissy (Dave's Prissy)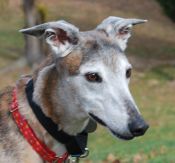 JD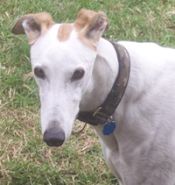 Halo (Dots Halo)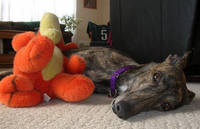 Gunther (Garden Gunther)
Harley (Boogie Power)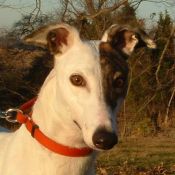 Sugar (Tailteann Bridge)
Chad (Chadcek)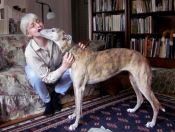 Greta (Redda)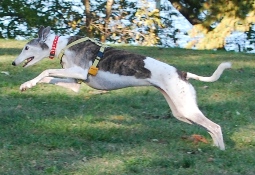 Ohanna (Carolina Bias)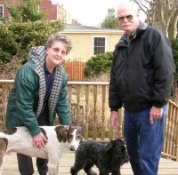 Cody (Sly Cody)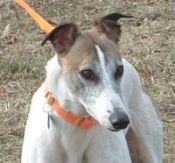 Zsa Zsa (Kathy Lee)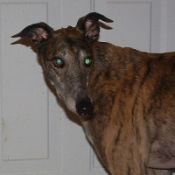 Emma (Zumaroo)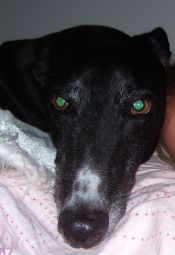 Mack (JC Scorcher )
Zoom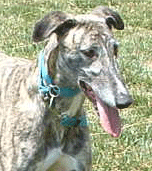 Cricket (WTD Cricket)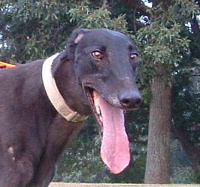 Gus (Gusty Breeze)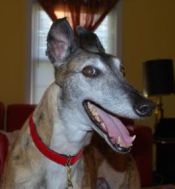 Angel (Jazz)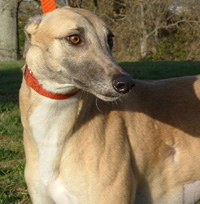 Kat (A Bar Kat)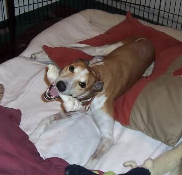 Finnegan (Chasmos Dude)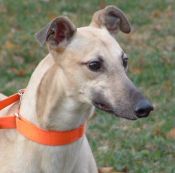 Hillary (HIllary's Hound)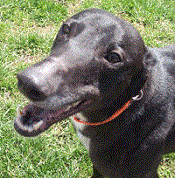 Loki (KR YourSoCrazy)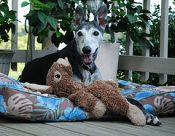 Bella Ann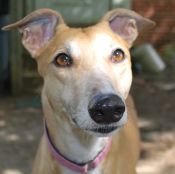 Bella (Pretty Cute Girl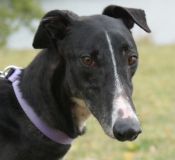 MW's Alexis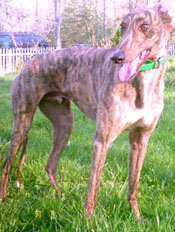 Murphy (Danny James)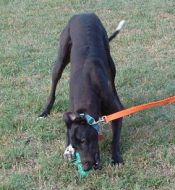 Storm (Ebony Storm)
Duke (Mining a Gem)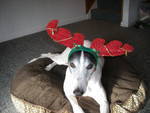 Sophia (Goodluck Charm)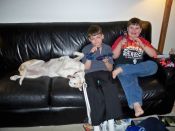 Melody (LR's Melody)
Rosie (Dutch Rosie)
Maisy (Maisy Ann)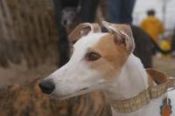 Eagle (Carolina Heron)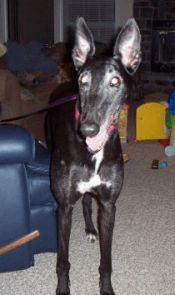 Wise (Kiowa Wise Led)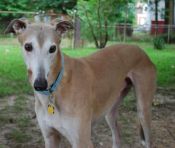 Amadeus (Abita Anaconda)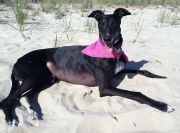 Khloe ( Boc's Lite it Up)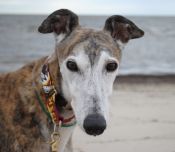 Dollar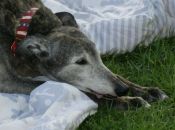 Rocket (Faith's Rocket)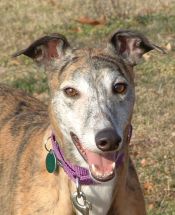 Echo ( Whispering Echo)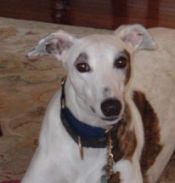 Boss (Chasmo's Bigshot )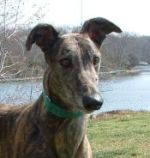 Herbie (D's Harry)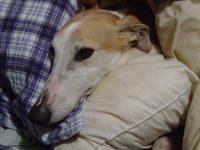 Court (Courtside)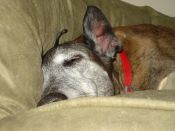 Fannie (Pw's Freedom)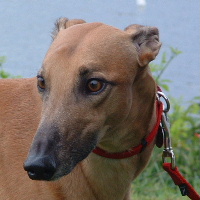 Stork (Diver)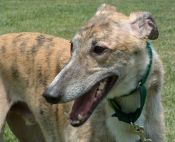 Joe Joe (My Angel Joe Joe)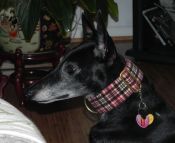 Chi Chi (Sobe Chi Chi)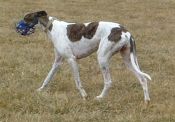 Amos (Pa's Wampum)
Blitz (Awauh)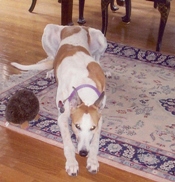 Kasha (Julie the Champ)
Kai (SM's Fast Rocket)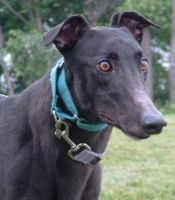 Solitary Guard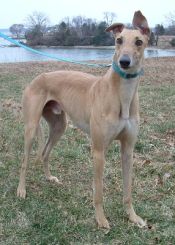 Benji (Jawa Issac)
Dingo (Noble Flight)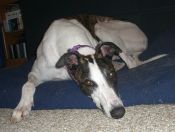 Zephyr (FKA Zeverado
Foxey (Primed To Be Sly)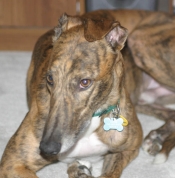 Tigger (Little Dougie)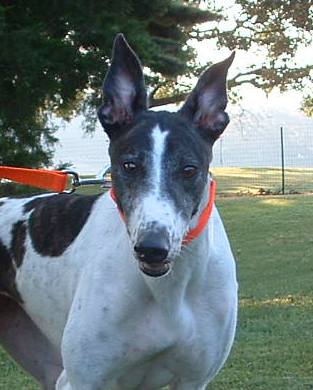 Patches (Pd's Lavender)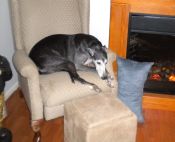 Abby (Look Out Ethel)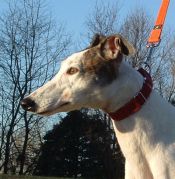 Donna (Fortunate Donna)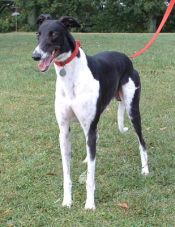 Davey (PPZ David Lee)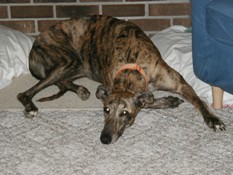 Socks (Quick Maryann)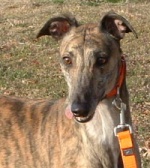 Sadie (Westmead Time)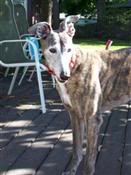 Zoey (Survivor Kimmi)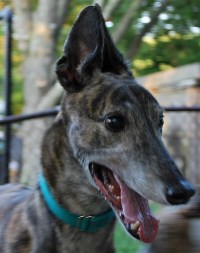 Lucas (Devilish Diablo)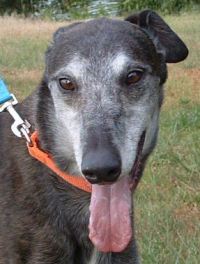 Cooper (Pa's He Can Fly)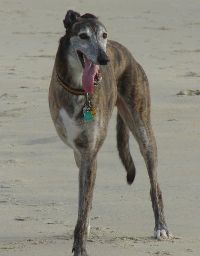 Harry (PMB Best Hello)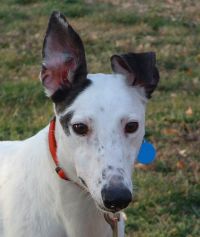 Joan (Jetta Joan)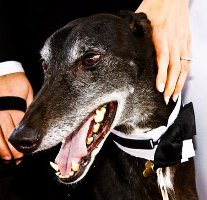 Lucky ( S Go Fin Man)
Lizzie (Mac's Beaver)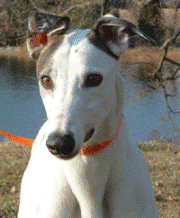 Dobby ( Machinist)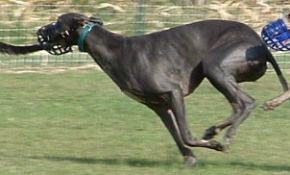 Riley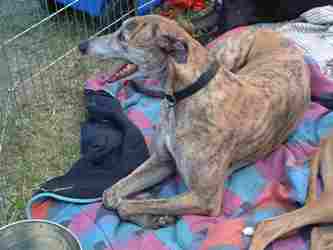 Andy (M's Raging Heart)
April 2001 - October 2010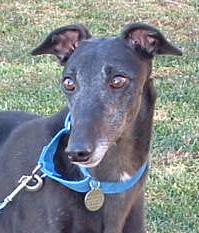 Jessie (Gabby's Justine)
January 2005 - September 2010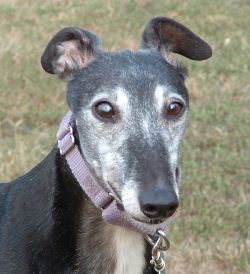 Biscuit (Showmethebiscuit)
November 2000 - September 2010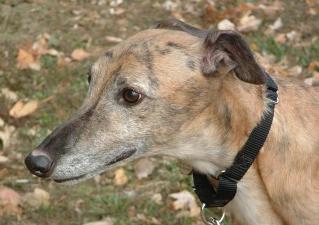 Bobby (Big Boss Timer)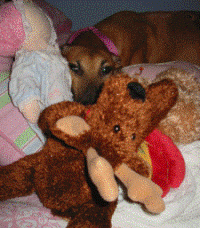 Spinny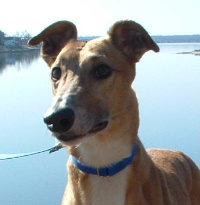 Leo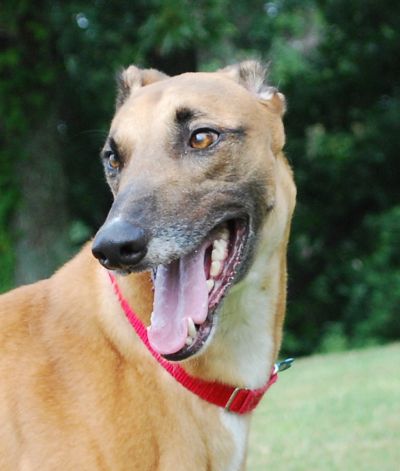 Brick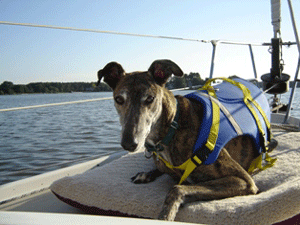 Rider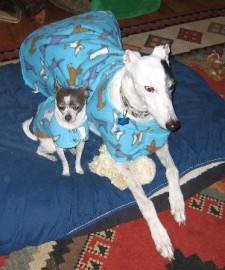 Petey (Zydeco Art)
Frannie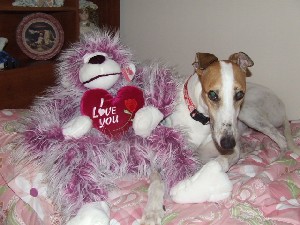 Flyer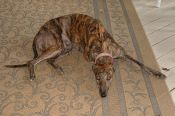 Molly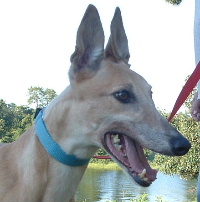 Natty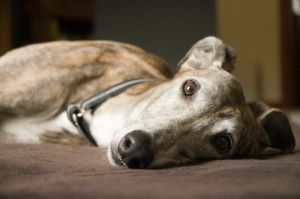 Rainy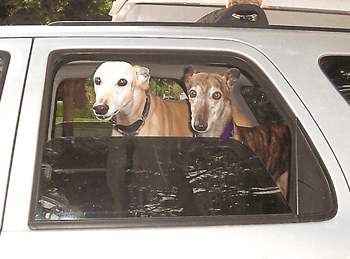 Kiowa and Natasha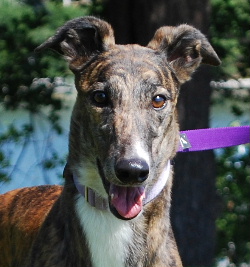 Voodoo
Ethan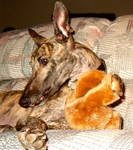 Smith (M's Clever Hawk)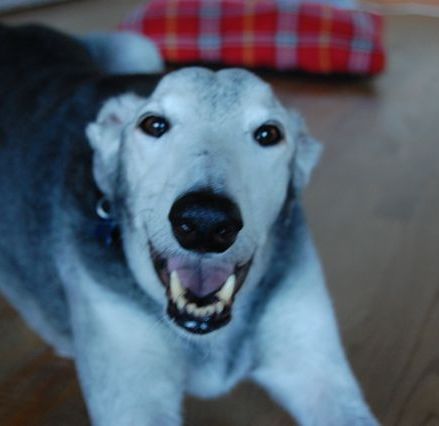 Soprano (Craigie Soprano)
March 1998 to October 2009
Zoey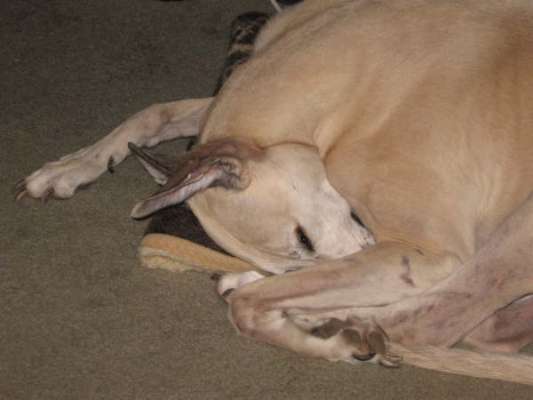 Marshall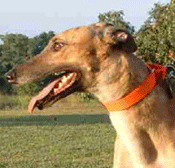 Tonk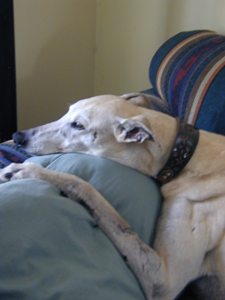 Kiowa
Cleo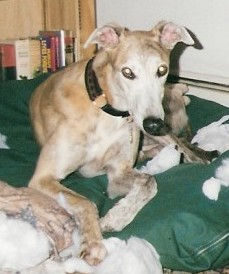 Logan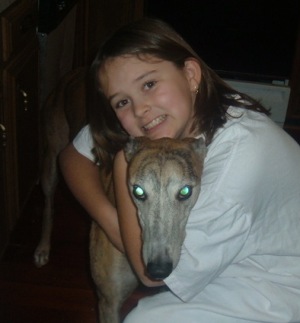 Nemo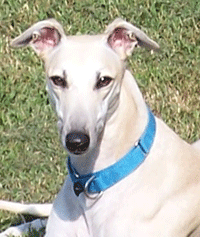 Ruby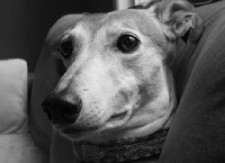 Kona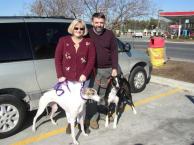 Topper and Lady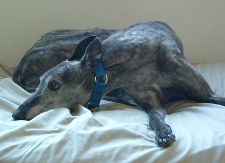 Natasha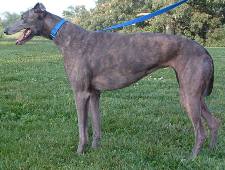 Monaro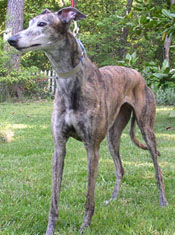 Mocha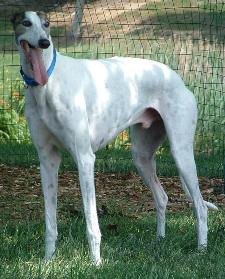 Mack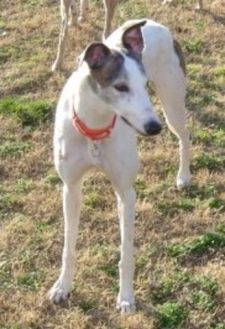 Reese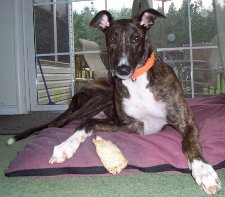 Bobby Brady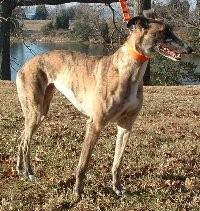 Bev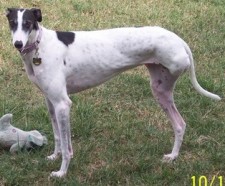 Sophie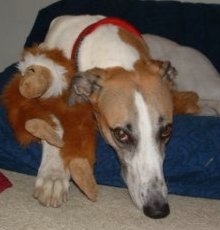 Pearl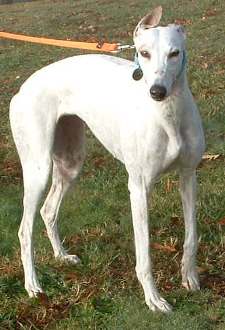 Jane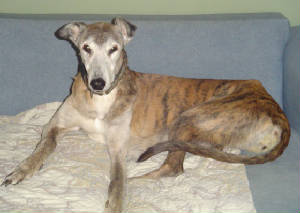 Hayride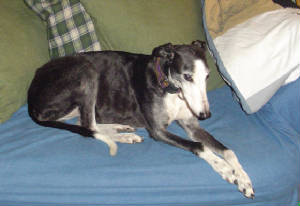 Dakota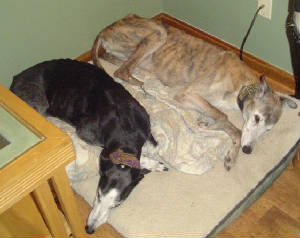 Dakota & Hayride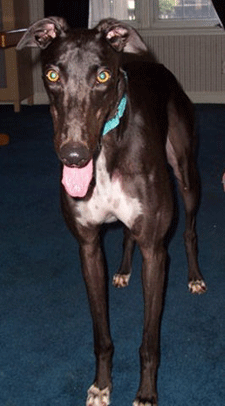 Bellagio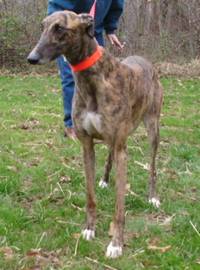 Joy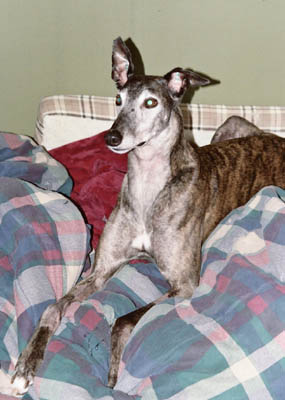 Luke
Leah (San Tan Clueless (Leah)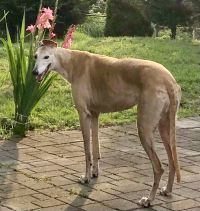 4/10/2013 - 7/24/2023
She was a great addition to our family for 8 years. We miss her!
Tubby (Oh Ya Tubbs)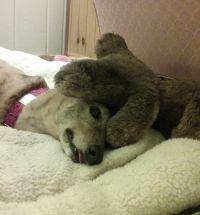 2/13/2012 - 9/12/2023
He went to the bridge laying on his favorite bed holding his "bunnie" laying in my arms. He was my best friend and I will miss him terribly.
Jackie (Jax Ignacia)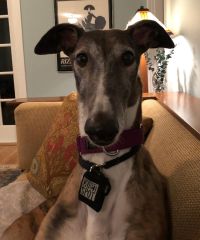 11/25/2018 - 9/5/2023
Jackie was a sweet, gorgeous girl who literally stopped traffic everywhere we went! Beloved always.
Joey (Kelsos Countmein)
April 1, 2017 - August 17,2023
Joey crossed the rainbow bridge at home surrounded by his family. My sweet baby boy loved life to the fullest as only a dog can & I miss him every day. It hurts so much that we couldn't beat the brain tumor but there's relief in knowing we let him pass peacefully. It's been hard to talk about but I wanted to thank GEGR for bringing this boy into my life and introducing me to the world of noodle horses.
Syndey (JJ's Janelle)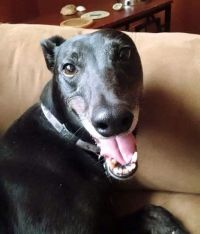 8/29/2009 - 8/10/2023
We had to let our girl go today. She was sweet, goofy, opinionated, and so much of a calming joy that she helped 5 other greys transition off the track and into their new home lives. She had the same birthday as my brother and grandmother. I'll never forget her sneaking her nose through my hair onto my shoulder on adoption day when she chose us. She loved the water and loved her bar friends in multiple states. She will be missed by us and our extended family who spent lots of time with her. Thank you Greyt Expectations Greyhound Rescue for bringing her into our lives
Gavin (Ketcham N Passum)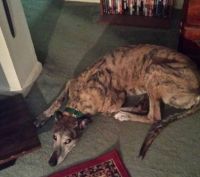 4/30/2009 - 8/2/2023
Sad sad day. I had to say goodbye to Gavin today. 14 years old. My best friend for almost 9 years
Lovey (Kiowa Love Joy)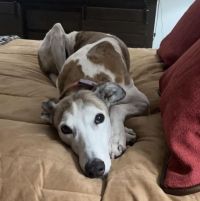 1/24/2011 - 7/30/2023
Farewell to our beloved Kiowa Love Joy. This was totally out of the blue and unexpected. We were not prepared to say good by. Jen and I don't yet have the words to properly send off our sweet sweet girl. She crossed the bridge here at home in my arms last night about 8:30pm. Run free, baby dog! Run with Waffle and Dizzy!
Bandur (Battle Bridge)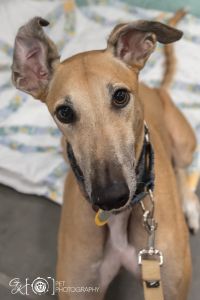 6/22/2011 - 7/27/2023
Bandur, who's name meant place of peace, made his journey to the bridge on Thursday after spending the day being treated to many of his favorite things. He got to lay out in the yard for as long as he wanted. That was followed by bacon and eggs for breakfast and long naps. He hung with Frankie one last time in the afternoon and shared some ice cream with him. His boy Chris joined him for a very calm, peaceful send off. Bandur first came to our home as a foster who needed help with his resource guarding and pretty bad leash aggression. Turns out he was a bit of a breed snob. He loved Greyhounds but had to learn that the other four legged, tail wagging animals were also dogs. He learned from lots of walks in the neighborhood and countless events like pet expos and Bark in the Park where many different breeds were present. I remember the day I mentioned to GEGR that this boy might be staying. I was watching him as he was watching me from across the room and he let out the biggest sigh! It was like he exhaled and was finally at peace. Thus his name. From that point on Bandur was a quiet soul. His barking at every sound, knock and bell lessened and he decided he was better at being the fun police. He would watch all the other dogs play but rarely join in. Instead he would rush in and break up the fun just when it was getting good. Bandur excelled as a representative for the breed. He showed so many fosters how to settle into retirement. He was patient with kids and was a brave blood donor. He mastered the Greyhound lean far better than he mastered stairs. He also worked so hard to look handsome when he sat making sure to include the slight head tilt. The last few years Bandur's patience was tested repeatedly by the puppy. He wanted nothing to do with the level of rough housing that Apollo brought to the house. Apollo will carry small scars of Bandur's corrections hopefully as reminders to be calmer and gentler. Time will tell if Bandur's lessons will stick. For now Bandur takes his rest with so many that have crossed the bridge recently. I'm so grateful for the time I had with him but also sad that it wasn't longer. The lessons, the memories and the love will be cherished forever. Run free sweet boy.😢💔
Maya (CET Kim Thomas)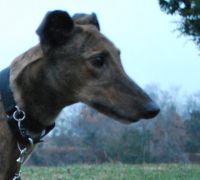 4/27/2011 - 7/28/2023
We have now lost our original trio within the last 12 months (Pepper our beagle in January, Paso in April, and today Maya). Maya came to us with a playful but competitive spirit and always had to try and outrun Paso or other visiting dogs. She became incredibly tolerant and gentle with the cats and as she got older she mellowed as well. She accepted Breeze right away and they both were seen sniffing nose to nose on occasion. Maya, I hope you are now pain free and have found Paso and Pepper.
Kiowa (Kiowa Andy Avita)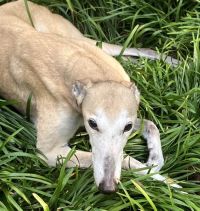 8/20/2012 - 7/24/2023
We have 5 grandkids and when they would visit, they used Kiowa as a pillow to watch TV. If the kids used a pillow instead, Kiowa would walk over and lay down behind their heads then pull The pillows out from under them! She was a gentle dog and could have easily qualified as a "Walmart Greeter". She welcomed everyone into our home whether they were human or canine. Her brother, Shadow, seems to be taking the loss well.
Mandy (Mac's Mandrill)
4/7/2011 - 7/24/2023
Having adopted Mandy as a senior, we only had four short years with this beautiful, loving, quirky hound. But we are so grateful to have shared them with her. We love you, sweet girl.
Blue Berry (Baby Blue)
8/5/2013 - 7/22/2023
Today I released my beloved Blueberry from her pain. She was the best dog ever...I know everyone says that about their dog, but SHE WAS. She has been limping badly for the last week and even though she was on a powerful drug cocktail for the pain, this morning it seemed to have no effect. She was panting constantly and couldn't seem to find a comfortable position. She was increasingly wobbly and I was very afraid she would fall and break a leg. So I did what I hope was the right thing for her. I remember Margaret Knoll, a vet I loved, telling me years ago, "Better a day early than a day late." Today was Blueberry's Day. People who know nothing about greyhound racing rail and whine about how "inhumane" it is. I know little about greyhound racing. But I do know the dogs that retire from the sport are consistently gentle, sweet, quiet, and well socialized with both humans and other animals. Please keep a good thought for my girl who today was released from her pain and anxiety. For anyone worthy of living with a dog, I hope you find one as loving and gentle as my Blue.
Lucy (VJ Myfeetrburnin)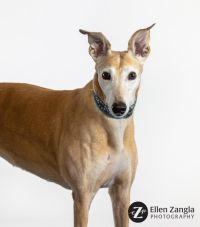 3/14/2011 - 7/8/2023
It is with great sadness that we announce the passing of our beloved Lucy. She was our third (and likely last) adopted racetrack refugee. She combined the playful personality of our pup Ike (Itsastarreceiver) and the beauty and quiet intelligence of our Becky (Brooke's Becky). We are so blessed she found us. We lost our previous two pups over 10 years ago, but somehow losing Lucy hurts more deeply because it was so sudden. She lived to the ripe old age of 12. It was indeed an honor to share our home and our lives with her. She made us and everyone who met her better humans, and many better dogs. There's going to be a small, loving crowd when we get to the Rainbow Bridge.
Annie (Time Approved)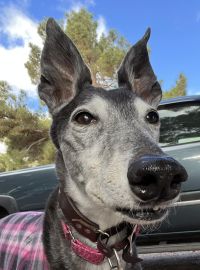 2/24/2010 - 6/4/2023
Forever in my heart..my faithful companion. Goodbye, my sweet gentle girl. Go run with the boys. 😞
Karl (Turbo Karl)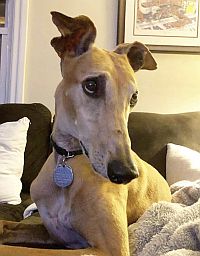 11/22/2011-5/31/2023
Karl "Titi" Cornelius (Turbo Karl) 11/22/2011-5/31/2023 Unfortunately, our sweet Grandpa Karl had to leave us suddenly and unexpectedly this week while Andrew and I were out of the country. To say it was a devastating end to what was an otherwise perfectly beautiful trip with amazing friends, would be a serious understatement. Karl came into our lives just shy of eight years ago during a very busy time. I've often summarized it as saying it was that wild two week period where I defended my PhD, got married, and adopted another dog all at the same time. We'd also just bought a house and Andrew was prepping to deploy to Iraq in less than 3 months. It was, A LOT. Karl was steady though. He was confident and always consistent. He knew exactly who he was and what he wanted, and was so stubborn at times you'd think he was a goat or mule in a past life. He was an effective communicator and was one of those pups that just consistently earned your respect. Whereas our first grey, Boomer (SNJ Sonic Boom 3/8/2011-7/9/2021) was a crash course in greyhound basics for absolute beginners, Karl was our graduate coursework in greyhound studies pup - food issues, space issues, fears and phobias, pack dynamics and behaviors, but also trust and respect, and listening to what a dog is actually telling you and not just hearing what you want to hear. "Soft Karl" (as his Grammy and Grampy lovingly called him) was here to teach us a lifetime's worth in 8 short years. Karl was incredibly sensitive and felt everything around him intensely. He knew when we were stressed at work, he knew when we were getting ready for a trip, he knew when the holidays were coming or when we were getting ready to host people at the house. Sometimes his feelings would be too much and he would need to retreat to a quiet space to settle down and recharge by himself, or find a pillow or stuffie to attack to get it all out. He was especially good at knowing when we needed to slow down and just lounge around and rest, and he was the perfect lazy day guy. He enjoyed car rides (especially navigating from the front seat), leading (sometimes very insistently) sing-a-longs with his brothers and visiting pups, fluffing his beds until they were perfect, paw and leg rubs, his bed time greenie, laying in the sun (especially when it was too hot), couch snuggles with anyone who happened to be sitting in the right spot and would listen when he said more pets please, really long walks (even at his old age), and the ladies (shout out to Brandi, Magic, Janey and more recently Leia and Harley). In his early years he enjoyed destroying countless remotes (Karl "Crunchy Things" Cornelius) and shoes (especially the pricey or favorite ones - he did have excellent taste), shredding countless stacks of papers mom was grading that were left on the bed or couch, and running full force into solid objects (fences, back of a car - earning the nickname "Staple Face" temporarily), and going on big adventures to state parks and wineries - his goal was to turn every walk into a full on "sniffari", even the short ones. In his last couple years, he even learned to like (dare we say love?) his new baby brother Artie (as long as Artie didn't try to snuggle him, otherwise a younger feistier version of Karl would make an quick appearance). Artie chose Karl less than a month after Boomer left us in the summer of 2021. Karl didn't know what to make of this bull moose of a greyhound following him everywhere asking him to love him, but he went with it. Karl patiently taught Artie some manners, and Artie taught Karl that puppy snuggles are ok. We'd hoped you and Artie would have had more time together. In a way, you'd fooled us into thinking you'd just always be here because at 11.5, you were still the perfection of health, until all a sudden, you just weren't. Thank you for teaching us so much, and being incredibly patient along the way. Thank you for bringing Artie to us. He misses you. Rest easy my little Honey Bear, we had a hell of a ride.
Sunshine (DB's Sunshine)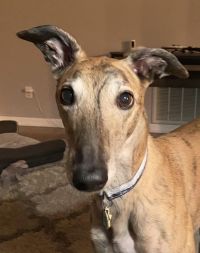 April 21, 2015 - May 26, 2023
I feel grateful we were able to give her a good life in retirement. She's been on too many road trips to count, always down for a Chick-fil-A stop after a vet visit, a few camping trips all the way from Maryland to Colorado! She loved a long hike through the mountains or the woods. She loved falling asleep next to a lit Christmas tree. She HATED flooring that wasn't carpet, but she would brave the tile kitchen floor if cheese (any cheese) or hard boiled egg yolks were involved. She was never one for playing with toys, but she did indulge in the occasional zoom across the backyard. House flies (or sky raisins as we call them) were the bane of her existence and she'd always stop what she was doing to snap at them. She even caught one! Just once. I already miss those doe eyes and that beautiful Roman nose.
Cooper (Fun Facts)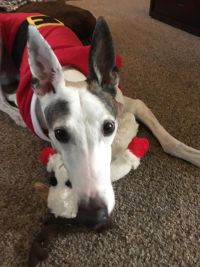 2/12/2014 - 3/3/2023
We said a very reluctant goodbye to Cooper (also known as "Bob," "Sugar Dog," and "Toots") in early March, just a few weeks past his 9th birthday. We won't dwell on the despised cancer that appeared suddenly and took him from us far too soon. Instead, we cherish the 7 crazy and wonderful years we had with the world's most extroverted (but very particular about everything) greyhound after adopting him from GEGR. Among our favorite Cooper quirks: How he whined in anticipation at the door to the garage every Saturday morning, waiting for his mom to return home with fancy dog treats from the Farmers Market. How he was the nicest dog ever to his cat brothers – gamely tolerating the felines stealing his space on dog beds, blocking his path up the stairs, drinking out of his water bowl. How much energy he put into his bedtime routine – the digging at blankets, the glopping tongue baths, the happy groans when he got things just right. (And yes, there was Greyhound gas too. Sometimes audible… always smelly.) How he delighted at the sound of his dad putting on pants, which usually meant he was going for a car ride … and a car ride to anywhere for Cooper was just the best! How he loved greeting and being with people. He was called "the Mayor" at his doggie daycare for good reason. Everyone, from his people that he knew to complete strangers, got lots of tail wags, a "please pet me" gaze from those big brown eyes, and the familiar Greyhound lean. Godspeed, Buddy. Thinking of you doing zoomies in the backyard, roaching after a good walk to feed the horses, bending down for play bows with your beloved stuffies (Velcro Turkey and Mr. Duck), and getting plenty of ear scratches and belly rubs. Love you lots. We'll see you again one day on the other side.
Lexy "Olexo"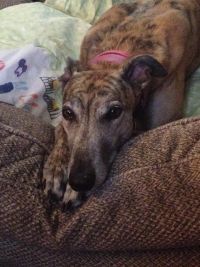 8/9/2009 - 5/19/2023
"She had fire in her soul and grace in her heart" - author unknown. Her heart and spirit are irreplaceable and she will always be missed. Such a noble, gentle, and giving creature who chose me to share her life and love. I am forever changed by her grace and her fire for life. I love you Lexy!
Dolly (Black Oak Dolly)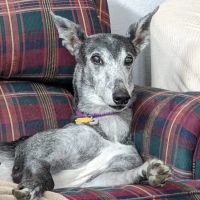 02/02/2011 - 5/12/2023
Our pack got a little smaller on Friday when my best girl Dolly made her way to the bridge. She had developed a cancerous tumor on her leg and at 12, I decided to keep her comfortable and pray she was able to stay long enough to see her own home with her own yard. She did just that! She was the first to go to the yard, check it out and christen it before the boys arrived. She was able to lay and roll in the grass and enjoy just lying in the sun. As the only dog that had lived in every rental over the last ten years, she was finally home. Dolly, aka Thug Princess, wore so many hats over the years. She was the foster Tapper couldn't return. She was the calm alpha that taught each foster who was in charge. She loved big males and was eager to charm them into doing her bidding. She tried her best to mother the unruly puppy but even she threw up her paws at times. She was the quirky dog that insisted on being the first one in the car but then drooled a river when the car started moving. She would search frantically for a stuff toy each time she went out to potty even though I was going to make her leave it inside. She love blood donor nights at Jeff and Cindy's but mostly because she was praying for a kitty snack. Thanks so much to Shelley Ann Lake for suggesting that perhaps Dolly had developed rage seizures. She was on meds the last few months and she was able to sleep peacefully and have her energy and personality restored. Dolly won't be at the annual picnic this year. I know she'll be running with the many bridge babies that have crossed over the years. Run free sweet girl. I'll do my best with the boys but it won't be the same without you. I'll see ya later.
Paso (El Paso)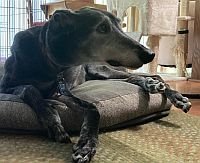 8/17/2010 - 4/24/2023
Paso was our first. In his gentle way, he taught us how to be dog owners. He put up with the additions, knowing that he would always be top dog to us. Today we made that hard decision for him to stop the pain and to make sure that his last day wasn't his worst. Today he took his last car ride (one of his favorite things). He was the best dog. So easy, calm and laid back. He was a plug and play dog. We brought him home a little over 7 years ago and he immediately knew what retirement meant. He knew to keep his home clean, could have cared less about our cats or any other dog. He was his own man, not a big schmoozer but the gentlest giant and despite his size, the stealthiest dog when it came to getting a taste of my sandwiches. I hope you forgive us and that you can run again with all the pain-free strength you had in your youth. We will miss your "Welcome home – hurry up and let me out" bark when we came home from work. We will miss your big presence in our house. You were one of kind big guy. Thanks for having us We'll miss you so much old man.
Sammy(KC's Sam)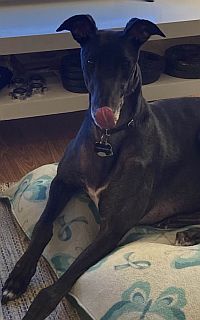 10/19/2014 - 4/7/2023
Sammy was perfect. He quietly loved all of us, and he graciously shared his bed and toys with new fosters. Coming home from school was awesome because he would always wait for me by the door. Sammy's delight was evident in how he hopped on his front feet, snuggled with Raine, Angel, and Tilly, and how he waited patiently at Steve's side for his share of roasted vegetables during many dinners. Last night, Sammy had his own New York strip steak with steak fries, and he savored every bite. Thank you, Steve, for taking Sammy to most of his vet appointments over this past month and for letting Sammy love you so much. Sammy came to stay with us in May 2020, and our time together was not long enough. I will miss his love, trust, and quiet companionship.
Tang Tang (Oshkosh Badger)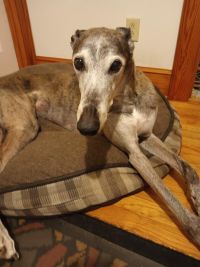 9/7/2012 - 3/23/2023
Tang Tang has brought tremendous love and joy to our family and his pooch-pal Mujin (WW's Chick Saw) since we adapted them from you guys in 2015. Rest in Peace, Tang Tang
Lively (Mohican Lively)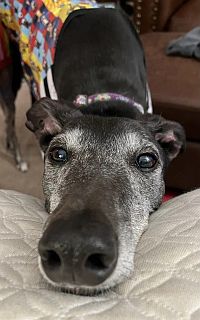 1/4/2014 - 3/16/2023
It doesn't seem quite real but Lively left me today. She was running in the yard and suddenly came up lame and in extreme pain. It turned out to be a severe humerus fracture due to osteosarcoma, so we had to say goodbye. Lively came into my life during a really tough year, and she brought me so much joy and consolation. She never met a stranger, thought every visitor came to see her, and believed her belly needed rubbing 24/7. I will miss her so much. Run free at the bridge my sweet girl.
Petey (PD Slim Pickens)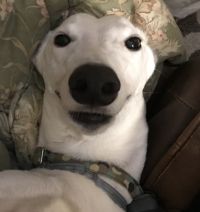 2/14/2013 - 2/17/2023
Pete went to the bridge last night. He had osteosarcoma in his left knee and things moved so rapidly that it still doesn't feel quite real. Petey was a wonderful boy: sweet, exuberant, super smart, friendly, with the most expressive face I've ever seen. He charmed absolutely everyone he met. He had some issues with anxiety and reactivity which we had to manage, but in spite of those things, he was a delight. One of my favorite memories was from one of the GEGR picnics: we had placed him in the dog house/pen at Lisa's while completing set up, Diane W turned around found him standing on top of the roof of the dog house! He also hopped on a few tables in the store that year. He was an amazing traveler, a sensitive soul, and very much a mama's boy. I will miss him terribly. Pete was the last of my original "6-pack", and I hope they are now happily reunited. Run pain-free and strong at the bridge, sweet boy. 💙🌈 #peteyslim #cancersucks
Callie (Limelight Callie)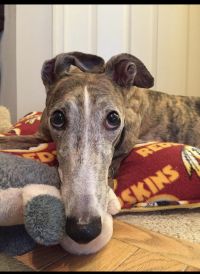 April 17, 2009-February 8, 2023
How do you write a tribute to a greyhound who has given you 12years, was welcomed into a 3 greyhound pack like a dog that had just taken a car ride, outlived them, welcomed in 3 new greyhounds into her pack and she had to say goodbye to them…….. so when she lost her last fur brother Thunder on 3/22/2021 she was almost 12, I promised her she would be an only…. No more goodbyes, just her and I until the day I would say goodbye to her😢💔 Callie aka Callie on Crack, Callie Sue, Callie Soup, Super Girl was 13yrs 10 months old. I met Callie 7/28/2012 grooming and microchipping dogs for GEGR, she was one of hundreds of dogs I've ever groomed and chipped but, when they handed me this brindle girl after her bath with a tail wagging so fast you could hardly see it and so happy I had trouble controlling her, all while looking at me…… I knew she was my dog❤️ only problem she was on the matrix for the adoptathon. Michael Owens was the Foster Coordinator so I told her and Callie did "sneeze" once…so we decided to take her off the matrix to observe her to make sure she didn't pick up "something" from the track…… Hence, my planned foster fail❤️and Callie officially became my girl 8/11/2012💗 Callie was my bomb proof, no fear dog, she went everywhere with me when my other greyhounds couldn't or wouldn't go. She loved the many Pet Expos and Meet and Greets, she was a true Ambassador to her breed and loved all the attention. Callie enjoyed her trips to Greyhounds Reach the Beach, Greyhounds in Gettysburg and hotel stays except for the last time in Gettysburg when she got upset because I didn't take her to dinner and decided to chew an arm of a chair….. Callie always had a great time at Marianne Mimi Verpent pool parties and LOVED her sirloin steak "snacks" mini pools, lounging with her friends and her first swim lesson with Kathy Dzubryk Sutphin , well maybe not the swim lesson so much……Lol Callie was so easy to please and dress up and so patient with her mom when treats were involved especially around birthdays, she loved the huge backyard in the country and known to play "dead dog" in the summer at the far end of the 2 acre yard when mom would panic and run to see if she was ok only for her to jump up when I would be inches from her…. lying in the sun, pig ears, vanilla ice, Gooberlous Peanut Butter treats and visiting with her friend Nash, a Great Dane neighbor were some of her favorite things.❤️ Callie aged gracefully, I watch her slow down to a beautiful senior lady with a tail that never stopped wagging, slower maybe but, never stopped, maybe she could no longer jump on my bed but, I laid with her on hers, she could no longer do stairs or run the backyard so she went out the front and took her time and came back in. Her back legs never failed and she never had a fall and for that I'm grateful. I'm sorry Callie I couldn't fix your kidneys and I thank you for letting me know it was time.😢💔 You have ended 23yrs of retired racing greyhounds in my life Callie and my house is so eerie quiet even with 7 cats but, I couldn't imagine ending it with any other greyhound. Thank you, Callie on Crack for giving me 12yrs of your craziness and always being there happy with your never ending wagging tail. Rest In Peace, baby girl, I know we will meet again at The Bridge……
Trip (CTW Trip Wire)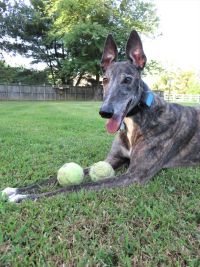 8/10/2011 - 1/9/2023
Trip (CTW Trip Wire) August 10, 2011 to January 9, 2023. Our Beloved, Handsome Boy, Trip, passed away on Monday,January 9, 2023. A Golden Heart stopped beating, as we Held Him Close. Our Hearts are Shattered. A Special Set of Paws, now Gone From Our Home, We Miss Dearly. On December 22, 2022, Trip had an Ultrasound, which indicated a mass in the esophagus entrance to the stomach, and another mass in the small intestine. The mass continued to grow, and was determined to be cancer. Our Time Together was a Priority, keeping Trip Comforted, with Extra, Tender Loving Care. When Trip no longer would eat or drink, we let him go with the Dignity He Deserved. His Veterinarians and Staff, gave him the Best Care and Love. We Adopted Trip on April 16, 2016. Trip was our third Adopted Greyhound, with the Sweetest and Gentlest Soul. A Quiet Boy, who Loved His Mommy and Daddy Unconditionally. He was a Constant Comfort in Our Life. A Perfect Gentleman, Loved By ALL. Trip loved walks, rides and running in our backyard. It was on, when his leash came out, and he heard it jingle. What an Adventure we had, trying to get his harness on. He would jump in the air with Excitement. It was so amusing to experience. Trip was an Amazing Athlete. He could jump high in the air, while contorting his body, to catch his ball. He was Poetry in Motion, and extremely Mindful of his surroundings, keeping himself safe, while pulling off some awesome maneuvers. The only time Trip would bark, is when he spotted a cat. Trip's Favorite Toys were his KONG Balls, and his Plush, Squeaky Sloth. He would run endlessly with one or the other in his mouth, until he was exhausted. His Favorite Treat was Frosty Paws (Dog Ice Cream). Sleeping with both his front legs, and both his back legs, crossed, like pretzels, at the same time, was the norm. In his younger days, Trip enjoyed leading the pack, at the GEGR Annual Reunion Picnics, jumping in and out of the lake, playing and splashing around with the other greyhounds, and then cooling off in the kiddie pools. Trip's Favorite Time of the Day, was when His Daddy came home from work, to play with him. They had a Bond like no other. His Mommy, would hold his face in her hands, shower him with Kisses, and call him her "Handsome Man". Trip Loved to play with His Family, Dog Cousins, when they visited our home, who were all, way smaller than him. They would chase him, while he ran with his ball. Over the years we shared photos and gifts, with a few of the Forever Families, who Adopted Trip's Siblings and His Dad. We will Forever Treasure ALL the Beautiful Moments we shared, with Our Tender, Loving Boy, Trip. We will Cherish Our Endless Memories Together, as a Family. Trip will Live Forever In Our Hearts, resting beside His Adopted Brother, Bumblebee, and His Adopted Sister, Honey. Trip's Newly Adopted Sister, Venus, will miss him dearly. Thank You GEGR for bringing this Precious Greyhound into Our Lives. Love, Brad and Debbie Martin
Autumn (Quirky Equality)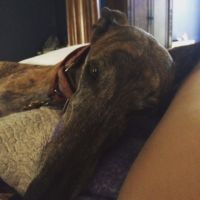 8/10/2011 - 12/28/2022
The best, most sweetest dog ever! She will forever be in our hearts!
Arly (Arlington Alice)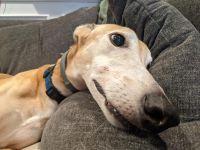 10/12/2011-12/10/2022
She was a much-love family member for eight years, but her body was failing her and we had to let her rest. Thank you so much for trusting us with this shy, beautiful girl. It will be impossible to fill the hole that her passing is going to leave in our home and family, but we would do it all again. She was the best dog and we will miss her tremendously.
Baloo (Super C Bailey)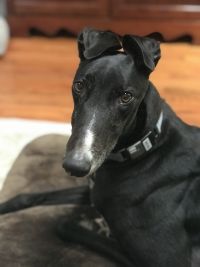 11/6/2017-12/3/2022
We very suddenly lost our beautiful sweet boy early this morning. He died in my husbands arms on the way to the emergency vet. We're shocked and absolutely devastated. Our hearts and home will never be the same. We love you so very much Baloo.
Avalon (SL Avalon)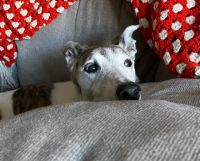 3/8/2009 - 11/24/2022
Words escape me. Avalon became a part of our family on 9/11/2011. This goofy, gangly, gorgeous girl lost every race she ran. Dead last. Each one. We were so lucky that she did. The first month we had her, she burst through the screen of our front door, grabbed our cat to move her away from Jim, and escaped from my parent's fully fenced back yard. She had a zest for life that was unmatched. She remained young at heart even as she started slowing down due to age. She was always game for anything that had potential for food. Run free and have no pain, my pupperoni.
Fancy (CJC's Fire)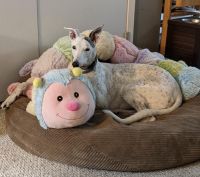 7/8/2007 - 10/23/2022
This beautiful girl stole my heart with minimal effort. She was independent and stubborn, but sweet as could be. She was already a senior when she came into my life and I never believed we would have as much time together as we did. I feel blessed for that. Goodbye, my sweet girl.
Rancho (Rancho Long Call )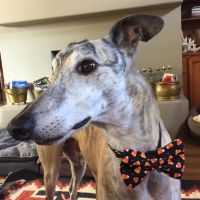 5/28/2010 - 10/8/2022
Adopted 11/11/2012. He was our first Greyhound. We actually decided that Hayden needed a dog since he wouldn't tolerate another cat, and I learned that Greyhounds are one of the few dog breeds I'm not horribly allergic to. He came from Greyt Expectations Greyhound Rescue in Maryland, where we lived at the time. He saw many fosters come and go, and many fosters stay. And some who weren't fosters came to live too. He and Hayden got along well immediately. They would always sit and lay near each other when they were younger. Rancho was very moody and had a temper - but we learned how to work with him and manage it most of the time. Though we do have a few bite scars, and so do a few veterinarians. He also had a form of epilepsy and was on phenobarbital which controlled it well, thankfully. From him, I met one of my best friends - Stacy - who had his littermate Tripp. They looked a lot alike, though were very different temperaments. Tripp unfortunately died from osteosarcoma a couple years ago. Osteo ultimately took Rancho too. Over the years when we've left the house we've always said "Rancho, you're in charge." I don't know who's in charge now. We lost Fred in May. Now Rancho. Now we're down to four and while it's a lot of dogs to most people, it's very weird to just have 4. We will always love you Rancho. You were just beautiful.
Decker (Daredevil Decker)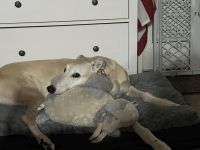 5/20/2014 -10/3/2022
Momma's goodest boy, he loved everyone (except maybe the kitty Jasper Monster - who terrified him). He was always gentle and silly. He shared with others (except his emotional support goat). Decker was a love, and especially loved his Momma. He was the greyhound who greeted everyone whether they came to the house or he saw them on the street. I wish we could have loved you for a longer time my big golden boy, rest easy over the Rainbow Bridge, say hi to Nephi, and Fidget and it is okay to pee on Jasper if you see him. Angel (next-door pibble girlfriend) misses you too - she still peeks through the fence to see where you went.
Buck (Sassy Gene)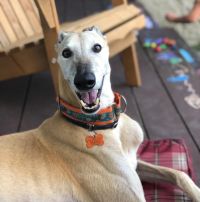 10/21/2011 - 9/26/2022
He was a wonderful dog, from the minute we took him home until the very end. I could not have imagined a more perfect dog for our family. We are so fortunate to have 8 1/2 wonderful years with him, and will miss him so much. Thank you to your organization for bringing him to us, and supporting us through the lives of both our GEGR greyhounds.
Jasmine (Jammin June)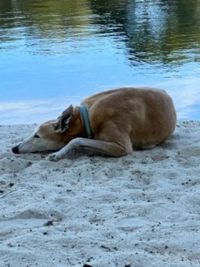 4/5/2010 - 9/16/2022
This dog had an absolutely amazing life it was my pleasure to call her mine for the last decade+.
Kid (Empire Kid)
5/27/2010 - 8/13/2022
Empire Kid after the dog parade at the Virginia Scottish Games. He volunteered at the Greyt Expectations booth to help other Greys find a home. He was always a perfect gentleman from the time we brought him home. We miss him everyday.
Winchester (BA Winchester)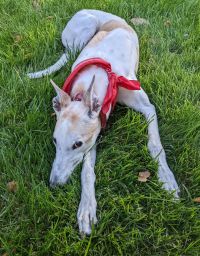 April 9, 2009 - August 9, 2022
He was just the best family dog we could have asked for.
Roxanne (SNJ Mirror Pond)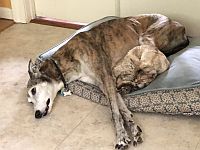 11/12/2009 -7/28/2022
Sean and I are sad. Roxanne has passed. Even our cat, Holly, keeps looking for her. She loved Roxanne and often slept with her.
Donner (Bokeem)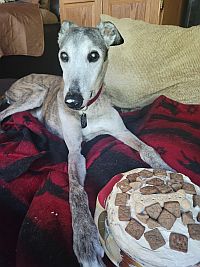 5/15/2005-7/25/2022
"We've enjoyed every minute we had with him" This picture is from his 14th birthday!
Ozzie and Kane (Azzawa and Kane's Huston)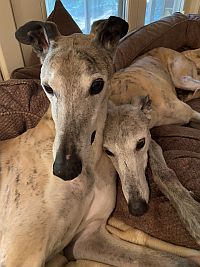 6/20/2008 - 2/2022 and 9/9/2009 - 6/13/2022
They were the sweetest dogs, thank you for bringing them into our lives.
Freckles (WK Freckles)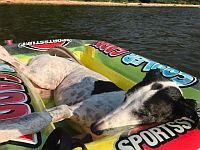 2/2/2012 - 6/9/2022
It is with a very heavy heart that I must inform the group that W.K. Freckles has passed over the rainbow ridge today at 3:00pm She will greatly be missed as she was the best dog you could ask for. Often called the Lab of greyhounds because she did it all! Gotch-ya day 7/1/16 Her cats already miss her 💔💔
Duck (Silent Shot)
11/8/2010 - 6/10/2022
Duck was truly one of a kind. He was an animated brindle who frequently attracted comments like, "wow he's pretty outgoing for a greyhound" and "I didn't know greyhounds had so much personality!" He loved his routine and kept our house, or whoever's house he was visiting, running on clock no matter what. The first time we took him to visit my parents at their lake house, we left Baltimore at the crack of dawn, drove many hours, boarded a boat to get to the house and shortly after arrival Duck was standing next to me with a familiar look on his face. It was exactly 5:00 and he was ready for dinner. Even a long day of travel and wildly new experiences couldn't throw off his internal clock. We think he took great pride in his role as house manager. He greeted everyone like they were a long lost pal and as a dear GEGR friend put it, "he had a way of stealing hearts." He certainly took a huge piece of ours when he passed, and we will never stop missing him.
Fred (BW Fun Fortune)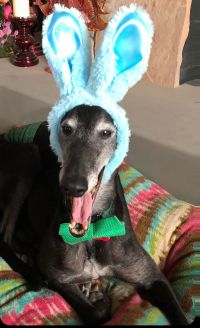 11/2/2011 - 5/26/2022
I don't know what to say. He was a very special sweet boy. He was our fourth Greyhound. We fostered him and fell in love with him. When we first got him he was very timid and shy, and soon after we adopted him he developed seizures from epilepsy. After several months on a couple different medicines that only helped a bit, we were lucky to find a combo of two meds that kept him seizure-free for many years. Almost instantly after going on his epilepsy meds he became an outgoing dog - the shyness and fear went away. He loved to eat and to ride in the car. He also loved visitors and liked to greet everyone who came over. Our thanks to GEGR and to Mary Anne Hassett Paesch his first foster mom. We will always love you, Fred 💔💔💔
Sophie (CTW Gypsy Soul)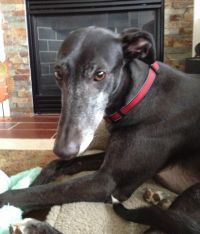 12/16/2012 - 5/23/2022
She was a precious, sweet girl and will be greatly missed in our family. Thank you for sharing her with us.
Leo (Wild Oklahoma)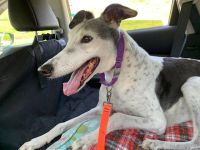 5/19/2010 - 4/25/2022
After 18 months of pandemic we decided that we needed to get away from the house just for some diversion so we took a short drive. We had never really taken the dogs driving as Emmy (one of our dog duo) didn't enjoy it. Leo, however, was always a willing participant! I guess they were feeling 'cabin fever' as well because they leapt into the car with enthusiasm. That was January 2021 and we began what would be called 'Family Field Days'. It became a monthly event enjoyed by all. We are thankful for a year of fun drives with our hounds and ten+ years of love and companionship. Leo left us a few weeks ago when the pain of osteosarcoma became too much. Leo (aka Wild Oklahoma) took his last ride on April 25 and, as you can see, was still enjoying the trip. He is loved and missed by his constant companion, Emmy, and by all the Mason family.
Camber (Quick Response)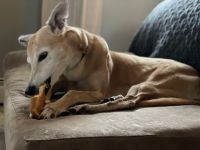 7/4/2009 - 5/13/2022
Camber came home with us in 2011, a failed racer with only one lap around the track. Her scared and anxious demeanor quickly blossomed into full on diva, putting us in our place as it should be. She loved trancing and treats, walks and treats, head scritches and treats… The amount of attitude and sass one petite greyhound could have was unreal, but that's what has ingrained her in our hearts forever. Thank you Greyt Expectations for bringing this lifechanging animal into our world. She will never be gone. — with Justin White.
Izzie (GS Izzy Bit)
10/4/2008 -5/13/2022
We had to say goodbye to our dear greyhound Izzie today. We adopted Izzie in 2010 as a companion for our first greyhound Emma shortly after my first Afghan deployment. Izzie was with us for 12 years, from Yorktown, Virginia to South Dakota, and for the past nine years here in Germany. She was a faithful companion on many trips, as our kids grew up, and though many changes in our lives. Izzie was quiet, good natured, well-behaved, sweet and snuggly--everything we could hope for in a pet. It was hard to say goodbye, but at nearly 14 years and dealing with the cumulative problems of several health issues, it was time to let her go. We're going to miss her.
Lincoln (Pat C Zalika)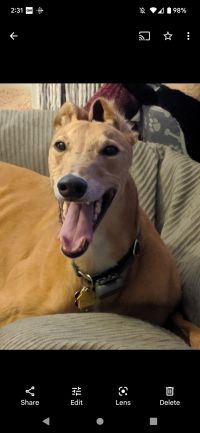 8/24/2014 - 3/24/2021
We will miss him very much! He was a winner on and off the track. While we only had four and a half years we made the most of every day with him. He was out first Greyhound but certainly won't be the last. Run free Lincoln!
Buck (GLS Biig Bucks)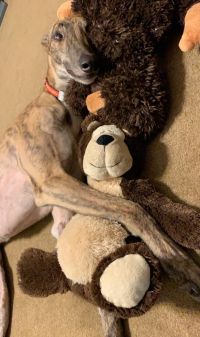 12/22/2014 - 3/19/2022
Had to say good bye to our amazing boy Buck. He came in to our lives and gave us so much more than we could ever give him. As I laid with him that last time I told him to run fast and to not look back. We'll miss you forever Bucky. You were truly the bestest boy ever.
Bailey Boy (Precocious Bale)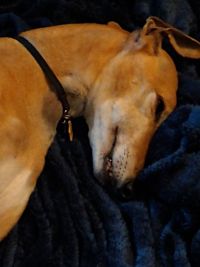 11/24/2013 - 3/15/22
It has been a wonderful 4 1/2 years with him. He made our family complete in 2017. His broken radar ears (a family trait) will forever be missed.
(Grand) Centex Grand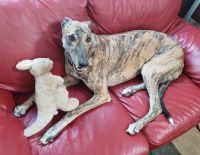 3/26/2019 - 3/11/2022
Grand, you were amazing. You were supposed to be here longer, you were going to turn 3 in a few weeks. But you were a light that burned too bright and too quick. You were our best buddy. You were sweet and patient. You were a mighty hunter of flies and bees. But still really nervous around small dogs. Despite being an 80lb giant, you saw yourself more like a Chihuahua. You gave the best kisses and love nibbles. We will forever miss your "whistle yawn" when you were bored. We will miss when you would turn into The Nibbler. You will be remembered for your love and energy and curiosity. You were only with us for a year, but it was a very special year we will never forget.
Reese (Stephen Reese)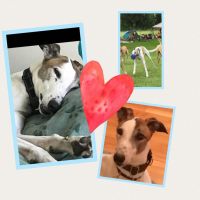 1/1/2012 - 3/11/2022
On adoption day our Reese was the first greyhound of several we met that day. He came into the modular and immediately walked over to us and put his head in my lap. I'll never forget that. We met a few other pups that day but we knew he was ours. He picked us. He truly had me at hello. Saying goodbye was so much harder. We had to let him go suddenly and unexpectedly last week. I've had and cared for many animals in my lifetime, but this wonderful gentle soul was the "one". He took a peace of my heart when he left us. We miss him terribly.
Mimi (Flying Torme)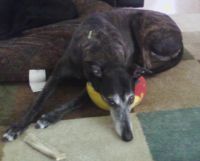 6/12/2017-2/26/2022
It was so hard to let her go but she is home with Peace now and they can run and play together again. Mim was a very quiet dog, in all the years we had her i may have heard her bark no more than 2/3 times. She did not play with toys but loved her pillows.
Heart (Atascocita Heart)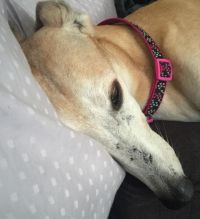 2/16/2022 - 10/3/2010
A part of my heart died today as I said goodbye to my precious greyhound, Heart. Run free with Rocky, sweet girl. I will never forget you. 'Til we meet again. "A huge thank you to GEGR for allowing me the privilege of watching over Atascocita Heart. She changed my life."
Fifi (Poor Fifi)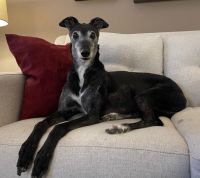 10/12/2009 - 1/20/2022
Fifi changed our lives. I never knew a dog could see into your soul the way Fi could. She was the most elegant and confident creature I've ever met. She was the queen of the castle and took no back talk from other dogs. If she wanted belly rubs, she told you. When she was done, she told you. She was a better communicator than many humans I know. If it wasn't soft or fluffy, she would have no part of it. The girl had very high standards. I even had to buy her new sofas because she no longer liked the ones we had. She was truly her mothers 'daughter'. The world has one less beautiful soul, but she will live in our hearts forever.
Jim Bradner (Oneco Blue Gem)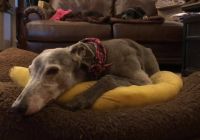 12/21/2008 - 1/20/2022
Thank you, GEGR, for the very best boy ever. I can't believe how lucky I was to have him for so long. His transition was peaceful and it was time. We visited his grandparents this afternoon and he cuddled with his Lambie by the fire. I got Lambie from the GEGR store and Jim adored it. He never ruined a stuffie, but his less-civilized siblings certainly did, so Lambie lived at Grandma and Grandpa's to stay safe and we visited often. Jim Bradner was accompanied by Lambie on his journey today.
Abby (Flying Love Song)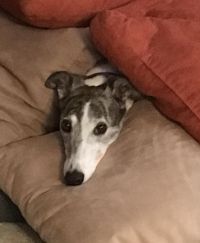 8/29/2007-1/19/2022
This morning we said goodbye to our sweet girl Abby. The last few days were rough for her and we knew it was time. Abby loved all forms of attention, and her favorite scents were flowers and evergreens—she would stop to sniff nearly every flower and pine tree along our walking path. She and Jasper were perfect companions from the start, and we couldn't have asked for a better match for him. She was a bit lost after he passed away, and I hope they are running together now. Goodbye, Abby, we will love you forever.
Tigger ( Hold Em Tigger)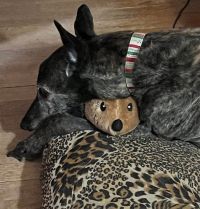 6/1/2009-1/19/2022
Today we let our beloved Tigger go to the bridge. He is the bestest boy and we will miss him. We opted to have Lap Of Love (lapoflove.com) come to the house. Dr. Kelly came to the house and I have to say it was so beautiful. He passed with his loved ones and his siblings. She made the journey so peaceful and gentle for him. Each dog (except Poppy) came and sniffed him and said goodbye. Poppy watched from the couch. Dr. Kelly did confirm for us that it was his time. My beloved boy will be missed and I know he is up in heaven with Betty White playing ball.
Ristretto (Iruskarumbabyrum)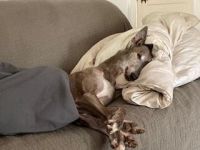 12/26/2008 -1/5/2022
You touched so many lives in your retirement and made so many people happy! You were very much loved.
Jane (Deerfield Jane)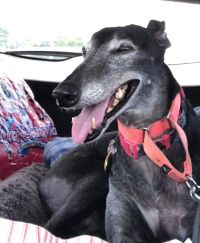 3/7/2007 - 1/17/2022
Jane was the most social dog we have ever had. She never met anyone that she didn't love. She would get up and greet everyone who came into our house with a needle nose bump. When we came to greyts meeting we were there to get one dog, which was Janes brother Ty but from the moment I locked eyes with her I knew she was mine and was coming home. She was much loved and will be forever missed.
Pepper (PC Sargentpepper)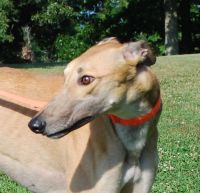 7/23/2012 - 12/2021
We all miss him terribly. He was a good boy and the world is a little emptier without him.
Cajun (KB's Cajun Man)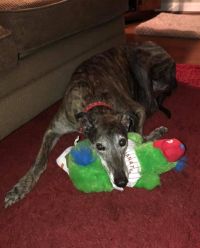 7/9/2009 - 12/24/2021
Today we said goodbye to our "big-stink," our "Cajun-bacon ." He has been such an amazing and goofy dog. You and Norman are back together again. Hopefully you get along better this time.
Mystic (GS Mystic)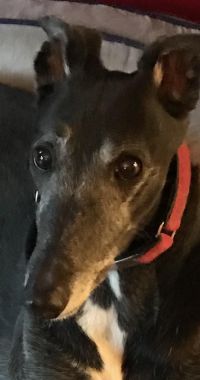 7/8/2012 - 12/13/2021
We are heartbroken to say goodbye to our sweet Mystic. She was a happy, loving and enthusiastic little hound who loved everyone and brought a lot of sunshine into our home. In fact, our daughter called Mystic her "spirit animal" as they had similar personalities. Mystic was one of more than a dozen hounds that came from a Florida track in 2016. We agreed to foster her, and soon realized she was absolutely perfect, and we couldn't part with her. We will miss all her silly antics . . . she used to wiggle constantly, even while roaching. She loved to play with her stuffies indoors and out. She was a faithful walking companion and my favorite "work-from-home" colleague for the duration of the pandemic. She knew the feeding, walking, and outside schedule, and let us know if we deviated from it in the slightest. Her favorite person was "dad" and she would start hovering near the front windows about thirty minutes before he was due each evening to be the first to greet him. She enjoyed her life up until the last week, when she became very ill, very quickly. I am grateful she had a wonderful time at the picnic a few months ago, and during the last few weeks of her life, she enjoyed exploring the new area we moved to on Kent Island. She also loved our occasional trips to Bruster's for ice cream. Mystic, we are still so shocked and sad. Run free, sweet baby.
Edie (Not So Easy Road)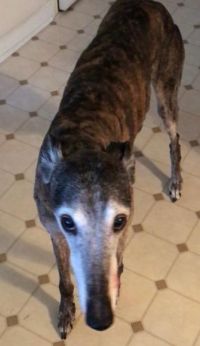 5/5/2007 - 12/11/2021
She was an amazing fur baby! From the day she chose us at greyhound central she was my soul mate. She slept with me and followed me all around the house and just looked at me with the most living eyes. She would have been 15 in February and I am so thankful for the years with her.
Penny (Kiowa Mad Penske)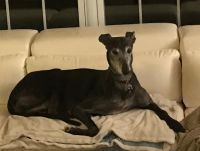 7/25/2009 - 12/15/2021
She was a 5 year old recently retired black beauty. For the past seven years she has been a loving & entertaining part of our home in Fredericksburg Va. Over the past few months she was in declining health. So this morning we said our tearful goodbyes. We thank you for the opportunity to love & care for such a great pet.
Juna (Sweet Fortune)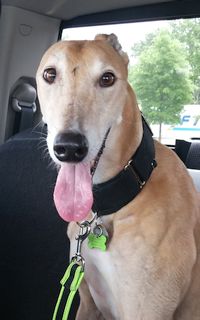 10/15/2008 - 12/10/2021
We knew this day would have to come and even though you try to prepare yourself for all of the heartbreak, it will never be easy. On December 10th, Juna passed on at home while surrounded by her family, letting her know it was ok. Juna, you were our first family pet and for the last 8 years that you were with us, you were there to watch our family grow. You quickly got over your anxiety and were the best dog that we could ask for, fitting right in. Even in your mid-age years, you were still fast enough to catch a few rabbits that, for some reason, kept coming into our backyard. You were so easygoing when we brought our daughter home and when she began to crawl and explore all around you. Nothing seemed to phase you. You had a strong big heart up until the very end and were always such a gentle soul. We hope that you knew how much we loved you and the house seems very empty without you curled up in your warm bed. Rest easy old girl, we hope to see you again one day.
Ukko (Mohican Mink Man)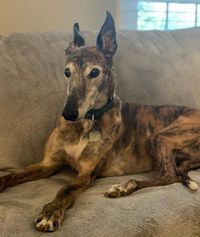 7/6/2008 - 12/6/2021
We will miss you so, our sweet, handsome, gentle giant Ukko. Thank you for all the wonderful memories, always being up for a snuggle, teaching us the importance of a nap, and loving on our/your boys. Our hearts ache but we are forever grateful you picked us for your family.
Tigger (Black Oak Hoyt)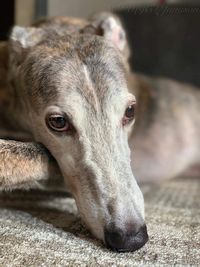 5/9/2010 - 11/12/2021
We lost our little lamb Tigger, racing name Black Oak Hoyt on November 12 from kidney disease. He was an amazing dog, very quiet but so loving. You didn't hear a sound from Tigger until he needed to go out. Tigger kept the pack together and Dory is so lost without him. He has left a huge hole in our hearts. Tigger was the best boy, calm , happy and so sweet. I want to thank you for allowing us to adopt this sweet boy and being part of our family.
Elsa ( Black Oak Elsa)
5/8/2010 - 11/21/2021
This was my beautiful Elsa, my little chatter box and the keeper of my heart. Always the very first to greet me at the door, she never took her eyes off me. My Elsa went to the Rainbow Bridge November 21st 2021 at the age of 11. She was the sweetest, kindest soul I ever knew. I will miss and love her forever. Thank you for choosing me to be your person that cold winter day back in 2013, my darling girl, I will never forget you
Marvel (Halfpenny Marvel)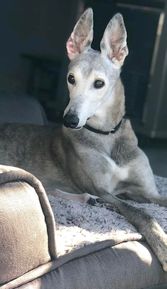 7/08/2008 - 11/19/2021
These are the hardest words I have ever had to type. We had to help Marvel to the rainbow bridge today. We are absolutely devastated, but she is with her brother Split now and she is pain free 💔 RIP, you were the sweetest hound we could've asked for.
Tex (Braska Vortex)
6/18/2011 - 11/15/2021
Tex was, for me, the most amazing greyhound. He had lived through some serious tough times and came out stronger. He was more than a dog in the house, he was my friend, my confidant , my sharer of experiences. He was loved by all, and to all he gave love back. He had total reign of this household and had his favorite couch, but if you sat on the other couch, he would come join you. He loved to play, whether it be with a tennis ball, or an unfortunate critter in the backyard. He was vocal, but only to show he loved you, or missed your presence. I do sorely miss his antics and his love, Rest In Peace , my friend. Scott Thanks, Scott
Gravy (Boc's Baby Blush)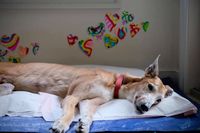 11/14/2006 - 10/5/2021
On a beautiful fall day in October 2008, Gravy joined our family. Thirteen years later, on a beautiful fall day in October 2021, we said goodbye. He lived an extraordinary 14 years, 11 months. It still wasn't enough time. As Jonah said while stroking Gravy's soft ears yesterday morning, "You are safe, you are warm, you are surrounded by love."
Hobo (Black Oak Hobo)
5/9/2010-4/22/2020
He is just shy of his 10th birthday and I think he had a great life. He is missed and loved. Thanks for everything. We have loved these gegr dogs with all our hearts.
Camry (Magic Cummins)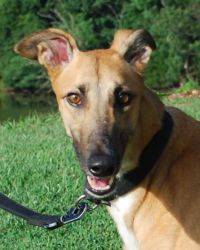 10/27/2009 - 8/26/2021
She was the sweetest natured girl. Not sure what we'll do without her.
Thena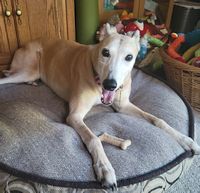 8/16/2010 - 8/24/2021
She was an incredibly special girl and will be missed forever. We're are grateful to Greyt Expectations for the opportunity to adopt her and have her in our lives for the last nearly 10 years.
Allen (JM's No Problemo)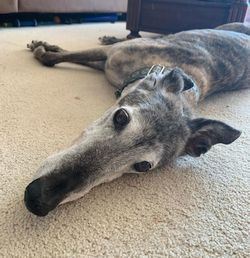 7/23/2006 - 8/24/2021
Allen came to us as our first foster in February 2012 shortly after the passing of our sweet Albert. After coming in second place at a couple of adoptathons, I came into our bedroom and found him sprawled out on our bed. I called Patty and let her know we were keeping him. Can't believe that was over 9 years ago. Allen was our quiet alpha and our sentinel. After Allie's untimely passing in 2014, he became our only greyhound and he was content. He was a very sweet boy and we miss him terribly. We know how rare it is to get to hold on to these dogs as long as we had Allen, but it still hurts so deeply. Run free sweet boy! Say hello to Albert and Allie for us!
Lola (Sl Silver)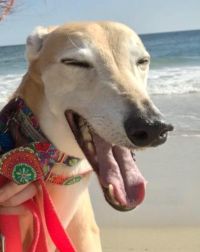 3/16/2009 - 8/20/2021
Lola had quite the fan club! From her Aunt Joan and Uncle George to a sweet little 18month old who loved to snuggle her! She's been my partner in crime through nursing school, all the boyfriends now a husband, moved 4 times, and then still helped give an old lady dog her final home before raising two hound puppies before she left us. One of our friends described her as "such a babe" and that she was. 💜
Havok (Kiowa Blain)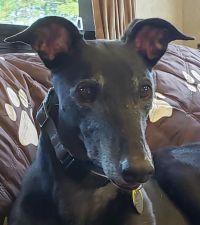 5/16/09 - 8/12/2021
Havok was absolutely the best of the best of the best. He had a great racing career and in retirement gave us so much joy we knew it would be selfish not to share him so he trained and became licensed as a therapy dog for Therapy Dogs International. He loved visiting the nursing home where he brought smiles to some lonely people either in hospice care or in rehab after injury or surgery. He also served on the peer support team for the Virginia Beach Sheriff's Office. He gave me my proudest moment ever as a dog mom when we assisted in debriefing with some of the deputies who had responded to the active shooter situation at the Virginia Beach Municipal Center. He also attended memorial services after a deputy passed from a medical condition and brought his special brand of comfort to friends and coworkers mourning the loss of this loved one. Havok was the strong calm and steady leader of our pack and nothing will ever be the same without him. We will carry on his memory and always be proud to be known as the House of Havok. Please hug your pups and give them an extra treat tonight in Havok's honor. Kiowa Blain "Havok" May 16, 2009 - August 12, 2021 Run free and fast buddy, we will always love and miss you so much.
Boomer (SNJ Sonic Boom)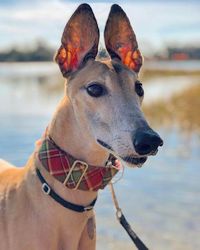 3/8/2011 - 7/9/2021
I started writing this about six months ago when we first got your official diagnosis because I knew that once you were gone I wouldn't be able to do it. I started and stopped over the months but was never quite able to find the words to describe how special you were, and how very much you were loved. You were the smartest pup I ever met. You knew when it was time to do everything and exactly how to talk our entire pack in to following your plan. It wasn't until you'd gone that we realized any silly notions we'd had that we were calling the shots or running this pack were just that. We were all running on Boomer time, particularly Karl, who could now use a little nudging if you would. Thanks. Until your last day you knew exactly how to ask for cookies whenever you wanted and how to herd your pack from place to place in the house on your own schedule. You especially knew when it was bedtime (even if the movie wasn't over or there was still wine in our glasses) and made sure we knew (and the neighbors most likely) that it was time for last outs and your greenie. You were happiest with people and your preferred state was snuggling any person you could talk into sitting on the couch/bed/grass/patio furniture with you. You didn't meet a single person you didn't like, and every person who met you couldn't help but be won over (and have a newfound appreciation for greyhounds in general) by the time they left. You knew to be gentle with the older woman down the street who'd had a stroke but still wanted to say hi to you on her daily walks with her walker, and you knew you could be bouncy and sassy with more able bodied folks; especially if it meant herding your dad towards the food at dinner time and nipping him along the way so he didn't veer off course and get lost. You were just the most handsome and graceful dog we've probably ever encountered. Practically every day we went for our walk someone would stop us to tell us how pretty our boys are-how graceful and regal they looked. I grew up showing horses and always thought your easy elegant trot would have made any equestrian jealous, and that you would have fit in with even the fanciest dressage crowd. You could also strike a pose! (Even with your sweet little overbite that got more pronounced as you got older.) Any time a camera came out, your little inner dog model turned on. You always humored me when I made us stop on walks for just one more picture. I'm so glad I did that now. To say you were a chow hound would be an understatement. We always said we'd know it was time when you stopped eating. (Turns out we were wrong about that.) Every night I'd start chopping veggies and you'd come flying into the kitchen and set your head on my hip and continually boop me until you got your share of the broccoli/cucumber/tomato/green bean/brussel sprout/bell pepper/carrot/cauliflower that was on the menu. It's really a miracle that little snoot never found it's way on to the cutting board with how insistent you were on getting your pre-dinner salad. You made us laugh with your antics-singing and talking up a storm (particularly scolding us for leaving when we would get home, or singing when it was time to go bye byes), and we could tell countless stories about your big personality and your ability to roach literally anywhere (be it in a moving car, a winery's open field, or the middle of the living room.) You kept an eye on us when we were sad or stressed and you always knew when it was time to just relax. You kept us on schedule, on task and never ever on budget. But more than anything, you were the heart of our pack and adjusting to life without you has been, well, miserable. Thank you for hanging in as long as you did; battling through a tricky auto immune condition and all the testing and treatments that went along with it. Thanks for giving hemangeosarcoma a run for its money and maintaining your status as one of veterinary medicine's unofficial biggest anomalies. You taught more than a few vets a thing or two and pushed them to expand their knowledge and have interesting conversations with each other. I like to think that there are more than a few other pups out there that might have benefitted from that. Thanks for leaving us with great memories. Thanks for doing it all with a big smile, a giant appetite and a strong gentle soul to the very end.
Laler (Kiowa Tony Gale)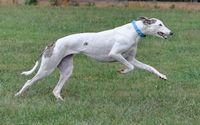 8/7/201 - 7/15/2021
Kiowa Tony Gale, AKA Later, came to us at 20 months old. We've had her for just shy of 11 years. She was super kissy and totally picked us on adoption day and we've had the honor of being her people ever since. Thank you so much GEGR for being so amazing to work with that day that we wanted to come back and volunteer with you. The rest is history. Later is one of a kind. She has always been a dream, super easy, very snuggly and kissy girl. She has been the matriarch of our pack for over a decade. She has seen dozens and dozens of greyhounds come thru our door and she has guided every single one and helped show them the ropes of retirement. She was a blood donor, she has been to Greyhounds Reach the Beach, Greyhounds in Gettysburg, fun runs and many meet and greets. She's always been perfect. Two weeks ago Later suffered a FCE, it's a type of stroke. She already had some other serious medical issues yet she fought hard to come back and walk. Over the weekend we noticed a lump on her weaker right rear leg, in the femur area. Yesterday, via xrays, we discovered the lump is, in-fact, Osteosarcoma. The lump has doubled in size since we discovered it. She is in some pain and we are managing that with medication but we will not allow her to linger or risk a catastrophic break. She has no idea she has cancer. She still handled today with the courage and grace she has entered every day. She has enjoyed her favorite meals and snuggles and brushing and all her simple joys. To say we are heartbroken would be the biggest understatement of the century. We knew this day would come at some point but hoped she would live forever. Hug your pups a little tighter tonight.
Luke (PJ Monsoon)
November 19th, 2011- July 3rd, 2021
Chris and I are very sorry to share that Luke (aka PJ Monsoon, Lou, Bubba, Wheels, and Big Grey, among other nicknames) passed away on July 3rd. We are heartbroken to lose him, but we're so grateful for the almost seven years he was in our lives. He was our first greyhound and our first dog as "grown-ups" and will always hold a special place in our hearts. When we adopted Luke in 2014, he slept the whole car ride home from the adoption event. We thought maybe that meant he was a mellow dog, but the opposite turned out to be true. He had a big personality and would make sure everyone knew he was in the room. He enjoyed food, playing tug-of-war, and barking at other dogs during his walks. He was also known to steal food off of unsupervised plates (meatballs were a favorite) and sneak in a sip or two of a cocktail or glass of wine on the coffee table. During his first few years with us, he went on several adventures, including two trips to Charlottesville where he relieved himself on Thomas Jefferson's academical village and hiked a few feet of the Appalachian trail. In 2018, we adopted Leia. After a bit of hesitation at first, he eventually befriended her, although we think Luke not so secretly preferred being an only dog. We moved to a house with a big backyard, where he enjoyed running laps, sunbathing, and pooing in inopportune locations. Last March, Luke was diagnosed with megaesophagus, a condition where the esophagus is enlarged and no longer moves food down to the stomach. We built him a Bailey chair, allowing him to eat in an upright position so that gravity could push his food down. Due to his condition (and the pandemic) our travels over the past year (two trips to Florida and two to South Carolina) included road trips with Luke and his chair. We also took several trips with him (and his chair) to King George and Westmoreland, Virginia. We had a lot of fun with him on those adventures, and we think he enjoyed them too. Last May, we adopted Harley. After comparing their family trees, we discovered that she and Luke were half first-cousins. By that point he wasn't as energetic as he once was, but he still enjoyed chasing her around the yard and letting her know who was in charge. Although we were able to manage his condition fairly well with his chair and diet/lifestyle changes, over the past month he was having increasing difficulty keeping food and water down. We were hoping he would be able to take one more trip with us to South Carolina, but last week he let us know it was time. After saying goodbye to Harley and Leia, he had a chocolate donut covered with EZ cheese before he passed peacefully with me and Chris by his side. Despite our sadness, we thought Luke would still want us to take our trip to the beach. We're staying at the same house as our previous trip to South Carolina. During our last visit, he grabbed a block from the house's Jenga set and put a few teeth marks in it. When we arrived this time, we found the chewed block and put it on the kitchen (his favorite place) next to a picture of him we brought- it's a bit of a memorial to Luke and his antics. Thank you so much to GEGR for entrusting us with Luke. We miss him so much, but the joy he brought to us over the years was worth the pain we're feeling now. Our lives are so much better because he was our dog.
Misty (Mystery Street)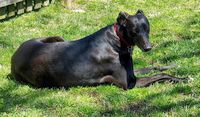 10/8/2017 - 6/23/2021
Such a sad day I had to say goodbye to Misty (aka Mystery Street). She was such a sweet girl, and was only 3 years old. My heart and house are empty.
Gus (Js Blew Chips)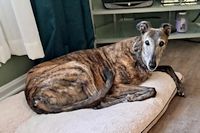 2/9/2010 - 6/18/2021
The Rainbow Bridge has a new star. Gus went to meet his sisters (Tony and Rita) and his daddy Bill on Friday. He was almost 11 ½ years old and the sweetest, most patient and just the best dog ever. Thank you for letting us adopt him and giving us such great joy.
Sugar (JSK Sugar Lump)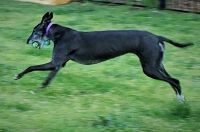 10/17/2012 - 6/14/2021
We adopted Sugar in 2015 and have been to many of the greyt expectations events over the last 6 years. 3 months ago we found out Sugar had a tumor in her left shoulder after noticing a slight limp. We were told amputation on such an aggressive tumor would lead to possible faster spread of the cancer. We decided to administer pain and muscle medicine to keep her comfortable which lasted a few months. Unfortunately as it goes with cancer, things got worse quickly over the last week and we had to put her to sleep yesterday. She was an amazing dog and we will miss her more than words can explain. Thank you for everything you do for the rescue and for getting us Sugar.
Raven (Cry Raven)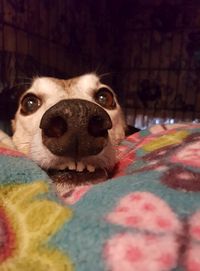 8/2/2010 - 6/13/2021
Sadly, today our dear Ravenous Raven passed over the Rainbow Bridge. She had been diagnosed in April with aggressive lung cancer. We had to say goodbye to our beloved little beasty. Michael, who used to work with Greyt Expectations had said the day we adopted her (Apr 1, 2012) that she would give us a run for our money... And Raven didn't disappoint. From day one, securing a 10 pound bag of sugar from the pantry, running through the hallway and leaving a trail of sugar, to being told "Don't you dare" whilst she was eyeing a mud puddle, and then proceeded to cover her heiny in mud and being proud of herself for doing so. While at the greyhound reunion picnic she proudly scampered into the lake, headset on swimming the length of the Chesapeake. To being the best cuddle bunny, jumping on the bed and keeping us company, stalking her Dad and chasing after him at the dog park (he was also her favourite chew toy), and always greeting her human brother and sister at the door excitedly every day they would come home from school. As fierce as she was, she was always very gentle with little children who were amazed that she looked like a tiger. She was the boss of the neighbourhood, she thought motorcycles and fire trucks were much too loud. She loved the crusts of pizza and always looked forward to 'teefy time' at 12 o'clock sharp everyday. She was keen to work on her suntan, come the summer and even winter months. The only thing missing was a Betty Grable-like bathing suit and pair of cats eyes sunglasses. She had an affinity for munching on the leaves of dogwood trees. So when possible, her ashes will be buried underneath a newly planted one just for her. She has a left a great hole in our hearts. She will be missed by all of us who have loved her. Rest in peace dear soul. Mar sin leat an-dràsta, a ghràidh!
Mac's Labadee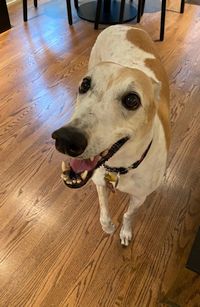 10/18/2011 - 6/11/2021
Today, we sadly said goodbye to our sweet Rosie - on the 5th anniversary of our GEGR "Gotcha Day". She made it to 9 1/2 years which is wonderfully amazing in greyhound years. Thankfully she is finally free from the gnawing pain of osteosarcoma in her shoulder blade this past several months and finally in her lungs. I've posted many photos over the past five years but let it suffice to say that Labadee Rose Freckles was the sweetest and best dog we could have ever imagined. She kept us smiling nearly every single day with her clown-like antics and big heart. For that we are grateful and heartbroken. There is a big void in our home tonight and we are already missing her legendary greeting dance at the front door and the cling-clang of her metal food bowl now that it is dinner time. Hug your hounds extra well and please say a prayer for Rosie as she makes her journey into heaven.
Mary (Mary for Money)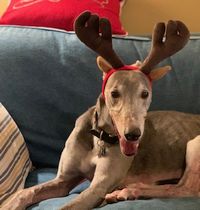 10/18/2008 - 6/8/2021
When we had our farm property in Round Hill VA, we would let the grass in the field grow tall so that it could be cut and rolled. One a Sunday morning as we started to pull out of the driveway heading to a meeting, we spotted four large cows towards the back of our property having a feast. We were running late and decided to leave them until we returned as they were not ours. When we returned, they were gone! We decided to let the dogs out for a walk around the field and do some investigating. It wasn't hard to find the spot where we spotted them from a far as there where several large piles of poo. All three greyhounds - Clipper, Mary, and Sassy all were keen on the piles and before we could call them all off, Mary decided she wanted to take a poo bath. She just pushed her Shoulder down into the biggest pile and proceeded to twist side to side - rolling back and forth until both sides were thoroughly covered. We just stood there and laughed so hard. She jumped up and had that greyhound smile as if she was asking - So what do you think of my new look? After a real bath she was good to go, and I swore her coat never looked more shinny! LAMO! OMG I'm going to miss you, Mary. Love you my baby girl!
Star (Star Terrific)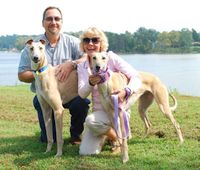 6/6//2021 - 12/9/2007
We knew the end was approaching over the last year and attempted to prepare ourselves but nothing can really prepare you for the anguish experienced. Cheryl and I always laugh about adoption day when Star picked us. She came to Cheryl's side out of nowhere and stuck to her like glue the entire time we were there. I wanted the big crazy boy Logo but we could not walk away from Star so we got both. We were a happy pack for many years. Once during a walk with Logo we were confronted by 2 huskies that were very aggressive, Logo the big guy hid behind me. Star jumped forward on her rear legs and attacked with her claws scaring the two of them away...after that we called her our junkyard dog. So many good times. As Greyhound family's say, they are a way of life for us.
Raisin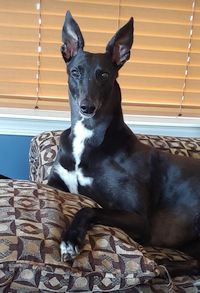 6/1/2010 - 4/19/2021
Raison was such a sweet baby when we first got her and such a great addition to our family. She loved to play with her toys, cuddle with my boys or I on the couch and greet family/friends at the door. She was such a bed hog, always sleeping the wrong way and I would wake up with a foot in my face. She will be missed every day and we know she is no longer in pain. We love you "Pookie"!
Thunder (JB's Thunder)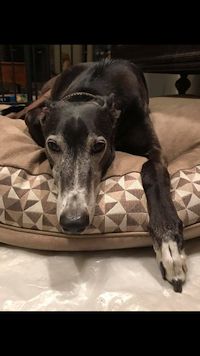 4/3/2010 - 3/22/2021
2 wks ago today, my life was shattered and heart broken beyond belief, as I had to make the unexpected decision to let my heart go....... Thunder you were my best friend, my bed buddy, my velcro boy attached to my hip..... Through no fault of your own, you were bounced back to our rescue and I was asked to be your foster mom. You were a hot mess, missing what you knew and your pack sister. It took you 2 wks. to settle in my home and with your new pack then I was asked to bring you to an adoption event.....You were 7yr old at the time and I just couldn't put you thru it again to go to a new family. It wasn't hard to be a foster failure with you Thunder......You knew you were home. Thunder, nights never went by that you weren't on the bed with me, days that you weren't the first at the door in the front when I got home or standing in the kitchen watching what I'm doing, where ever I was you were there ......You loved the beach, long walks, car rides, ice cream, pig ears, milk bones and peanut butter. You loved to lay in bed with me and watch TV and so good at pawing at me for attention when you felt whatever I was watching was not as important as the attention you needed..... You had your annual on 3/17/21 with my mobile vet. Momma was able to hold you when you had your blood drawn buddy and I was so happy when I got the call on 3/19 everything was normal. Saturday 3/20 was a beautiful day so I took you and Callie on a nice long walk across the field to the abandoned farm. We saw a barn cat run out of the barn so we checked the barn for feral kittens to rescue. We couldn't find any and walked home. It was such a good day, not knowing I was going to lose you in less than 24hrs.....On Sunday morning 3/21, you went out to go potty and in your crate for breakfast, which you didn't eat but, not unlike you...but, you refused to come out of your crate or go up the stairs which is totally not like you.....When I finally got you up the stairs something was terribly wrong.... I felt your abdomen and never heard you yelp so loud..... I couldn't get dressed or get you to the E-Vet fast enough, thinking maybe you had bloat....but, 20min after arriving my heart was shattered when I was told you had a large abdominal mass with fluid, probably blood in your abdomen...... I had no choice but, to let you go sweet, sweet boy, you were in so much pain. Yesterday, 4/3 would have been your 11th Birthday Thunder Bolt, you were the sweetest, most sensitive, gentle, loving eager to please greyhound. Your eyes and stares at me looked into my soul. I only hope and pray I made your 4 short years with me happy and you knew how very much you were loved. I miss you more than words can say..........
Jasper (WSR Zappy Zipper)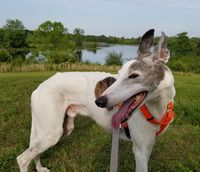 9/19/2006 - 3/15/2021
Jasper affected everyone who met him and so many people told me they would like to adopt a greyhound in the future after meeting him. He was such an ambassador. A gentle, sweet, beautiful boy.
Diesel (CJC's Rio Grand)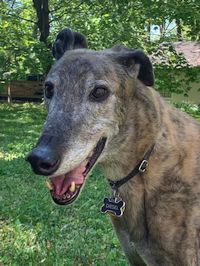 11/1/2007 - 3/11/2021
I want to thank you so much for allowing us to adopt him 7 years ago. He was the sweetest, most gentle giant. The dog that people who don't like dogs liked. As nutty as it sounds, I truly believe he had a gift of healing and would often find the person in a crowd who was struggling with illness or loss and lean in to them. He was so loved and our hearts are broken.
Moss (Iruska Cool Moss)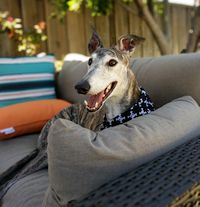 2/5/2011 - 3/9/2021
He was such a great dog - so friendly and caring, great around kids and other dogs, excellent on walks, excellent couch cuddler. It was so much fun watching him come out of his shell for the first few years - he really found his personality during that time and he was such a lovable goofball. He always hated baths and never really had any interest in pools or the water at the beach - except for one time he decided to lay down in the water at the beach for a few seconds. Thanks so much for bringing us together - he was such a huge part of our life and he'll be missed dearly. Eric
Bill (Itiswhatitisbill)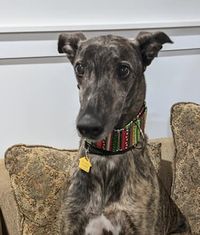 2/14/2012 - 2/17/2021
My sweet Bill is gone. Just after 4pm on 2/17, Bill got his well-deserved wings and headed to the bridge. He was able to pass peacefully and calmly which was my greatest desire. He deserved dignity and gentle care and he got just that. Bill was special and came to me under special circumstances in May of 2019. While I was searching for pictures to add to this post I could see the transformation that took place from a terrified, untrusting shell of a dog that would only look at me with a side eye, to a happy go lucky, confident member of the pack and family. He learned to trust again by watching his brothers and sister and following their lead. I remember taking him to Holly Ridge for his first fun run and though he was decked out in a red bandana and muzzle as a warning to strangers, Bill wandered over to Rajiv, a perfect stranger and let him pet him. He had a blast that day just running with other hounds, chilling in the pools and making an introduction to anyone that wanted to meet him. At the end of the day, he was smiling and started to become a dog. Bill was also so obedient. When the other dogs would get all riled up over a trapped rabbit or a bird Dolly pulled down, Bill would be the first to back off and come when ordered. He loved training and working for treats. He desperately wanted to know what was expected of him and he tried so hard to make sure he did it. Bill even served as an ambassador at the pet expo allowing a never-ending line of people pet and hand him treats. To be clear there were a few things Bill didn't care for like teeth brushing and nail trimming so those became ongoing efforts to win him over. 2020 was special for Bill and I. He became the perfect example of how to not judge a book by it's cover and to give time and understanding a chance. The first day the puppy came as a foster, Bill wanted to kill him for no other reason than to make the high-pitched screaming stop. He clearly had to be separated from the puppy for the first few months or he would try to squash little Apollo like a grape. There was no way the puppy could stay if Bill could not learn to tolerate him. In time, Apollo stopped screaming and grew tall. Bill became more and more tolerant of him and they became bed buddies. I worked from home much of last year and Bill started to sleep on my bed. He had to learn that the puppy would be on the bed too and was going to squirm around and touch him, a lot. Bill was reminded daily that if he growled, he had to get down, so he learned to just put up with the flopping puppy. This past Christmas was the best. We had to stay home and I decided I wanted pictures of all the dogs in their Christmas collars. My sons were there to help. Bill of course was the only one who listened and stayed in his spot through hundreds of photos. We all marveled that he had no muzzle on with 5 other pups running around and treats all over. He was just one of the pack and loving it. Little did I know those would be the last pictures I would have of Bill having fun. Something started to happen a couple of weeks ago where Bill started stumbling and swaying and his left eye looked odd. Both the evet and the regular vet tried to narrow down the issue, but Bill wasn't feeling well and he did not cooperate for in-depth exams. He was given meds but those were hard for him as he didn't trust all the new foods I was trying to hide the pills in. He deteriorated until he was just walking in left circles and unable to eat or drink. I made the hard decision to set him free rather than let him languish in pain. I will miss this big boy. He was affectionately called Bill Bo and Bill Bubble Butt (cus he was rather round). He confirmed the fact that there are no bad dogs, just dogs who need to be loved differently. He and I had an understanding; a secret code and it worked for us. The lessons I learned have forever changed how I approach dogs and animals in general. Run free Bill and have fun being just that, Free!
Twila (Twila Time)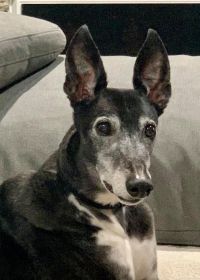 9/16/2008 - 1/13/2021
I wish you'd just let me sleep in for once! I wish you'd stop hitting me with your nose as soon as I walk in the door! I wish you'd get out of my way when I'm in the kitchen! I wish you'd keep your face out of my plate while I'm trying to eat! I wish I had your enthusiasm about literally everything! I wish I had your patience. I wish I looked as good as you as our hair turns silver. I wish I'd stopped to scritch your ears more — you knew it would be good for us both. I wish I'd never raised my voice in anger or frustration. I wish you'd told me you were in pain. I wish you had poked me with your nose when I walked back through the door without you today. I wish I'd met you sooner so I could have shown you how much I love you for longer. I wish you'd wake me again in the morning tomorrow.
Ever (Nevermind Blair)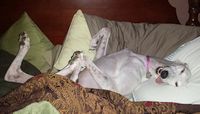 6/10/2011 - 1/8/2021
Today, very suddenly, we had to help Ever to the Rainbow Bridge. When she woke up this morning she was fine, but something happened (either a bloodclot or a stroke), and she lost the ability to move her left side. We rushed her to the vet, but she was in a tremendous amount of pain and with little chance of recovery. Rather than see her in any more pain, we made the choice to end her suffering. She luckily passed on to the Rainbow Bridge with all her humans at her side (even if one was on a video call). She goes on to meet the other Mattingly hounds Knightly, her best-bud Reina, and her brother Zak. Ever came into our lives after her brother passed from osteosarcoma in 2014. The humans were grieving, and Reina our only other pup seemed lonely. I pulled up a list of other litters from Zak's mother and found one in 2011 that had started to have racers retire. We saw a few dogs, but Ever's snowy-white fur was too hard to resist. I reached out to the group in Ohio that was fostering her, and after hearing our story, they agreed to meet us at GIG in a few weeks with "Blair" (who became Ever soley because I didn't like the name Blair) to meet and formally adopt her. When she and Reina met, they were best buds immediately. Ever rested her head on Reina's hip and that was that. They stayed that way until Reina passed in 2019. Ever loved to snuggle (though she wasn't much of a kisser). She was pouty and, if she didn't get her way pouting, exceedingly naughty. She'd do things like trick her humans into thinking she needed to go to the bathroom so we'd abandon our food to head for the door; then, she'd double back and snatch our food before we could catch her. She was a terrible runner (which is always why we thought she was retired) and very clumsy, always tripping over her own feet. But she was also gentle and sweet. She loved my dad best (because he was a sucker for her puppy-dog eyes), but she loved everyone more than enough. We'll miss her very much, but we take comfort in knowing she did not suffer for long.
Ruby (Extrem Ruby)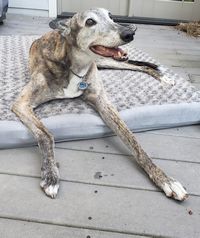 10/28/2009 - 12/28/2020
Ruby passed away December 28th, after loosing her battle with cancer. We made sure she was extra spoiled the last few months. Ruby was a wonderful companion and loved joining us on adventures. She loved car rides and long walks, lots of treats and sitting on the porch in the sun. We will miss her happy dance, her delivery alerts, her flailing for attention, and how she'd put herself in her crate and bark when she wanted a taste of our dinner. Our house is so empty now without our Ruby Doo. We love you Big Doo.
Lady Bug (RWC Lady Bug)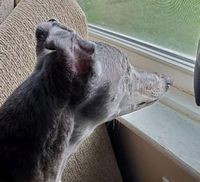 10/1/2008 - 1/1/2021
Lady Bug passed January 1st 2021, my stubborn, gentle, soft as mink girl was suffering from arthritis in her neck and shoulder and we just couldn't stand to see her suffering. None of us wanted her, or Caprice or Punkin to leave us. We lost Caprice in September of 2020, Lady 5 months later, and Punkin was lost to us 4 years ago. The house is too quiet, we miss their faces in the window, the perk of their ears as we went toward the kitchen, the squeaking of toys, the conversations and the hugs. We miss you all so much, may you all be having races, and laying in the sun over the Rainbow bridge.
Sherri (Sheriff Morton)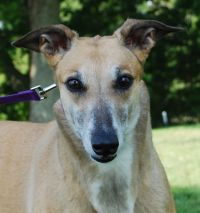 3/24/2006 - 12/29/2020
Today we let Sherri go. Sherri became my foster after it was discovered she was not cat safe. Even until the very end the desire to chase a cat was alive in her. Sherri was a strong willed lady who would fuss with you over anything. I would have to call her in from the yard every night because she would go out and lay down and refuse to come in. My neighbors got a thrill out of seeing whose will would be obeyed, mine or Sherri's. Most of the time it was Sherri. There are not enough words to describe how Jimmy and I loved her. She brought joy to our lives every single minute she was here. Sherri was also a brood mom. She had a litter of puppies. I think she even out lived several of her pups. I will never be able to thank GEGR enough for allowing us to adopt this beautiful lady.
Motown (Northern Town)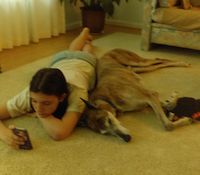 5/1/2008 - 11/22/2020
This big quiet boy was the rock for 2 little girl greys, always letting them push ahead of him for treats. They wanted to be near him during storms. When he was the only grey left we vowed to spoil him for the rest of his life. He loved it and we loved doing it for him.
Hedwig (Kiowa Saints)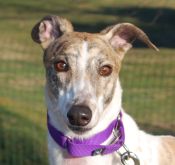 12/3/2008 - 12/20/2020
Hedwig "Heddie" Kiowa Saints passed in her sleep sometime after midnight. 12/3/2008-12/20/2020 Run, Heddie, run. We adopted Heddie and her litter mate Crookshanks Kiowa Saints on January 14, 2012. Both loved being part of Her Majesty's Hounds at the Virginia Renaissance Faire, going into the elementary school on G weeks, 8th grade World History classes, and helping Clarissa earn her Gold Award for Hounds at Hounds At Hazelwild. Crook lost her battle with cancer in 2017 and has been waiting almost four years for her sister.
Harley (MH Close Out)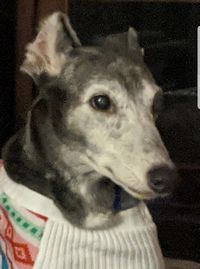 4/15/2006 - 12/13/2020
It is with a heavy heart that I write these words to say our little angel crossed over the rainbow bridge on Sunday. Harley would have been 15 in April and we were so sure we would make it to celebrate that day, but his heart had other plans for him. I can't tell you the pain and sadness we are feeling from our loss. Thank you so much for letting him bless our lives for 10 years. He was deeply loved and truly missed.
Star (Starz Sky Flare)
7/20/2007 -12/14/2020
Star lost her battle to kidney failure today. She was weak and let me know it was time. I am sure her bridge "brothers" Jupiter, Orion, and Roscoe meet her at the rainbow bridge. In 2010, I had lost my first greyhound and my boy Jupiter was lost without his sister. Flare was being fostered by Michael Owens and I drove 2 1/2 hours in snow to pick her up as a temporary foster. Within 2 days, Star and Jupiter were cuddling on the couch. Even though I wasn't ready to adopt and I wanted a black greyhound. Star made it known that she wasn't leaving. I officially adopted Star President's weekend 2010. She was 2 1/2 and full of spunk. She was so tiny next to Jupiter but she ruled the house from the get-go! She loved car rides, McDonald's cheeseburgers, kids, and walks. She was my constant shadow and knew where I was all the time. One year at the GEGR picnic, she was down at the water and I was at the top of the hill, I called her name and she bolted up to me. I can't remember who was next to me but they were shocked how fast she came to me once she heard her name. In 2011 or 2012, she was an actual star as she was "Sandy" in the musical ANNIE at the high school I taught. She did so well with the musical and everyone loved her. She just soaked up the attention. Star was the perfect meet and greet dog as she would stand for hours and be the first in line for pets. Thank you to all those that loved her as much as I did. I take comfort in knowing that she touched so many lives.
Hermes (Cry Hermes )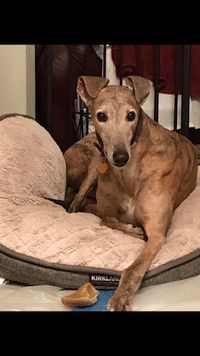 8/20/2010-9/9/2020
On a beautiful afternoon on September 9th 2020, my big Grade A retired racer Cry Hermes went to the Bridge peacefully at home in my arms. It's been 2 months to the day.... I've started to write Hermes's tribute many times but, always unable to finish....These so much about Hermes on so many levels, none of which I could loved him any less, some of which I never knew a greyhound could push me that far and all of which I wish I could only have one more day with my big bully retired racer. Hermes was a Birmingham, AL racer with a racing weight of 85lbs. I had the pleasure of watching many of his races on Track Info. Hermes was often announced as the race favorite, rematches at times were announced along with other racer rivals that were running against him. Hermes most often came out of the box last then some sort of light bulb went off in his little brain as to what he needed to do and slowly you'd watch him come up the pack for the win. I'd watch his races over and over and be so very proud....He knew his job and did it well....... but, Hermes, for some reason started fighting dogs at the end of the race, his size was not to his favor, the walkers/handlers became afraid of him and his trainer was asked to retire Hermes.... So his racing career came to an early end. Hermes's Gotcha Day was 9/13/2013. My love is BIG brindle males, everything that Hermes was...not knowing, even though he was Jade's favorite, he was coming with some baggage, he was big, pushy, stubborn and strong determined to do things his way. I found that trying to trade up in value treats for his resource guarding then playing head to head with him....would find me pinned up against the wall with an 85lb greyhound on my chest or bitten on my forearm without warning just because I was kneeling in Hermes space, to change a dressing on Thunder's foot. Hermes didn't react to fear in a flight mode unless you were a fly....Yes, this massive greyhound would see a fly and immediately run downstairs to the rec. room and there he would stay, for hours...literally HOURS.. until I could coax him back upstairs with reassuring promises that the fly is no more and he will live to see tomorrow.....but, with that said.... Hermes's fear was a fight mode....getting his nails clipped warranted him sedated to have them done.... not even Jeffrey Jeffery Frederick and Clint Rathman together could clip them.....or situations that were unknown to Hermes.... like climbing up hotel stairs with a strange door at the top..... He used his size and strength to avoid anything he didn't want to do......but with time, patience and prayer.....and the help of a behavioralist, medication, 3 different harnesses and an understanding of Hermes....he lived his life with me and the concept of.....Nothing In Life Is Free and was loved each and everyday with everything in my heart. Hermes always kept me on my toes.....as he would often eat things that did not belong in his stomach..... He's most known for eating an entire black leash with a muzzle on.....Yes, the entire leash except for metal....Hermes came to know and love peroxide and milk that day and after 3 pyles of vomit.... he successfully produced the entire lease...How do I know?? by putting on a pair of latex gloves and piece by piece putting that leash back together to make sure I got it all out!!!!.... Hermes has a jar of objects found in his stomach and often I retrieved something different then what I gave him the peroxide for....Hermes was always full of surprises and Thank God for Peroxide it's saved me thousands!!!! Hermes was a talker and boy would he voice his opinion on things that didn't suit his liking...and use his talking skills to negotiate...it always gave me a laugh to carry on a conversation and he usually got his way.. He loved opening presents especially at Christmas and was deemed the Official Present Opener!!! Hermes was funny and crazy but, had his unpredictable side that I'm grateful he landed with me.........Hermes just loved to eat....anything you gave him, I couldn't open a bag of lettuce without giving him almost half the bag, any fruit, bananas, apples, mangoes, pineapple, oranges, any veggie cooked or raw.... a favorite was a large carrot or stalk of celery and of course any meat, cheese, sweets....Oh and he loved his cup of Breyers Vanilla ice cream....this dog would eat anything you could give him. Hermes loved his car rides and leash walks both we did his last morning......he loved to just sit at the top of the yard and survey the land and he still loved to push his way thru the sliding glass door to come in and even though he was 10, the youngest of my 3....Callie and Thunder just got used to it I suppose..... Hermes always seemed to be in Hermes's World but, was never very far from me ever..... if I was in the kitchen, he was lying on the kitchen rug...always in a dog bed near me and at the foot of my bed in his bed and if Callie was in it he would bully her out of it..... Yes, Hermes was a bully.. my bully, my big brindle bully greyhound, I was Hermes's person...Yet, he never liked to cuddle, jump on my bed or get on the couch but, when he wanted to be loved he came to me in his way and would always let me love on him until it was enough....just enough. Thank you, Jade Kimberly Feise for being Hermes's first momma....I loved your boy to the moon and back....to his last breath A fly came into the kitchen a week ago, yes just hanging around me and yes, Hermes...I know you're ok....Any other time I would have gotten rid of that pesky fly but, not anymore....the fly stayed a couple of days then disappeared..I guess maybe I will look at flies differently now........ The loss of Hermes has been as big as he was...even though he was never close enough to touch he was always there, just there........it's never taken me this long to write a tribute on any of my greyhounds that have crossed to the Bridge before.... there is so much more about Hermes I want to write and I feel I've left so much out...... Hermes you were such a BIG part of my life, I miss you so very much...... I Love you, Buddy... Till will meet again...... Run Fast and Free Hermes and Fly with the Angels Big boy....Fly High.
Thane (Dreams Are Happy)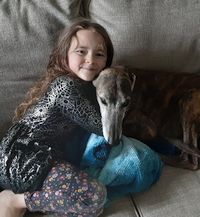 4/15/2009 - 12/3/2020
I attached a picture of Thanke with his girl Reyna. He was there through pregnancy and birth, a loyal companion and aided her in learning to walk. He also soothed our anxious pyr Naga. And acted as my assistant in training Naga and other clients as recently as 2 weeks ago. He was my husband's first dog that he himself picked out and named. And he sought out pets from all, especially those who needed to give them most. He also acted as a pet for one of our cats, Mistyfoot, who ensured he was groomed to her specifications. A gracious gentleman and host to all. I really can't say enough about him.
Windy (Rockintheplace)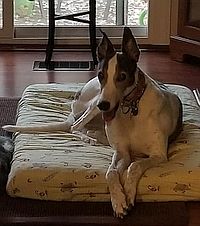 10/3/2011 - 11/247/2020
With heavy and broken heart Windy has gone to the Rainbow Bridge . Cancer is such an ugly beast.
Genie (GS Genie)
August 10, 2006 to October 24, 2020
AKA: Sweetness. Pumpkin Spice. Weenie Girl. Girly Girl. Jean-Genie. Missus. Genie Girl. Genie was the sweetest and best girl ever. My spunky black and white land shark who could put anyone in their place and turn right around and engage them in play. She was a feisty cow girl and we will treasure every single day we were able to spend with her. Genie was a GEGR (Lusby, MD) foster failure who we were able to spend nearly 12 years with. She loved to sit in the Sphinx position or drop to downward dog with a large slam when she was super excited about something. Genie was a wonderful and wise senior who outlived her beloved Greyhound housemates, Jupiter and Booth, who went to the Rainbow Bridge much too soon for our comfort. She loved the water, and unlike the other dogs who would wade out and swim, she would walk out a few inches and lay down (while looking at them with disdain as they splashed and paddled in circles). She was a breed snob who preferred the company of other Greys to anyone else, and loved us fiercely. Genie and I would always start and end our day together, on the sofa, me reading or watching TV, having coffee, or a glass of wine, her right by my side. Genie gave us way more than she ever took. She had a wonderfully long life and was not taken by any illness at the end, and for that I am ever grateful. Run free Sweetness, I know you are with Jupiter, Booth, Hank, Nero, your littermate Kenny, and all the greys you've ever known at The Bridge. We will love you forever and one day and miss you more. Jeanmarie
Butch (Bachelors Hall)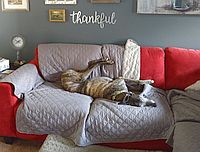 7/8/2007 - 10/23/2020
Butch went to the rainbow bridge this afternoon. I miss you already but I know you are no longer in pain. Run free sweet man.
CBJ Woody
April 7, 2017 - September 22, 2020
My dear sweet blond boy, Finn didn't make it. His decline was rapid and nothing was working in spite of mine and veterinarians' best efforts. We don't even know with certainty what exactly it was that likely effected him way before he presented with symptoms that began in mid to late August. But that's all I want to say about that. I want to honor Mr. Finn... I sought out this docile three year old during quarantine while he was being fostered by a lovely couple in Alexandria. They adored him, and when I brought Oberon he connected with him and I even though Finn was quite shy. Finn immediately stole my heart and we went home with him. Even though he was with us for only three short months the fair haired tall boy with the soft, bunny fur, pepper-tipped ears, and big brown doe eyes stole our hearts. He was very happy and super easy going. He hated hard wood floors and I had to coax him on them by throwing treats from down the hall. I loved his distinctive woo woo bark when he got excited about chow time or treat time. He would also chomp his teeth excitedly whenever he saw me especially when I emerged from waking up. He'd bow, chomp his teeth, and woo woo when he saw me. He didn't run much actually preferring flopping in the grass and stretching his legs that way. He eventually could no longer walk and so I cared for him until he passed comfortably and peacefully surrounded by his pack, my sister, Bobbi, and his foster 'dad', Pete. Run free, sweet boy, or flop on the grass. Woo woo and do your romper chomper free of pain. Even though this was heart-wrenching, I would do it all over again. Two families loved on him for six months of his retired life. FinnBarr 💛Finn💛 Kleyle April 7, 2017 - September 22, 2020
Copper (Aqib Talib) 12/18/2011 - 9/21/202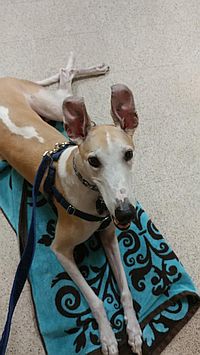 12/18/2011 - 9/21/2012
Copper has journeyed to the Rainbow Bridge to join my boys there. We had a great (or funny) story book beginning, that should have had so many more chapters. Copper loved riding in the truck, so we were able to have many adventures. He was just shy of 4 years officially being a Horne. He will be missed beyond belief.
Capricce (Turbo Caprice)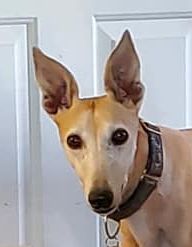 11/20/2012 - 9/7/2020
It is with great sadness that my heart dog Turbo Caprice has passed from this world. She had a stroke just before we went to bed and we let her go not long after. She was special. Sassy, funny, and just the best friend I could have ever asked for. Thank you to all who have helped me with her these past few days. I greatly appreciate it.
Beau (CJC's Homestead)
4/8/2008 - 8/27/2020
We had to say goodbye to our Beau the other day. He was such a wonderful boy. When we went to Lisa's on adoption day Beau latched on to us and followed us around. One of the volunteers said 'he's picked you' and we were thrilled. As beautiful as he was he was not not adopted in his first two adoptathons. With all the dogs and people around he came over and laid his head on my lap while we were signing the adoption papers. He knew he was meant to be with us. He was so beautiful, happy and easy going. He never met a person or dog he didn't like. He loved meet and greets and never wanted to take a break in the pen. He wanted to be out greeting people the entire time. I'll miss his spins when we come in the front door and having my sous chef with me in the kitchen when I'm cooking. All of the people in the neighborhood loved him and even the shyest, most anxious dog felt comfortable around him. He started limping about a week ago. Everything else was completely normal. Still as happy as ever. We took him into the vet and the xrays didn't show a fracture so she gave him medicine and we went home. In less than 24 hours he lost control of his back legs and ended up completely breaking his tibia. The vet said the bone looked very suspicious and with a break that severe it was almost definitely osteo. He was 12 1/2 so we made the very hard decision, with lots of tears, to let him go with out putting him through anymore pain and tests. We miss him dearly. We have gone from 3 in our pack to one in less than 2 years. The one picture is of Beau and our sweet boy Boots - both are at the bridge together now. I love that picture of them with the sun streaming through the skylights.
Rebel (UCME Rebel Yell)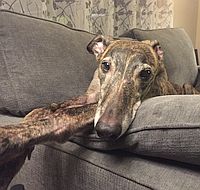 6/6/2009 - 8/21/2020
On August 21, Rebel passed away peacefully at home. He was adopted in 2009 after being bounced back to GEGR. When we saw his picture, we knew we wanted to bring him home. He was the perfect fit for our family. Such a sweet and gentle soul. He was so patient and tolerant with our three daughters. We will miss seeing him sprawled out roaching on the couch, his little hop and dance before dinner time, his sweet soulful eyes, his happy face rubs, and even his stinky breath. Love you, buddy.
Thinner (Where's Thinner)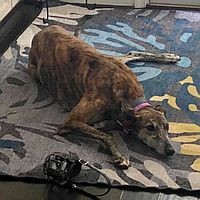 2/10/2012 - 8/11/2020
On February 10, 2012 Where's Thinner was born. She raced 143 races with 24 wins and 16 second place finishes. She raced in Florida and ran her last race in January 2017. She went on to become a momma and had a litter of puppies in March 2018; 2 girls and 2 boys. Retired life started August 7, 2020, and she came home with me to settle in with our pack until it was time to find her furever family. Just like ever brood mom before her, Thinner settled right in and was the sweetest girl. Her tail was always wagging, and she was slowly figuring out retired life. She was a brave girl and would let me guide her up and down stairs and across the slippery floors. Naps were on the comfy dog beds, and at night she slept beside me. She was learning to play and loved it when you got on the floor and played with her. Every greeting was with tail wags and a very happy girl. On August 11 Thinner went in to be spayed and suffered complications, and we had to let her go. I told her how much she was loved, and that I was happy that I was her person for the last of her days. She's joined the rest of our kids at the rainbow bridge.
Defiant (Pfannys Moesbi)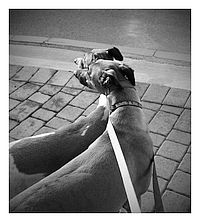 4/21/2009 - 7/31/2020
Yesterday I said goodbye to my very good boy, Defiant. Born in 2009, with me since 2012, he was a delight until the end. He lost his sister Breaks last year, and got accustomed to being the only dog, although he still would look around on walks like she was missing up until the end. We loved him and how he quickly acclimated to our move to our current home, with squirrels to chase and deer that kinda looked like weird greyhounds. Even that turtle he discovered this week. Rest in peace big guy!
Booth (MH Cruiser)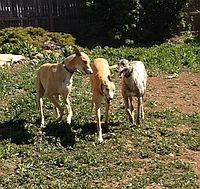 9/17/2008 - 7/24/2020
The final member of our GEGR three gained his wings and was reunited with Tempy and Ely at The Rainbow Bridge tonight. We will always remember his silly play bows and Chihuahua bark!
Dion (Flying Dion)
6/12/2007 - 7/24/2020
Yesterday was a sad day. Had to put our beautiful Dion down. She was always a lady...never jumped on anyone or the couch. She was quiet and reserved until the doorbell rang & then she was the protector. She wasn't the same after putting Chase down in April & her back legs & kidneys were failing. We will love you forever Dee. Run free with Chase and show him how to win!!!
Sara Shall (Dorian)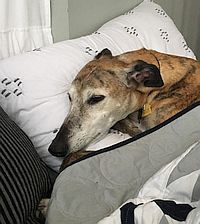 4/21/2010 - 7/12/2020
In many ways, these words are commemorating two Dorians. The first was the Queen of the House - the Dorian she imagined herself to be. This version ran the house, and we were there to accommodate her schedule. She would put herself to bed at the appropriate time, and wake us up the next morning, regardless of our plans. She let us know when it was food time, even though her internal clock was about an hour early. She never walked anywhere, but would prance from room to room, with poise and grace. The trainer of her Beginner Training class confirmed our impressions by referring to her as a "fancy lady." She would play bow to her visiting callers, and then prance and play before abruptly stopping and laying back down on her memory foam bed (again, HER schedule). Had she mastered the one-hand wave, we would have bought her a crown. Then there was the other Dorian. She had the decorum of a drunken uncle at a barbeque. She would burp, fart, and steal large quantities of meat off the counter when no one was looking, then spend 10 hours sleeping it off. She could always find something tasty on the road during her walks. Most of the time, it was an errant chicken bone that didn't make it into the trash truck, but every once in a while, it was something truly horrific - like bits of squirrel or a frog. Her breath could knock a buzzard off roadkill, and that was the day AFTER her dental cleaning. Despite her lording over the house, and her sometimes disgusting behavior, she was our best friend. She loved freely and without condition and she never met a person she didn't immediately take a shining to. Even after she was scolded for eating a squirrel foot, she was quick to offer kisses to apologize - though squirrel-breathed kisses are not the apology you were looking for in that situation. She developed a spinal tumor that was causing her pain and loss of motor function, and so the last friend she made was the vet who was called to euthanize her. Dorian didn't hold it against her, because she got some peanut butter out of the deal, and then got to take one last nap. I will say that she will be missed, but that doesn't quite capture how much. She was an amazing dog and all others will be compared to her.
( Waffle) Ty's Waffle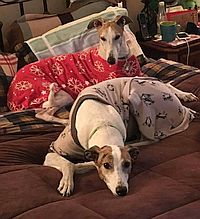 5/19/2010 - 7/7/2020
What can I say about Waffle and Dizzy other than our lives are a little less happy without them. These guys were so much more than dogs to our family, they were trusted friends that we could count on and they were beloved family members that imprinted their quirky and lovable personalities on our hearts. If these two were a comedy team Dizzy was the bumbling, awkward and clumsy funny guy and Waffle was the steady, thoughtful, and deliberate straight girl. Together they were hilarious to watch and interact with. They were a true team – NO DOUBT ABOUT IT! Team Wizzle! It makes sense in a way that they basically crossed the bridge together. Dizzy needed his best friend and Waffle felt responsible to look after her's although she had other reasons to want to go. After Tommy died, Waffle was never really quite the same. He was her boy and she doted on him like crazy. Waffle never really showed much affection to anyone other than Tommy. Now she is reunited with her boy and her partner in crime and we take some comfort in knowing she is not alone on the other side. Dizzy was a hard pill to swallow! When we first met him at the adopt-a-thon, Jen and I both were like "no way…this dude is a train wreck with his busted tail, pee colored fur that is just coming out in handfuls from stress and all is nervous licking wounds everywhere" but in spite of this dumpster fire, Lovey went right up to him and booped his nose ever so gently with hers. She chose him and if any other grey came around us at the event, she would snark and chase them off. She took a protective stance in front of Dizzy and she definitely made the right decision. With plenty of love and affection, we finally got him past the nervous licking, his fur grew back in a bright white color that was as soft as an old cotton t-shirt, and his wonky tail became his signature trademark! After about 2 years, he began to finally REALLY relax and his fun, mischievous puppy side emerged! He was still neurotic, we called him "Sheldog" after Sheldon from Big Bang Theory because he had his strict routines and his "spot" on the couch and he would express his displeasure if either of these things were messed with! Dizzy was also apparently an empath because he, more than any of the others, just knew when someone needed loving and sympathy. He was the glue that held us together after Tommy. I even remember saying of Dizzy that he was God's love in a furry four legged package. And isn't that God's way? To pick the most imperfect vessel to express His perfect love for us? There is so much more I could say about both kids and maybe over time I'll be able to share more but I just want to give others a glimpse of what amazing friends these two were to us and what precious family members they will always be.
Dasher (Inkan Dasher)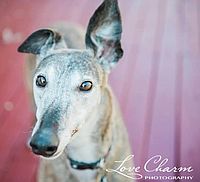 May 21, 2007-July 9, 2020
With a heavy heart, I had to let Dasher transition into whatever awaits him in his next life yesterday. He had dealt with hypothyroidism, SLO, spine issues, and laryngeal paralysis the last few years, but we shared many great and wonderful adventures together. I was blessed to get 11 years of life with him by my side. He was always my safe space, calming presence, and the yin to my yang. Right now it feels like a part of my soul is missing, but I will forever be grateful that he taught me how to love unconditionally. When I felt like I had no wings to fly, he flew to me, and chose me to be his mom and he was the heart of my home for the rest of his life. I miss him, but am glad he is at peace. Inkan Dasher
McCleary (Instantly Clear)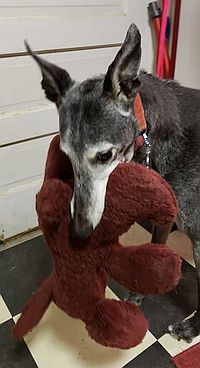 8/12/200/ - 7/3/2020
Today our boy McClear gained his wings. He had LS for many years but recently his body just gave out. Up until the very end his spirit was still there. He was a joy to us and we loved him so much. He fav thing to do was take a mother bunny out. He felt if he carried out the mother bunny he did not have to wear a muzzle. You will be missed big buddy.
Janey (Mighty Maryjane)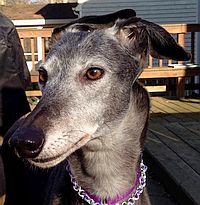 June 12, 2008 - June 27, 2020
Janey was my first greyhound; I remember seeing her photos on the website and thinking there was no way I'd go home with a dog that regal. It turned out she was the perfect match for me. Beneath that regal exterior was one of the silliest dogs I've ever met, and she firmly cemented my love of CLBDs (crazy little black dogs). Janey was easy going, loved to run and play, do zoomies, and dig MASSIVE holes in the yard. She was the "queen of comfort", could roach on a dime, and I think she spent 50% of her life upside down. She had a zest for life, and she brought so much joy to mine. Her black fur started to grey very early on, and for the last few years, she looked more like a blue dog than a black one. She was a gorgeous girl, with golden eyes, wonky ears, and the softest fur. Janey was diagnosed with osteosarcoma in her right shoulder, and we said a gentle and peaceful goodbye before the pain became un-managable. We had 10 wonderful years together and her absence leaves a terrible void in my home and my heart. Good night, sweet baby Jane - how I shall miss you.
Chase (Flying Chase)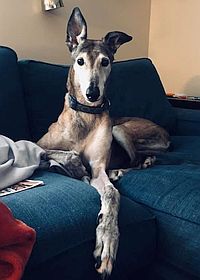 4/7/2007 - 6/9/2020
He was beautiful, sweet goofy & a bad boy all in one. We love you sweet Chasey - forever & always. We'll miss your silly zooming, your roo-ing, the way you looked when I said 'walk' & those super soft ears. The snuggles you gave so freely were the best & the kisses I could give you anytime will be so missed. Always in my heart. You lived a long spoiled life 13 years 2 months & 2 days. Loved by Kim Williams and family '''
Octavia (WW's Octavia)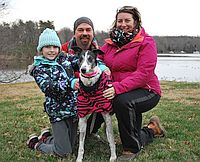 12/4/2012 - 5/29/2020
Octavia was our first family dog and we couldn't have asked for a more patient dog to come into our lives. She was gentle but timid. Getting her to learn how to climb the stairs the first few weeks in our house was an adventure but she soon mastered them. We only had her for a short time but are glad that we could give her a nice retirement life and home. Love The Mikas
Honey (Little Gem)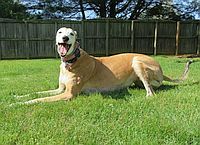 10/21/2005 - 5/18/2020
Our Sweet Precious Girl, Honey, passed away peacefully on Monday, May 18, 2020. We were beside her, letting her know how very much she was loved. On Friday, May 15, 2020, "Honey's" lymph nodes in her neck and back legs started to swell. Blood work and fluid samples were taken. On Monday, May 18, 2020, the test results revealed Lymphoma (T-Large Cell), an extremely aggressive Cancer. She was getting worse every day, as she struggled with controlling her back legs. She was eating very little, and drinking less. We let her go with dignity, stopping her pain and suffering. We adopted Honey on October 25, 2014. Honey was our second adopted Greyhound. When we adopted Honey, it was suggested that we walk her with a harness, and use a special strap on her muzzle, because she was really good at slipping out of her martingale collar, and excellent at removing her muzzle. She was a Shy, Quiet, Sweet Girl, with a Sassy, Playful, Energetic Attitude. Honey was Always Daddy's Little Girl, and he called her his "Little Girly". She always gazed at her Daddy, with such love and affection, and watched every move he made. She loved to make her Daddy chase her, both in our home, and in our backyard. Honey was a Brood Mom. We located, and kept in touch, exchanging photos, with three of the families, that adopted her puppies (a daughter and two sons), over the years. In 2015, Honey was reunited with one of her daughters, which was a Beautiful Moment. Honey was Fearless, a Tough Girl, Young At Heart, who enjoyed Retirement Life, to the Fullest. Honey knew how to put the boys in their places, if they gave her a hard time, while playing in the backyard. Honey thought the word, "NO", meant it was time to play, and would just bark at you. Honey did not care to cuddle with us, but she loved to be around other Greyhounds. Honey had the longest, loudest, and deepest ROO, that put the boys to shame. For years, Honey's favorite treats were raw baby carrots. She even learned to sit, when the carrots came out. We called her "Aqua Girl", because she drank so much water. Honey had the cutest snore, when she was in a deep sleep. Honey loved to lay in the ocean water, at the beach, and relax in the kiddie pools, each year, at the GEGR annual reunion picnics. Honey loved to run, with a big smile on her face. Her signature move was, lying in the grass, rolling on her back, from side to side, while kicking her legs and paws, straight up into air. It was comical to watch. Honey was such a Good Girl. She was not considered small animal safe. One day she found a rabbit's nest in our backyard. She proceeded to gently take the baby rabbits out of the nest, and lay them next to the hole they were in, never hurting them in anyway. We thought it was her Motherly Instinct taking over. On another occasion she walked over to us, gently holding a mole in her mouth, we thanked her, and put him back in the yard. When her Daddy was doing Home Improvement work in the house, we would hear a dropping noise, and it was Honey, trying to carry off Daddy's heavy measuring tape roll, or a big plastic bucket in the work area. And she had a fetish for baskets, and destroyed almost everyone of them, in our house. Up until her last day, Honey had a Very Strong Mind and Heart. She even tried to play with her Daddy, even as weak as she became. We Miss Our Precious Girl So Much. Honey will Live In Our Hearts Forever, beside Our Beloved Boy, Bumblebee. Our Boy, Trip, will miss his Best Friend and Beloved Sister. Thank You GEGR, for bringing this Sweet Greyhound into Our Lives. Love, Brad and Debbie Martin
Remington (Higher Amenities)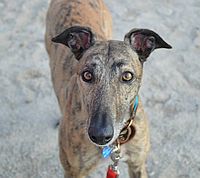 5/17/2008 - 3/28/2020
While Remington wasn't a GEGR dog by way of adoption, he was welcomed to the Greyt Expectations family when we moved to Southern Maryland. Remington's passion for naps, cookies, and dinner time were unrivaled by any other dog we have ever known. He was a dog who terrified of shiny floors and would, without a moment's notice, turn into Bambi on ice. Remington loved everyone and everything and was happy to go with the flow. He loved a good car ride--the longer the better, and once his furry little sister joined the family he would use her a pillow on the extra long ones. He had eyes that could see right into your soul and the sweetest little bat ears. He was our Best Buddy, and we miss him everyday.
Gabe (Gabe Red Pepper)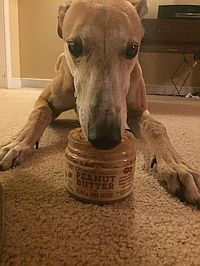 4/10/2008 - 5/15/2020
My "go big or go home" boy left me peacefully yesterday evening. I was fortunate to be there to meet the hauler and welcome Gabe to retired life in January 2011. He "had me at hello". For most of his life, Gabe was a handful: exuberant, a little neurotic, a sassy back talker, with a well known and well deserved reputation for mischief and naughtiness. He was ridiculously food motivated, a legendary counter surfer, able to open jars of peanut butter and coconut oil. He never met a stuffy he couldn't destroy/de-squeak in under 5 minutes, and his separation anxiety induced destruction of a leather chair shall live on in infamy. He balanced that out by being a joyful, incredibly sweet and snuggly fellow, who loved absolutely everyone he met. This last year was hard on Gabe; he was diagnosed with melanoma and did so well with the treatments, only to develop severe inflammatory bowel disease 6 months later. He put up a great fight, and with the help of several wonderful veterinary specialists, we gained a whole year of good quality of life, but in the last few weeks, he grew tired and weak, and it was time to let him rest. #lifewithgabe has been a wonderful 9 year adventure. How terribly I will miss him.
Bella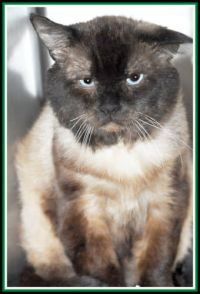 ? - April 21, 2020
Bella was an official GEGR member and volunteer. He was not only a very sweet kitty but he was a wonderful help when it came to determining which of our new retirees could live with small furry animals. Thank you for your service buddy!
Janeen (Starz Janeen)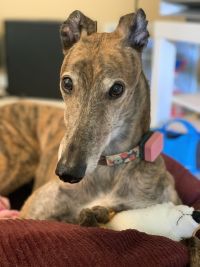 4/5/2010 - 5/2/2020
Janeen was a beautiful, goofy girl who went by a variety of ridiculous nicknames. She never met someone she didn't like, and was happy to be the pampered princess she knew she was. She loved the trips to the beach, to GIG, anywhere a car could take her. Her favorite toys were all foxes, she would snuggle them in her favorite dog bed ideally with a soft blanket underneath her head. She was a bed sneaker, she would pretend that she was going to sleep on the floor, but about 10 minutes after the light went off, she would suddenly be on the bed and of course was upset that she didn't have the perfect spot. She hated to be snuggled, but loved being doted on. Run free sweet girl, you are missed so much. -Rebecca
Sobe (Annot)
11/14/2009 - 5/3/2020
Sobe went to the Bridge earlier this evening. We, and Bonnie her sister, are devastated. I like to think that's she is on the Bridge with her old friend Colt and our first greyhound Hilly.
Magic (Magic Focus)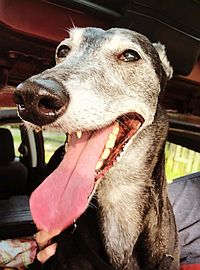 10/28/2010 - 4/8/2020
My beautiful, spunky, sweet girl is gone. She was brave and stoic even as bone cancer was eating away at her. After enjoying her favorite bacon treats, she passed quickly and peacefully surrounded by her family. We will miss her so much. Run free, precious girl.
Kody (Mani Kodi)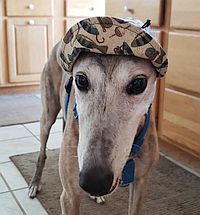 6/6/2008 - 4/4/2020
Mani Kody June 6, 2008-April 4, 2020 In July 2011, Kody came to my house as a foster. I was his third (or fourth?) foster mom/family, and he landed with a reputation. I said I'd see how the weekend went with him. Well, the weekend lasted nine years. Last Friday, our vet called to explain that the radiologist did see bone cancer in Kody's scapula. I'd like to think we made the most of this last week. When I could see that life wasn't fun for Kody, I knew what we needed to do. Kody WAS the fun in the family. He was always up to something or giving some serious sass to Raine or Angel. No morning was wasted with Kody. Always wide awake by 4:30 a.m., Kody made sure we never wasted any hour of the morning. He also never missed a meal. Kody kept sharp meal times, and he expected me to adhere to them. I loved Kody's fun spirit. Every walk was a chance to explore, every new foster was a chance to make a new friend, and every GEGR picnic was a chance to get into mischief! I could count on getting called over the DJ speakers to be told that Kody found the cake, or that Kody lost his muzzle. More than anything, Kody was my dear friend for nine years, and I will miss him so much. Thank-you, GEGR, for giving me one of the rowdiest foster hounds to run around GHC. No day was the same with Kody, and I am so grateful I foster "failed" with him.
Mikey (My Mike)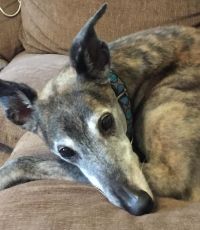 6/22/2009 - 3/30/2020
He was one of the sweetest and most laid back boys and will be missed.
Booty (Booty Shaker)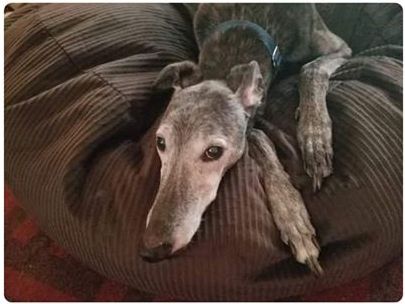 5/3/2007 - 3/26/2020
I lost my girl this morning, she had a rough patch recently, but had been doing much better, back to her old, goofy as usual self.. She passed away in her sleep, guess the years had gotten too much for her. She was always a handful, sneaky, the ultimate food thief.. She never adjusted well to being a solo pup after my other 2 had passed, but was intolerant of new dogs so i figured It would be best to be solo. She would also come nag for something, if you said no, she'd go back to bed, wait 5 minutes and come back to check if the answer had changed... Her passing brings to a close for now, my greyhound journey... LIfe has been challenging in recent years, not bad, just challenging. Catherine and I will be forever grateful for the experience, I guess we had almost 11 years with her. Thank you for everything you do
Heidi (Greta's Heidi)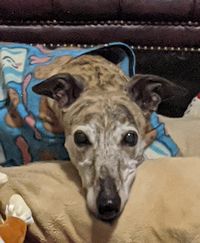 5/25/2009 - 3/20/2020
Heidi was my introduction to Greyhounds, and you couldn't have asked for a better one. We had so many wonderful adventures, and she welcomed so many hounds to retirement. I will miss you, sweet girl.
Harlow (SJ's Fire Queen)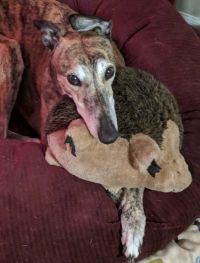 3/27/2020- 3/13/2020
Oh those wonky ears, and kisses. Harlow took hold of my heart that day at Greyhound Central, and I'm sure she'll never let go. Tonight she had weakness in her back legs, which rapidly progressed, so I had to send her to the bridge suddenly. The song Time in a bottle is so right- there never seems, to be enough time, to do the things, you want to do, once you find them. I could have smiled and laughed at that girl for the rest of my days and still not had enough time. Rest well my sweet girl. Momma loves you.
Javalin ( Gabe Javalin)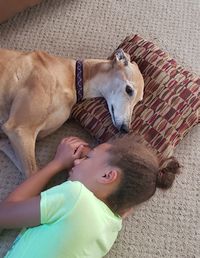 5/7/2008 - 3/7/2020
Javalin, our, girl, you brought so much joy to our life we will miss you dearly. Sleep well and run free.
Peace (Kiwawarandpeace)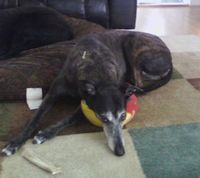 8/9/2005 - 3/3/2020
Peace was very loving, always friendly and outgoing. She loved car rides and long walks, especially around other people that would give her head scratches, crazy for her toys and treats.
Jozef (GLS Einstein)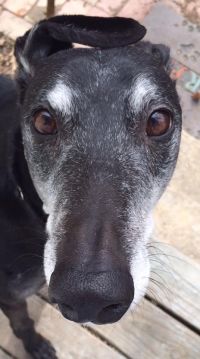 3/8/2007 - 2/18/2020
The vet came to the house and Jozef had a peaceful passing in my arms with my parents, Jade and Howard the basset by our side. The vet was crying and told Jozef she loved him and brought me wishes from the other vet staff that knew him over the years which was really touching. I couldn't have asked for a better dog. Jozef was indeed a gentle soul and such a wonderful companion to me over the years. He was well known at the North Beach boardwalk and Friday farmers markets, and the nursing center where I work. It was indeed strange waking this morning to him not there. I have at least hundreds of photos and even more memories, though, to remember sweet JoJo. I already miss him so much.
Kiss (Where's Hi Kiss)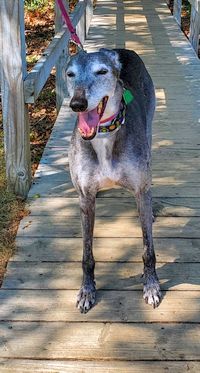 5/19/2008 - 2/18/2020
Kiss was the crazy little black dog with an extra side of crazy. She was a total goofball right up to the end. Kiss loved meeting people, car rides, sitting in a kiddie pool or the river at GHC, cheese, walking in the woods, cozy pjs, and her BFF, Sammy the dachshund. She didn't like small children,.posing for photos, or not getting a bite of a chicken biscuit that her people were eating. She was a great greyhound ambassador and loved doing meet and greets and demanding pets from people we would meet in our travels together. Kiss met Abraham Lincoln in Berkeley Springs, got blessed at a local Nepalese festival of Kukur Tihar, and once farted so badly that my mother called the gas company thinking that the oven had a leak. She will be missed terribly.
RWC Mybud Shenna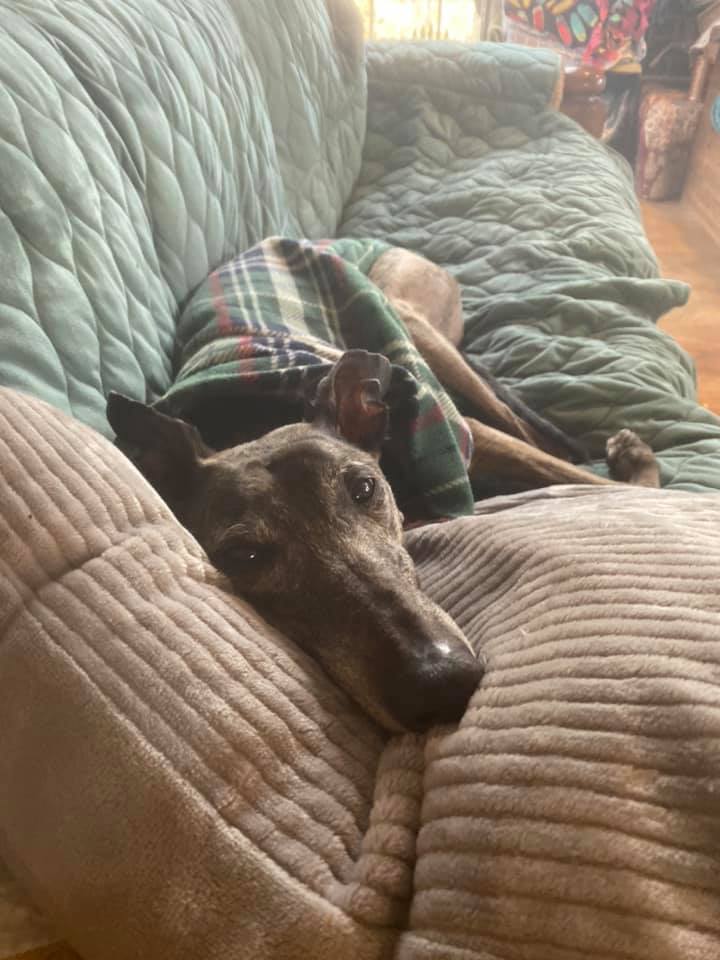 8/22/2010 - 2/7/2020
My Blitzen, my heart dog, passed on Friday, 7 February. She was telling us it was time and we had to let her go. I have had a hard time talking about it without feeling overwhelmed (it's why I only re-posted what my husband did). She was the absolute sweetest. From the moment we met and she pushed her head against my chest, it was love. She was the kind of pup to get excited over anyone coming through the door, jumping, insisting on kisses. She loved squeaky toys and sleeping across the top of the bed so I had to sleep on the bottom. She always had a cold nose that she'd shove under my husband or me while we were sleeping. We love her so much, but know it was the right time. Luckily I work from home now, so it's helped our other pup, Betty, adjust, but we are all figuring out the new norm. The house feels so empty without her.
Hush (Hush Tidal Wave)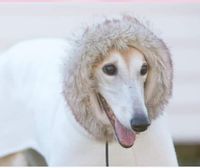 4/8/08 - 1/24/20
It's so incredibly hard for me to share this. I appreciate all the love and encouragement everyone has given us throughout this journey so much though I owe it to all of you to let you know that our sweetest, strongest girl has earned her wings. I promised Hush from the very beginning I would do everything I could to protect her dignity. She was the most regal dog I have ever known, truly deserving of every royal title bestowed upon her in her 11 years and 9 months. Hush was always independent and we knew if that ability was taken from her that she couldn't be happy. The past few days she was having a harder time getting around and she was tired. She hated to be carried, it was against her independent nature. We are all heartbroken and missing our girl but we are truly blessed to have known her, to be her family. She has gone to the rainbow bridge and is with her dear friend Gunner who no doubt has been waiting for her. Finally she isn't hurting any more. There is no more cancer. No more pain. She will forever be #Hushstrong.
Sampson (NB's Trojan)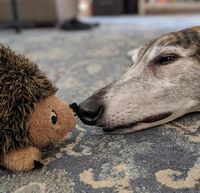 9/5/2009 - 12/27/2019
With very heavy hearts, we had to let our amazing hound Samson go to the bridge this morning. He had cancer in his intestines, bladder and heart. There was nothing to be done, except to let him pass with dignity and love. Sam was 10. Samson (NB's Trojan) came off a haul and to GHC on a very rainy day many years ago when he was just 2. We had met a couple dogs prior to him, but when he came in to the modular and gave Will just the slightest kiss, it was a done deal. He was so beautiful, a stunning work of art, and we were so incredibly proud to show him off. He took his time to trust us, but once we earned it he showed us love and trust every day. He blossomed more and more over the years, and filled our lives and home with joy and so much love. Please keep our Will in your thoughts, he lost his best friend. You're free now, my sweet Samson. You'll always be my babydog. You'll always be missed. You were so unbelievably loved.
Bumblebee (Potrs Bumble Bee)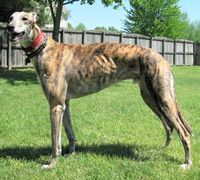 4/29/2008 - 12/24/2019
Bumblebee (Potrs Bumble Bee) 4/29/2008 - 12/24/2019 Our Sweet, Precious Boy, Bumblebee, passed away peacefully on Christmas Eve morning. We were by his side to comfort him, and let him know how dearly he was loved. On December 21st, 2019, Bumblebee had an episode in our home, which effected his back legs and ultimately was shutting down his intestinal tract. He stopped eating and drinking, becoming weak and unsteady. We let him go with dignity, stopping his pain and suffering. We could see he was trying to be strong for us. Our Love for each other was unconditional. We adopted Bumblebee on March 27, 2011. He was so Handsome, Intelligent and Loving. He was our first dog together. Bumblebee adjusted to Retirement Life slowly, but as time went by, he became very trusting, confident and a Big Cuddle Bug. He would demand affection in the form of love cuddles, by barking at us. He was a Mommy's Boy, and Daddy's "Big Boy" Buddy and Playmate. His favorite activities were going for walks and going for rides. He loved walks in the park. He loved his personal time, going for rides to the dump, and Lowe's, with his Daddy. His favorite treats were Frosty Paws (he would take the container in his mouth, and carry it to his bed to enjoy), peanut butter, occasional grated Parmesan cheese sprinkled on his food, hard boiled eggs and sharing the last drop of milk from his Daddy's glass, when he came home from work at night. Bumblebee's tricks consisted of sitting, laying down and speaking (bark). The very first trick he learned was giving us his paw. He was so proud of himself, putting love into every touch. Bumblebee loved when his Daddy gave him those comforting ear rubs. When it came to Rooing, Bumblebee had the highest pitch ever. Bumblebee was not fond of floors without carpets, and was very fearful of thunder, fireworks and gun shots. Occasionally, a fly would get into the house, sending Bumblebee running, to the back of the house. He would even go as far as wanting to go outside, just to avoid the fly. We had to catch the fly, and show it to him, so he would relax, and know it would not bother him anymore. We will never be able to share enough memories, stories, adventures or photos of Bumblebee's Retirement Life, he shared with us. Bumblebee was a Gentle Soul, with a Heart of Gold. Our Hearts are Crushed with grief. Our Home is quiet. We miss him so much. We miss his Prance Dance of Joy, when he greeted us, as we came through the door. He would watch over us at all times. Bumblebee was the Heart of Our Home. Honey and Trip are missing Bumblebee. Bumblebee was their Loving Brother. They all kept each other company, and did everything together. Bumblebee is now at Peace, and will Live In Our Hearts Forever. He was such a Good Boy. We were Honored and Blessed to be Bumblebee's Mommy and Daddy. Thank You GEGR, for bringing this Special Greyhound into our lives. Love, Brad and Debbie Martin
Noble (Ethereal Noble)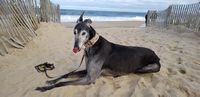 12/5/2005. - 12/23/2019.
Noble and I joined lives mid-life. He was 6 ½ years old when we met at a party and it was love at first site…. At least it was for me! J Tall, dark, handsome and shy…. I was smitten. He had come back to GEGR and was available for adoption again. Less than 2 months later he came home with me. He was not shy for long. It was uncanny how easily he fit into my life. I still had my Gracie and they got along fine, in fact I believe it was her bravery and confidence that helped him become the bomb-proof, confident boy he turned out to be. We lost Gracie the following year and it was just me and my boy against the world then. I could do anything and go anywhere as long as I had Noble Dog at my side. He was so handsome but also quite imposing at 85 pounds and nearly all black he made an impression for sure. We had a sort of nomadic lifestyle and every weekend we were waking up somewhere different it seemed; friend's houses, my Mom's house….. he didn't mind at all – he seemed to thrive on our road trips. He would get excited to get in the car and go – half hour drive, 7 hour drive, didn't matter he was content always as long as we were together. He loved our walks. I didn't have a yard so we walked every day. I loved our walks too. Sometimes just around the neighborhood but sometimes on a road trip we could be anywhere…. Hiking through the woods with our friends….. lots of time spent on the beach… wading into rivers, streams, lakes and trotting through the waves on the beach – he loved water. I miss him every single day and most of all in the morning. I would get such a greeting and he would whine with excitement to go out on our walk. Our long morning walk…. usually around a mile, a slow mile…. my day is so empty without that walk…… Noble was my perfect friend. People say he was lucky to have me and be so spoiled but it was quite the opposite. I was the one who was lucky to have such a perfect boy – I was spoiled! He did nothing wrong. He didn't bother my houseplants – he didn't get into any people food – he didn't chew anything that wasn't given to him first – he always ate his meals. He wasn't afraid of anything either – other dogs, mean kitties, loud noises – he was amazing, truly amazing. Life without him will not be so amazing……………. I miss you so much Noble Dog…. You were only with me for 7 ½ years but it will be a part of my life I will never forget. Until we meet again my big silly boy…….. I love you………
Booth (GLS Poohbear)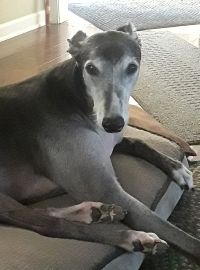 12/2006 - 11/2019
Booth was destined to win our hearts and was our second GEGR"foster failure." We met him at Greyhound Central in 2011 when he came off the track in Birmingham. Booth was a "scaredy-cat" and afraid of his own shadow. He had been on track for 5 years when we brought him into our home. We fostered Booth for three months before we adopted him and worked to gain his trust and love. He was different than other dogs we had adopted and fostered because he was just not comfortable in his own skin. He blended well with our other hounds, Jupiter and Genie, and was a sweet, non-alpha, gentle giant. He had a hard time relaxing, and it took us a couple of years to gain his full trust, but it was wonderful to watch him blossom day by day, year by year. This boy loved to sleep on comfy beds, but, unlike other hounds, I never saw him roach once. He was a true individual. Booth loved to go for walks and was wonderful on the leash. What a sight to see us walking all three greyhounds at once, with no one pulling or trying to get away. Booth turned out to love all people and was a leaner…. He would press on you while you rubbed the top of his big head and would moan when you stuck your fingers in his ears. Booth had a quirky sense of humor which fit in well at our home. Sometimes when you walked by his bed, when you thought he was fast asleep, he would shoot a front leg out and try to trip you. The first time he did it, we thought it was accidental, until it continued to happen over the years. Booth had my heart, and captured everyone else's over the 8 short years we had with him. We had so many pet nicknames for him (as we do for all the babies) Boots, Mr. Boots, Booty, Poohbear, Poop, Poopity… He wasn't always easy, but he was well-loved. Booth made you work at gaining his trust, but gave so much more than he took. Booth will remain forever in our hearts. We will love you every day and one more. Run free sweet Booth. All your pain is gone and you are whole again. Go and meet up with Jupiter, Nero and Hank…you are in greyt company at The Bridge.
Jupiter (Kaycar Kenobi)
8/2004 - 8/2017
Jupiter was the first of many amazing greyhounds that crossed our doorstep. But, there was no other like him. It was a cold day on January 13, 2006, when we attended a GEGR adoption event in Bowie, MD. We were hoping to connect with a pup after the untimely passing of our sweet Nero (½ Greyhound, ½ Great Dane). We had seen another hound on the website that we were interested in meeting, but once we met Jupiter, then 1 ½ years old, HE made HIS mind up that he would be going home with us that day. For a time, it was just a single hound home, but Jupiter had other ideas. He was such a gentle boy with such a big heart that we wanted to be around more and more hounds…and so we did. We began fostering for GEGR and participating in Adoptathons ourselves, volunteering alongside so many wonderful people. One day, Jupiter got away from the house, and all it took was one call to GEGR, and George Nussberger showed up at our home within the hour to help us look for our sweet boy, while others in the group made phone calls and joined in the search. After several hours, we received a call from a rescue in Baltimore (an hour and a half away) that they had Jupiter. Someone had found him and brought him to them. George drove my son, Alex, and I all the way to Baltimore at 10PM that night and we got our sweet boy back. That was only the beginning of our love story with Jupiter. He had many names (Joey, Mr. Jingles, J, Jupitee, Joops), and was well loved by our family for 11 ½ years. Jupiter was a smiler and would show and snap his teeth when he was excited. He always knew when it was time to eat and would grab a hedgehog stuffie from his basket and run around the kitchen squeaking it. That was how he let us know it was time to feed all the hounds. When Jupiter died, it left a terrible hole for us all, including Genie and Booth, our other hounds, both "foster failures" from GEGR. But Jupiter would not want us to be sad, and have many fond memories of our sweet white and fawn boy. Run free sweet Mr. Jingles…you may be gone from our side, but never from our hearts. You are in greyt company at The Bridge.
Emmy (SNL Kimmie)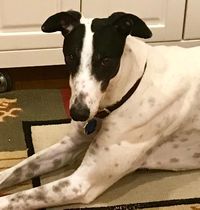 1/17/2017 - 10/31/2019
Our hearts are broken as we have lost our best friend Emmy. She was the most playful, funny, and loving girl who lived each moment with pure joy. Our lives have been made better because she was in it. We love you and miss you so Emmy Girl!!!"
Diamond (Diamond Vintage)
7/15/2007 - 11/3/2019
My beautiful girl is gone. She was sweet, silly and loved to give kisses.
Kenya (JJ's Kute Kenya)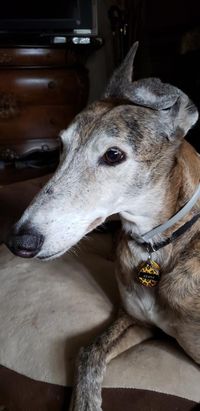 5/16/2007 - 10/25/2019
Kenya had wonky ears and a diva attitude. She was very loved and will be very missed.
Xavier (Mulberry Express)
9/20/2009 - 10/22/2019
I was so unprepared to loose the other half of my heart. I will love you forever my sweet sweet boy.
Molly (Oaks Mean Molly)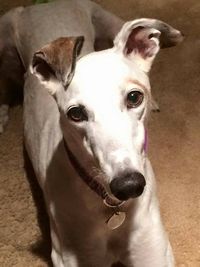 9/10/2007 - 10/19/2019
My first amazing greyhound that had Karma at hello, silly, so so sweet, foster mom helper number one. She welcomed every foster into her home, with love, patience, and experience. Cured Karmas separation anxiety by day three, super sister to Quinn through all her quirks. Always happy, spunky, smart and kind. The softest fur I've ever felt. She was a momma to everyone, even me. She was even staring to like the little humans. She was an amazing girl and had an amazing life and will never be forgotten.
Ike (Ivans Ike)
3/20/2013 - 10/18/2019
I am absolutely devastated and heartbroken. I had to say goodbye to my buddy today. He was only 6yrs old and I only had him for 4 years, but I loved this sweet boy more than words can say. Ike I love you buddy and will miss you always. Run free buddy...
Wynn ( Starz Windmaker)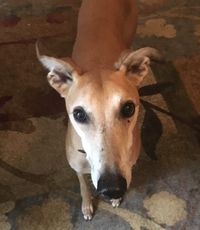 6/5/2007 - 10/17/2019
Some of you might remember Wynn -- the handsome fawn son of Kiowa Sweet Trey I adopted eight years ago last September. He was the perfect dog and best greyhound ambassador. He was only 12, but it was time to send him to the bridge where he could run again and be free of pain. As we all know, they never stay long enough. Thank you GEGR for loaning me this very best boy.
Dakota (Dakota Jones)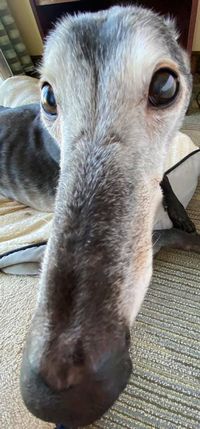 11/12/20016 - 10/15/2019
We let our gorgeous CLBD Dakota Jones go tonight. Pretty sure she had a spinal tumor and we promise all our babies we will never make them stay just for us. Thank you for trusting us with her. She was everything we could of asked for and so much more.
Saya (Sweet N Ready)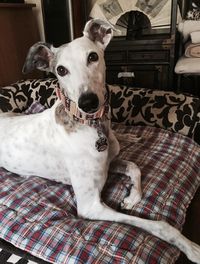 8/23/2007 - 10/15/2019
Saya came to us 8 years ago as a foster/a "companion trial" to our first Greyhound Kura who was going through separation anxiety at that time. She immediately made herself at home, as if she had been already living there. She became our first foster failure, whether or not she was helping Kura with his separation anxiety. Saya loved her crate, squeaky toys, zoomies, and roaching, and of course, food. She was sweet (as her racing name "Sweet N Ready"), loved giving us kisses, and was beautiful, but can be a bit crazy at times – could not deny she was an offspring of Molotov. Saya taught Kiaran, who joined the family after Kura's passing, that walking is not just about looking for people to get attentions. It's about sniffing and marking. Saya lived a life of a princess. She owned many beds, ruled the sofa, homemade meal served 4 times a day (better than humans!), got her teeth brushed every night, and enjoyed daily rides and walks at parks – basically she got what she wanted, and honestly I think she deserved it. Our sweet, silly Saya will be missed by many. But we know she is in better place now with her buddy Kura. Run free, Princess, and do as many zoomies you want, now that you are made whole and strong again, and… corn free!
Winn (Kiowa Top Win)
5/20/2011 - 9/24/2019
Our sweetboy is gone. Writing these things is never easy. It has been two days, but it feels like moments ago that I kissed my little bug one last time. A good friend of mine reminded me to keep talking about him and that it would help with healing. Sometimes, I actually do follow advice. Winn came to us on a very snowy day in January 2014. Having zero prior experience with a Greyhound, I didn't know how much this dog was going to change me (Greyhounds do that, you know). Four dogs in, and still no connection. I was beginning to feel defeat when Karen suggested we look at one last one...her foster boy, Winn. This boy strolled in with all the confidence in the world, gave me a quick smile and snuggle, and I was hooked. It truly was love at first sight. I am eternally grateful to Karen for not foster failing...even though I know she wanted to! Winn spent the first few months settling in famously; stealing my clothes, breaking out of his crate, and challenging me for my bed. He ate two sticks of butter and 'fed' it to my other dog on evacuation. He ate plastic. Twice. He developed a bone infection and needed a toe amputation, he peed on everything, everywhere. I never believed my life was easy, but never have I been challenged quite like that. He was headstrong and confident, smart to a fault, but he was also such sweet snuggly goof. I worked for him. I trained, I cooked, I cleaned, I corrected, I asserted my rule...and he would melt me with one lean. I belonged to him <3 About a month ago, he stopped eating. Being that WInn would do ANYTHING for food, this was a major red flag. Our final diagnosis revealed aggressive lymphoma that had already spread significantly. How this could have happened without our knowledge, I have no idea. But there it was. He spent his last month being spoiled more than he already was. As eating was a challenge, he was introduced to yummy new foods daily, which still rocked his world. He got to get on Mama and Papa's bed. Last weekend, we knew the time was near. Tuesday night, I took him to Solomon's pier. He got some pets, snuggles, and we watched the sun set. I took him to McDonald's and loaded him up with chicken nuggets before we headed to the vet. He passed calmly, with peanut butter on his face (always) and his head in his Mama's hands. Winn gave me all of you. I love this community. GEGR has brought so much happiness into my life through both the people and pups. I cannot imagine not having this huge part of my life. I am so very grateful. Winn was a snuggler, a leaner, and my favorite of all...a smiler. It would mean the world to me if you all would share some smiling pics of your doggies. Hugs to all, and thanks for listening.
Lucy (Lamorge Banana)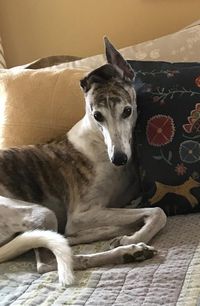 7/20/2007 - 9/23/2019
It is with the heaviest of hearts that I write to tell you that our sweet Lucy passed away today. We adopted her (our 2nd from GEGR) in January of 2011. Her racing name was Lamorge Banana, an awful name for a beautiful greyhound. Lucy suited her much better. She was the sweetest dog I've ever owned. She was never a minute's trouble and lazy as the day is long. She was happy just to be with us…for walks or car rides or just watching tv beside us on the couch. Her miniature dachshund sister, Lola, knew her time was near. They never slept together except for the last few days. Lola must have known Lucy was growing tired and curled up next to her. Dogs are so smart, so intuitive. Our entire family will miss her sweet face and wonky ears. Her time on earth was way too short. We are just broken hearted.
Cole (Big Bruce Cole)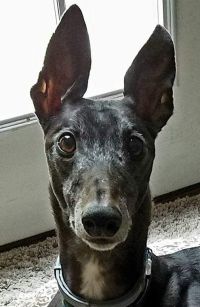 8/9/2019 - 8/20/2019
My sweet, quirky Cole came to us in May of 2015. I think he knew immediately that he was home. Some of his quirks never improved but we loved him regardless. Tile floors were hot lava to him so rugs were placed strategically in the kitchen for him, even though there were still spots that he would never walk to. We always had to make sure that there was a water bowl placed where Cole would go because otherwise I'm pretty sure he would have dehydrated himself versus facing the scary kitchen floor! Drinking water was even something that he did oddly. He would take a small sip, then step back, then come back for another repeatedly. Ot was enough to drive you insane sometimes! Stairs were always a huge hurdle for him too, one that he never quite got over. He still had to have a firm shove up the stairs at night & now we would give anything to have our stubborn boy here to shove just one more time. Cole was always the sensitive one, always the socially inadequate teenager that just didn't quite know how to bond to other dogs. We loved him anyway... he's had a slight limp the past two weeks off & on that we had been treating. He's also had corns so it was hard to tell what was brewing. Friday afternoon right before I got home he stumbled over a blanket that got knocked on the floor from the loveseat & instantly broke the shoulder. If we had only known... if wishes were kisses. 'Til we meet again, my quirky boy
Reina (Jawa Dee Dee)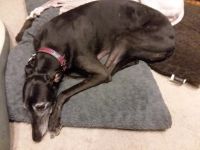 2/1/2010 - 9/20/2019
It is with great sadness that I inform everyone that we had to send Reina to the bridge today. She was the sweetest dog I have ever known and feel fortunate for the time we had with her. I would like to thank everyone at Greyt Expectations for the love and devotion to these dogs and for helping us bring these sweet animals into our lives.
Split (RS Lickidy Split)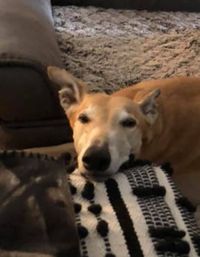 4/23/2010 - 9/12/2019
We've made the really hard decision to let Split go to the rainbow bridge to be pain free. He was our first greyhound and we have so many special memories with him.
Max (Bob's Stay Deal)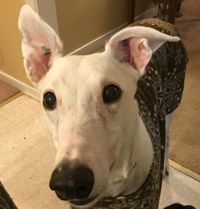 4/30/2009 - 9/9/2019
My sensitive, quirky, beautiful Max is gone; his passing was sudden and unexpected. Max came to me as a foster in May, 2014 after he was returned to GEGR with some significant behavioral issues. A few months into fostering, I realized he was mine, and I could never let him go. We had a wonderful 5 years together; he made so much progress with his behavior and in the process, he taught me so much. I will miss our "conversations", his quivering lower jaw, his post-poop celebratory zoomies, his head draped over my legs at night, and a million other little things that made him who he was. Max (aka Moosey), I will love you forever and will always long for just a bit more time. Rest easy at the bridge, buddy. How I shall miss you.
Breaks (Allabout Breakin)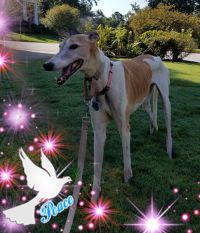 7/22/2009 - 9/4/2019
Today our beloved Breaks crossed the rainbow bridge after several months of dedicated veterinary care and love. In the end we decided to end her pain and suffering. Diva until the end she had everyone, my husband, myself, the vet tech and the veterinarian come to the floor to give her love and affection on her terms. She will be missed and remembered for being a benevolent princess who let her adopted brother feel strong although she really was the alpha dog in the house.
Grimm (Atasocita Mann)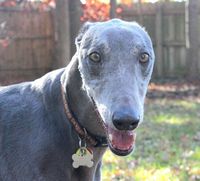 8/18/2008 - 9/3/2019
We've lost the king of our hearts. Being Grimm's mom is the best thing I've ever done, and I will be forever thankful to GEGR for trusting me with the most precious, loving spirit I've known. While it feels like this incredible hurt will never stop, I'd do it all again because I was so lucky to know him, so lucky to call him my family. We take comfort in knowing that he's running pain free with his adopted sister Kali (Kiowa Josephine) where neither of them has to think about cancer ever again. The amount of people mourning this great loss with us is a testament to what a beautiful soul he was and is. The best way to honor him is to view everyone we meet through his accepting, loving eyes."
Sam (Mediator)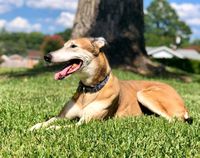 8/27/2006 - 7/29/2019
Rest In Peace my sweet Sam. I don't know if I have the vocabulary skills necessary to eulogize this amazing dog and best friend. He was my 6th greyhound and the one I had the longest-ten years. He came to work with me every day, he was a part of the community- people young and old came in just to see him- not always to buy printer cartridges. He worked his way up to walking 5.5 miles a night with me, five days a week- he LOVED our walks. He rode bikes with me and, believe it or not, chased and retrieved balls. He loved his toys, his family and invited all the neighborhood bunnies into our yard and garden to eat Mr. McGreggors parsley, because, you see, he was RETIRED!! He could sit, shake, lay down, speak and bow to the queen, my dear husband's least fav "trick"! His vocabulary was extensive- favorite words were "walk" and "are you hungry?" Sam was 13 and like my greyhounds, he was extremely healthy until he was just not. I have always taken comfort in the fact that even if I only had my pups for a short time (I had one with bone cancer and he died just before his 4th birthday), I gave them THE VERY BEST life I could, because that is what they gave me and they deserved! I have an empty backyard and a grieving heart. Thank you to all of Sam's friends, especially Dr. Ashlie Hancock at K-ville Vet and Grace Tazewell for your help and support.
Warren (Flying Daimaru)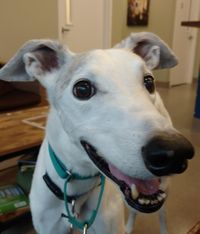 9/4/2008 - 7/9/2019
I don't know what else to say about the sweetest dog ever. He was the best behaved, most lovable dog. He made our lives better with his gentle spirit. He was the best dog, and we were so blessed to have him as part of our family for almost 9 years. We will always miss him.
Shaker (Lb's Heat Shaker)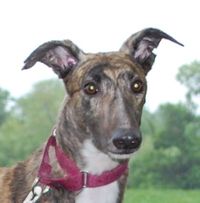 2/1/2010 - 6/30/2019
Loved and Cherished.
Yara (WW's O Girl)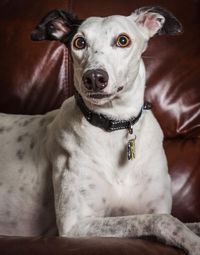 6/6/2014 - 6/25/2019
Yara brought a lot of joy to our family with her gentle, loving and often goofy nature. We will all miss her greatly. Her time in retirement was amazing. She was pampered and loved and part of the family. She was very smart and well trained. She was always happy.
Brighton (Downplay)
8/29/2005 - 5/25/2019
We adopted Brighton from GEGR over 11 years ago! Our lives changes forever. What a sweet, goofy, gentle soul. We will always be grateful to this group for the wonderful years we got to spend with Brighton. Thank you from the bottom of our hearts.
Stripes (GS Stripes)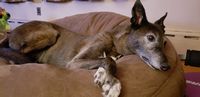 5/16/2007 - 5/6/2019
I lost my heart Monday. I remember when Ted was there at GHC and Stipes needed to leave Lauren because she needed to go on a trip. I was looking for a friend for Kenya but wanted a girl. Ted said he needed a foster home to take him and talked me into my first BOY foster. Little did I know this was a set up from Ted (because I didn't want a boy and never had a boy dog). I told Lauren I would take good care of him and would give her and update every day. Lauren knew what was going on and went along with the scheme. Well Kenya took to him and there was no turning back. Stripes loved everyone and everything. This boy was so handsome and made everyone smile. He was so easy going and I could do anything t him. He was my copilot when driving. He was always at my side. I would have done anything for him. Our journey together was very hard for us sometimes but he never complained. Stripes, I loved you so much and you were there when I needed you. My heart will never be the same. Please be the first in line when we meet again. Run free Stripes.
Kansas (Smoke Em Fast)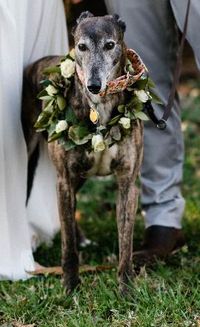 8/7/2009 - 5/2/2019
I'm heartbroken to report that after an amazing six and a half years, we said goodbye to Kansas yesterday. I still don't know how to process all of the emotions - it just doesn't seem real. Our hearts are so broken right now. She was taken from us much too soon. She was our ring bearer in our wedding on April 6. She did everything perfectly and looked so beautiful. Thank you so much for connecting me with Kansas. She was the best dog beyond anything I ever could have imagined. It was such a privilege to be her mom.
Spirit (Fashion Pinup)
12/28/2007 - 4/24/2019
Spirit, our beloved crazy little black dog, raced the wind, howled at our singing (even to her last day), commandeered the bed and stopped on walks to smell the flowers. As her name evokes, she was and always will be with us, everywhere. Cradling her in my arms, I tearfully sang her to sleep with the angels. To love so much is to know when to let go... Spirit left this Earth with a smile as I kissed her beautiful sugared muzzle one last time. She is now without pain and running free with all of the Crawford's loved pets, especially her greyhound sisters Sophie, Meara and Jasmine. We will all be together again one day.
Brandy (L Foley)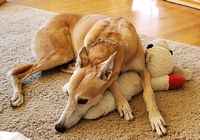 10/22/2008 - 4/14/2019
Brandy was such a sweet girl. She was also a trouble maker. She stole food off the counter and got in the trash. She was a nudge and would bump your arm for loving regardless of what was in it but, most often, it was coffee or wine or while I was trying to type. She came to us after loosing her first two homes through no fault of her own. She welcomed countless dogs into our home and never grumbled about sharing her space. She always seemed to have a smile on her face and would greet everyone by hopping up and down trying to get closer to their face to say hello. She loved the water, she loved to eat and she loved to cuddle. She was very loved.
Laika (Pandora Charm)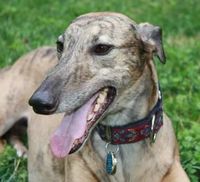 1/28/2005 - 4/5/2019
Laika was the sweetest and gentlest dog we've ever known. She loved walks and lying in the sun, she was an extraordinary maker of bed nests, and she carried herself with such grace and was very regal but also always lost track of her tongue when napping. She only ever barked in her dreams. She was filled with joy while running. She had strong opinions about the length of her walks. She was a calm presence and the house feels empty without her. We miss her so much, and we feel grateful that she was part of our family.
Larson (Bluflame Larson)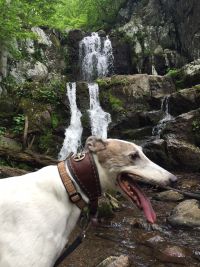 9/16/2008 - 3/25/2019
I'm very thankful for the opportunity to share our lives with him and joy he brought us. He holds a special place in my heart and is truly missed!
Molly (Ptl Lolly)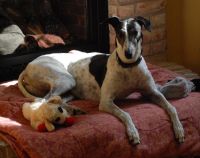 2/24/2007 - 10/21/2017
"Molly, Thank you for coming into our lives! From the first time we brought you into your forever home and you stole one of my shirts and ran around the house, to the times at the Reunion Picnic where you got into the water and turned into an absolute maniac, to those times you showed just how small our sofa was when you stretched out, you made us so thankful for the opportunity to have you in our lives. The world is a sadder place with you gone, but a much better place for you having been here. I hope we see you again someday and we'll keep a stuffy ready to give to you. Rest easy little one."
Alexa (Starz Alexa)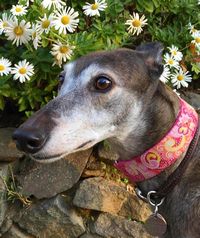 9/28/2007 - 3/22/2019
It's with broken hearts that we come to let you all know that this morning we had to let Alexa go to the Rainbow Bridge. For all of you that have patted her head, kissed her face, rubbed her belly, whispered sweet words to her.... THANK YOU!!!! She truly loved every touch, word, smile and gleeful word from all of you!! Every day is precious... Every moment a memory... Never let them go by by not enjoying them! We love you Alexa girl!!
Dodge (Go Dodgem)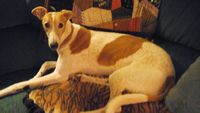 2/11/2007 -3/19/2019
He died doing what he loved most which was running in the yard with his little sisters, Melly and Dani. It was the most peaceful demise of any of my prior Greyhounds. He will be greatly missed.
Stella (Se's Baby Bump)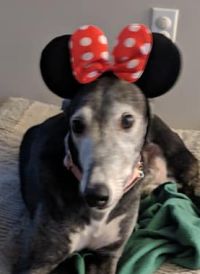 7/14/2012 - 3/19/2019
There are no words to express how much you will he missed. You ruled the house since day one and were full of spunk until the end!
Stormin "Norman" (Astarstorminback)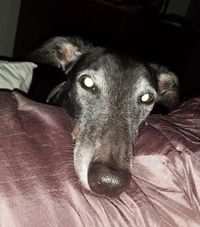 10/16/2008 - 03/16/2019
I've been waiting to make this post in an effort to find just the right words. Apparently, there are none. This weekend we said goodbye to our Norman. In an instant, sitting next to him on the floor of the vet's office, I saw 7 years flash before my eyes. There are so many amazing memories that I cannot even begin to go through them all. What I keep coming back to, however, is that moment in Alabama when Rebecca Marie found out about a special black greyhound. That moment was fate. It was because of that moment that Norman eventually ended up a Fallen forever. Because of that moment that he had so many people love him. And because of that moment that he was able to pass on surrounded by those that loved him most. Thank you, Becky, for caring so much. Thank you for saving his life and allowing my family to be loved by this incredible pup. Run free, sweet Norman. This house will never be the same without your bossy, demanding CLBD butt. I hope you're getting all the pizza you want at the bridge, instead of just the slices Breshawn would slip you. 😂
Elyannah (Craigie Polly)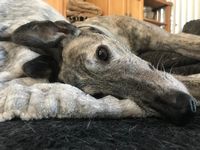 12/16/2008 - 2/26/2019
Our beautiful brindle girl Elyannah has gained her wings tonight and joined Tempy at The Bridge. Please hug your hounds for us.
Hannah (Sweet Hannah G)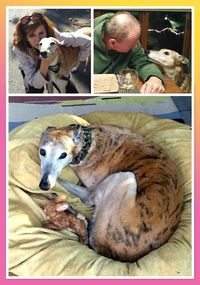 1/19/2006 - 2/26/019
Our Sweet Hannah went to the rainbow bridge this morning. Even though our hearts are broken we are so blessed and grateful to have had her in our lives and hearts for 12 years. She was a headstrong quirky girl who stole all the apples off the counter in her early years without leaving a trace (and got her dad in trouble thinking he ate them all) then graduating to the avocadoes. We even muzzled her and she still got them and smooshed them through the muzzle to eat them! You upped your game by learning how to open the cabinets to get in not only your food container but the cats so we had to put child proof locks on. Hannah... you kept us on our toes and we loved you so much. Give Arthur, George, Meg, Rosie, and Max a hug for us.... even your cat siblings too...Felix and Oscar. Even though you weren't thrilled with your new cat siblings Naji and Bijou will definitely miss you. Run free my sweet girl.
Mamie (Mamie van Doren)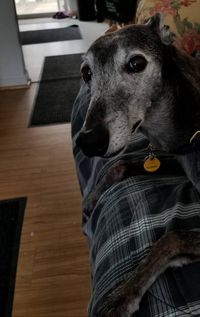 9/9/2006 - 1/31/2019
Rest in peace my sweet precious little girl. No more pain. Mommy and daddy love you with all our heart.
Earl (Planet's Best)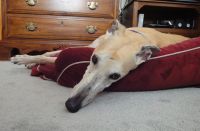 7/1/2006 - 1/27/2019
I fell in love with this special guy the very minute I first saw him. I adopted him on his ninth birthday on 7/1/2015. He would have been 13 this July. He was loved by many and will be missed greatly. Run free sweet boy.
Sexy Girl (Pals Sexy Girl)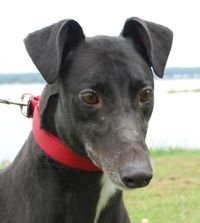 8/26/2008 - 1/13/2019
My sweet, calm, queen diva left a large hole on earth today. Sexy Girl was Jonathan and I's first dog together and she definitely picked us. At the adoption event we met her and when they went to put her back, she turned right around and came back to us. We figured that was was a sign and we were so happy to take her home. We thought we were going to change her name but it really fit her so well. She was the biggest love bug, she never met a stranger. She loved meet and greets, she felt as if all the folks were there just to see her. I always joked she wanted to go home with everyone else she met (but of course was super upset when we left her with friends to go on vacation ). She loved the activity I called "caving", shoving her head into any space she could- your armpit, the space between you and the couch, the couch cushions. She would get so excited when you called her, she would fling herself at you and land right in front for loving. She loved donating blood, she would get very offended if she wasn't first and was very sad when she was no longer able to donate. She was the laziest dog in the house, I had to call and call and call when she needed to go outside. She was so much happier just to lie around, ideally roaching on her favorite dog beds. She loved running, it was her favorite activity. She always would run outside like she was a two year old even as she got older and it was harder on her. This morning, she was so excited when she saw the snow. I let the pups out and she went out and ran, she was so happy and sprinted around the yard. She came back in and collapsed while trying to lay down on the dog bed. I picked her up to get her out of the awkward position she had fallen in and she had stopped breathing. My poor bug was not able to be resuscitated. Sexy Girl changed our lives completely, and I would not be the person I am without her. I love her so much and I know she is bounding around the fields in the sky. I will miss her everyday but glad she lived a full life full of her favorite things. Till we meet again my sweet perfect lady.
Knightly (Gabe Ice Man)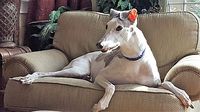 3/08/2009 - 1/7/2019
Knightley was the sweetest, gentlest soul. His fur was soft like a cloud, and he was so full of snuggles and love. He loved playing with his tennis balls. And he would get so excited for dinner he would hop backwards (though he couldn't cross wood floors forwards). We didn't get to have him most of his life, but the years he spent with us were truly special. He was (and is) so loved.
Tempy (D's Lucia)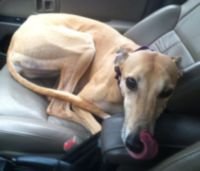 10/16/2006 - 1/3/2019
Tempy has always been my co-pawlet in life. 24 hours a day she was ready for snuggles, and ear skritches. She taught me how to be a Greyhound mom, and opened my heart so I could love more Greys, which eventually became a pack of 6, fosters, and many petsitting dogs. Being our original Greyhound she introduced us to the CULTure, and was always an amazing ambassadog. We will eternally miss our Queen Tempy.
Kona (TRS Tyler Time)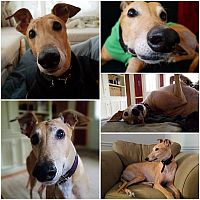 1/1/2009 - 12/9/2018
Our sofa is empty and our hearts are broken after we had to say goodbye to our beloved knucklehead Kona. He came to us as a bounceback in November 2011 and we'll always be so thankful that his original adopter thought he was too large for her to handle. Kona will always be remembered for making himself at home on any sofa he encountered, acting at times more like a retriever than a greyhound, running headfirst into two different fences and earning himself the nickname of Brick, greeting us at the door every day then running off to get a toy for us to play, being a great office assistant even when he demanded attention during conference calls, stealing my seat on the chaise every time I got up, piling toys at my feet until I gave in and threw one for him, celebrating each win of the Caps' 2018 Stanley Cup run with "Victory Meat", and spending a great deal of time roaching and making his own pillow forts on the sofa. Kona's memory will live on with his many online fans thanks to our non-stop posting of photos with the hashtag, #yourdailykona. He was always happy and made what sometimes seems like a very dark world a little brighter every day. - John & Brenda Currin
Jagger (Ale Red River)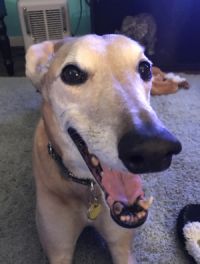 11/28/2009 - 11/26/2018
Jagger passed on Monday, November 26th, just two days before his birthday. He would have been 9 years old. It's still really hard to believe that he is gone, a sweet boy who never gave me any problems at all. He was so happy to see anyone that came by and always wagged his tail and jumped up and down when visitors came. He also loved pools and went crazy jumping in and out of the water. Jagger was very afraid of balloons. My granddaughters used to live with me, and they would often get balloons for birthdays and such. I always had to hide them in my daughter's bedroom, or he would not come in to the living room. One day pure fear went through me while I was in the kitchen cooking. I heard Jagger growl! I figured it had to be something terrible, so I ran to the front door where he was standing and looking out. I got closer and he was growling and barking at this giant smiley faced balloon that my granddaughter Macie tied to the mailbox! It was moving up and down because it was raining a little. I couldn't believe it. I finally figured out what would make him growl! Giant smiley-faced balloons! He knew me so well and my routines. When it got closer to the time that I left for work, he stuck to my hip and started to speed his walking and would start jumping and wagging his tail, like "look at me, can I come, too?" I always said to him, "Mommy will be back later." But I knew he wished I would stay home. Jagger was the first dog that was completely mine, that kept me company when I was all alone after the kids left. I would let him sleep with me and I will never forget the dreams he would have sometimes. He would be running in his sleep and arffing like nobody's business. Such a funny thing to wake up to! When I got married to my husband James, Jagger warmed to James quickly. We both took care of him and James was also very upset when we lost him. James used to be the first face Jagger saw in the evening after work. Jagger looked forward to James coming home because James would give him a piece of his leftover sandwich. James won't admit it, but he would purposefully leave a piece for him. Jagger was not able to hang onto the protein from his food. He lost a lot of weight, and although he kept his good, sweet spirit, and his appetite, we had to let him go. It was kinder, but not easy at all. I never could understand how people were so attached to their dogs, but now I do. I'm still so sad about it. He was the best.
Spot (Win Spot Win)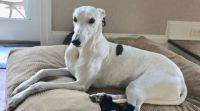 2005-2018
He still enjoyed running in the backyard (one short burst a day). He used to have a Spot around his right eye but it turned gray. : )
He raised two girls with us (one in college and one in high school now). We loved every minute with him.
Liadain (WW's Sedan)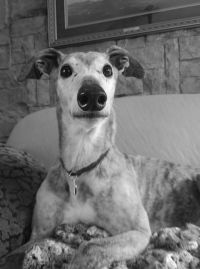 4/8/2008 -11/21/2018
Last night we said goodbye to our beautiful Liadain as she walked across the rainbow bridge. Turns out that she had a very aggressive form of cancer that had already spread. She was my constant companion as I fought my battle with cancer, I didn't know she was fighting her own battle. The right thing to do was to release her from her pain. Liadain is Celtic for "grey lady" and she was everybit a lady as well as my soul sister capturing my heart from the first moment we met. We didn't have as much time together as we would have liked, I guess we never do. We had a special connection and I believe I will always feel her presence in my heart. Those bright eyes will forever be a reminder of the joy and love that she brought to our lives. Run free my sweet Liadain!
Jamaica (Candy Mon)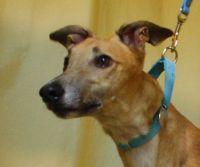 7/3/2010 - 11/8/2018
Jamaica crossed the rainbow bridge on Nov. 1st. after breaking his leg. He was a goofy guy with a heart of gold that loved the grandchildren and his "sister" Kiowa. Jamaica and Kiowa were "velcroed" together when they slept, went for walks or even running around the backyard. He had 4 good years with us. We will miss him.
Aaron (Valid Aaron)
12/01/2005 -10/30/2008
In our old neighborhood he loved when he could rustle through the fallen leaves of autumn, getting playful, tossing leaves with his nose, and often just turning around and digging in to lay there for a rest. His personality really blossomed by the end of the first year after adoption. He was known to all our neighborhoods where we have owned homes - as the one dog every person loved, and every dog made as their friend. I would often hear "Hi Aaron" ring out even though at times I didn't even know the names of the people.
Rocky (CH Rocky Jaws)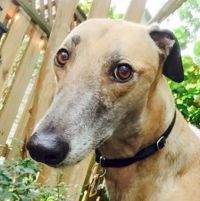 2/28/2013 - 10/17/2018
Rocky had an accident while running and he died from his injuries.
We are in shock and devastated. The grief is overwhelming, but we wanted to let you know and thank you for bringing him to us.
We loved him very much and tried our best to give him the best life possible.
Although he lived a short life, we packed the 3 1/2 years we had him full of love and adventures.
We made sure Rocky had the fullest life possible. Thank you for making that possible for us and for him.

Quinn (Oshkosh Quintana)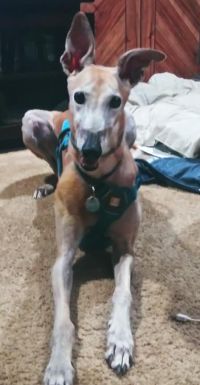 11/21/2011 - 10/15/2018
Oshkosh Quintana AKA Quinn, Miss Quinny, Quinny Quinn Quinn Gone way too soon. My second foster in need of so much love.... scared, anxious and afraid of the world. By the time she was maybe even remotely close to being ready for adoption she had finally learned to trust someone.... Me...she picked me long before I realized it and I couldn't bear to make her learn to trust again so she became a part of the family. With lots of love and time and patience, she allowed us to push her boundaries so she could learn to become a dog again, even learning from all the fosters that followed her. She overcame so many fears and we celebrated every small victory. The girl that was afraid of the outdoors eventually started loving to go for walks and even went camping and hiking with us once. Still quirky, Quinn definitely did things on her own time at her own pace, but that's what made her so special. 😉 We were rewarded with so much love and trust in return, tail wags, perky ears and three years of sweetness. Osteosarcoma, diagnosed 8/21/2018 got the best of her and she passed peacefully in my arms this afternoon. Run free my sweet girl, until we meet again 💜
Nadine (Navajo Tradition)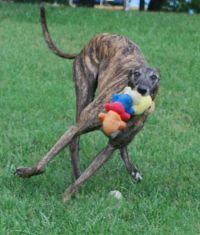 4/10/2011 - 10/1/2018
Nadine loved life.  She loved every dog and every person that she met.  She was positive that everyone that came to the house came just to see her.  She loved spending haul days in the basement at Greyhound Central greeting everyone and play bowing to the new dogs...especially the boys.  She felt the need to always bark at the dark during last out.  She knew when it was time to go for a walk and made sure that putting your socks on was an exercise in keep-away and when you finally got them on your feet they were soggy.  She could run full speed and spin at the same time. She was precious and sweet, and very loved. 
Butlin (Starr Butlin)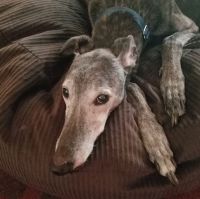 11/18/2004 - 9/25/2018
My best buddy crossed the bridge this morning...
He was my best bud from the day we met at Willey's Farms during their fall event.. I brought him home shortly after.
He was just the perfect pup, stubborn, playful, always knew just when someone needed some extra time when they were down.. He had a knack for knowing when someone who was afraid of big dogs and tried his best to ease their concerns by shoving his nose as far into their face as possible saying,"See! I"m not scary!" He would win many of them over! He was also famously gassy... He'd was well known for his talent to clear a room, to have windows opened during the coldest days.. Butlin butt bombs, we called them..
He was a retired racer, loved his spot on the couch, would often jump in bed with me, loved his treats, going for walks and just basking in the sun.
I'll cherish the memories of him always
Tara (BBR Tarheel)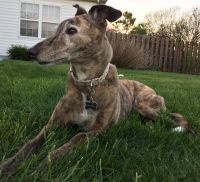 11/4/2005 - 9/21/2018
The world is diminished today; Tara went to the Bridge.
Ryn (Ryn)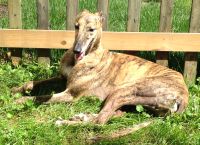 7/26/2010 - 9/17/2018
We adopted Ryn Lippa, a beautiful, sweet, small brindle girl in December 2012.
She was such a great dog - sweet to everyone she met, playful, silly, smart, and always asking for belly rubs and leftovers. She was really a member of our family, and we all miss her so much. We miss her so much.
Fiona (Mrs. O'Brien)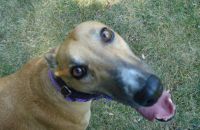 8/20/2005 - 9/12/2018
Well. The rainbow bridge welcomed the fun police today. We had to say goodbye to the best fawn derp hound ever. She was our first together pet, the one who wasn't even supposed to be ours, the gateway dog to all others and of course the permanent fun police around here. The house won't ever be the same.
Hope(Amazon Breeze)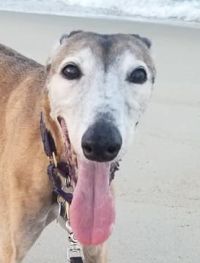 9/20/005 - 9/11/2018
Wow! It's been 11 years since I put my application in to get a greyhound pup. On Oct 5th, we drove up to Greyhound Central to look at the pups. We got the call on the way up that the haul was delayed but there were a few pups we could look at. There were 3 to choose from, Daisy (black and white cow print), Dina and Elsie. Daisy and Dina ignored my son and were not interested at all in him. Elsie wanted to play with him. Lisa or was it Ted, told me Dina and Elsie are sisters from the same litter. That they have only been apart the month they were fostered. (We went up to get only one dog.) I took about 10 minutes and decided I was going home with 2 dogs instead of 1. I could not break the sisters up. Well, Dina wouldn't walk on the leash at all. Elsie was just as happy as she could be. I knew I was going to change their names. After all the trouble I went through to get them and then the trouble she caused on the leash, I named Dina, Pandora, Dora for short. If you know the mythology behind Pandora's Box, you know hope was the only thing left in her box. So, I named Elsie, Hope. They became the famous Breeze sisters. They became My Girls! They became the best thing that ever happened to this family. Dora past away at 9 years old (2015). Hope has watched my son grow up to be 12 years old. They have become his sisters.

Hope has always been my accident prone pup. She has needed stitches many times due to getting mysterious cuts on her legs. We have never been able to find what she cut them on. Hope loved to chase bunnies around the yard from the beginning of her living with us, she even caught and killed one. She was very proud of her kill. Hope loved treats, people, running and relaxing. As she got older, she slowed down until Dora died and the universe gifted us with a 6-10 month old ankle-biter, street, lost puppy. We named him Backup and he kept Hope young. Hope started to romp, run and play like a puppy again. Even though it was in small, 10 minute bursts, she was puppyish again. Hope accepted our daughter, Dicey, into the family in April after she was born.

We opted to not have dentals done on her anymore due to her age and slight weight loss. She lost muscle mass. She wouldn't do stares well anymore. She would go potty on the porch more often than not. She was not eating as much the last few days of her life.

Tuesday, September 11, 2018 is the day we said good bye to our fearless baby girl. She let me know she knew what was going on and that she was ok. She hugged me in the way she does to reassure me. Hope is now at the bridge with her sisters Dora and Sassy, her sister cats, Aphrodite, Sugar Bear, and Ralphie. She is watching over her momma and her skin brother and sister. I will see you again my love. I will see you again.

Thank you for all the sweet memories and even all the scares. You are a one of a kind pup. I love you, Hope. I miss you. Run free!
Dreamer (Little Dreamer)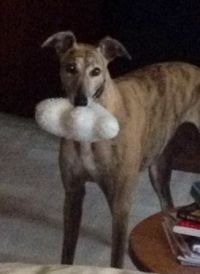 9/22/2008 - 9/5/2018
"Dreamer" – aka "Little Dreamer", aka "Daddy's Girl". You ran the race to my heart, my sweet girl, and I will never be the same. Run free baby girl, and run to me when I come to the bridge one day. Until then, and then after, you are forever my little girl and I am forever your daddy. I love you my sweet girl.
Miley (PPZ Dottie Mae)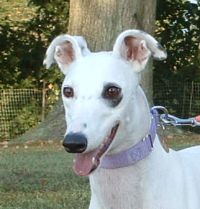 2/14/2005 - 8/30/2018
We had to let Queen Miley make the trip to the bridge today. Each hound I meet I think it's the sweetest one I will ever meet. It's going to take a really special one to beat this sweet girl. It has been a blessing and an honor to have had her as a part of the Palmer pack. I will truly miss this girl.
Zoey (Rum River Queen)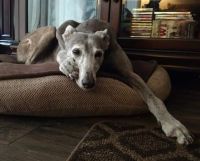 5/27/2008 - 8/2018
Zoe was an amazing little girl. She was always so happy to take her walks and would never let me take a short cut. She had to walk down ever side street and if you tried to pass one up she would stop dead in her tracks and wouldn't move. She was the alpha in our pack, but she didn't know it. I loved to watch her run- she was so fast and graceful. Her favorite thing to eat was cucumbers- so weird I couldn't cut one up without her help. I cannot believe the hole she has left in our hearts. I know she is eating all the cucumbers she wants and running down each and every path and I know she is happy but I just miss her so much. They are so much more than pets- they are members of our family. Everyone says they are so lucky to have a forever home, but I say we are the lucky ones to have had them bless us with their unconditional love and part of our lives. Zoe you were so loved and I miss you so much!
Riley ( LNS Get Back)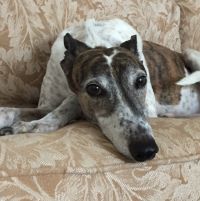 1/10/2007 - 8/19/2018
Riley was a sweet grey, always ready to go for a walk and greet friends at the door with a smile and a wag. She had a special talent for begging for treats and was a constant companion in the kitchen. We'll always remember the time she made a midnight snack of a full tin of pumpkin muffins off the counter and left nary a crumb behind! We love and miss you puppy.
Trent (GS Trent)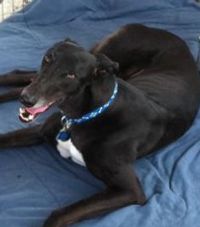 7/01/07 -08/13/18
You were taken too soon. Run free buddy.
Dusty (SG's Fawn Design)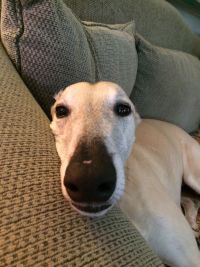 1/28/2010 - 8/10/2018
Dusty will be in good company at the bridge with the rest of the "Goof Troop"
Kirby (Ctr Gambler)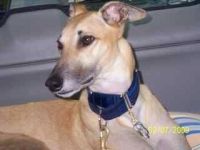 8/9/2004 - 8/10/2018
Our dear Kirby got his angel wings today. He had a brain tumor and had been declining over the last several weeks, but today I somehow knew that he was tired and ready to move on. We adopted Kirby from Greyt Expectations Greyhound Rescue in 2008, shortly after he stopped racing. He chose us that day at Greyhound Central and we are so glad he did. HIs racing name was "Gambler," and we feel we hit the jackpot with him. He was truly the best dog I've ever had. Sweet, loyal, and so well behaved. He loved all other animals, and he saw lots of them come and go through our home. Not only other adoptees, but many foster dogs and cats, and he accepted them all without question. So now our lives, and our couch, are emptier. He has left a huge hole in our hearts, but I know that, as time passes, it will fill again with the love we will always have for him. So many wonderful memories that we will cherish forever. Run free, my sweet Kirby. I know you'll be with me in spirit until I see you again at the Bridge. ❤️🌈❤️
Rainy (PH Make It Rain)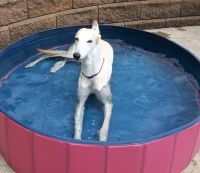 4/29/2004-8/7/2018
Way back in 2008 someone decided you had run too many races and must have major health issues. Other than needing a raw diet, you were healthy even until the end. Their loss was our lottery win. You were the absolutely the most perfect dog ever. You've been my rock for 10 years now. I can't even fathom tomorrow morning without you.
Tapper (Dreams On Tap)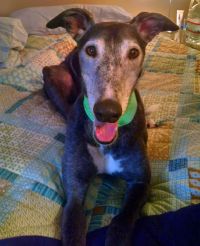 5/4/2010 - 7/31/2018
A huge part of my life and family left me this week. Tapper (Dreams On Tap) received his wings suddenly Tuesday evening. We were not prepared at all to be saying our goodbyes to him.
Tapper loved life, people, dogs, his boys and every foster and house guest that came to visit. I will miss so much about him and his absence has left a huge hole in the pack.
Tapper I will miss you as my one dog that loved the travel. I'll miss your calming energy that welcome every frightened, nervous and sometimes not so gentle foster that showed up here. You always looked to me and trusted that I wouldn't let them hurt you. You in turn, guided them into retired life and shared your secrets of all day snoozing.
I will also miss your love for your boys and the dance you did whenever they returned home. Really you loved all people but especially children. You went to several home checks because I knew I could trust you to be patient and tolerant.
I will miss your ridiculous love of all things water. You could fit your feet in the smallest buckets even though I told you countless times that was drinking water. I'll miss you playing king of the hill at Holly Ridge with all the local peeps. I'll miss your excitement at meet and greets that lasted for about fifteen minutes until your love of sleep became more appealing.
Tapper your truly kind and gentle soul will be greatly missed and never replaced. Run free Tapper. I hope by now you've found Crow and Shuger and Pugz and they've all shared their own stories. I've no doubt I will see again on the other side of the bridge. Rest easy. Mommy will always love and miss you.

Florida (Florida Dreamer)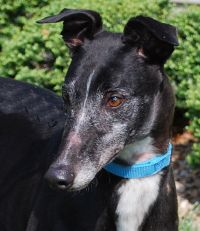 7/14/2004 - 6/22/2018
RunFree my sweet crazy little black dog. You kept me on my toes. Whos going to tell me its time to eat. Whos going to keep Benny,Pluto and Major in line. You were and always will be one of a kind. My heart is hurting.
Moe (Flying Modesto)
4/19/2007 - 6/11/2018
Eight years ago, I met my best friend in a supermarket parking lot. Flying Modesto had just arrived from Daytona, FL, and Ted Ski brought him to me. To say that it was love at first sight is probably an understatement. I told myself over and over that Flying Modesto was a foster hound, and that I wasn't going to keep him. Well, as soon as he met Gussie that fight was lost. They were immediate buddies, and by the following weekend, Moe was home to stay.

Moe was happy to go wherever I went. He was the best co-pilot on so many drives to Pittsburgh and Lancaster, PA. He LOVED McDonald's hash browns, so those long drives weren't hard for him to tolerate at all! Not long after I adopted him, I realized Moe was an awesome teacher! He went to so many Pets and Vets classes at CSM when I taught the class, and he showed many young children how to approach a new dog, and how to groom their own beloved dogs.

Moe was ready to love everyone he met. He has fans in several states, and he was the first dog ever allowed on the couch at my parents' house. He was even allowed on the "good" couch! Moe quickly figured out how to get extra food from Grammy and Pap by simply showing up at the fridge when he heard the door open. With that said, I've been assured on many occasions that Moe was the perfect house guest. But, I kinda knew that.

Moe's looked out for me for all of these years. He watched me from the front window at my first house every time I left for work, etc. with his ears in flat "flying nun" mode. He was also the first dog to greet me at the front door. Once we moved to this house, he was still the first one at the gate just inside my house-always ready to say "hello." My homecoming has always been something to celebrate!

As many of you know, Moe was diagnosed with bone cancer just before Easter, but I've been so very grateful to have over two great months more with my Moe. I've done my best to let him be a dog, and he's taken full advantage of every opportunity to cruise around the new backyard. I even had to stop him on several occasions from running with everything he had. I was too afraid of the ever looming spontaneous fracture. And if he could get more peanut butter by spitting out his pain pills, well, that's what he did.

This morning, Moe let me know that he was ready to be my guardian angel. He refused breakfast, and in all of these years, Moe has NEVER missed a chance to eat. That was my sign, and I knew it. I came home a little early this afternoon to spend some more time with the Quad Squad before we made our last trip to the vet. Thank-you all so much for your prayers, well-wishes, and love for my Moe. Thank-you to everyone who helped me care for Moe over the last eight years. You all helped me give Moe a greyt life!
Ginger (Super C Bristol)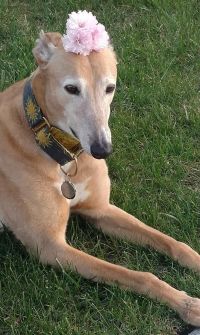 12/20/2007 - 5/4/2018
Run free pain free my best friend and beautiful Ginger. I will always love you
AJ (Dublin AJ)
5/23/2008 - 4/23/2018
We let our little girl AJ go over the bridge on Mondat night. She was diagnosed with Osteosarcoma in March and was in pain and had stopped eating.
AJ was a problem child in the beginning and was bounced from her original foster home. She came to Joan and I as a foster but she attached herself to me and despite her issues I couldn't let her go. She overcame all her issues with chewing shoes and peeing but was always our little guard dog, growling furiously at anyone that came into our home. She became queen of the couch and really contorted roaches! She enjoyed rides in the car, walks with her friends Diesel and Lola, laying in the sun, and meet and greets. We miss you AJ and the house and couch seem empty without you.
Bella (Jawa Delicious)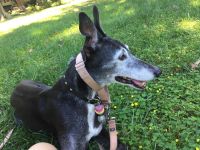 12/7/2005 - 4/19/2018
Dear Bella,
It's time to say goodbye, but before you go I owe you a debt of gratitude. Thank you for allowing me to provide you with a forever home for 7+ years after your racing career ended. Thank you for getting me out of the house 3+ times a day for fresh air and exercise. Thank you for reminding me with a quick paw swat, or a head turn and glare, that it was *my* job to keep petting you when I would stop. Thank you for greeting me everyday at the door when I would come home from work. Thank you for greeting everyone who came to visit us with a wagging tail and enthusiastic excitement. Thank you for being a kind, sweet, gentle, friendly, happy girl whom everybody loved, you really made us look good! Thank you for making me let you outside, just so you could lay in the grass under the sun. Thank you for putting up with my compulsive cleaning of your eye boogers (I know you didn't always like that but you did learn to do it for yourself, I caught you many times in the act!). Thank you for getting me up out of bed every morning to take care of your needs. Thank you for your patience with me and my schedule. Thank you for putting up with the frequent car rides which sometimes made you a little nauseous. Thank you for learning "down," "speak," and "sit" (even if you didn't really like that last one too much). Thank you for all of the cuddles. Thank you for all of the kisses. Thank you for not farting in my face too much. Thank you for giving me something outside of myself to focus on. Thank you for being a lazy couch potato, making it so easy to take care of you. Thank you for not smelling like a dog (well, except for that farting thing.) Thank you for being my friend, and being there when nobody else was. And thank you for just being you, and letting me love you. You will always be in my heart.

*******
Diego (JDC Firethorn)
10/23/2004 - 4/16/2018
We said goodbye to my sweet and silly Diego last night. He hasn't been doing well for the last couple of weeks, and yesterday he really struggled. My heart is shattered but it's a relief to know he's no longer in pain. Diego came into our lives almost exactly 4 years ago when Mike was on another deployment and we had just lost Tucker. He helped heal our broken hearts then and became the companion Floody needed. He was a bit of a train wreck with random medical issues and separation anxiety, but he was perfect to me. He snuggled with me through losing Floody in October and kept me company through this last deployment. Now that it's almost over, I guess his work here is done. I will miss his sweet face, his soulful eyes, his soft fur, and his nuzzling hugs so much. He was the best boy. 💕
Kali (Kiowa Josephine)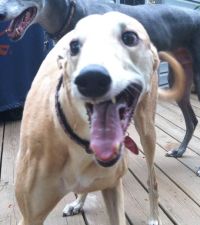 9/9/2005-4/2/2018
Our sweet Khaleesi, aka Kali-dog, aka Kiowa Josephine went to be with the angels today. To say we are devastated is an understatement. To say I'd known pain before this wouldn't be true, and I couldn't have understood that until this happened. She was perfect and patient and kind. She taught our other pups the rules of the house (and enforced them!). Whenever I had a problem, I could always go to her and tell her about it. She listened. She gave kisses. She chose us- I'll never forget how clear it was when she came up to me, gave me a cuddle, and that was that. She even chose our little dogs and loved them unconditionally despite their flaws. Maybe most of all she loved her Grimm, who is laying alone on one of the dog beds they used to share despite having many options. Our house is so empty tonight. This feeling is unimaginable. She was so loved, and she will always be missed.
Mike (GF Mike Duplaga)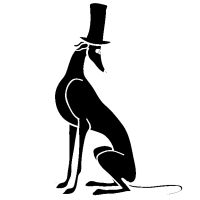 12/27/13 - 3/20/18
Mike was to travel to GEGR to start his new life as a retired pup. Unfortunately, he passed away due to complications from his neuter surgery. The vets did everything they could for him but it was not meant to be. He touched the hearts of many people who have never even met him and will be remembered along with other hounds that never made it to their forever homes..
Tux (Astar Mr. Tuxedo)
2/20/201 - 3/19/2018
It brings us great sorrow to announce that our beloved Tux passed away this afternoon from kidney failure. Although he was visibly debilitated and in decline towards the very end, his unrelenting drive to keep on keeping on prevailed all the way to the very end. He gave us a great final weekend that we took full advantage of with walks, extra love, and of course decadent food options. Tuxie was our third greyhound, and if this makes any sense at all, he was the most-human of any dog either of us has ever had. He was big, stoic, and sensitive- yet he was also very headstrong and determined. This last quality is what I truly admire about him- despite being in great visible discomfort as his body shut down, he didn't give up the fight to stay up on all four paws. Thank you so much to Lisa, Karen, and Renee for taking a chance by giving us the opportunity to bring this incredibly special greyhound into our lives. Every single day with him was special and we will forever cherish his memory.
Sky (DEA'S Black Sky)
6/1/2008 - 3/16/2018
Sky picked me 7 years ago and I've loved her ever since. She was a silly, goofy girl who loved food, riding in the car, walks, food, chewies, food, naps, food and her people. Having to say goodbye today was the hardest thing I've ever had to do but she's not in pain anymore... and I'll see her again. Run free Lovie 💛🐾 Thank you, GEGR, for bring this amazing dog into my life!!!
Emma (E'as Many Faces)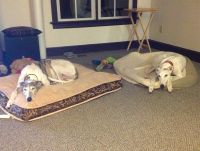 2/6/2003 -11/1/2017
~~ Emma was a wonderful girl with a great smile who obviously loved her people as well as the creature comforts of a sofa and nice dog beds! She also enjoyed watching us fix baked chicken to put on her food for extra protein on a regular basis!
The picture is of Emma and Vanilla the year they came to live with us. While we certainly wish we had had more years with them we were all very blessed that we had as many, and as many wonderful times, together as we did. We miss them both a lot and are very thankful for the time we had with them.
Mason (Getting The News)
3/1/2005 - 2/9/2018
Our shy, innocent boy has gone to the bridge. He spent the first several years of his life with us practically living in our walk-in closet. He would only come out to eat and go potty and to greet the people who's voices he recognized as his friends. Mason came to us on a haul from Florida in November of 2007. He had broken a leg in his last race. He was adopted out and came back six months later a victim of divorce. He stayed with us for several months while we worked on alone training, building confidence and teaching him to cope in the real world. He was adopted out again by a great family who loved him but brought him back 30 days later saying that he was too sad and lonely being an only dog to be happy in their home. It was then that we promised him that he would never go anywhere again and made him a permanent member of our family. Over the nearly 10 years that we had him he blossomed and grew more confident. He would regularly eat all of the flowers off of our hibiscus plant. The older he got the more outgoing he became. Just shy of his 13th birthday we let him go. His broken body was starting to fail him. We held him and told him how much he was loved; not just by us but by the people in our GEGR family that spent time with him and loved him too. He was truly a very special hound.
Angie (KB's U Turn)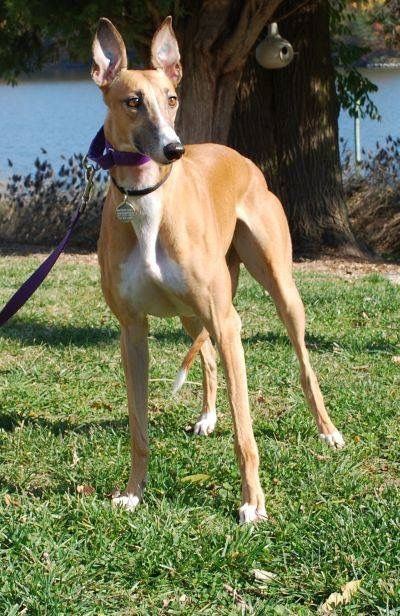 2/29/2009 - 1/2/2018
Big, beautiful athletic girl Angie adopted 5 years ago through your wonderful organization finished a champion in her last race January 2, 2018. She had a peaceful death and was surrounded by those who loved her and cared for her.She was gallant to the end and endured blood tests, ultrasounds, and Xrays with forbearance never losing her sweet demeanor. No definitive etiology was found to explain her rapid decline but the vet thought most likely it was due to a brain or spinal cord malignancy. I will never forget Greyt Expectaions' skilled advice and assistance in getting her back from her romp in the wilderness several years ago and I am so grateful for you placing her in my life. Judy P.
Tango (Meinse)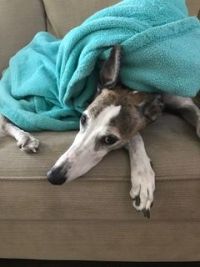 12/14/2008 - 12/13/2017
It is with great sadness that I write to let you know we had to say goodbye to our sweet Tango today after a devastating diagnosis of osteosarcoma. She passed peacefully, but our hearts ache at her loss. Thank you so much for allowing her to be a part of our family for the last 6 years. Her time was too short, but we hope it was a happy one in our family.
Charles ( King Charles)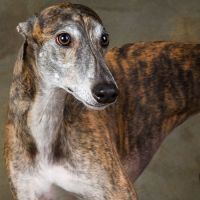 5/18/2006 - 12/2/2017
~~REST IN PEACE
KING CHARLES
I will always love you buddy.
and I will miss you beyond words.
Thank you for teaching me what joy really is.
Thanks you for accepting me the way i am.
You truly have run a great race, and now you have won a prize where there is peace and no pain.
I love you so much.................
Sheba (Risingstar Sheba)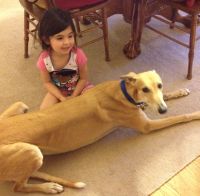 7/19/2008 - 12/7/2017
~~Sheba was greyt family and will be greatly missed.
Mia (Johnson Belle)
10/26/2003 -12/7/2017
his beautiful lady, passed to the bridge today. She was 14 years young and the absolute best grey ever. She will be missed by her dad, her mom and her Auntie Susan.along with her greyhound siblings. We love you sweetie.
Lily (Lazilla)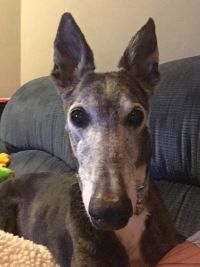 6/28/2005 - 11/29/2017
She was the sweetest girl. Thank you for letting us adopt her and spend our days loving her.
Shaelee (Shady Shaelee)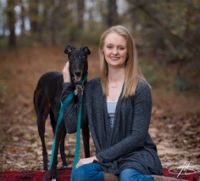 4/8/2011 - 11/26/2017
~~We had only just discovered GEGR when Shaelee came into foster and KNEW that she was the one for us.
We took her to her very first time at the beach, I witnessed her seeing a cat for the first time, and oh! how she loved snow! She loved long walks and sniffing around our neighborhood. Her Lambie was her favorite toy.
She didn't start out a big cuddle bug, but only recently she has enjoyed laying on the couch and bingeing Netflix while snuggled up to me. The couch was her favorite place in the world. She loved to nuzzle her head into my chest for extra snuggles.
She wasn't a fan of the baby at first, but after she learned that babies give free food, she changed her mind. They ended up being the best of friends, stealing kisses and pats from one another every chance they had.
I will miss her helping me take Cameron to school, and tucking the boys in at night. I'll miss how she waits for me to go to bed before she'll go upstairs for the night and how she looks out the living room window at me for those times I can't bring her with me when I leave.Shaelee, baby, you were the best dog, the laziest couch potato, and the most spoiled diva ever. You brought so much joy to our lives. I love you and I hope I gave you everything you could have ever dreamed of. Run fast, run free, baby girl.
Dakota (Dancin Will)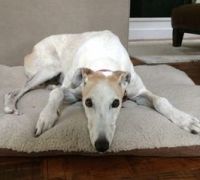 5/4/2006 - 11/22/2017
Dakota, aka "Dancin' Will" crossed the rainbow bridge. He was our Big boy with a kind and gentle soul. Our hearts are broken but are so thankful to have had him for the time we did.
Lois Anne (Gabe Hot Summer)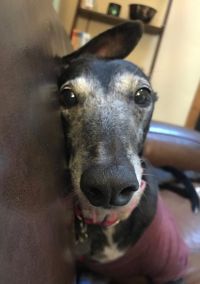 4/10/2008 - 11/21/2017
This evening, I lost the sweetest dog I've ever known. Lois Anne was a special dog; she was a tiny, patient, and tolerant girl. She never met a stranger and seemed to have a unique ability to connect with people. I called her my nursemaid, because if there was a person or animal who wasn't feeling well, she put herself on the job watching over them. I will miss her sweet little face, her snaggle tooth, her incomparable snuggliness, and her gentle, consoling presence. Rest easy Peanut, you've more than earned it.
Annie (Flying Antigo)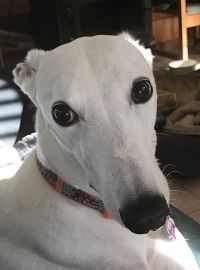 7/5/2008 - 11/17/2017
She was truly an exceptional grey. She had a spark about her. I remember picking her from the website and saying that she had to be ours a week after our last grey passed. The house was just too quiet. She was our angel- that was what I called her.
Pinjara (Hallo Pinjara)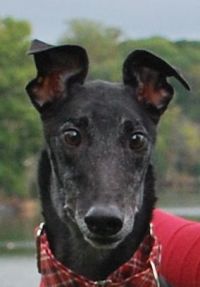 8/7/2012 - 11/2/2017
Pin came in from Birmingham on June 17 as my 9th foster. He was a big goofy boy with a scrotal hematoma that wouldn't get better on its own. We spent a full week visiting the doctor for laser treatments and taking new meds and things finally improved.

Next up, finding this boy a home. He kept getting passed over for some reason. He was full of energy and wanted to see what you were doing and to help in anyway that he could every time you got up from the couch. My girls and I figured it out though, and Pin settled as the weeks passed.

On September 30, we noticed lumps behind his back knees. On October 3, his lymph nodes were aspirated, and on October 5, we were told he had lymphoma. I couldn't let my boy go with the word foster attached to him so I adopted him, and we became a family of four.

Pin was spoiled and kept living life to the fullest even with his diagnosis. He loved meet and greets and hung out with all the cool kids at blood donor nights. We had regular visits with other Greys here at home and at the homes of others, and he was the best host and guest. He never met a baby or toddler that he didn't like and you could count on him to give them kisses.

On October 26, I dropped him off with his momma Cindy and papa Jeff for a week, since I wasn't able to take him with me. He was spoiled rotten and slowly started to decline. After he had a rough night, I came home on November 2 to be with him.

With everything he had going on, I chose to let him go that afternoon. I didn't want him to be in pain or see his spirit disappear. He went with a belly full of dinner, cheese whiz, and treats, and lots of love. I miss my Pinalicious and the house is so empty and quiet without him underfoot or yelling at me for his next meal. It's going to take awhile to adjust without him here.

Until we meet again my Pin, run free and play with rest of our kids who have passed before you.
Floody (Ittybitty Floody)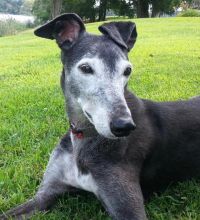 3/4/2002-10/19/2017
Our best girl is gone. I had the thought in the back of my mind that she might outlive us all, but her body finally said enough. She was the absolute sweetest girl anyone has ever met, and we will miss her dearly. My heart is broken, but I'm so grateful for all the time we got to spend with her. Rest in peace, Floodster. You earned it.
Dulcinea "Dulci" ( Sobe Karen)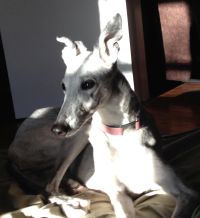 4/21/2004 - 9/27/2017
We are heartbroken at having to say goodbye to our precious Dulci.
I fell in love with Dulci at a meet and greet at PetSmart in Waldorf. I had taken our older male, Peppy, to mingle with the crowd. Dulci, whose first owner could no longer keep her, was available for adoption and there with her foster dad. She was shy, and terrified of walking on the floors, and Peppy helped lead her out of the store.
By the next day I convinced my husband that we should "foster" Dulci, wink wink. When I went to pick her up, she was terrified of getting in the van, and shook all the way home. Immediately on arriving, she decided "her" room would be the nicest room in the house, the living room. My husband was somewhat baffled that we suddenly needed a new greyhound when Peppy had been an only dog for over a year, and had done just fine. But within days Joe told Dulci, "You're not going anywhere." And so we adopted her.
Her first owner had changed her name to Dulcinea, or Dulci, which we were told means sweet, or elegant. That was a perfect name for her, because she was both sweet and elegant and plenty of other wonderful qualities.
She never wanted to be the alpha dog; she was always content to walk in back, and to be the last to enter the house or the car. While she was very shy with people and other dogs, being inside looking out seemed to empower her. Unlike most greyhounds she became something of a watchdog, barking at other dogs and passersby. Our dog sitter shared with us that Dulci would bark at her as she approached the door, only to run straight upstairs into the master bedroom and hide when she entered the house.
When we adopted Mystic, last year, it was Dulci who taught her the ropes: when and how to get a treat; how to get hugs and pats from the humans; how to dig enormous holes in the backyard. When it came to running, at age 13, Dulci had to work hard to keep up with the much younger Mystic, but she seemed to enjoy making the effort.
Dulci was the perfect dog for us, and we loved her. We are so sad that she is gone. Run free, beautiful girl . . . until we meet again.
Gina (PPZ Girfriend)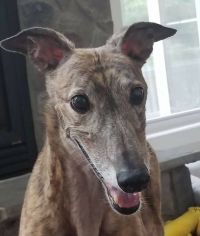 10/20/2006 - 9/30/2017
RIP my sweet Gina. We can't even process this. We are heartbroken. Be with your brother. Go get a bunny. Just run baby.
Digger (Starz Digger)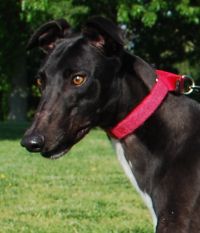 9/12/07 - 9/11/17
Heaven gained a truly remarkable dog today. Our Digger was the best meet and greet dog, a food mooch, a bed hog, a hero blood donor and loved anyone and everyone who he met. He was a corn dog, had LS and terrible arthritis but Osteo is what took him way too soon. We struggled with letting him go too soon but a day too soon is what kept beating in our hearts because a day too late was not an option. Many thanks to our amazing vets; Stephanie Caudill, Valerie Latchford and Deborah Grissom. Your gentle yet direct delivery is truly appreciated. We were fortunate our vet came to our home so Diggy could pass in the comfort of his favorite couch surrounded by his favorite hounds. Our house suddenly seems so empty as his presence was larger than life itself. Until we meet again sweetheart!!!
Buckley (Cookie Boy Paige)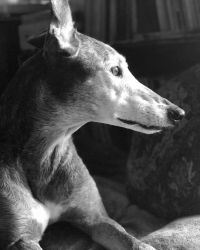 07/31/2006 - 9/8/2017
"Thank you for giving me the opportunity to share my life with Buckley"
Tracy (Glo's Doodlebop)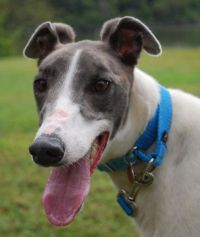 5/20/2006 - 8/18/2017
Tracy had a wonderful life with her family. When they came to meet dogs they chose her because she was a good match and was wonderful with their small children. They had no idea how truely rare Tracey was. To this day she is the only blue and white hound that has ever come to GEGR.
Fly with the angels baby....
Sally (Olmodavor)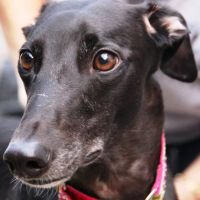 7/25/2006 - 8/16/2017
I'm at a loss as to how my sweet Sally was taken so soon. She deteriorated quickly today & it became quite obvious that it was a brain tumor. She was our first greyhound & our absolutely best, well until she got older & became a grumpy old girl. But still she was the best. With Sally it was "all about her". She had her own schedule & never went outside when everyone else did. The funny part is that we always accommodated her & were at her beck & call & she knew it. She was such a great hostess to all the fosters that came thru the door & was certainly patient with them as they learned the ropes. She came to us at 3 years old in 2009 & is responsible for my passion for sighthounds. Soon after she joined the family we started watching her sister Dora race. When Dora retired the following year she came here along with their mom Eve later in the year. The 3 of them absolutely loved being together & while my heart is in pieces I'm comforted by the fact that they're together once again, just the way they always would have wanted it. I know Dora & Eve were waiting patiently at the bridge for her. I'm beyond sad tonight but I also feel blessed. Blessed for the almost 8 years we had with her, blessed that she started my passion, & blessed to have such wonderful friends who have reached out to me lately with support, love, & kind words. I also took comfort this afternoon as I was letting everyone outside before taking Sally, a little butterfly landed in my hair & I just knew that it was little Silly letting me know she was there & would help Sally along the way. I certainly hope that by the time I'm done with this world there's a thundering herd waiting for me at the bridge. It will be a party like none other when I arrive. Rest easy my sweet girl. You made such an impression on us all & created a legacy I will continue always.
<3
Gunner (HS Remington)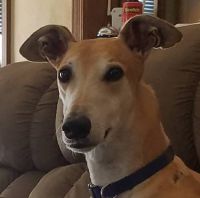 4/7/2010 - 8/15/2017
Gunner bounced back to GEGR with some anxiety issues. He came to us as a foster but fit in so well and was so very special he became our first foster fail. He was never without his social or medical issues but we always loved him with all his quirks. He was only with us for 16 months which wasn't nearly long enough. In that 16 months he made a huge impact on the whole family and we miss him terribly. Run pain and fear free at the bridge until we meet again sweet boy, we will love you forever. Gunner bounced back to GEGR with some anxiety issues. He came to us as a foster but fit in so well and was so very special he became our first foster fail. He was never without his social or medical issues but we always loved him with all his quirks. He was only with us for 16 months which wasn't nearly long enough. In that 16 months he made a huge impact on the whole family and we miss him terribly. Run pain and fear free at the bridge until we meet again sweet boy, we will love you forever.
Noel (Call It Gold)
4/13/2006 -7/26/2017
Today Sweet Noel gained her wings. She went to join her siblings at the bridge.
Tigger (Cloudy Pittstop)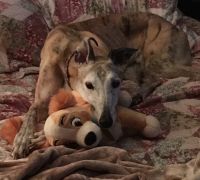 5/8/2004 - 7/26/2017
Tonight had to say goodbye to my best puppy friend ..going to miss our morning chats with you sitting in your chair and pretending to listen to me or not. You did not like when people got in your chair but you where very patient with them . My gentle giant so timid never cause any problems I love you so much and you are going to be missed .
Finn (Pals Super Dog)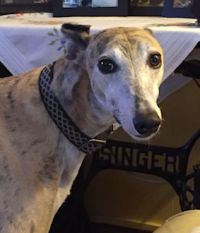 6/29/2008 - 7/12/2017
A funny thing about Finn was that every morning he would "arf" to wake me up. I would go to the area where he slept greeted with his trademark greyhound smile, I would then open the gate where he would immediately run 2 laps around the dining room table the run to the open door I had waiting for him! Never failed, he always did this. I can't describe the hurt that myself and family are feeling right now. Finn was such a special guy. Thank you and Greyt Expectations for allowing 2 of the most precious friends I could ever hope for to be part of my life. I will always be thankful for them.
Smurf (Cuddly Smurf)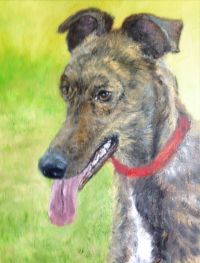 2/18/2006 - 6/22/2017
I remember when we came down to get him. The people that fostered him, the wife said…Do Not bring that dog back! lol. He was a handful. Just needed a little training and some love. Which we certainly gave to him. I miss him so much.
Jose (Alex's Diamond)
9/12/2004 - 6/17/2017
Today, we had to give him back his wings and let him go. He had such a great life. We will all miss you so much Buddy. We will see you later.
Izzy (Hevener Isadore)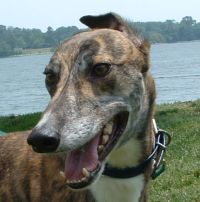 6/14/2005 - 6/10/2017
We are extremely grateful that we had Izzy in our lives for as long as we did. He was an amazing dog, companion, and member of our family. He brought us so much love and is so very missed.
Jupiter (Kaycar Kenobi)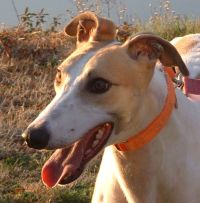 8/12/2004 - 6/10/2017
Jupiter is waiting for us at The Rainbow Bridge now. He almost made it to 13. He was 1.5 years old when he rescued us. He gave us so much and we could not let him suffer. He is at peace now.
Maddie (TZ Chattermatter)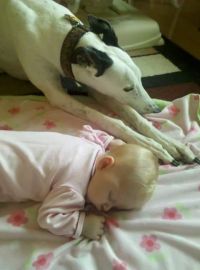 4/8/2004 - 5/30/2017
She was full of life and loved to run and play, she loved to shred things especially loofas, we had to keep the bathroom doors closed because she would steal my loofas and shred them to pieces. She loved kids and people, she really was the sweetest dog and everyone that meet her fell in love with her. Here is one of my favorite pictures of her with my daughter when she was a baby, trying to have tummy time and they both decided to take a nap.
Snookie (A Bar Snook)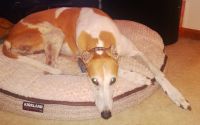 7/16/2014 - 5/22/2017
~~Snookie was a true blessing to us and we will miss her dearly.
Thank you so much for the opportunity to have Snookie in our lives.
Jazz (Rs Dodge Jazzman)
8/12/2006 - 5/19/2017
I am sorry to report the passing of our great gentleman Jazz (Jazzman) today. He did not recover from the loss of Sandia in March. It is an incredible loss . To have both gone so close together is without words. Thank you for the opportunity you gave me to have them for almost 8 years. Their capacity for love was amazing to be a part of... Their capacity for love was amazing to be a part of...
Phil (Pals Spot Light)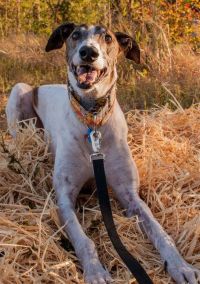 10/11/2007 - 5/4/2017
To my Philbo, who will remain in my heart forever,
I never knew just what lengths I would go to for a dog until you came into my life with your quirks and your personality and demands and velcro-ness. You could frustrate me to absolutely no end and then look at me with those big brown eyes and melt my rage. You knew how to look at me just right to get my bread crusts and practically anything else off my plate. You were my rock so, so many times and I never wanted the day to come when I was crying on your shoulder because you were leaving me, but today was that day. You were always stubborn, so you must have known when your blog post went live about your past few months, so I should have known that you'd have the last word about everything. No matter how much pain you were in, rarely did you let me in on that, stoic as ever. I know you're in a better place, but I always wanted the best place to be with me.. forever. Thank you for all your signs today. You'll always be the bestest puppy-luppy in the whole wide world ever and I'll love you until I can't love anymore. ~Your Momma
Bella (Jack's Bella)
5/9/2006 - 4/13/2017
A kind, loving and compassionate family member. Bella will be missed.
Tiff (Maryville Tiff)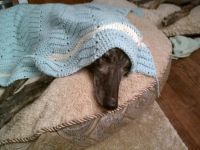 5/13/2008 - 4/19/2017
with a heavy heart I have to say we lost our little girl today....
Alastair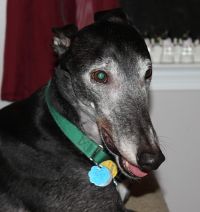 11/1/2004 - 4/04/2017
Best dog ever, Thank you for letting us adopt him, he brought so much love and laughter to our home and will be missed.
Missy (WTD Lasco)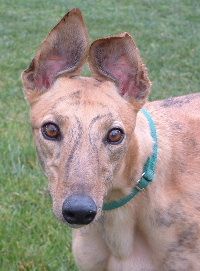 9/16/2005 - 3/31/2017
I fostered Missy four times over about three years. When she came back for the forth time in 2012, I just couldn't let her go. She needed me and she came to me at time that I really needed her unconditional love. She was my baby girl and she let me know her every thought. Her adoption allow both of us to start a new chapter in our lives. We changed her name to Missy, to tell the past goodbye and we started our lives together.

I will miss her every day, but I know she is at the bridge waiting for me along with many other wonderful pups that I have been privileged to share my life with. Run free sweet Missy. I will see you again someday. I love you.
Stan (Stan Abhaile)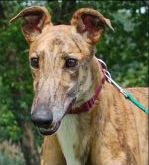 10/11/2006 - 3/25/2017
~~
Welp Stan fans, today I'm going for a different kind of run. I've had a great retirement with my moms, and have had so much fun. I've been to mountains, beaches, breweries, restaurants, and baseball games. I went to dog parks, on jeep rides, boat rides, and to work every day. I liked to visit old people, take long naps, and eat ice cream and cake batter. I've enjoyed a huge extended family of aunties, uncles, and grand peeps. My hobbies were diverse, including gardening, bird watching, sunbathing, contorted napping, and sniffing things.
I did pretty well with the stupid cancer thing. But now I feel crappy, and mom says it's just going to get worse. So she's going to help me later today, and she says I get to go do all my favorite things, and that I won't feel icky anymore. Moms are sad, but I keep telling them I've gotten all my stuff done, and I know they'll be ok without me. I've set them up to be ok. I will be taking my chicken. smile emoticon:)
Thank you, Stan fans, for everything. Give your furry friends extra love, and maybe a little cake batter.
Marina (Gable Marina)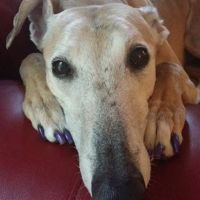 3/23/2005 - 3/21/2017
~~Marina came to us in 2012. I planned a trip to KS in the fall to bring back 2 brood mommas, one for me & one for GEGR to adopt out. The brood momma I picked out was Flying Dee. She was a 9 yr old brindle girl. Sadly Dee passed away in her sleep the night after she was spayed in Sept. At that point I picked Marina from other available mommas & we picked her up in KS in Oct of 2012. Marina was definitely a one-of-a-kind. She was the goofiest girl who always put a smile on my face. She had to occasionally be reminded who was in charge in the beginning but quickly settled in & was a fantastic girl. Her favorite spot was standing at the kitchen table waiting for a handout or two... or three. She lived to eat & eat she did. At one point I think she was 78 lbs BUT she was also a very big girl. My husband, while outside one day, almost mistakenly thought that Marina had gotten loose somehow until he realized that it was actually a deer in the woods across the street! From that point forward we always called the deer Marina's cousins. She was always the last one outside & waited until I was ready to come back before she would "go" & wanted me to cater to her. :roll: She also liked being the center of attention. Marina was also our BEST bird killer. She caught a few baby birds, always in the early morning that she would proceed to eat in the garage until I could pry its lifeless body from her jaws. She also loved to roll around on the love seat on her back to the point that she ended up on the floor. The love seat was HER domain & no matter who happened to get there before she did, she would always find a way to squeeze her butt on with them no matter how uncomfortable.
While her & Eris were never super close & snuggly as sisters, they were so similar in personality & behavior that it was scary. While my heart is shattered & in a million pieces I also have some very sweet memories & I know that they're all 3 together again. I just wish my dogs would stop leaving in groups of 3! :-( My heart is broken. And today is also their birthday so it's been an especially tough day. Happy birthday at the bridge girls.
Abby (Atascocita Maggie)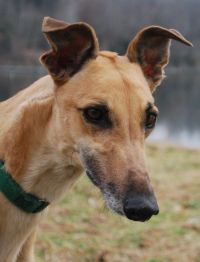 7/14/2008 - 3/7/2017
Abby was, of course, an awesome dog in every way. She loved to play ball with Mary, her greyhound sister, and she roached like a champ! She was also physically unique, with a mohawk and a crooked tail! She was our greeter dog, and I think I have a picture of her snuggling up to every guest who sat on her couch. We miss our Abby Dabby Doo so much
Eris (Gable Eris)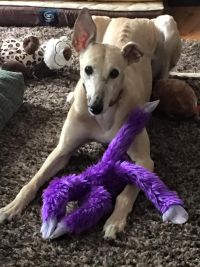 3/23/2005 - 3/13/2017
In the summer of 2014 I was contacted by a friend in KS who knew I had Gable Marina, a 9 yr old brood momma. As it turns out she had Marina's sister available for adoption, who was also a brood momma. I didn't know much about her other than she was 9 1/2 at the time, she had had 7 litters of puppies & she needed to be here with her sister & niece. (I also have Marina's daughter, Penny.)
A wonderful lady took care of her at her farm in KS & got her in shape for cross country travel. My friend in KS met me in Wheeling with her in August, 2014.
Eris was the absolutely sweetest, most unassuming greyhound I'd ever met. She never asked or demanded anything but was super appreciate of all she was given. While the sisters weren't big on snuggling with each other, they had so many similarities that you knew they had to be sisters without a doubt. We were blessed to share our lives with her. She was the best roacher, "bed-failer", & snuggle bug around.
I thought last year that losing three dogs in five weeks was horrible but losing two dogs in four days is just unbearable. Our pack has suddenly taken on a new look & we're all figuring things out as we try to cope & grieve.
Eris had been limping on her front left leg the past couple of weeks off & on & I just knew it was osteo. Having had all those puppies definitely took a toll on her body & she's always had a weak back end so we knew she wouldn't have been a good candidate for amputation. With the snow coming in Tuesday, I was scared to death that she would fall & break the leg so my vet met us on her day off to do the x-rays & just as I dreaded, it was osteo. She was already in pain so we did the kindest thing for her & let her go be with Joe.
And as much as it hurts today, I have no doubt that if I were to receive a call tomorrow about a senior in need I wouldn't hesitate to do it all over again, in Eris's memory & all the others that have come before her. The seniors have given me such amazing memories & we're blessed to spend whatever time they have left with them showing them only love & kindness.
Joe (White Squirrel)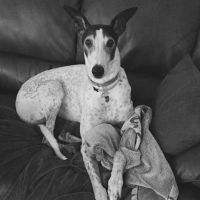 5/24/2007 - 3/10/2017
Exactly one year ago this past Sunday I picked up a greyhound for another group who we knew was somewhere between 7 & 9 yrs old. His previous owner couldn't remember his racing name or his age. We were prepared for some possible behavioral problems since she told me that he marked everything in her house & that he indiscriminately sat wherever he wanted & didn't watch out for her precious little chihuahuas. She even made me put a belly band on him before he got into my van. She assured me that I would need it. While he did wear a band the first night with us, he never wore another belly band from that point forward. I think from the moment he walked in our door he knew he was home. He was in fact a AA racer who raced at Southland & then Wheeling. I made sure that his 9th birthday was a big deal last May with us. He turned out to be a super sweet, food loving boy who loved to snuggle with the other dogs on his terms. His favorite thing to do was bark at both real & imaginary sounds outside the fence & get the others started. He also loved leaning & getting butt scratches from anyone & everyone.
Last Wednesday morning we woke to Joe being in obvious distress. His gums were pale, he was panting & pacing, drinking excessively, & his stomach was contracting. My first thought was bloat. I immediately had my husband rush him to the eVet at 6:30am while I got the other dogs settled. They actually found that he didn't have bloat but did have blood in his belly. He was scheduled for surgery to determine the source of the bleeding, either the liver or spleen. At that point the only decision we had was to go forward with the surgery. If it was coming from the spleen & was a mass there was a chance that it was benign but we wouldn't know until they did the surgery. They ended up finding not one, but two masses on the spleen. Because they found two there was a significant chance that it was hemangiosarcoma. With that type of cancer not responding well to chemo we decided that once he was recovered we would take him home & spoil him until he told it was time to go. Sadly it was not meant to be. He looked great last Wednesday night right after surgery but slowly went downhill from there to the point of Friday night when the vet talked to us before bringing him in. As soon as I looked in his eyes, I knew he was tired & he was ready to go. While we only had 363 days together, we tried to make them great. When the older dogs come in, we try to make every day great because you just never know how long they'll be with you.
There's a big white empty spot in our house & in our hearts tonight. I told him to be sure to look out for Eve, Silver, & Sarah when he arrives at the bridge. 'Til we meet again, sweet boy. darn cancer...
Abby (Kickin It On)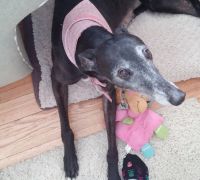 7/17/2005 - 3/12/2017
It is with tremendous sorrow that I tell you my Abby passed away this past Sunday, March 12th. She was going to be 12 yrs. old this summer. Abby was truly a part of my soul and my very being. I feel my heart will never recover. Thank you for the wonderful work that you do and thank you for giving me the opportunity to become one with my loving , independent, witty and sensitive Abby.
Sandia (Tailteann Dove)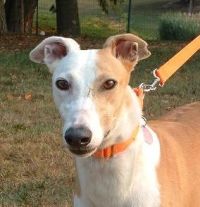 4/15/2005 - 3/6/2017
Sadly, our beloved Sandia (Tia) crossed the rainbow bridge yesterday. She was
just one month shy of 12 yrs old. She brought our family much joy. Thank you greytexpectations.
Sage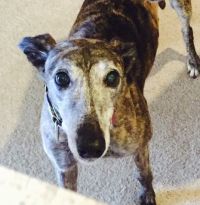 4/9/2006 - 2/12/2017
On 2/12/17 our sweet girl crossed the rainbow bridge. We are completely devastated and heartbroken. But so glad we have her greyhound brother, Jager, here to comfort us. Run Free my sweet angel. Gone from our lives but forever in our hearts.
Chance (Valid Mark)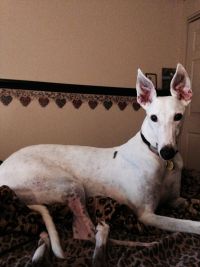 12/1/2005 - 2/27/2017
Chance buddy, I don't know where to start with your tribute..... My heart and world is so empty. You were the first thing I saw lying on my bed when I woke up, your worried eyes looking at me when I left the house like I'm not coming back and you there at the door to greet me excited that I've finally come home, you're always standing in the kitchen when I'm trying to get things done or lying on a bed not far from me watching me do stuff.....then we watch TV in my bedroom, this was your favorite time...you were ALWAYS on the bed with me, that was your place and IF by chance Callie had jumped on the bed....you would just stand there and whine and look at me, there was plenty of room for you. I had to coax you up but, you were not real happy there was another dog on your bed and you would circle forever or moan and move until she got fed up and jumped off....
You never left my side all night long and you usually had most of the bed. Your "racing dreams" vibrated my whole bed and sometimes left bruises and scratches on my legs but, I know you won them all sweet boy....hopefully, before I had to wake you up so I could fall back to sleep....you roached then stretched out your back legs whenever the urge struck you, wherever you body was on my bed and I've lost count of how many times my cell phone or whatever was in my hand went flying across the room.......and your moaning and groaning after you changed positions on the bed and settled into your new one, not a bad sound just a contented one, always made me smile.

You came to me sweet boy when you were 8 years old from a mom and family that loved you dearly, but, you needed to be with your own kind and a fenced yard so you could roam and Oh how you loved the to roam the 2 acres.... I never got tired of watching you do your "old man walk" and "nature rounds". You always had the time you needed and came to the sliding door when you were ready to come in.....
You met with your 1st family a couple of times as I promised and you remembered them. Jack, your 2 legged little friend, was always happy that you were able to live with fur brothers and sisters. Part of you will go back to them Chance with a plaque with your name. They provided you your 1st retirement home, to your 1st mom I'm forever grateful to be able to give you your seniors years.

Chancer-Dancer boy, I knew my time with you was not going to be really long but, we had 3 wonderful years and did a lot of things didn't we buddy....
You LOVED car rides and you were ALWAYS my "co-pilot" over my left shoulder, I could always feel your nose or scratch your head.....You made the annual GEGR picnic, M&G's, trips down to GHC, Mimi's Girl's Weekend Pool party, Petsmart or just on nice days going in the car with me to make short errands, you loved going to Greyhounds in Gettysburg and I had plans to take you for the day this year to get your picture taken but, sweet boy your most favorite thing in the whole world is the beach and Oh how you loved Reach the Beach and our long walks on the beach and oh how I'm so glad last year that when I wanted to come in from our beach walk and you didn't I listened to you and kept walking for as long as you wanted, thinking but, hoping it wouldn't be your last year....and what was going to be a 10 minute walk turned into 1hr 15min. Thanks buddy for taking one for the team and walking wearing the pink tutu with the female galgos and greyhounds at Dewey, it definitely was for a good cause.....And how special it was Chance, Reach the Beach 2015, You got to meet your brother Aaron who you haven't seen since the day you both came in on the hauler together...You both were a month and a half shy of 10 but, I know in my heart you guys remembered each other.
I often worried taking you to overnight events at 10+ if it would be too much for you but Chancer, you were good at power napping and always up with the others ready to go, nothing kept you down.

Chance was so special to me and many others, his gentle lean on whoever he met, the deep soulful look from his dark eyes to yours you knew it's was coming from his heart, his gentle nudge to your hand for a simple pat on the head. I pray I provide to him what he needed and gave him the BEST 3 years of his life... I know he certainly stole my heart in more ways than one and I couldn't have loved him more, I miss him so much.

Chance, my beloved boy.... I promised you as you grew older you would always have a good quality of life, you would always maintain dignity and honor, you will never suffer or feel uncontrollable pain, I promised you, I would hold you when you go, my voice will be the last you hear and my hand will be what you feel rubbing your leg as you drift off to sleep and I promised you, you will not see me cry..... all have been fulfill.
And I promise I will find you at the Bridge.

The night I said goodbye to Chance, I didn't get much sleep because he wasn't there and the bed was empty but, I briefly dozed off only to awaken to the bed moving as it did when he panted, I turned the light on to check the others. Hermes and Callie asleep on dog beds, Ryder curled at my feet. I turned the light off and laid back down only to gently feel the movement again. I knew he was there and letting me know.... I laid my arm over his spot and told him.....It's ok Chance, it's ok... the movement slowly went away. I know he started his journey, I'm just waiting for the sign that he's there........

Fly with the Angels, my big, white, sweet boy, Chance, Fly high......
Fiona (Hi Kaylar)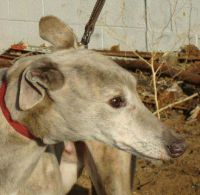 2/25/2004 - 2/22/2017
Fiona stole my heart from the moment I met her and I miss her greatly. Thank you for allowing us to adopt her from your group.
Dazzle (Native Dancer)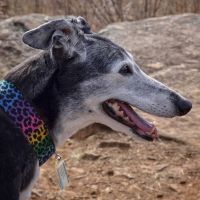 3/8/2006 - 2/23/2017
Run free, daughter, until we meet again. Love, mom.
Sadie(Forex Junction)
4/27/2008 - 1//27/2017
RIP Sadie. Forever in our hearts. Run free sweet girl!
Phoenix (Galoopus)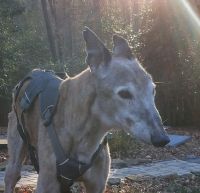 8/24/2002 - 1/24/2017
Our sweet boy went to the bridge today :( Phoenix has helped us to foster many dogs and cats. He's been a test dog for shelter dogs, and never reacted when new dogs were unsure or too sure :) He was the rock in our home and quickly took the alpha spot. He kept all of the other dogs in-line with his calm assertive demeanor. Run free sweet boy, we love you and miss you already :( 💔 #PheenieWeenie
Pepper (Hiker)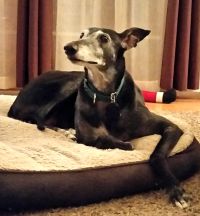 1/21/2006 - 1/9/2017
On January 9th, our beautiful girl Pepper made her way to the rainbow bridge to be with her twin sister, Lady. Our hearts are broken but we are comforted in knowing that our twins are together again. Take care of each other girls....your mommies will miss you terribly but we will see you again.
Candy (R and A Sheba)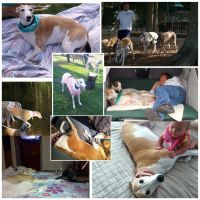 10/1/2003 - 1/3/2017
~~Today we had to say goodbye to one special lady...Candyis running free at the rainbow 🌈 bridge with her friends

Charlotte (ZW Button)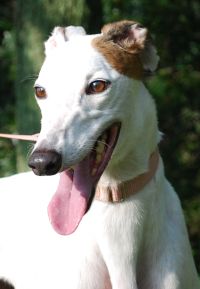 1/11/2007 - 12/22/2016
~~ I will miss her forever. My sweet sweet girl...
Abby (Superior Claire)
7/30/2008-12/19/2016
~~Today our family said goodbye to this sweet face. She was an amazingly wonderful pup. But after 4 years of battling a mysterious disease her body said it was time. We will miss her so very much.

Maggie (Rim's Vail)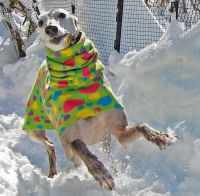 1/13/2003 - 12/14/2016
~~My sweet Maggie is gone. Run free, girl. Have fun with your friends Boo and Bella terrorizing dogs at the Rainbow Bridge Dog Park.
Heta (VJ On The Prowl)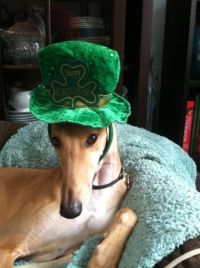 3/20/2010- 12/13/2016
~~ She was the happiest little girl and a little clown -- always making sure there was a smile on everyone's face.

Leda (Where's Lil Lady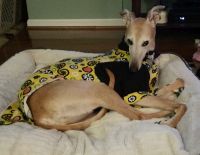 9/16/09 -12/11/16
Today was a heart breaking day. We said goodbye to our sweet Leda. She was diagnosed with chondro/osteo sarcoma about 7 weeks ago. She was quite a trooper but the last week and certainly in the last couple days she has given us signs the time was near.
Leda was only 6 years old and we have had her for about 4 1/2 years. She came to us a scared little girl who was fearful of just about everyone. We worked with her but mostly have her love and encouragement and soon she blossomed into a more outgoing and courageous girl who walked up to strangers at our local Greyhound Meet and Greets.
She was a silly girl who loved to dig holes then run around and come back and dig more while staring right at you. She loved her nyla bone and stuffies. Leda was a snuggler and smoocher. We will miss those daily kisses. She could shoot you a look of "really? " Leda was the best roaches - sometimes making her head disappear. She also loved her Ty Ty. Thank you Tyler for loving on her from the beginning and for showing her the way and letting her lean on you, literally.
We will miss you every day Leda. We are so thankful for you coming into our lives.
Joe Louis (Bronco Madness)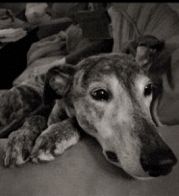 4/4/2008 - 12/1/2016
It is with a very heavy heart we write to you to tell you that Joe Louis has crossed the rainbow bridge. He passed suddenly yesterday due to a pericardial effusion. We were all able to be with him. To know Joe was to love him. By the out pouring of love and condolences from those who know our family it truly shows what an incredible soul he was and how many lives his sweet gentle soul touched. We are so thankful we got to share the last 5 and a half years with him. He had a life full of unconditional love, sunbathing and couch surfing. Thank you so much for bringing him into our lives. When the time comes to adopt another dog into our family we will certainly be in touch.
Sassy (Sassy Breeze)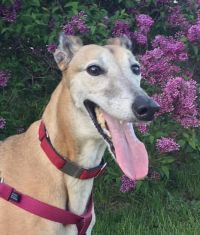 9/20/2005 to 11/24/2016
~~We lost our beautiful girl this morning. It was sudden and unexpected, and we are devastated. She was a silly, sweet, happy, amazing dog who was always by my side.
We adopted Sassy as a companion to our Max. It was a bit rocky at first; we took her home right off the track as a foster with intent, and she decided our cats were super fun to chase, and Max was very cranky with her. We were fairly new greyhound parents, having only had Max a few months at the time. I didn't think it was going to work, so I let her go to another foster home. A week or two later, I went to a fun run at Greyhound Central (if I'm honest, I really just missed her and wanted to see her). She immediately went up to me and spent the time following me and wanting love. As we went to leave, she ran along the fence with her ears up and a look on her face like "wait, guys! what about me?!" I started crying and ran back in to talk to Lisa and told her I wanted to give it another shot. I was hopelessly in love, and she never left our home again. She eventually left the cats alone (she was just playful), and Max...well, he never really stopped being cranky, but anyone who knew him knows that was just his thing.
Sassy accepted everyone in our family, including at various times, our other two greyhounds, our small terrier mix, our two cats, and even our two rats (not to mention various fosters and visitors). Sadly, over the years we have lost most of our beloved animal companions and most recently it has just been her and our 18 year old cat, Lucky. I stay home, and she has been my constant companion, never leaving my side. She had just turned 2 when we adopted her and so she got the nickname "the baby" since she was the baby of our family (and acted like it). She kept it all of her life. When we still lived in Delaware, she was a meet and greet queen, happily greeting anyone who came to the x-pen. She was so silly, and played everyday. She lived for our evening walks. Over the 9 years we had together, we lived in three states, visited more parks and walked more trails than I can count, went on many fun beach vacations, and had so many adventures together.
I miss her more than words could possibly express, and she will always, always be in my heart. Run free, my sweet love.
Logo (Bob's Logo)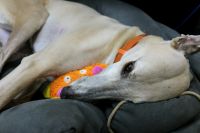 2/24/2009 - 11/22/2016
Our family has suffered a tremendous loss today. Rest in peace, Logie, we love you.
Fletcher (Rooftop Avision)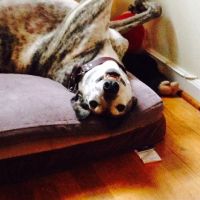 11/30/2006 - 11/5/2016
Our Fletcher loved roaching with his pile of blankets and stuffed animals he snuck out of the kids rooms. He loved food, most especially bananas. He was a very special boy!
Leo (Itchy)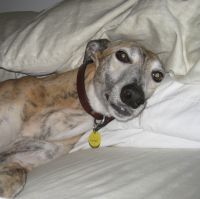 3/19/2009 - 11/4/2016
~~This morning we said goodbye to Leo. He had a rapid form of Leukemia. He was only 7. Leo was with us exactly 4 years and in that time blessed our home with such loving, bouncy energy. To know Leo, was to know that all he wanted was to be next to you, lean on you and have you scratch his neck. He was a people dog. He loved everybody, and everybody was his best friend.
I promised him we wouldn't let him feel pain, or suffer, and he took his last big, sighing breath with his head on my lap on his favorite bed. His presence is already missed and we feel so empty, but driving home the sky was so blue, and maybe the sun was shining a bit brighter. I know the joy we felt watching him live life to the max will stay with us forever. Goodbye my sweet, precious boy. We will love you always. I know you've probably already found your Momma Eve by now. :heart: Rest easy now, my baby.
***Special thanks to Tracey for sending Leo our way 4 years ago, and for always being my sounding board, giver of advice and friendship...and to all who knew and loved Leo---he loved you right back. :heart:
Sammy (Ddm's Octavia)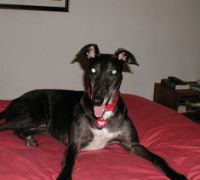 11/16/2001 - 10/18/2016
Sammy left us just shy of her 15th birthday. She and her mom Pat are reunited.
Apple (D's Gabby)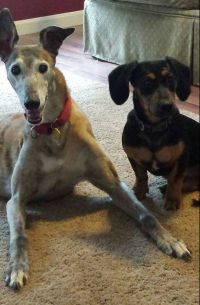 10/16/2005 -9/24/2016
~~We adopted Apple aka D's Gabby in 2008. She was loving and a perfect fit for our son who had ADHD and Processing delays. We introduced a kitten Milo and they became like two peas in a pod.
We decided to foster neglected dogs and Apple was tolerant and extremely patient with the 2 dogs we fostered, Apple was a wonderful foster sister.
Time went by and we decided it was time for Apple to have a forever buddy. We adopted Reese a year ago and Apple became a great teacher and sister to Reese. Apple always would share her bed even though she really didn't want to.. Apple was more than a great fur baby, she was an amazing joy to have. And camping trips were on top of her list.
Sheba (KB's Ali Sheba)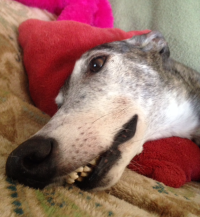 8/2/2005 - 9/10/2016
My heart is broken, My world is shattered…….. it has taken me days to gather my thoughts and relive my life with one of the most amazing, loving, sweetest, gentlest "most perfect" greyhound......My Best Friend. KB's Ali Sheba

Sheba, my sweet girl, you did not pick me and I did not pick you. You were a bounce from a family that claimed you tried to bite their 7y.o. daughter and escaped, found on the Metro. Obviously you did not want to be there …… You were a planned foster failure set up by 2 GEGR volunteers, who both fostered you and felt if they had you one more day they would have to adopt you …… Susan and I had a van full of dirty, stinky Alabama track dogs heading for GHC, I told her I planned to foster one. Susan said "NO……take my foster girl Sheba, she's "the most perfect greyhound", and I will foster one of these dogs" I said ok but, there no such thing as the "perfect greyhound" and I really don't care, I have my token Diva Sophia and I DO NOT want another female!!!! I picked you up and we traveled home, not a peep out of you…… Ok Sheba, you travel really well, intros went strangely well in the backyard, it was like you had been part of the pack, like you owned it and just went for a car ride, you gained immediate respect and it carried over into the house as you picked the best dog bed and made yourself comfortable as the others went about their merry way…… feeding time went well, but you were not to happy to be fed last…… your 2nd day with me was better than the 1st and by the 3rd day it was quite obvious you thought you were home . Yes, you were starting to show off your "perfect" qualities….. On the 4th day I took you to PetsMart and a little girl ask if she could pet you, I said ok and I never saw a greyhound shake so hard…… I asked her to please stop, that you were a little afraid. We left shortly after and I knew a home with little children was not in your future. By the end of the 1st week Sheba, you had won my heart, with your soulful eyes and strong needle nose that would get you just about anything you wanted. I called Susan and she said "See, I told you she was the most perfect greyhound!!!!!!" , I failed and signed your papers, a failure I'm forever proud of .

Sheba, the bond you and I had, as many people know, was unbelievable and I can't imagine my life without you. You were such a fighter. I almost lost you in 2013 post op after your thoracotomy to remove the fibrosarcoma mass from your chest, you coded but, it was not your time to cross the Bridge. You had a rocky recovery at home but, still you fought and became strong to live on to be a happy and healthy girl and make it to be my 1st senior dog in 16 years of greyhounds to make it over the age of 10 yrs. old and boy did we have a BIG party!!!!! You were always such a funny goofy girl, you loved to jump on the bed and lay with me with your head on my chest, take your needle nose and nudge my hand/arm for whatever you wanted and not stop until you got it, you liked to cover your face with your paw when you were sleeping and roach all the time, you had the art of getting your muzzle off when you were outside and come in without it and I had to go out in the 2 acres and find it, I just think this was just a game you were playing ……I loved your crazy overbite You loved car rides, ice cream, Trader Joe's Peanut Butter Treats and Marshmallow Easter Bunnies with sugar on them, you loved to lay in the sun and play in the snow with Callie and YES, my Sheba girl you are the
Most Perfect Greyhound.

Sheba, I watched you grow old gracefully and heartbreakingly watched your body fail but, not your mind. I promised you I would never let you fall, I promised you, you would always maintain your dignity and grace, I promised you, you would always have a good quality of life. I promised you, I would hold you when you go and my voice will be the last you hear and I promise you I will find you at the Bridge and I fulfilled them all for you except the last one.

Sheba, I pray I provided you with a life that made you happy and you did not have a care or want and the last gift I gave you was to let you go.

Fly with the Angels My Sweet Sheba …….until we meet again
Sarah (Mac's Olivia)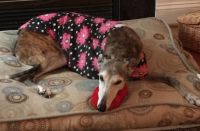 1/14/2002-9/8/2016
Today Sarah told us that she was ready to leave for the bridge & be reunited with her first momma. We fostered & then adopted Sarah in January of 2015 after her mom passed away. When she came to us we initially thought she had a couple weeks to a couple months & were told she would be a hospice dog & to be prepared. She had just turned 13 that month. Sarah definitely had other ideas & once we got her pain meds adjusted she seemed to bounce back quickly. Shortly after adopting her we found out that she also had kidney disease & high blood pressure. Thru it all she remained willful, stubborn, & incredibly independent! She gave us more than a few laughs over the next 20 months with her. We often commented about what a total wild child she must have been in her younger years. THIS is how we will remember her... The girl who flew like the wind & always tried her hardest right up to the very end. The younger dogs often looked at her like she was crazy running outside. Today the light left her eyes & she made it quite obvious to us that she was ready, taking the decision out of our hands. As she passed over to the bridge today I told her to go find her momma Kelley & they could both wait for me there. We feel blessed & honored to have been able to love & care for this beautiful girl who will remain forever in our hearts... We know that our time with the seniors is always short but we make more out of the time we do have with them. ... Fly like the wind sweet Sarah Belle, 'til we meet again.
Silver (Silver Drive)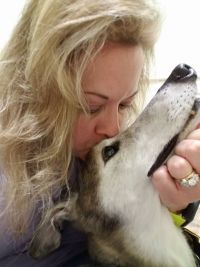 6/17/2005 - 8/29/2016
~~I remember the day I met this sweet stud dog in March, 2012. I asked Shelley if there were any stud dogs coming up for retirement & she sent me a pic of a sweet 7 yr old brindle boy with a silver face & eyes that melted my heart. He had been on the farm for a while & his angel Kathleen talked his owner into retiring him since he wasn't doing well at the farm. He was a horrible eater & we definitely struggled to get him on a regular schedule & figure out what he would eat. We spent the next 4 yrs & 5 months together & had some great adventures but he was always happiest at home. He was one of those quirky, eccentric greyhounds who had to have things his way right down to exactly where he wanted to eat his meals & how. He was truly my dog & followed me everywhere. Every morning he spent hanging out on our bed while I got ready for work. I'll miss his sweet head rubbing the leg of my pants waiting for me to fill the water bowl every morning & evening. I always told him he was just fooling me & instead of affectionately rubbing my leg he was actually just wiping his mouth! Bedtime will also never be the same. The pillow he slept on will now be retired to a place of honor on the shelf. He waited for me every night to come tell him goodnight & fix his pillow for him. For as much as it killed me to let him go it was even worse hearing him cry in pain & not being able to fix it. So he left this world with his head in my lap & I told him to tell Eve, Dora, & Darcy how much I loved & missed them. Rest easy my sweet boy & fly with the angels... 'Til we meet again at the bridge.
Walter (GS Walter)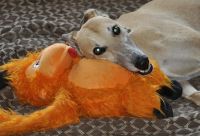 7/7/2007 - 8/25/2016
"We will miss our big, goofy, shy, handsome boy"
Momma Eve (CTW Devious)
2/1/2003 - 8/1/2016
My sweet Momma Eve, as we called her, went to the bridge on August 1st. We actually had planned to let her go last year the Tuesday after Labor Day & even had the appt ascheduled. My sweet, fiesty girl had other plans & woke up that morning telling me that THAT day wasn't to be THE day & we celebrated daily with her for almost a full year after that. She suffered 2 strokes last year, one right after a dental in the spring & then another in late August. We cancelled the euthanasia appt & she ended up basically "relearning" how to walk. She wasn't great at it but she was never in any pain & we helped her as much as we could & gave her all the time she needed.
To begin the story for those that don't know it, we adopted Eve sight unseen & after spending almost 6 years with her I have to say that I would go back & do it all over again in a second if I could. To tell Eve's story I also have to tell the story of her daughters Sally & Dora. We adopted our 1st greyhound Sally in 2009 & watched her sister Dora continue to race at Daytona. When Dora was ready for retirement in August of 2010 she came home to live with us. We found out afterwards that both sisters raced together their entire career, first at Orange Park & then at Daytona. Within 24 hours both girls were snuggled up on the sofa together like all those months apart never even happened. After Dora came to live with us I thought it would be so cool to let whoever had their mom know that 2 of her girls were living with us. I tracked down her racing owner who had leased her to someone else in KS & gave me his contact info. I sent him a letter with a picture & the next thing I know his daughter contacted me saying that she was ready for retirement & that if we could find someone to come get her, she was ours! Behold the power of Facebook & Greytalk as I started contacting greyhound people, who are all fabulous by the way. As it turns out someone in KS who had greyhounds was planning on visiting her mom who lived in Maine for Christmas & she offered to not only pick her up from the farm but to drive her straight to me. So Eve came here to live out her remaining years 4 days before Christmas with her 2 daughters. I know for sure that they all 3 knew exactly who they were to each other. They quickly became the 3 musketeers & were always seen snuggling with each other. Eve was the absolute best dog I've ever had & there's a tremendous hole in my heart that just can't be filled. She was fiesty when she wanted, sweet & snuggly, & commanded attention from everyone she met. She had a presence about her that left an impression & you knew she was something special. Dora passed away in 2014 & now Sally seems to be all alone, even in a house full of dogs. But I know my girl is watching down on us & running around with Dora at the bridge & I can't wait for the day when we're all reunited. I miss you like crazy my sweet, sweet girl & I'll carry your memory always.
As a side note we were able to also bring two of Eve's other pups to GEGR, one who's from the same litter living in Richmond, VA & another pup she had from her last litter. So while she's not here, her legacy lives on.
Flynn (CJC's Lottery)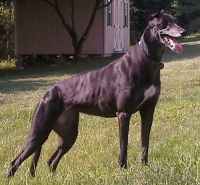 11/1/2007 -7/24/2016
Flynn was our beautiful, graceful and elegant black grey who recently lost her battle with osteosarcoma. During her 3 1/2 year journey with us, she loved her house and human 4-pack, enjoyed chewing ice cubes, cooling off in the pool and rubbing her face in the soft grass. She was intrigued by all the new smells in the backyard and chased (and usually caught) any animal that made the mistake of moving within her field of vision. She roo'd when requested, hated riding in the car and preferred her human dad to carry her up the stairs every evening before bed, even though she could do the stairs quite well by herself during the day. She was an integral part of our family and we will always miss our sweet girl---
Talon (LB's High Tailin)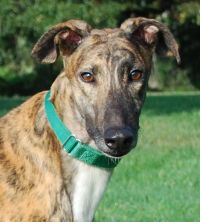 2/1/2010 - 7/16/2016
Those we love don't go away, they walk beside us every day......
Carl (WTC Carl Can)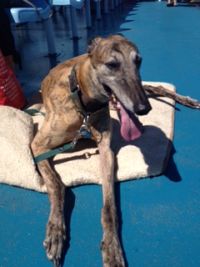 1/5/2007 - 11/2015
We had a wonderful life together first In Washington when I got him from you folks right off the track. We then moved to Pasadena California for two years. But I must say his favorite place In the world was New York City where he had a tremendous amount of fun in Central Park and all the outdoor cafes. And in particular Carl loved the ferry ride and his vacations in fire island. Thank you folks for bringing him into my life.
Raven Dawn (Racing Dawn)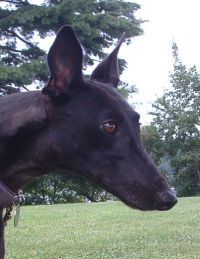 10/22/2004 - 5/2/2016
. ~~Raven never raced. The joke in our family was that they failed to use hot dogs as the lure. Raven was in foster care for a long time looking for that special home as she was a nervous and shy girl. She was a beautiful black girl and I watched her for months thinking someone was sure to snatch her up. However, GEGR was looking for that special home for her and for some reason they picked us. We adopted Raven right before Thanksgiving 2006. She spent the first few months with us living in my daughter's room only venturing out to go outside. She ate, drank, and slept in the pink palace with my daughter. In her nervousness, she would pick the fibers out of the pink carpet. My daughter eventually ended up with carpet with big holes in it. If she only knew how long I looked to find the perfect shade of pink. The pink palace is long gone, replaced by a teenage girl's room. She never lost her nervousness or shyness, but she was happy being a part of our family. She spent her senior years holding court from the comfort of her throne on the sofa. If she was in a generous mood, she would allow the other pups to lay at the opposite end of the sofa. On a really good day, they could be touching her. She was the queen and never let them forget. ~~Raven passed peacefully with her dad, mom, and skin sister with her.
Rocky (CET Wild Roscoe)
12/10/2008 -4/12/2016
~~ Rocky you will forever be our big little boy! We will see you again when our time comes. Please meet us at the bridge so we can hug you and love on you again! Thank you, GEGR, for allowing us to give Rocky Parmigiano a loving home! We are truly blessed to have GEGR as part of our family.
Jewels (Gem n Jewels)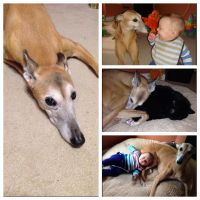 8/21/2002 -2/22/2016
~~Never has there been a sweeter, more gentle pup than our Jewels. She became part of our family in January, 2007, and was a greyt ambassador for greyhound adoption. She loved attention from anyone who would give it to her, including the cats and our kids. Everyone was her best friend that she had been waiting ages to see. We always joked that she made a horrible watch-dog, because she never barked and greeted everyone at the door with a wildly wagging tail. We will certainly miss our old grey lady.
Jeanie (X's Jeanie Bee)
5/14/2007 - 2/16/2016
~~I just wanted you to know she has been an outstanding companion to me and my family . Thank you for allowing us to be part of her life.

Chip (Awleenz)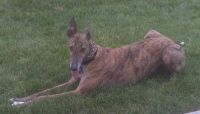 6/21/2003 - 2/12/2016
We wanted to let you know that Chip crossed the bridge yesterday. It was very peaceful. Our vet came to our home and he was able to fall asleep forever in my lap on his favorite bed. He was 12 1/2. He lived a wonderful life here with us. He was a sweet big boy who loved to sleep 20 hours and day. He lived with his sister Brindy, who passed in 2010 and his sister Belle who is 10 years old. He will be deeply missed by all of us ~ especially our 8 year old daughter Gretchen who has spent her entire life with Chip. Rest in peace sweet boy.
Kuranosuke (It's No Act)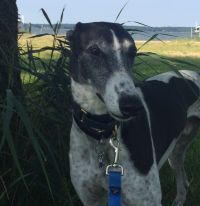 5/2/2008 - 2/10/2016
Kura was a special hound in many ways. He was handsome, smart, gentle, sweet, and devoted. We are still trying to recover from this unexpected and shocking event.
We miss him terribly...
Snowman (LNW Snowman)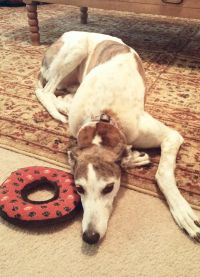 5/21/2004 - 1/30/2016
It is with deep sadness that I report that our dear Snowman has passed. After a very short battle with cancer and exceptional care at the Texas A&M University Veterinary Small Animal Hospital, he was put to rest on our family ranch in Weatherford, Texas on January 30, 2016. He was our first greyhound and his gentle, loving spirit will be with us always. We are so blessed to have had him as a member of our family for over 9 years. As an Army family, Snowman was a trooper and moved with us from Virginia where he was adopted, to Kansas and then on to Texas. He was a gentleman and an exceptional friend to everyone he met and will be greatly missed.
Abby (RC Up Town Girl)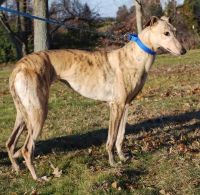 3/6/2007- 2/1/2016
On February 25th 2012 we had the opportunity to adopt this gorgeous, loving and beautiful brindle girl. She was the sweetest dog and had the softest coat. She loved to be loved. She was snuggly, always wanted to be around people and would go up to anyone and greet them. On January 6th 2016 she was diagnosed with Fibrosarcoma. It was a fast developing cancer that overtook her front leg. She woke up one morning and was not able to walk. She lost all function of her front leg. The cancer grew to the point where it overtook her entire shoulder and blocked her lymphatic system. Due to the massive amount of pain and swelling we had to make a decision to put her to rest. She passed peacefully and we were able to have a few last minute snuggles. We only had Abby for a short period of time but we enjoyed every minute that sweet girl gave us. She will be dearly missed and forever in our hearts. We love you to pieces. Take care my sweet girl.
Jerry (Popular Jerry)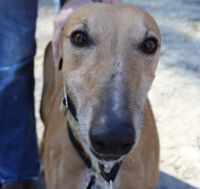 12/24/2003 - 1/2016
I wanted to thank you so much for bringing Jerry into my life. As his mom for nearly 9 years, he taught me so much and I am so grateful to have owned him. Jerry lived a very long and full life. He was in Brian and my wedding, enjoyed vacations at our beach house in North Carolina, loved spending time helping me in the garden, and had a bed in his favorite spot right in front of our fireplace. His non-greyhound puppy sister Bella loved him very much, as did his kitty-cat brothers and sisters. He was my best friend and we had many adventures together. There is a big greyhound shaped whole in our hearts and he will be deeply missed. Again, thank you for all that you do for greyhounds like Jerry, and especially, for helping to make my life better by bringing him into it.
Sophie (FTKs April)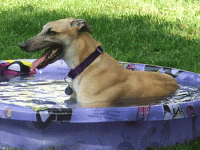 November 30, 2002 - January 26, 2016
It is with tremendous sadness (but also relief that evil cancer and pain did not conquer) that I tell you of our beloved 13 year old Sophie going peacefully this evening to the Rainbow Bridge. She was cradled in my arms to the end, and I whispered in her ear how much she is loved, and we did not want her to hurt anymore... The hardest thing ever is letting a friend go. But it is done out of love. It hurts so deeply, and those who have loved their beloved creatures of all sorts know the exquisite pain of loss. The heart holds a special place for the wonderful times and memories... My last words to Sophie were, "We will walk again together by our favorite stream. I promise you that, dear one". Sophia means "Wisdom"; she taught Ray and me much about trust, bravery against all odds, loyalty and unconditional love. Run, Run and Run to greet all who have gone before you, my dear one. I will feel your presence by my side and in my heart forever. Pam Crawford (Sophie is also missed by little sis clbd Spirit (Fashion Pinup).
Max (Drivenbypapaya)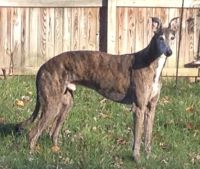 3/10/2003 - 1/19/2016
On January 19th, I lost my guy Max (DrivenbyPapaya) to hemagiosarcoma (heart cancer). I had never heard of this before and there were no symptoms until earlier that morning, at 3:00am when he fell or slipped after drinking some water. Throughout the day his breathing became labored. This disease caused blood to pool within the sac around his heart constricting his breathing. I share this for awareness. Max was my first dog and Greyt Expectations was the Team that placed Max and I together and I will be forever greytful that you did. I could not have been any more Blessed. I miss him terribly. I also just lost my cat, Carey, of 18 years in October. It has been a very sad few months. Please, give your Greys and fur babies a hug tonight and wish Max and Carey a safe journey to God. God Bless you all, your Beautiful Greys and all your fur babies.
Alice (Afleet Alice)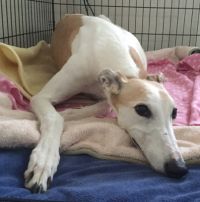 12/22/2008 - 01/18/2016
" We said good by to our sweet girl Alice earlier this month after a short but brave battle with osteosarcoma. Alice had recently turned 7. She was a shy, sweet, gentle girl who made a great playmate for our boy Freedom. Although she was a racing school "flunky", she was super fast and nimble and easily could leap into the back of our suburban from a stand-still for her favorite past time, a car ride! The 5 years as part of our family was far too short and we miss you dearly. Run and be free of your worldly ails Alice. We miss you girl! "
Trav (Ethereal Time)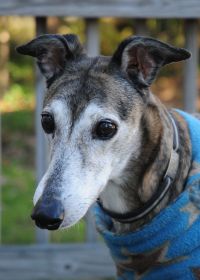 10/20/02 - 01/4/2016
~~We said goodbye to the beautiful Trav this evening. He was surrounded by family, including his grandma and grandpa. He was our very first greyhound and he was the perfect introduction to the breed. He was sweet, gentle and very dignified.
Sleep sweet dear Trav - go find all of your buddies at the Bridge. Rainy and George are waiting along with Winny and Patsy. They will show you the way. I miss you baby boy.
Lady (Daytona Lady)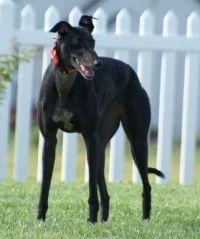 1/21/2006 - 1/3/2015
~~"Wendy, Pepper, and I are devastated beyond words that our beautiful Lady passed away early this morning. "Daytona Lady" never stopped racing, never stopped training us to be her devoted servants, and loved her sister beyond belief. She is free of pain now and that gives us so much comfort. Our job now is to make sure Pepper finds her new normal without her sister...the one who has been with her every day of their entire lives. RIP sweet lady bug...your mommies and sister love you to the moon and back. Now go find Bailey....he will watch after you until we meet again. Daytona Lady Burke-Wilt 1/21/06-1/3/16."
Lulu (Grayce Lulu)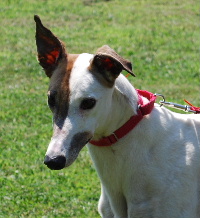 12/22/2005 - 12/20/2015
~~We will miss our sweet baby girl....
Rita (Prieta)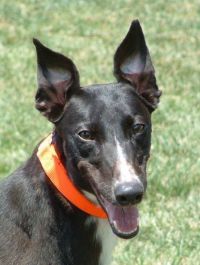 4/30/2005 - 12/11/2015
We adopted Rita (AKA Rita Pita, Reetie Peetie, Reetsie Peetsie) in July of 2007. I had been following her on the GEGR website while trying to convince Clarissa that it was time to adopt a second greyhound. At the time she foolishly thought that two dogs were plenty. I kept emailing her Rita's picture hoping she would realize that she was pretty irresistible.
Then Clarissa thought she had the perfect plan. Our home owners association had a two dog rule and waivers can only be obtained after securing letters from immediate neighbors declaring that they would have no problem if their neighbor had more than two dogs. Clarissa agreed to adopt Rita if I met the association's requirements. Knowing me, Clarissa thought that there was no way I was going to approach our neighbors to ask for those letters. She was wrong and that rest is history. And, by the way, Rita became Clarissa's baby girl.
We formally adopted Rita at a fun run in Lusby on July 4th. While running around with the other dogs Rita took a sharp turn and realized she was running straight toward a lawn chair. Instead of stopping short she continued forward a sailed over the lawn chair. I remember thinking "uh-oh, what have I gotten us into". If you ever saw Rita run it was pretty clear why she never raced. When she started out, before she settled for earth-bound travel, she always seemed intent on taking flight. By that time, I'm sure, the real runners would be far down the track.
One of the first GEGR M&G events Rita attended with us was that Mt. Washington Wine & Jazz Festival. That particular event was always a lot of fun, in part because by the time the people came to visit the greyhounds they usually had spent a lot of time visiting the wine. This one woman in particular was immediately taken with our baby girl. Then she asked her name and I told her it was "Rita" she just started laughing like there was nothing funnier than a dog named Rita. She then told me she wanted to take Rita home with her. When I told her that she couldn't take Rita because Rita was mine she got really annoyed and walked away.
Like most greyhounds, Rita exhibited seemingly contradictory behaviors. My children think of her as a very timid dog. But if you knew her a little better you knew it was not as simple as that. You could call out your inner alpha and get her to back off if she decided it was dinner time before you were ready to feed her, or if you wanted to stay in bed a little longer than she wanted. You were good for a minute or two before she was back to let you know that she had thought it over and that yes, it really was time for dinner, or time for you to get your lazy butt out of bed to get her breakfast.
She seemed to like people, but she wasn't a gushingly friendly dog. She came over to greet people when they visited, but while Docker and Gus would continue compete for attention from our guest, Rita would go about her business. But every once in a while Rita would decide that someone was a kindred spirit and stick with them a little longer. The people she treated that way always seemed genuinely proud that they were among Rita's favorites.
Although apparently "timid" around people, around other dogs -- particularly greyhounds -- she always seemed willing to try to establish her dominance. At M&Gs and at home she would often decide that some other dog was where she wanted to be. Rita would march right over, stand astride the other dog, sometimes put her paw on their head and try to get them to submit. Whenever we saw it happening we would intervene, but I'm still surprised she got away with it for even those first few seconds. One time we brought her home from the hospital after she got some stitches in the skin of her back that resulted from a brief altercation with our first greyhound, Tony. As soon as she got in the door she hobbled over, still under some influence from the drugs and stood astride Tony to let her know that injured or not she was still the boss.
Rita was a very special little girl. According to my son, Adam, she was "black and white and cute all over". She brought so much joy into our lives. I know the day will come when we will think about the time she spent with us and smile. I look forward to that.
I know that no matter how long they live with us it will never be long enough. But if I made the rules Rita would have spent a little more time with us, would have been more comfortable in her last hours, and died peacefully in her sleep. Is that so much to ask?
Bill
Diesel (Kiowa Shag Speed)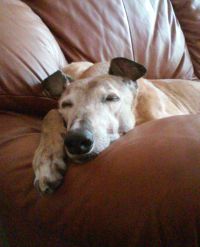 11/29/2002 - 11/28/2015
~~It brings with great sadness that Diesel has passed. He had just turned 13 years old. See attached picture, one of his true lazy day moments.

Ramona (Sobe Ramona)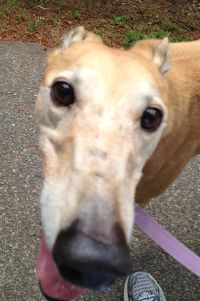 6/30/2002 - 1/2015
~~We adopted Ramona (or as we grew to call her Mona or Monie) from GEGR shortly after we got our big boy Roy. She was a 4yr old bouncy, lovey girl, who liked to stir up some trouble, but always knew how to pull on your heart strings. She moved with us from Manchester, MD to NC in 2009, and enjoyed many runs in our big yard and long walks through the woods. She loved everyone she met and everyone who met her just fell in love with her. She had been struggling the past year or so with hip issues... daily morning massages with Andie became a must, and Ramona very willing always assumed her position for morning rubs. She finally got to a point where she had stopped eating and was falling too much, unable to stand herself back up. We could no longer bare to see her this way and had to make the tough decision to send her on across the rainbow bridge. Her loss was hard on us, as we no longer had anymore greyhounds. Her and Roy had been such big parts of our family for years. But we hope that she is in a happier, pain-free place now, and that she managed to find her buddy Roy on the other side of the rainbow.
Sonar (DNJ Cash)
7/9/2003 -11/28/2015
~~We said goodbye to our Sonar this morning. He had struggled hard with stability issues and weakness in his hind end for the last several months and became terribly anxious over the past couple of weeks. He took a turn for the worse during his kennel stay for Thanksgiving. We made the heart-breaking decision to let our tired old boy go. He was 12.
Sonar was never a champion racer, maybe because he was such a big boy. He was part of our family for over 9 years. As the Navy moved us from one home to the next, Sonar happily made each place his own. He was a good boy: never interested in going on furniture, not a picky eater, happy around people and other animals, never barked, loved one very specific type of stuffie. He hated to be alone, so he enjoyed a bed in nearly every room in order to always be close to someone. His face grew gray as my kids grew older. I wonder if watching the youngest leave home for college this fall played a role in his accelerated decline.
Even knowing how hard the ending is, we wouldn't trade a moment with our beloved Sonar.
George (JD's Big George)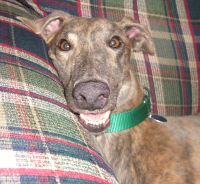 10/16/2003 -11/24/2015
~~We lost our George tonight. He was not comfortable and we couldn't put him through any more. George, aka "Georgie porgie", "George of the Jungle" or "my sweet Georgie", was 12 on October 16th. We adopted him on May 20, 2006 so he had a nice long retirement. Unfortunately, cancer got the best of him. George was very social - he loved going to the vets even. He made one abbreviated trip around the back treatment area this evening. He was a superb meet & greet dog; he would gently lean his head against people to get them petting him. He loved playing with bouncy balls but only if he had a muzzle on. He thought thunder was the ultimate evil and was determined to protect us from it at any cost. He was sweet, loving and goofy and I miss him horribly. I still can't believe he's not coming home. Thank you, Liz Ryan, for helping us though this. I know it's not easy for you either. You've been his doctor for a long time. Sleep sweet dear George. Go find Rainy and maybe Patsy has been keeping a bouncy ball just for you.
Queenie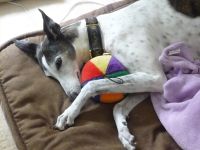 July 2000 - November 4, 2015
~~Queenie was exactly what her name suggested--the Queen of all she surveyed. While we've now rescued three greys, there was something extra special about our spirited girl. Before she joined our family, Queenie did not know what love was. You see...she didn't race. When she came off that freedom truck, she didn't understand that she didn't need to protect what we gave her aggressively or that the people and grey sibling in our home weren't there to take from her at all, but to give her everything that she'd never had. She learned. She found her home. She was loved, and she, with her dainty little paws, needle nose, and sweet kisses, loved us back with everything she had for most of the fifteen years and four months that she lived. She's now free of pain across the Rainbow Bridge, and we have no doubt that our first beautiful grey, Abbott, was there waiting to greet her. We and her grey brother, Dallas, will miss her more than we can say. But, we know that we will see her again. She's part of us, and both she and Abbott will be waiting for us across the Bridge--jumping, smiling, and overjoyed to see us again. Rest peacefully and run free whenever you want to, our beautiful, regal girl
Bean (Berry Jar)
5/20/2006 - 10/15/2015
"Bean loved life with such energy and passion and intelligence"
Scarlet ( Golddust Scarlet)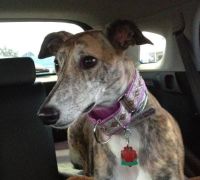 1/16/2009 - 10/15/2015
We lost our very first and most beloved Greyhound, Scarlett last evening. We adopted Scarlett on a mild fall morning, September 11, 2011; in the midst of the adoption process I was certain we would not have a female dog, I refused, I was coming for a male and my son Zachary was coming for a"tiger racing stripe dog," my husband was deployed at that time thousands of miles away in Kenya. Zachary was so disappointed when he found out that a brindle was not in our top matches on the matrix. We met the top dogs, Wynn was our top match we were back and forth, we decided we would go for Wynn but it was not meant to be, Holly jumped on him before we could. So Bob asked if we would like to see our least likely match Scarlet, of course we hadn't really felt anything yet so why not. Up the stairs walked this spicy tiger racing stripe dog, Zachary's DREAM but SHE WAS A GIRL!! She immediately ran to Zach jumped up on him and licked his faces to pieces and that was it, it was over, that was our dog! It was truly a match made in heaven, she was my dog and the worlds biggest BRAT! She made appearances at meet and greets but she hated them, she would pee in the car as soon as they were over, even AFTER going before getting in the car! Everything was on Scarlett's watch and what she wanted to do only and it remained that way to the end.
Nina (I loves Ya Baby)
7/27/2003 - 10/2/2005
"Nina made infrequent appearances at dog-related events because she was such a spook. When I had her as a foster, she didn't come out of her crate for a week and used to do fake pees in the yard so that she could rush back into the house more quickly. At meet and greets, she trembled and drooled and made an extremely poor showing to potential adopters. After a number of public appearances, we came home and she asked me to please not take her to anymore of those events. I promised and adopted her myself."

Beezie (Cragie Beereal)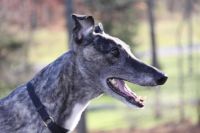 2/12/2006 to 9/3/2015
Beezie was adopted by a family right off the track. They had him for about a year. One day, GEGR got a call from this family who wanted to find a group to take Beezie, as they could no longer care for him.

Come to find out, he had issues with noise. He would bark like a crazy dog at any noise; the doorbell, a car starting, brakes screeching on the tv, etc. Unfortunately, the family was having some construction done on their house, and I'm sure that set Beezie off. GEGR, of course, agreed to take him.

Tracey McLauren drove over to Ft. Washington, Maryland and picked him up, sight unseen. She said that he jumped SO FAR into her van, that he almost ended up in the front seat!

I saw his picture and story on the GEGR forum, and he just spoke to me. I told (YES, told!) Cindy that we needed to foster him. After being here for a few weeks, we both knew he was not leaving.

We worked very hard to make him comfortable in our home. Thankfully, we had both Lincoln and Later to help him out. He very much looked to Lincoln for support. We quickly learned of his quirks. We lovingly adjusted our lives to support him and help him feel good in his skin. For quite a while, he was very standoffish. He kind of hung in the background.

Gradually, he became more interactive and involved. He was very much the watch hound around the house. He barked like a guard dog when any stranger came into the house, but outside the house he was a quivering mess. We worked with a behavioralist, a trainer, as well as a pet psychic to help him.

Finally, after about three years, he REALLY started coming around. I'll never forget the FIRST time he jumped up on the big bed. Cindy and I both looked at each other in utter amazement! We created a MONSTER,as he has slept on our bed almost every night since then! He would jump up as we got in bed and lie right down and close his eyes, smiling the WHOLE time.

As anyone who's know him can attest to, he became a WONDERFUL hound over the years, He even accepted all the strangers who now come over for the various events at the house.

I can't thank GEGR enough for bringing Beezie into our lives. He was one of those very special hounds who really touched everyone.

RUN FREE big Beezie, we miss you terribly!
Dora (Cinnamon Breeze)
9/20/2005 to 8/31/2015
Wow! It's been almost 8 years since I put my application in to get a greyhound pup. I remember feeling anxious while it was being reviewed. I remember constantly looking at greytexpections.org every day to which pups were avaliable. Finally, my application was approved. My son at just turned 1 on Sept 6. My birthday is October 6. I made reservations for the hotel for October 5. There was going to be a dog haul on the 6th. I remember getting a call on October 5th when we were driving up. The call was to say the dog haul was delayed but they had some fosters we could look at. We were living in portsmouth, VA and we only made it to Newport news when we got the call. I told Lisa we were coming anyway and we would look at the fosters. It took us all night to drive up there. The GPS unit went out about 30 minutes away from the hotel. Thank goodness I had printed out directions from mapquest. I drove over the tall, skinny bridge at 1 am with fog and little light. I made it to the hotel, crashed, and woke up 5 hours later. I was so excited to see the dogs they had for us to look at. Mind you, we came for one dog. There were 3 to choose from, Daisy (black and white cow print), Dina and Elsie. Daisy and Dina ignored my son and we're not interested at all in him. Elsie wanted to play with him. Lisa or was it Ted, told me Dina and Elsie are sisters from the same litter. That they have only been apart the month they were fostered. I took about 10 minutes and decided I was going home with 2 dogs instead of 1. I could not break the sisters up. Well, Dina wouldn't walk on the leash at all. Elsie was just as happy as she could be. I knew I was going to change their names. After all the trouble I went through to get them and then the trouble she caused on the leash, I named Dina, Pandora, Dora for short. If you know the mythology behind Pandora'so Box, you know hope was the only thing left in her box. So, I named Elsie, Hope. They became the famous Breeze sisters. They became My Girls! They became the best thing that ever happened to this family. Dora and Hope have watched my son grow up to be 8 (almost 9) years old. They have become his sisters. Dora was diagnosed with kidney problems early on and had to be on a special diet. She eventually had bloat and during the surgery to save her, the vet had to remove her spleen. Then years later she developed bone cancer. I was divested. Not my beautiful Dora. Not my gentle baby. The one that comforted me when I was down. Not the one that leaned on everyone and the one that demanded your attention. We decided to amputate her leg since it was her back leg and we caught it early. She recovered great. She loved on us. She ran better than she walked. Then months later she started to lose weight. She didn't eat much. She kept falling down and hurting herself. Dora was not herself. I was not going to be selfish and keep her here for my own reasons. I was not going to let her suffer anymore. We took her to Kitty Hawk, NC for her last weekend with us. She laid around and ate steak, eggs, bacon, shrimp, crab, ice cream and anything else she wanted. We took her down to the beach to take pictures. She got to see her other sister, Sassy, one more time (Sabrina and mike adopted her). The three of them had not been together in 5-6 years. We loved on her. Monday, August 31, 2015 is the day we said good bye to our fearless baby girl. She let me know she knew what was going on and that she was ok. She hugged me in the way shw does to reassure me. Dora is now at the bridge with her sister cats, Aphrodite and Sugar Bear. She is watching over her momma and her skin brother. I will see you again my love. I will see you again. Thank you for all the sweet memories and even all the scares. You are a one-of-a-kind. I will watch out for your sister. Hopefully she won't join you for a few more years. I love you, Pandora. I miss you. Run free!
Marcel (FTK Marcel Luske)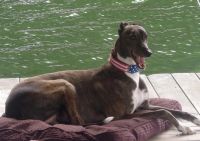 5/26/2005 - 8/25/2015
From the beginning Marcel was Momma's boy! Whenever I left the room or went downstairs, he would cry and whine until I returned. He also let our other greyhound, Randy, be in charge and whatever we did to Randy, Marcel wanted the same treatment. Sometimes when Randy needed medication and Marcel didn't, Marcel would receive a "pretend" pill – a treat – so he wouldn't feel left out. When Randy passed in 2013, Marcel was a little lost but was soon "adopted" by our cat, Jixi. I'm not sure how much Marcel appreciated the attention but he knew he was loved. He loved walks and the water. He wasn't a swimmer but would go right in the water and lie down.
Over the past two years my husband, Eric, worked mostly out of town and Marcel became my constant companion. We went most places together and he slept on my husband's side of the bed. On weekends when my husband returned home, Marcel would be a little put out that his side of the bed was taken!
He was very shy and cautious around others including receiving treats from anyone other than a family member. He would delicately take the treat from hands and go off to quietly eat it alone.
Even at the end when we learned Monday that he had fractured his leg, which was the result of a cancer tumor, he tolerated all of the handling and took his pain pills without complaint. Yesterday, he went to sleep for the final time at home in his bed after spending the day with Mom and Dad where he enjoyed lots of love and treats. There is a hole in my heart that I am sure will eventually heal. My only complaint about greyhounds is that they don't live long enough. I didn't get enough time with Marcel, my wonderful shadow.
Harvey (Watch Him Begood)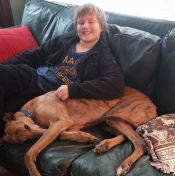 12/3/2005 - 8/21/2015
We were blessed to have him. He really was a sweet soul. Everyone who met him fell in love with him.
Oliver (Hey Lil Fats)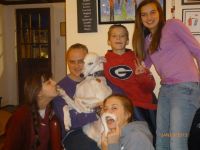 5/25/2003 - 8/12/2015
~~He was a true member of the family and very loved. As I have thought of him this past week, I recalled that when we first contacted GEGR, we looked forward to coming to Lusby to meet numerous dogs and to pick out the one that would be perfect for us. We ended up getting a phone call about a dog that was available, and Oliver was then brought to us by Jessica Everett in early September 2007. I have to think that someone other than us, knew that Ollie would be the perfect dog for our family.
Thank you for the wonderful work that you do. We are forever grateful for the years we shared with Oliver.
Quinn (Denise Jones)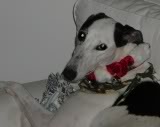 1/3/2004-8/16/2015
What a clown my girl was…a hound who, between long, leisurely snoozes on her back, jetted around the house, scattering cats like a four-legged lunatic. She always made me smile…just looking into those beautiful chocolate eyes gave me joy. And for her part, Quinn always looked like she was laughing. She was my constant companion--gentle, kind and loving. Lots of sleeping dogs bark or chase things through the land of Nod. Quinn did that too. But she's the only dog I've ever known who would wag her tail—really wag it—when she was sound asleep. I never crated her and she never once chewed anything up. Well, wait…that's not quite true. One night she purloined a full bag of fish flakes from a table in the garden room and chewed that thing to shreds—scattering gold, green and red pond fish food across the living room rug. When I saw the mess the next morning I was stunned. Quinn, so obedient and sweet, was horrified herself when she beheld her handiwork. Quickly she threw the cats under that bus…"They like fish, right? So they must like fish flakes, right? I don't know what got into them…you can't turn your back for five minutes…" Among my four felines, Emmitt the Evil, a young, black cat who belonged to my late mother, loved her beyond reason. He desperately wanted to sleep on her dog bed with her and spent four years trying to accomplish his mission. Quinn wanted no parts of a communal mattress, nor did she appreciate his attempts to rub his face under her chin. But in that bad cat's defense, she did truly love it when he cleaned her ears. When Emmett's nightly mattress dance began, Quinn simply adjourned to the upstairs. It was only in recent months that she acquiesced to his wishes. But under no circumstances was any part of his body to touch any part of her body. As a result, one small cat slept on half of her enormous bed and she flopped down in a corner of it—head and half of her body overflowing onto the floor. He is bereft without her. So am I. On a warm, August morning, Quinn and I went for our normal, leisurely walk. When we got back she ate her morning treat and lay down in the hall. She had gotten up to go upstairs when she suffered a grand mal seizure. More than 24 hours later, she still could not stand or roll over onto her chest, and I'm not sure she could hear or see me. The vets felt she either had suffered a massive stroke or had developed a brain tumor. Regardless of the cause, the three vets who treated her saw little chance that she would recover enough to have any quality of life. So with her head in my lap, I stroked that beautiful face once more time, as the vet sent her on her way. She was 11 years and seven months old. I know I will love another dog—and I plan to. And I know everyone thinks their hound is the best. But mine truly was. So my wish for you, sweet girl, is that your new world overflows with generously-coated peanut butter jars and all the vanilla ice cream you can handle…and that you feel the warmth of my love now and for eternity.
Hondo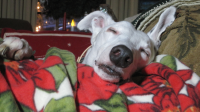 3/12/2004 - 8/15/2015
~~My buddy-boy, my handsome man, my grand old gentleman, my "mama's handsome".
You missed your sister so much when she left 8 days ago for Rainbow Bridge that you just had to follow her to keep an eye on her... I know you two are together again and you will still be putting up with her shenanigans! She would always nip at the back of your legs to get you to run and chase her. Your running days were long over but you would do this funny gallop after her in the backyard. You loved her so and couldn't bear to be without her. You were such a sweet boy. I would love when you would come to me on the couch and bury your head in my lap and stand there for what seemed like hours for ear scritches. You could hear the tiniest scrape of my knife on the cutting board at dinnertime and charge into the kitchen and wait so nicely until you got your chicken bits! I will miss you and love you forever "mama's handsome"...
Tora (Boc's Sweet Suzy)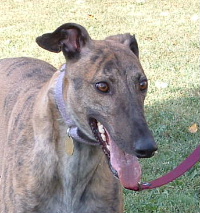 4/3/2006 - 8/7/2015
RIP Tora....You crazy, sassy, feisty nut-job of a girl! There will never another one like you! Fly free to that Bridge and know that our old girlie, Willow, is on the lookout for you! Don't be giving her any sass! You are not the boss of her! I'll miss you forever, honey-girl! Thanks to GEGR for allowing me to bring this beautiful girlie to my home...She was so loved! WE cannot love them any better, only longer.....heart emoticon heart emoticon heart emoticon. Her brother Hondo is mourning her...
Temujin (Tando)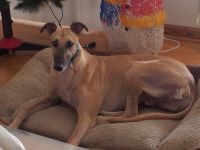 8/16/2010 - 8/4/2015
Dear Mu-ah, It is Mommy! I love and miss you so much! Daddy, Jie-jie and Ge-ge all love and miss you so much! You know, you left us so sudden. I did not even get a chance to say good-bye to you. I rushed to the hospital. You already left. I am so regret. It broke my heart. It broke all of our hearts. Everything here now reminds me about you. Every hour of my daily routine reminds me about you. I really miss you!! I remember that happy wonderful day. We four took you home. You are one of us. We all love you. You love all of us, even the little Birdy. You are so smart and understand so many things. I am very proud of you. We had wonderful life together. It was short, but Mommy will treasure it and cherish it forever. Dear Mu, where ever you are now, please take good care. Please remember Mommy loves you. We all love you. Have peace and happiness always. Love, Mom Daddy, Jie-jie and Ge-ge
Irene (Irene Green)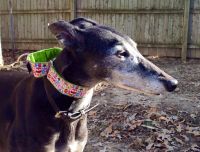 6/4/2003 - 8/3/2015
~~Irene came into our lives with a story - CLBD they called her. Crazy Little Black Dog... well she was that and much more. She was the smartest greyhound I've ever been around and worked that to her advantage any chance she got. She was spoiled beyond belief, she had a great life with many vacations and adventures. Letting her go was so hard for us but she let us know it was her time. Irene will forever be remembered as my heart dog. Run free sweet baby, mommy loves you.
Milton (Wv's Milton)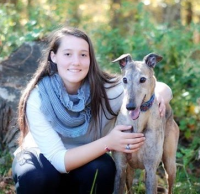 2/2004-7/2005
~~When I was eleven years old, a few years after the death of our German Shepherd- Gaston- I was longing for another dog. So, my mother told me that if I could save up the money to get a dog and then read a book on that breed, that I could get a new dog; I did just that and that is how Milton came into my life. After being told about greyhounds by a friend's mom, I decided that I wanted to give a forever home to a greyhound- I saved up my money to pay for the adoption fee and then read the whole "Greyhounds for Dummies" page for page. Off to a meet and greet day me and my family went to find myself the perfect dog. Milton was one of the dogs I was going to be looking at, but I would have to wait because another family was on the waiting list before me, and therefore if they choose to adopt him, I would have never even got to meet him. I do not know the reason they choose not to adopt him and instead another dog, but I like to think it was fate, because when Milton and I met, we connected and it was not just that I chose him, but also that he chose me. In the end, I got to adopt Milton and our bond began there on that day and developed over the next seven years into not just a companionship between human and dog, but also a deep friendship. Milton was the exact opposite of every aspect about greyhounds that the book told me to expect. I was told greyhounds would be quite dogs; but Milton was loud and would whine if you stopped petting him and would bark from my bedroom every day when I got home from school until I could get up the steps and to my door to greet his excited leaps. I was told they would curl up into balls and sleep; while Milton did sleep a bit, he wouldn't curl up into a ball, but rather would lie on his back and let his legs fall in all different directions. In addition to that, he was a bed hog- I would literally have to pick him up and move him in the bed so I could fit, because he refused to move on his own. I was told they were fairly lazy and would only have bursts of energy every once in a while; but every night, Milton would have a fifteen minute fit where he would run ramped in the living room, just pivoting in circles, barking and wagging his tail. For many years until he got older, whenever he would go outside, he would just run from one side of the yard to the other. I was told that it would be hard to teach them to do steps; but Milton, picked up steps on his second try and continued to do them until his last day, despite our efforts to keep him from doing so (he would even clear our flight of fours steps outside to get to dinner faster). I was told it would be hard to teach him to sit; but after some practice, at the sight of a treat, he would sit immediately. Milton was a foodie- he would eat whatever he thought was edible, even if it was in a drawer, he could find his way to it. One time he ate a whole peanut butter flan cake by himself and that was the last time we ever left anything with peanut butter on the counter; no matter how hard we tried, we could never keep him from getting his paws on food. He was a lover of peanut butter and cheese, and would often help himself to treats straight from the box and then would walk away when caught like he hadn't done anything wrong. He learned that "my room" meant go to my room and hop on the bed and that "are you hungry" meant dinner was coming, to which he would sprint to the kitchen and chatter his teeth until his bowl was ready. He loved to lounge in his pool while everyone was outside and would drink his pool water as he was lying down. Milton always wanted to greet everyone and would whine if he wasn't by my side and involved in gatherings. Milton could always make you laugh and I am so thankful for that. About two months ago, we noticed a lump on Milton's rear leg that seemed suspicious so we had it biopsied and discovered it was cancer. So his last two months were spent being pampered- treats galore, carried up and down steps, laying in the pool whenever possible and cuddling as much as possible. Up until the very last second, Milton's personality remained the same and that made my decision so much harder, because I know he was in pain, but it was hard saying goodbye, because he was one hundred percent Milton on the outside. It was a different kind of loss too, because while he was part of the family, he was my dog that I adopted, trained, cared for, and loved for a lot of long years. So Milton is now in heaven and I know he is no longer in pain, but I miss him dearly and wish that he could have lived forever like I always wanted. Milton was just about everything I thought greyhounds weren't, but still everything I could have asked for and anything I could have imagined and I couldn't have been happier to have loved and cared for such a character in personality. Milton was understanding, a good listener, someone to cuddle with when I felt lonely and every other night when I didn't, someone to make me laugh, someone who didn't judge no matter what and someone who loved me as much as I loved him. I couldn't be more grateful to him for all of the memories, his unwavering love and for never giving up on me. I will continue to miss him until we meet again, and will continue to love him just the same for he gave me a lifetime of love and happiness in a long seven years that now seems too short an amount of time. I am almost eighteen now and even though I have many years ahead of me, Milton is and always will be one of my greatest friends
Jasper (Rick Vincent)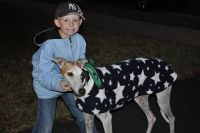 7/5/2004 - 7/22/2015
~~ He was such a sweet, sweet boy. Jasper was a love, and we adored him. He preferred being at home and was never happier than when we were all together. I am so thankful for the six and a half years we had with him, though of course it was not long enough. Thank you to everyone at Greyt Expectations for introducing us to Jasper! Our lives are definitely better for having had him in it.
Ford (AH's Ford) (dog on left)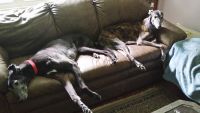 12/23/2005 -7/20/2015
As soon as we adopted Ford, we should have changed his name to Shadow. He constantly wanted to be with either Dick or me wherever we would go - in the house, in the yard, in the car. LOL He was a happy, playful pup, even if he was the biggest whiner I have ever come across. He always let us know what he wanted. He left us to soon and had had no prior health problems and it is comforting to know he went to The Bridge quickly and spent little time in pain. We all miss you, Ford. :-(
Nephi (Bad Jim Walker)
4/1/2006 - 7/15/2015
Today we said goodbye to our big brindle boy. He was the best dog ever (in our humble opinion). He was a farting, boob sniffing, moaning, mooing, running machine. He was a consummate toy hoarder and sometimes just an overall goof. He was a champion meet and greet dog and never met another dog, human (especially children and older adults) or cat that he did not like (even the kid at the Irish Festival who blew the horn right in his face). His only real fear was the blow up advertisements that he would see occasionally on his walk. Thunder never fazed him, fireworks enthralled him (he would sit in the grass and watch them). He welcomed fosters (big and small) and other visiting greyhounds into our home with a wag of the tail. He was his Daddy's best friend during some of Daddy's health scares. Right now the stray cats, squirrels and Grunt (our resident backyard ground hog) are having a party, but Nutmeg will do her best to protect the yard (despite the shortness of her little legs).
Rainey (Sobe Rainey)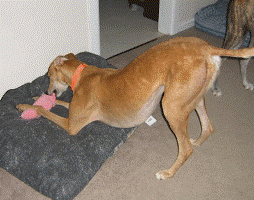 6/30/2002 - 6/24/2015
~~Six day shy of her 13th birthday, our wonderful greyhound Rainey (Sobe Rainey, aka Rainbow aka Bo) crossed over the Rainbow Bridge. She had a case of laryngeal paralysis.
There couldn't have been a more perfect greyhound for us. I know some people own more than one greyhound at a time. We could never do that. She was PERFECT! You can't match perfection!
Some of her funny stories include:
The first day we brought her home we were warned that she didn't "do" stairs. She ran right up the 13 stairs and inspected the whole house. We looked at each other and said "oh! she knows how to do stairs! That's great!" THEN we heard her tumble down to the bottom! Our hearts stopped! Scared us to death. Not her, she got right up and continued her inspection. She never shied away from stairs and learned them in 3 days.
Then there was the time there was a rabbit in our fenced yard. We thought surely she would chase it. The bunny ran through her legs from head to tail. She stood still as stone except she was shaking like mad!
The only time she ever "ran away" was when she got out of the house when the contractor left the door open. We took separate cars to look for her. It was pouring outside. We had our heads out the window yelling "Rainey! Rainey!" The neighbors thought we were insane and yelling "it's raining! Raining!" She had run into a neighbor's yard who was having a fence installed. It was ¾ finished and she couldn't figure out how she got in or how to get out!
The last story is when we scared the mail lady. She came to the front door and said it looked like our dog Macy had killed a deer in the back yard! It was Rainy's first day outside and she was lying belly up in the lawn with Macy liking her face! It was comical.
She was the best fit for our family. I hope we fit as well in her heart as she did in ours. We miss her every day. There will never be another Rainey in our lives
Peppy (System CMP Peppy)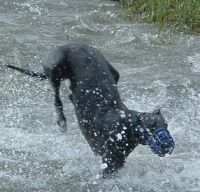 8/1/2002 - 6/29/2015
~~Peppy 8/1/2002 – 6/29/2015
We are heartbroken at having to say goodbye to our boy, Peppy. Our house seems so empty without him. He had a ton of personality and loved everyone he met.
My son picked him out at a Fun Run on the Parran farm. Peppy had walked over to the fence to watch us as we were leaving. We adopted him on Veterans Day, 2004.
Peppy certainly lived up to his name; he always wanted to be "out and about," and had a fan club of neighbors who would wave to us or talk to us on our walks. He loved Meet and Greets, and was a wonderful ambassador for the breed. Before he developed arthritis, he loved to run, in our back yard with our other greyhound, Dulci, and especially at the annual picnics and fun runs at the Parran's farm.
He was a good match for our family. We are all active, but Peppy took it to another level. He was unyielding in his demand for a twice-daily walk of 1.2 miles around the circle we live on. And the weather (apart from heavy rain, which he hated) didn't matter. It could be 100 degrees and he would still want to walk. It could be (and was, for the past two winters) 10 degrees with gale force winds and he would STILL want to walk. I joked that he was a huskie, not a greyhound. He did not like it if we tried to shorten the walk due to time constraints; he wanted to go all the way around the circle. And if we didn't walk him right on schedule, he would bark constantly as a reminder. I have calculated that we have been on, literally, thousands of walks—probably 7,000 or so—in the last 10 years thanks to Peppy.
When one of my sons moved to Washington, D.C., he put up a crate in his dining room and Peppy spent time as a city dog as well. The Earl of Eckington neighborhood loved his walks around the city as well as his walks around our circle. Meeting new people and seeing new places was the highlight of his life.
Most of us adopt rescue dogs to "give them a better life," only to discover they have given us a better life. When I think of Peppy so determined about his walks, no matter what the weather or how he was feeling, it is inspiring to me as well. That memory reminds me to persevere, to keep going in life no matter what the obstacles.
Peppy, we already miss you so much. We hope to see you again one day at the Rainbow Bridge.
Shane (Freeshanecorona)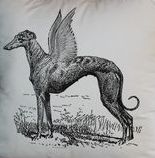 7/15/2012 - 6/20/2015
Due to a tragic accident Shane never made it to his forever home. He will live in our hearts forever.
Rally (Macs Pinky)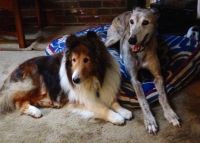 10/7/2000 - 5/27/2015
~~I hope we enriched his life as much as he enriched our lives.
My thanks to you and the club for your support in his adoption and his care. This picture is of Rally and his best sheltie buddy named Keeper.
Cosmo (Wjs Cosmopoly)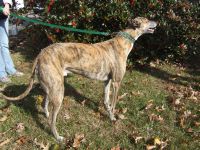 8/22/2004 - 6/10/2015
~~Cosmo passed on with the assistance of the vet. He developed a limp about a month ago, and his leg gave out on him Wednesday morning. He was an only dog, and our first dog. We requested a dog from the track with a laid back personality, and Cosmo was the one they sent. He stood up in his kennel at Greyhound Central when we walked in, and won our hearts forever. The family became his pack. He was big but gentle, and interacted with each family member in a way that they were comfortable with. He loved attention from strangers when we walked him, always getting compliments on his looks and soft coat. Cosmo had a very long tail that wagged almost non-stop when greeting people. He was much loved and we will never forget the time that we had together. May he run joyfully and free.
Button (Button Hole)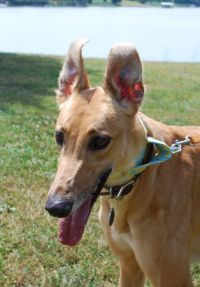 2/2/2001 - 6/1/2015
This morning with the help of her vet and our friend Cheryl, Kowboy and I let Button cross over Rainbow Bridge. She had a great life. I am very lucky that my silly, goofy, happy, sweet wonderful girl chose me to be her mom. I know she has found Nana and playing with her right now. Run free sweet angel! You are no longer in pain. ❤
Hiedi (Gable Hedwig)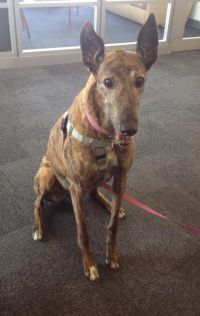 5/26/2004 - 5/15/2015
~~This evening Heidi was set free................
Just shy of her 11th birthday Heidi was set free of all her pain. She came to us 1.5 years ago, a special order brood from the farm. Mom to over 25 puppies she was one heck of a dog. Many would describe Heidi as piss and vinegar or a bull; she was hilarious, rule defying, STUBBORN, all about me, rough and tough and one heck of an Alpha! She never responded to females, she was 100% a guys dog! She immediately became my husbands dog; before he left for deployment they shared a steak and made a pact, if she could make it until he got back she'd get her own filet. The beginning of the deployment was tough, she longed for him when he left 14 months ago, she moped by the door for so many days. Unfortunately just a few weeks shy of his return her body has given up. Earlier this week it was discovered Heidi was suffering and in so much pain from torsion of the spleen resulting in a massive spleen, surgery was an option but honestly grossly underweight by over 12 lbs from it, nearly 11 years old and a solid 1 hour surgery with no guarantee she would even wake back up was not a risk we were willing to take. Tonight we put her to rest at her normal bedtime with daddy on facetime. Good night momma
Okie (Pa's Ok Now)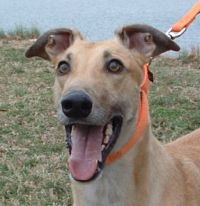 5/26/2005 - 5/09/2015
~~ "Pa's Okay Now", aka Okie, was put to sleep today surrounded by those who loved him, several weeks shy of his 10th birthday. He was a great dog and will be missed by all, including by our golden retriever, who was with us when we picked Okie out and they have never been apart since. Unfortunately the osteosarcoma involved the left hip joint and it was becoming progressively difficult for him to walk even with multiple pain meds. We have a very large fenced backyard and it was a daily occurrence for Okie, for the vast majority of his time with us, to run around a natural track he picked out in the yard at full speed until he had his fill of running; chasing squirrels and deer who dared to come over the fence was also a favorite past time(fortunately he never caught any). So seeing him so progressively debilitated(and in pain) to the point he could no longer be a greyhound made the decision for us to let him go to his final rest easy. He brought us lots of love and joy and I like to think we did the same for him and that we provided him with a good home for his post racing life.
Darcy (Answer to Onya)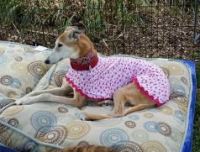 5/12/2000 - 5/5/2015
~~A legend passed today... At least she was in our house & in our eyes. A dog who truly taught me more about resilience, spunk, and spirit mixed with just a little bit of piss & vinegar. :grin: We had an amazing 14 months together which in & of itself is remarkable since the day that we picked her up from Cindy & Jeff in Fredericksburg I thought we were taking her straight to be put to sleep. I quickly learned that Darcy had her own plan & everything that would happen over the course of the next 14 months would always be Darcy's way or no way... Everything from what she ate to when & where she slept to even the order she took her pills & joint supplement! It was always Darcy's way & she was quite the regimented girl demanding a strict schedule that all her servants better follow. I'm lucky to have a wonderful vet who I remember quite clearly looked at me that day, examined her, & said to wait until the blood work was back to see how it looked & to see what we could do for her once we had some groceries in her. Over the course of the next few months after starting her on kidney & BP meds, our singular goal was to get weight on her so she could get a dental & get the nasty teeth cleaned up. We managed to do that & she had a successful dental in April last year, even with her heart murmur & high blood pressure she came thru like a champ. Thru it all she continued to show an amazing will to live & thrive. She certainly didn't make the 14 months easy on us though... No way would she let that happen. We tried everything under the sun to get her to eat & just when it seemed like we found something that she'd stick with & get a big bag of, she decided that it was time for a change. :snooty: That's my Darcy girl... always keeping us on our toes. We tried everything from Tripe to parmesan cheese to every canned food imaginable. I think the highlight of the year for her was coming to the picnic & being doted on. :heart:
I know we were her third family but I'm honored that we were her last & the one she'll wait for at the bridge. I kept forgetting to post it but we also celebrated her first official gotcha day May 1st when we signed her adoption agreement. Tonight my house seems empty, even with all the other dogs. Our days revolved around caring for Darcy & it became second nature to us... everything from making sure she didn't get bumped by one of the other dogs to giving her the beloved Ensure in her red plastic bowl with fish oil. I feel like that bowl should sit in a place of honor with her ashes when she gets home. There's a giant hole in my heart but I know she's always looking over my shoulder & will have a hand in who the next senior is that graces our door... Until we meet again my sweet Darcy Doodle...
The first two pics are from today. We tried to get a pic of all 8 together but it was super hot & only the two of us, not an easy feat!
Chaka (Fast Fran)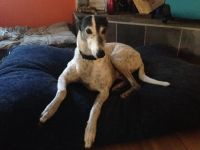 7/25/2006-4/242015
My dear sweet Chaka Khan passed away peacefully and is now free of pain. Everyone look to the skies tonight for there will be one more beautiful star. I love you with all of my heart.
Rubin (Rubin to Win)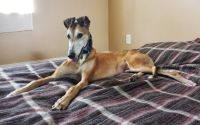 4/21/2006-4/21/15
~~Regretfully, we inform you that our beloved, Rubin to Win passed away last Tuesday, April 21st on his 9th birthday.
Rubin was advertised on your web site with special needs and of all the dogs with which to choose, our boy DC chose Rubin from the crowd. Once they met, they were like ying & yang.
Rubin's bilateral corns on his front feet forced him into early retirement. He continued to live at the track in Daytona for years before the angels at GreytExpectations took him in and blessed us with such a sweet pup. Despite his discomfort from the unrelenting corns that never disappeared, Rubin stayed strong while battling SLO just after we brought him home. Once the SLO was managed, Rubin bravely soldiered-on, never passing-up an opportunity to go walking or for a ride in the SUV.
We may have had Rubin only 4 years but his impact on our family will last forever. His best buddy, DC who preceded him in death by only 8 months, didn't wait long to romp and play together again; this time, over the rainbow bridge.
Rubin is survived by a greyt sister, Kenro Yolanda W, (Lana). He was gracious, kind, tolerant and a good mentor for his new, young sister. Lana will grow knowing lessons learned from now 3 generations passed in our family. Thank you Greyt Expectations.
~~R.I.P. over the Rainbow Bridge…Rubin & DC
Alfred (Whistling Dixie)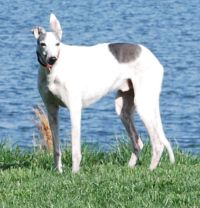 2/3/2002 - 4/14/2015
Yesterday we said goodbye to Alfie. His old bones just were worn out and he was tired. He passed at home peacefully on his bed.
We had almost 11 years with him. If you put your arms around him he would wrap his head around you and give you head hugs. He was always a gentleman, a little shy, and never got into trouble. ... We will miss him but I know that he is in good hands and in good company.
Heidi (Dutch Bliss)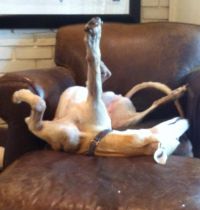 4/25/2002 - 4/14/2015
~~Heidi would have been 13 next week and we were together for over 9 years. I can't even imagine what life will be like without her.
Jan (FTK Jan Brady)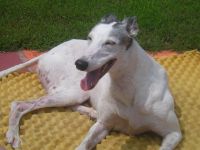 8/24/2004 - 4/1/2015
~~We had to help Jan to the bridge this morning. We were blessed to have her as a part of our pack for those few short months. She was always smiling - when she was sitting in front of the fire place or walking around the yard. Our little chubby crested was in love with her from the moment she came home, he used to sleep on her bed with his back to hers. He's going to miss her and I'm going to miss that smile.
Sophie (Nita's Allgood)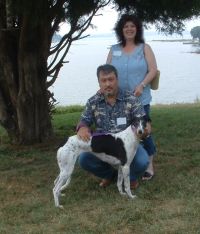 3/19/2002 -3/28/2015
" She was the most loving, adorable daughter ever...."
Wizzie (Inwhizable)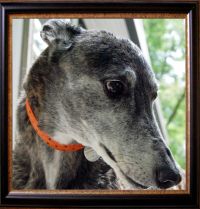 5/21/2002 - 3/10/2015
~~I wish I had had more time with him, but I'm glad that we were together at the end. Wizzie came in and out of my life several times and perhaps it was fate that when he left for the last time, I was the one to be there with him. I will miss that sweet old boy.
Randy (CND Fibber McGee)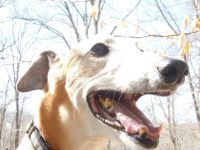 2/5/2002 - 11/5/2013
~~Randy came to us through Greyt Expectations in 2006. He wasn't our first choice. We were looking for a small, young female. All of our past dogs had been females: one greyhound and three basenjis. When we found ourselves once again without a dog, we decided to adopt another retired racer. Our first greyhound, Sophie, was so wonderful, sweet, loving, and gentle and if you know anything about basenjis, they are almost the opposite. We applied to Greyt Expectations and that is when we learned about Randy. Randy was a large 90-lb male greyhound who had been adopted and returned twice before. We were assured this was not Randy's fault but the situations of the homes.
On the Saturday we were to meet our forever dog Randy was there. He was a gentle giant who would lean against you for unlimited petting. We checked out all of the greyhounds that day but kept returning to Randy. There was just something about him that connected with us. With a little apprehension we adopted Randy. The first sign that he was our dog was when the volunteer helped to put Randy in our car. He told us that Randy was usually hesitant to get into a vehicle. Randy almost jumped into our back seat. He came with lots of toys, a sweater, bowls, treats…all from his first homes. We had our crate ready at home but from the first day it wasn't necessary. He fit our lives like a glove. He was so calm, gentle, and loving. He loved the outdoors and long walks. Inside, he took over our couch and snuggled in our bed at night. (Fortunately, it was a king size bed!)
About a year after we adopted Randy, we applied for a 2nd greyhound and took Randy will us to choose his companion. Randy found Marcel, a 2-year old male brindle. We didn't think we would get a chance to adopt Marcel because another family had claimed him but then they changed their minds and Marcel was ours.
Marcel and Randy became close companions and if we did anything to Randy, including giving him a bath, Marcel had to have the same. They became Humane Society therapy dogs together and traveled with us to Lake Gaston regularly where they enjoyed the water.
Now I can't say Randy was perfect. He had his bad habits as everyone does. We discovered that he loved to dig large holes. When I planted flowers Randy was usually beside me digging his own hole, which wasn't always helpful. I didn't mind. I loved to watch the dirt flying as he put his whole body into this task.
He also liked pillows and once in awhile a pillow had to be discarded. I did take to closing our bedroom door during the day because when he slept on our bed he had to make himself comfortable by scraping away the blankets. Sometimes our fitted sheets would tear and eventually most of our sheets had small repairs. I looked at this as a time to practice a "zen moment" by sewing the tears by hand.

One day Randy began bleeding from his mouth. I thought he had torn the roof of his mouth or his tongue so I immediately took him to the emergency clinic. This is when it was discovered he had a mass at the top of his mouth. After a bioposy, he was diagnosed with two types of cancer that had started in his nasal cavity. The prognosis was dim and surgery wasn't an option. We decided to let Randy comfortably live out the remainder of his life. On November 5, 2013 Randy died at home on his favorite couch. He was 11 years old. Up until the end, Randy still enjoyed his walks and being outside. Once and awhile he felt well enough to still dig a hole. They are still in the yard.
Randy lived with us for seven years and I feel as though a part of me died with him. We have our couch back and some day I'll replace it. I'd rather have my gentle giant.
Kristi (Go Champ)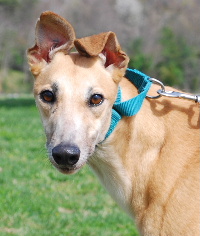 7/28/2007 - 2/23/2015
It is with great sadness that I write to you and tell you we had to put Kristi to sleep Monday night, it was the worst thing I have ever had to do. My poor darling little precious angel had osteosarcoma in her right front leg and we had to end her suffering. It developed so fast, she started to limp and we noticed she had a knot on her shoulder and took her in the next day and the vet did X-rays and gave us the awful news. I know there was nothing we could do, but it is just so very hard, my hounds are like my kids. Maybe some day in the future we will adopt another dog, for now I am cherishing every single day they are with me.
Tammy
Windy (Windmaker)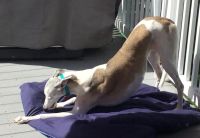 3/6/2002 - 2/22/2015

I lost my best friend; at 12:41p.m., Sunday 22 February 2015. She was diagnosed with spinal cancer. The vet said it was very fast spreading; it happened overnight. Saturday she's out playing in the snow. Sunday morning completely paralyzed!
My family and friends all said; you rescued her and gave her a wonderful life 11 years together …. If they only knew….SHE RECUSED me! Windy entered my life when I was going through a terrible divorce and health problems. She was a wonderful companion and went everywhere with me; even when I had just a little sport's car. She would sit in the front seat of my convertible and we would go everywhere together; always causing second glances by passing cars.
Anyone that was lucky enough to meet Windy always said the same thing "what a beautiful sweet gentle dog and her coat was super soft!"
I will miss seeing your beautiful brown eyes greeting me as I come downstairs to get my morning coffee. Returning from a day at work; you're excited jumps and wagging tail greeting me. You take a huge part of my heart; I feel so incomplete. I will miss you my sweet…sweet girl; until we are re-united. Love Always your Mom
Paris (Shshomi)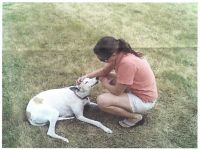 4/21/2002 - 1/27/2015
~~we said goodbye to our beautiful Paris. She came to us, through GEGR,
when she was 2 yrs old and lived a wonderful life
for nearly 11 years. Paris became our daughter,
Kara's, dog. She went off to college with her and
moved half a dozen times as Kara completed
college, moved back home, then moved onto jobs -
taking it in stride, in a rather un-hound-like fashion.
As long as she was with her person, life was
perfect. Paris ran with Kara, helped raise our
Gerrpan Shorthair Pointers and poodles, and
endured our crazy cats. She was a gracious as a dog
could be.
Paris is deeply missed, not just by her family, but
also by the many friends she made along the way.
Thank you GEGR for the good work you do.
Keel it upl
Maisy (Prima Ms. Lynne)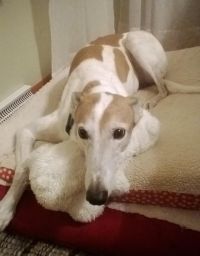 10/25/2000 - 1/29/2015
~~ Maisy crossed the rainbow bridge peacefully on Thursday, January 29, 2015 at about 5:30 PM. Although I miss her more than words can say, I know that she is now pain free and running with her friends, Elliott and Maggie. She is and always will be missed.
Ivy (Js Ivy League)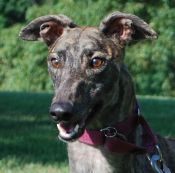 8/11/2009 - 1/16/2015
She was the love of our lives and we are devastated,, she was our "wild child"
Romeo (Tater Captain)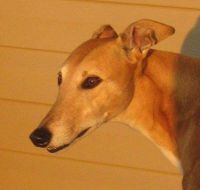 8/2/2001 - 9/1/2014
~~"Today I said goodbye to my best buddy, my Greyhound, Romeo. You gave me so many smiles and laughs. Hardest thing I have ever done. I will see you in Heaven one day my Romeo. I love you and thank you for your life that you gave me the privilege of sharing with you for 13 years."

Sunny (Bart's Sunflower)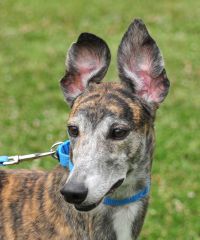 9/28/2005 - 1/11/2015
~~The first time I saw my Sunny, I knew she HAD to be mine. Our connection was very strong from the very beginning. She got me though some pretty rough times in my life and I feel she will always be in my heart.

Trey (Mac's Saruman)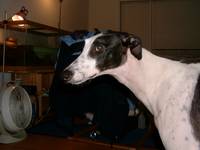 12/27/2001 - 12/31/2014
~~We are still adjusting to life without Trey. Trey was our 3rd greyhound foster and the 1st foster failure. He was slow and steady...with occasional flashes of friskiness. He really didn't change much in the 11 years that he was with us. I miss his quiet but often farty presence, but I can't help but smile visualizing him with his three brothers - Aries, Augie and Buddy. Run free, baby boy.
Genghis (Ethereal Memory)
1/26/2006 - 12/26/2014
~~Today we said goodbye to our much loved Genghis "Goosie" Khan. Genghis born, Ethereal Memory on Jan. 26, 2006, raced at the track in Daytona. Despite his grandfather being the famous Molotov, Genghis only raced 19 races and I truly believe it was not lack of ability that kept him off the track but his naughtiness. Right after adopting him we took him to the vet and were told "this is a lab trapped in the body of a greyhound". He was an excellent meet and greeter at greyhound adoption functions. I would like to think that many greyhounds were adopted after people meeting him. Genghis, you have touch many lives and hearts. Thank you for being such a friend and comfort to our family for the past 6 years. We love you more than words can say. Wait for us at the bridge and don't pee on things.

Skylar (Young's Town)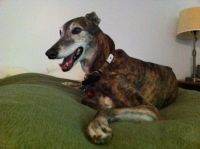 10/31/2000 - 12/26/2014
~~Skylar passed over to the rainbow bridge yesterday in our arms. She was 14 years young, despite a sudden and rapid case of laryngeal paralysis which eventually took her life. She became symptomatic about 6 months ago but didn't lose her energy until her 14th birthday near Halloween. Her spirit never wavered to the end, and when she passed was relaxed and peaceful. We had nearly 8 amazing years with her, and we are comforted knowing she is with her sister Amanda at the bridge.
Skylar was 6 1/2 when we adopted her from GEGR. I think she retired several months before, which has to be some kind of record. She ran about 250 races during her career, and she already had some arthritis when we brought her home. Skylar was a terrific dog from Day 1. She walked into the house, found a pillow to lie on, and that was that. Except for thunder or fireworks, she didn't get too excited about much. She was what we called "good to go" whatever the situation. She loved her walkies, playing tag with her sisters, Mary and Abby, and lying by the fire. She was a dog's dog too. Unlike most hounds she was not a velcro dog, she preferred her dog bed to the couch, and she didn't poke anyone with her needlenose. However, like most hounds she loved to nap, run for a split second, and then maybe lie down for another nap. Oh yes, a peanut butter spoon was a favorite treat!
We miss her dearly but we know she is running free and can breathe easy. After we came home from the vet, who was wonderful, my brother told me that he and my Mom saw a sun dog in the sky on their way home from the grocery store, about the same time we were at the vet. A sun dog is a halo of light created by sunlight being refracted through ice crystals in a cirrus cloud. He and my Mom said it looked like a rainbow door in the sky. I asked him if he knew the story of the rainbow bridge, and he said no, please tell me. When I finished the story we were quiet for a moment, knowing she had made it across.
Trev (A Bar Trev)
7/21/2004 - 12/19/2014
~~Our hearts very heavy today please keep us in your thoughts as we bare the hardest task ever. We will always be grateful to you for opening up our hearts to such a wonderful breed of dogs.
Canon (San Tan Cannon)
4/7/2005 - 11/28/2014
~~In March 2009 I adopted my first greyhound. He was considered "special" needs because he had a broken leg that was never set thus he had a little limp. He was SPECIAL alright, but, it certainly wasn't because of his leg.It took him a few months to really feel at home. For the longest time he rarely came out of his crate. Then one morning I awoke to find my glasses chewed and knew he finally felt secure! Today I stroked the velvet of his neck for the last time. I cannot put into word how that felt. Farewell my beauty. I will miss you always.
Julie ( Jcleaveittojulie)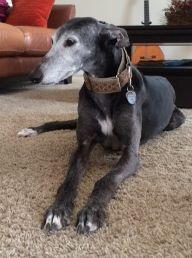 3/28/2001 - 11/26/2014
~~Our beloved Julie, whom we adopted from you almost 7 years ago, has passed away day before Thanksgiving.She was almost 14 years old.
She was our great companion ,best friend , gentle soul.
Lucy (DJT Express)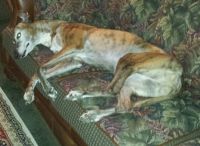 5/15/2003 - 11/21/2014
~~From the minute we picked her up in November 2005, she was just pure joy - a happy girl with a happy tail who was quick to flash you a great big, toothy smile. She loved to "sing", loved riding in the car, loved sleeping on our bed, loved going for walks, loved to eat her treats especially Frosty Paws and loved people, even if they weren't too fond of her. Thank you for giving us the sweetest girl anyone could ever ask for - we miss here dearly and will keep her in our hearts always.

Christine and David
Bogey (Sly Hue)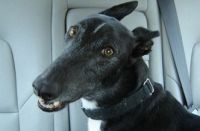 7/7/2000 - 11/5/2014
~~Bogey was the bounced foster that never left. Thank you to GEGR for letting us spend more than 10 wonderful years with him. He was an amazing dog :0)
CJ (CJ Keepmeinstyle)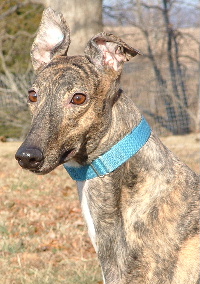 10/2/2001 - 11/1/2014
~~CJ was adopted in 2005...she was 4 years old...and was shy and a borderline spook. She was my 4th foster and my 2nd foster fail. We couldnt let her go, after seeing how shy she was. She tugged at our heartstrings and became my heart dog. She was an extraordinary dog that had the most keen sense of knowing things that I've never seen in any other dog. She knew me so well and I knew every look she made usually.
CJ became quite sassy in her older years....I guess since she was older in dog years...she told me when it was time for me to go get in bed....when it was time to eat (even though she tried to make her own time table at times). I was defiant though....and would go get in bed...but wouldnt go to sleep...but would keep playing on my laptop. She let it go, since we were at least in bed.
She loved going on trips. We had lots of trips together. She went with me to Dewey Beach 7 times, Myrtle Beach once, Jekyll Island 5 times and numberous trips to see my family and attend Greyt Expectations Greyhound Picnic in Solomon Island, MD. She got along with all creatures (except that poor bunny in the back yard and a possum (RIP bunny and possum). As long as she was with me...she was so happy...as was I to have my cuddler with me.
Not too many greyhounds will lay there and let you reposition them in bed...even turn them over without jumping up..to say..."what the heck you doing?" Not CJ...she would let me move her, pick her up, carry her, sit in my lap, lay on me at the beach....she had to be on me or touching me.
She was my baby....and always will be in my heart. I have 3 tattoos of her on me...2 near my heart. She was one of a kind truly.
I love you CJ!!
Chellie (ICU Code Blue)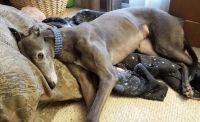 4/7/2004 - 10/25/2014

I don't know what to say. She was my beautiful baby girl and I will miss her dearly. From her crazy antics, to her silly roaching poses. From her persistent demands for attention, to her peaceful looks while sleeping.
She was my heart dog. She was my second greyhound, but she wormed her way into my heart as if she were my first. She demanded it. She wouldn't have had it any other way. She took her place on my couch and in my heart. That was the way she wanted it and she always got what she wanted.
Chellie was diagnosed with osteosarcoma back in June. I knew then that she wouldn't be around much longer, but she had other ideas. Other than her slight limp, she didn't show any signs of the disease. She still did her zoomies, got excited for her walks and climbed up the stairs every night at bedtime. It wasn't until one night in late October that she let me know that she wouldn't be able to go on any longer. I had to make the tough decision and let her cross to the rainbow bridge.
My beautiful baby girl is gone now, and she took a part of me with her when she left. I will never forget her and the joy she brought me for all those years. She will never be replaced. Her brother, Hotshot, and I will mourn her loss and then we will move on because we have to, but not because we want to.
Goodbye, sweet Chellie, until we meet again.


Kip (Meadows Tippen)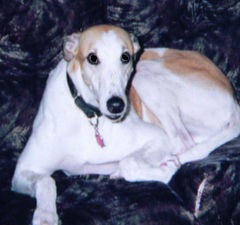 5/6/2000 - 1010/2014
GEGR lost a very special boy. Kip has been part of this group for 11 years. He has attended more meet and greets and picnics and fun runs than any other GEGR hound. He still holds the record for the dog with the softest coat. We will miss him very much.
Tucker Doo (Pa's Doodahday)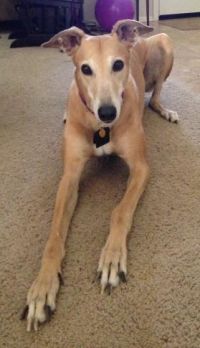 7/25/2005 - 10/7/2014
~~Tuesday night our big, sweet, lovable, handsome Tuckie boy curled up on his favorite bed to rest... he never woke up.
We do not know what happened. He had a healthy vet visit in July. Quite a shock. We have some comfort in knowing that he had a greyt life and passed on peacefully. Tucker Doo was a wonderful pet and friend. We loved him. We miss him terribly.
Forever in our hearts.
Cassie (E's Cassie)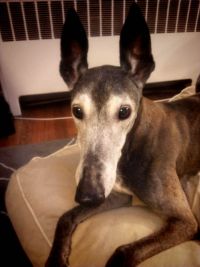 7/27/01 - 8/15/14
~~Yesterday, Andrew and I let go of our dear sweet Cassie. She was our beloved, our heart dog, our friend, our baby. We adopted her in the fall of 2006 and had eight wonderful years with her. She was the most loving, friendly, happy, fun, easy going, carefree, gentle, cat-safe, kid-safe, darling dog I ever knew. She had many friends and no enemies in this life. We were so lucky to have had her. The "worst" thing she ever did was tear up paper she found lying around the house, carry bottles from the recycling to her bed (even a beer bottle once!), and carry our shoes to her bed (we liked to think she missed our smell when we were gone). Over the years, she went on many adventures with us-- from Ohio to North Carolina. One of her favorite things was to walk south on the beach at the Outer Banks (always south and we never knew why... we would have to drag her back north). We used to take her to the dog park and greyhound meetups regularly. She was the color of bark, so we would often "lose" her for a moment, but she was always in some corner sniff-sniff-sniffing. She enjoyed the simple pleasures like running with a pack of greys, meeting new friends, long walks to sniff and pee on everything, playing in the water, ear scratches, and spending quiet time with the dogs and people she loved. We took her with us almost everywhere, and she settled in and made herself at home no matter where she was. She had a few great greyhound friends in our neighborhood and even spent her 13th birthday last month eating doggie ice cream with her buddies Pinto and China.
Cassie was such a brave girl too. She had SLO, which made her nails brittle and caused a lot of sore toes. She would sometimes cry but often we wouldn't even know her nail was broken until we saw a pool of blood. Brave Cassie let us bandage her up and kept running like new every time. Eventually we got a good nail trimming and supplement routine that kept her toes in good shape. A few years ago, she was diagnosed with a mast cell tumor. We were so scared and nervous, but she had surgery, a quick recovery, and was good as new in no time. Over the past two years, she had started slowing down. Her breathing became hoarse and she was less able to cool down (we eventually learned this was due to laryngeal paralysis). Her back legs grew a little weaker. But she was still a happy fun-loving girl and people often commented that she behaved like a puppy, especially when she met a dog friend on a walk and had to zoom with excitement! Then last year, she was injured in a car accident. We thought carefully about her age, the treatment she needed, and her other health issues and decided to go forward with surgery. She was so brave and strong and made an amazing recovery. She did swimming therapy for months and even though she never lost the limp in her right hind leg, she was running and jumping and playing like a puppy again before we knew it.
Over the past few months, however, her neurological symptoms started catching up with her. Although we didn't do a full neuro workup (going to the vet in and of itself became very hard because she was unable to stand on slippery floor and would get extremely anxious), the preliminary diagnosis from our primary vet was degenerative myelopathy or spinal stenosis. We tried different meds, but her hind end grew weaker and eventually started giving out. I won't go into all the ways this affected her, but suffice it to say that it was interfering with her basic mobility and functioning. Despite all that, she still seemed generally happy and always (tried to) leap and zoom on her walks... up until about 1-2 weeks ago. We wished it wasn't so, but we knew it was time. Cassie was a fighter, but we wanted to spare her one last really hard fight. We had already begun discussing with our vet and knew we wanted to do it at home. So we started spoiling her and made an appointment.
She got tons of extra love and roast beef (her favorite treat) for the last week. Yesterday, we drove her 1/4 mile to the trail head of her favorite park and let her walk and sniff until her legs started to give out. Then we brought her home, put her on her bed, and showered her with more love and roast beef. The vet came and gave her the closest thing to a peaceful passage that we could have given her. She never was a fan of needles (Lisa knows from micro-chipping her!), but that part was over quick, and then she lay peacefully while we pet her and told her she was a good girl, and she put her face into the bowl of roast beef--just eating and eating until the sedative took effect.
Our hearts ache and we turn the decision over in our minds, wishing there were a better answer. But we know it was the right thing for her and that she is waiting at the bridge for us. The best part is that she is young and strong again, able to run and leap and zoom as much as she wants. I hope she has found the other GEGR dogs up there and that they are running together like they used to at the picnic.
We wanted to thank everyone from GEGR who has helped us with Cassie over the years. It took a village to give her a wonderful life and you all helped. Lisa, DW, Michael, Jennifer and David, and many others who offered support and advice over the years-- thank you so much. Also, if you knew Cassie and have a memory of her, can you share it with us? Nothing makes it hurt less, but we love remembering our girl. Thank you!
Chucky (Icu Seedofchucky)
2/19/2004-8/19/2014
~~Chucky, our precious 10 1/2 year old champion passed Tuesday August 19, 2014. Chucky, racing name aka... "ICU Seedofchucky", had a great life. The last 7 1/2 wonderful years with our family was really special for all of us. We are so sorry and sad to see him go.
"Love ya big boy".
Resa (Sol Teresa)
8/1/2003 - 8/22/2014
~~All I know is that there is a huge hole in our hearts and I miss our Resa dearly. Thank you for finding us such a sweet, rowdy, boisterous, maniacal, and incredibly loving hound that only wanted to be next to us all the time.
Bert (UMR Egbert)
10/12/02 - 08/18/2014
~~B. Mr. B. King Bey. Bertapottamous. Yipapottamous. Bertasaurus. Bertapalooza. Bertastic. And many many more.
Bert inspired a new vocabulary in our house from the day he first visited. That day was before Thanksgiving in 2013. I knew he was beautiful, one of the most beautiful (and softest) houndies I'd ever seen, but I didn't know he had a personality and sense of humor to match. He stayed with me while his foster family went out of town for the holiday. When they came home, I didn't want him to leave. He went back to their house for a few days, and then came back to ours. Permanently.
He'd wake up around 1:00 am or so and do his signature bark. Not really a bark, more of an "Arf!" or as we called it, a "Yip!" I'd turn on the light and he'd be standing there looking at me, and if I didn't move, he'd "Yip!!' a bit louder, as if I didn't hear him the first time. Since he was new in our house, and he was an older boy, I assumed this meant he needed a potty break. So down the stairs and out into the back yard we'd go. He'd trot out. And skip around the fence perimeter. And then go the opposite way. Then frolic diagonally across in each direction. Then he'd pee. Repeat frolicking, often several times. Sometimes he'd throw in a play stance and a spin. Meanwhile, I'm outside in my pj top, in the cold, just watching this happiness. I'd call to him, and his selective hearing would flare up, so I'd have to wait until he'd come bounding back in. This became known as the Bertapalooza.
I mentioned this on the greyhound forum, where his previous foster mom said "he never had to go at our house, he slept through the night. Tell him to go back to bed when he wakes you up." That night, at 1:10 am, there was a "Yip!" I didn't move. I could almost hear him thinking. "Yip!!!!!" came about 30 seconds later. I turned the light on and he was staring at me from about 6 feet away. "YIP!!!" "Bert, go back to bed!!!" He looked at me and turned around a few times in his bed and laid down with a big sigh. He slept through the night almost every night after that.
And then there was food. Bert was a very picky eater. He'd turn his entire head away from something he didn't like, then would cut his eyes to the side to see if it was still there, or if I had removed it yet. The list of things he wouldn't eat was longer than what he would eat, and the last few months I home cooked his food for him and more often than not he was hand fed to insure he'd eat as much as possible.
I miss him. I miss him as much as I loved him, both of which fill me to the brim. He was my constant shadow around the house, keeping up with what I was doing was his job and he took it very seriously. His "yip" was music to my ears. He had a lot to say so I'd listen and we'd talk. He always made me smile and I'd like to think I made him smile too. He got along with Heta, Rancho, and Hayden, our kitty, who he'd kiss on the nose. Just looking at Bert made me gooey inside, as if he was my child.
He was not here nearly long enough. I barely had 8 months with him but it's as if I lost a close family member who I've loved my whole life.
Two days after we had to put him to sleep due to cancer, I still hadn't put away his things. One of his beds was still behind where I sit at the dining room table. While we were eating dinner, Hayden came in as per usual. But instead of getting on my lap or Jack's, he got in Bert's bed. He'd never placed even a paw in a dog bed before. Hayden missed him too. Hayden slept in Bert's bed until I decided about a week later I needed to put it away.
Yes, Bert inspired a new vocabulary in our house, but I don't have the words to say how much he was loved here, and is now missed.
Monica (Monica B)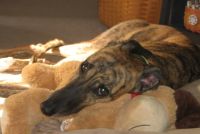 3/17/2006 - 8/13/2014
~~ Monica The Brave, came to me as a foster who was very, very, shy. She was with us for 9 months before I gave in and agreed with her, she was an Everett. She was always a very shy girl, but she had her brave moments. I loved to walk her at the park. She was happy there and walked with her head high and tail untucked. When a stranger approached she would shrink behind me until they passed. Then she would follow them as they walked away, "Hey! Where are you going!"
She was a special, beautiful girl. We will miss her.
Bruno (Mac's Bruno)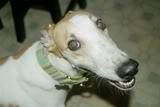 4/26/2002 - 8/12/2014
~~I still remember the day I came to the Parran Farm, the moment I saw Bruno I knew he was meant to be mine. I know he felt the same way and so began a beautiful friendship. During his 10 years with our family he gave us unconditional love and personally supported me through some of the most difficult times of my life thus far. I will be forever grateful for his companionship. I looked at his empty bed last night and realized that there will be a piece of my heart that will never be replaced as he took it with him when he went. He was beyond special to me.
He passed in the comfort of his own bed in our home, surrounded by loved ones. I am grateful for every moment that God let us have him in our lives. Rest in peace sweet boy, run pain free at the Rainbow Bridge. You are loved always.
Margie (Che Mar Mary)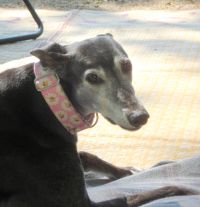 8/22/2000 - 7/11/2014
~~We had Margie for just shy of 12 years and she was the sweetest dog I've ever owned. I've had Greyhounds, Shepard's and Lab's growing up and she was by far the most affectionate. When we got her from George and Deb she was a perfect fit and personality for our family. Thanks for all you do bringing these pups into people's lives. God Bless !
Chelsea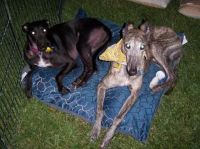 11/1/2004 - 7/24/2014
~~She chose us...Chelsea came to visit us at a GEGR picnic and stayed with us all day. Smith, Bill and I had fun with her throughout the day and was able to walk with her on the pier the next morning. It took me less than 24 hours to realise she was meant for my family. She was a wonderful addition to our home, so sweet and playful. When ww lost Smith in 2010 she stepped up to help us all grieve. She was a true CLBD and when we adopted Sheba we added a new type of CLBD....blonde...they were two peas in a pod.
Sammi (Smokin Sammi)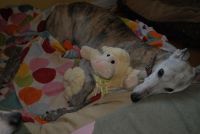 3/12/2000 - 7/1/2014
A little over two years ago GEGR asked me to foster a 12 year old girl. She defied all the odds and lived to be 14 and 1/2. She ruled the house with and Iron Bark. She might not have had the best back legs but she could get her point across. She was the sweetest little girl in the world and she has a place in my heart forever.
Robin (Sunvalley Robin)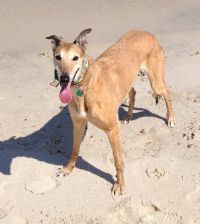 7/7/2003 - 7/12/2014
Robin went to the Rainbow Bridge on Saturday, July 12, 2014. She lived with Nell, my first grey, until Nell passed two years ago. From the get-go, Robin was shy and fearful of new people, places, and experiences. Nell was the confident one and Robin always looked to her to set the pace. But Nell was also aloof. she never played with Robin, never shared the sofa, hated to share the cargo space in the car. Robin didn't care. She bonded with me and lived each day just to make me happy. These past two years as an only dog Robin truly came into her own. She let strangers pet her, actually looked them in the eye, play bowed to strange dogs and had a smile on her face every day we went to the park. Fellow greyhound friends noticed the change and remarked what a happy dog she was. We walked Lewes beach in the off season - the two of us smiling the entire time.... I loved that smile...
Ginger (Jetta Mary Cash)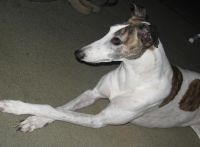 11/3/2000 - 7/12/2014
Sadly Ginger left us today around 1pm. We had her in our family since March of 2005. She would have been 14 this November. She had a good life even though she had several medical problems. Ginger may have been blind and deaf but she had a comfortable last few years. Eating and sleeping were her main concerns and she never wanted for anything. We will miss her and hold her dear in our hearts forever. Hoping someday to see her again as her old self, chasing squirrels and running free with Marshall, her other buddy.
Patsy (Patsy Country)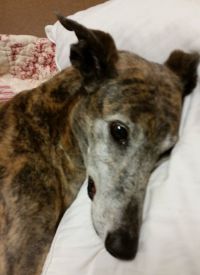 1/9/2004 - 7/9/2014
Today our pretty Patsy crossed the bridge. She had been living with an aortic clot for 8 months and slowly going downhill. Last night she took a turn for the worse and there was nothing feasible to be done for her. We picked her and Winny up in Lusby 8 years ago today and miss them both a great deal. Run free Patsy and find Winny.
Leah ( Sly Vallory)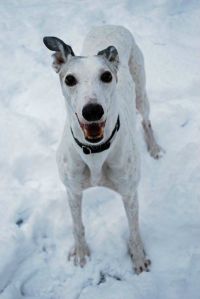 2/16/2000 - 7/7/2014
When we adopted Leah, she was already a senior. We knew our time with her wouldn't be long, but she exceeded all of our expectations and we ended up having 5 beautiful years together. Though she had been going downhill for a while and I am sure she was ready, it is still not easy. She was the sweetest, kindest, gentlest dog I have ever met. I will miss her so much. Goodbye, sweet girl.
Tiger (Right There)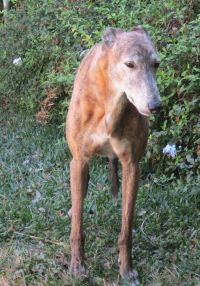 6/28/2001 - 6/28/2014
Tiger was very bright & quickly learned numerous tricks including: sit, shake, speak, lay down, stay, come, roll over, jump, heel, catch a biscuit off his nose, go and look for a hidden treat, and pull a handkerchief from my pocket. During Tigers senior years, i had a pet sitter come to the house early in the morning to keep an eye on him after i went to work. My cell phone also acts as my alarm clock but Tiger quickly learned to distinguish between the ring tone for the alarm and telephone calls. He never budged when my alarm went off, but jumped out of bed and hurried downstairs when he heard the pet sitter's ring tone to meet her at the front door. The pet sitters first order of daily business was to fix Tiger's breakfast and then take him for a walk and Tiger definitely didnt want to miss either of those :)
Max (Freerideplatinum)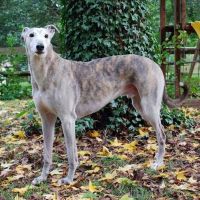 6/28/2002 -6/20/2014
Today, my heart is broken. I said goodbye to my heart dog, my loyal companion, my fierce protector - my very best friend. If only love could have saved you, Max, you would have lived forever.
Maggie (Bohemia Hurrah)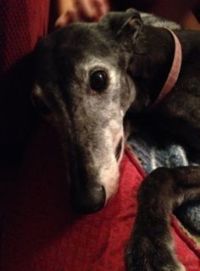 12/21/2001 - 6/19/2014
~~Today we had to say good bye to our sweet girl Maggie born 12-22-01 - 12.5 years old. Her body was no longer able to keep up with her amazing spirit, so it is with a very heavy heart to inform you of her passing. The 7 years we were able to love her have been amazing, and she touched our lives in a way I don' t think we can ever express. She gave us all such unconditional love and for that I will be ever grateful. She had all the funny, silly personality traits they tell you about in a greyhound, the tongue, the roaching, the silly tail wage, the Counter Grazer! She will always hold a very special place in our hearts forever.
Jett (TMC's Wisdom)
1/8/2004 - 6/16/2014
He left this world in my lap, with the taste of his beloved chocolate bars (that I never let him have, but he snatched off the counter anytime he could) on his lips. I'll miss you, Fruit Bat.
Buddy (Mitch's Buddy Boy)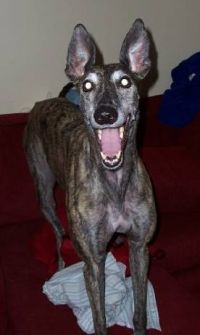 2/21/2001 - 6/16/2014
"The first time we set eyes on Buddy was when we picked him up as a foster more than 10 years ago. He was lunging and jumping at the end the leash. We should have known then of what's to come. It's not hard to describe Buddy. Buddy was Tigger. Bouncy, happy, energetic. His antics made us cringe and laugh at the same time. The last 10+ years went by too quickly. We miss you so much, Buddy boy. Until we meet again."
Lava (Lava Flow)
5/26/2005 - 6/10/2014
Lava went to the bridge today. He came to GEGR with a repaired fracture. Sadly, his fracture would not heal and four surgeries later, he lost his leg. Every day and every year that passed was a gift for Lava. After a rough start to his retirement he was not only adopted by a wonderful family he was adopted by GEGR and all of his adoring fans. He greeted everyone as a friend and each day with a wagging tail. We will miss you Lavajava.
Max (Craigie Jim Buck)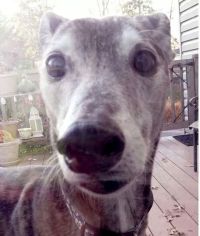 9/18/2001 - 6/14/2014
Max was a puppy at heart even though he was a senior. He was always smiling and jumping up and down showing how happy he was to see us. He was first in the kitchen when I tried to quietly sneak a cookie from my stash wanting me to share. He has now passed on and will be so deeply missed. I hope he sees his sisters, Meg and Rosie, and plays with them at the rainbow bridge chasing bunnies.
Red (Magic Dirty Red)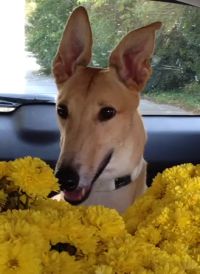 11/8/2008 - 6/7/2014
Red was a handsome handsome fellow with a huge heart and great love and affection for all people especially children. He lived for car rides and walkies and I will miss his silly happy dance with squeaky toys each day when I come home. Red's heart and soul were huge. He was a leaner and cuddler and loved to be with people. In his short lifetime he got to travel to many fun places, including Nova Scotia and PEI Canada, Boston and Pittsburgh. His passing has been felt throughout our neighborhood and many tears have been shed but we are all better for having known him. His body failed him far too soon and I am devastated at his loss but so glad to have had him in my life. My silly boy. Until we meet again. Alanna
Abby (Passion Flower)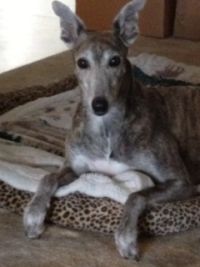 12/23/2005 - 5/29/2014
~~It is with a heavy heart that I write to tell you that our sweet baby girl Abby (aka Passion Flower) went to the bridge to meet her sisters and brother on Thursday May 29, 2014.
She has been a wonderful addition to our family and we loved her with all our heart. I guess that is what made this so, so difficult.
Both of our girls that came from GreytExpections have been just wonderful and we are very glad we found you!
Please pass this along to the right people so they know about our beautiful Abby.
Thank You so much for ALL you do for greyhounds!!
Sincerely,
Ron and Pat
Cooper (Goodbye Scooter)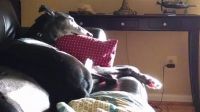 11/1/2004 - 05/31/2014
A big dog with a gentle soul.... we will all miss you buddy.
Quin (Wv's Quinwood)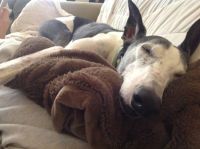 8/28/2004 - 5/28/2014
~~Tonight I said goodbye to my Quinnie, he was tired of fighting and is now at peace, playing with his friends and eating an endless amount of cookies. Run free my baby, until we meet again.....
Angie (Gracious Angela)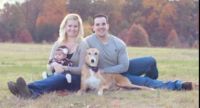 6/6/2004 - 5/26/2014
~I put Angie to sleep around 1130. We buried her in the backyard garden under a rose bush. Thank you so much for such a wonderful girl. We have completely fallen in love with what Greyhounds are; an amazing way of life and joy. Our house will not be the same without her.
Tucker (Back up Thetruck)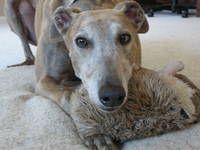 7/20/2001 - 4/29/2014
Tucker was our first dog and the absolute love of my life. Mike and I submitted our app in 2004, gave some basic criteria (must be ok with cats and must be an ok only-dog for our long work day), and left it to GEGR to find the right match. Little did we know they'd give us the most beautiful and soft blue brindle boy I had ever seen! We drove over to the Nussbergers where he was being fostered, and when he leaned into my legs, I melted into a big pile of mush. This was OUR dog. We were totally clueless with him but he was perfect for us and very forgiving. We also had no idea that we were joining a family or that we were about to meet some of the best friends anyone could ever ask for.

Tucker had a very subtle but intense personality, which made it all the more special when he'd get a wild hair and do zoomies in the house and toss around his toys, or do intense zoomie circles in the yard, or climb up on the couch and bless us with a snuggle (so rare that we scarcely dared to move for fear he'd jump down). For the first couple of months, we'd fall all over ourselves to get him to wag his tail (which usually stopped the tail-wagging immediately ). He was the Fun Police at fun runs, always trying to cut the lead dogs off like it was his job to herd them rather than having fun with the other greys. We thought he needed a buddy so we adopted Floody, whom he pretty much ignored his entire life, although I know deep down he was fond of her (nobody doesn't like Floody!). He battled with corns for over half of his life, and my biggest regret is that we never could totally kick them. His BFF was a purple stuffed spider that he carried everywhere, and Spidey is just about as popular on Facebook as Tucker was. He was a big old mama's boy that stared intently after me at Meet & Greets or in the car until I came back into sight. He wasn't a big snuggler, but he did prefer to be close to me, whatever room I happened to be in. We were lucky to know him for almost 10 years, and he will be desperately missed.
Zak (Never Was)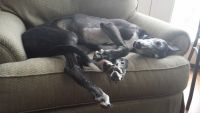 3/18//2007 - 4/18/2014
This evening my family and I said goodbye to one of the most special dogs we've ever had.
Zak was supposed to be my Dad's dog--the only other male companion in a house overrun by females of all species. (And I always had the feeling my Dad picked him because he was the biggest male available for adoption that day. It was just a bonus he was black, my dad's favorite color of dog.) However, Zak became everyone's dog. He had enough love and heart for all of us. And needed all the attention he could get.
We had been adamantly opposed to dogs being on the furniture until Zak came along. Eventually, he retrained us. First with the couch, then the chair which became only his (as you can see him in above), and finally in December earning a spot on my bed. Often he would try to shimmy his way up to the head of the bed beside me in the middle of the night while I slept. Never before had I ever had a dog that wanted to cuddle (NEEDED to cuddle) as much as Zak.
Zak had the most adoring eyes and face. He enchanted everyone he met. Unlike Reina, who would jump and scratch when she was excited, he would do a little prancing motion while swinging that ridiculously long tail of his (with the mysterious kink in it). He didn't wag his tail much, but when he did, you knew he was happy. He was a dog that could always make you laugh and shake your head. He had the legendary greyhound gas: once we had to throw on our coats, open the windows, and air the house out in 30 degree weather because the stench would not dissipate. He always insisted on resting his head in the crook of your arm if you wanted to pet him. He would raise his paw to shake with you to get your attention. Or he would capture your hand between his paws to lavish you with long, gentle kisses. He was such a gentleman lover.
We only had Zak for one year. And it was not nearly long enough. He just turned 7 last month. He left us way too soon, but I am glad that he came to our family. I can't imagine never having known him. He taught us so much. He made us better humans for having known him.
This was the hardest pet for us to ever let go, and we kept asking ourselves why. Was it that we didn't love our other animals enough? No. Or was the decision for them any easier to make? Possibly. But the truth is, there Never Was a dog like Zak. He was truly one of a kind.
Allie (Solitary Talent)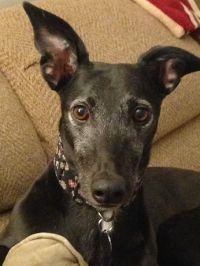 4/27/2007 - 4/15/2014
Our baby girl Allie (or "Alibaba" as we affectionately called her) crossed the bridge this evening in our home with us and her brother Allen by her side. Allie came to us nearly two years ago as a "special foster." Patty was doing a little window shopping on the Daytona site and came across a cute black pup that had a striking resemblance to our heart dog Albert, who passed away over two years ago. After doing a little research and checking out the pedigree line, we found out that Allie and Albert did indeed share the same sire, making them half siblings! We pretty much knew the moment we "fostered" her that she was home.

The last two years has been crazy with this little girl! She fit the perfect definition of a CLBD... would chase her tail, roll around the floor on her back, throw stuffies all over the place, and could sniff out ANY morsel of food from a mile away. She was our 65 lb lap dog and would love to climb up on Troy at random times just to sleep and be loved on (we liked to call this "up, up!"). She woke us up each and every day the past two years at 5:45am on the dot... never could get her off track time we guess.

Today was EXTRA special for her. She got some sliced turkey, ground chicken, egg noodles, frosty paws and a cheeseburger from McDonald's to top it off. She got to go on a lot walks where she could sniff as much as as long as she wanted. We took her for a little car ride where she was able to experience the wind in her face. She even got to visit the pet store one last time where she could get all the attention and pets she could stand. When it was time, our vet came over and we all said our goodbyes through the tears.

Our hearts are broken. Run free, pain free our sweet sweet girl! Until we meet again!
Lydia (Wild Fit)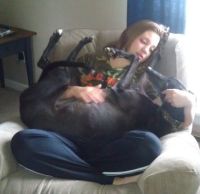 05/09/05 - 04/15/2014
~~Liddy has made her trip to the bridge.
Lydia came to us first as foster dog "Wiley" in 2008. She always knew that she was our dog, it took us a while to figure it out. She was adopted and moved to VA but was returned due to family circumstances. When she was returned to GEGR, I knew it was meant to be. She was a special girl and will be missed.
Throttle (Pc's Jimmy Stone)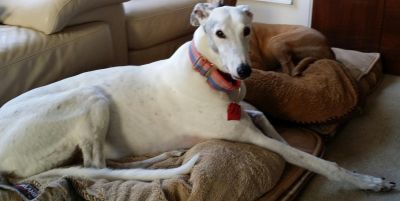 12/9/2002 - 4/11/2014
~~Well what can I say...my buddy crossed over to the bridge today. Brings tears to my eyes.
He had been llimping for a few months. We went to 3-4 different veterinarians to try and figure out
what was affecting his quality of life.
This morning while going on our morning journey, Throttle fell down the steps and let out a painful roaring
cry. I was able to pick him up and get him to the veterinarian. X ray showed bone cancer in his right
shoulder. I was by his side and held him as he went to sleep and felt no more pain. Thank you Debby
Brown and Lisa Parran for your support and friendship. I really appreciate it.
When I first adopted Throttle he was my first dog & Greyhound ( not the last ) in 11 years. When I arrived at Greyhound central and first saw Throttle I knew he was the one for me. A ray of light shined down on him and he
Leaned on me the entire time I was wondering around the property trying to figure out if I was really ready
to adopt a dog after 11 years. I am glad that I did! He never made a mistake even when he was limping and had
limited mobility.
He was such an ambassador to Greyhounds and everyone in the neighborhood knew him and
would stop to talk and pet him. He was one of a kind.
The most interesting discovery was Throttle and Snowie were brother and sister both adopted through G.E.G.R.
Thank you everyone for your excellent advice and suggestions. I really appreciate this group.
Sincerely,
Michael
Meredith (Dutch Meredith)
6/6/2001 - 4/9/2014
~~We adopted Meredith from GEGR on February 26, 2006. She was my birthday present and what a gift she turned out to be. Meredith passed on to the Rainbow Bridge on April 9, 2014 and is back running with her buddy Visa. I know Meredith will miss catching a nap in a ray of sunshine coming through a window, sleeping upside down on any unoccupied couch cushion, borrowing the kids' stuffed animals and rolling over for a belly rub. She is greatly missed and we cherish all of the memories we have of her.
We miss you Meredith, Love, Jeremy, Tiffany, Lainey & Levi
Rocco (Argentine Rocco)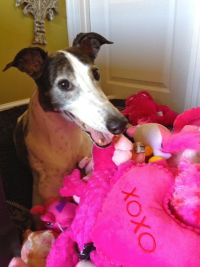 9/16/2005 - 4/8/2014
~~We like remembering him with the smile on his face and in his eyes. When he was diagnosed with the cancer, we decided that wed much rather celebrate the life, attitude, and extreme joy he brought to our lives. So we threw a pink party. Pink was his favorite color (stemming from his first pink toy chosen from the GEGR adoption toy chest, which we still have). All our friends brought pink toys, food, wore pink; we decorated the house in pink streamers, balloons and flowers, and even had a pink wall of remembrance for photos of our lives together.

The morning of his passing, he had gone into his toy chest and pulled out, individually, each and every one of the hundreds of pink toys given to him. He squeaked each once and laid it next to him so soon he was in a nest of pink. We believe, in addition to the sheer joy and flamboyance of being surrounded in pink for his last hours, we was drawing from all the love, joy, and courage everyone embued in the toys as they gave to him two months ago. It was what he needed to guide him into the great dream that lay ahead of him, the love and prayers of our entire extended family, our entire community. We know that the rainbow bridge must certainly have a pink band specially reserved for our Rocco, who never need follow the paths of others!
Dora (Pulpit)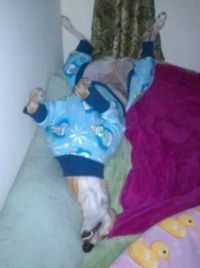 7/25/2006 - 4/1/2014
My sweet Dora girl has gone to the bridge... taken way too soon but I smile to think that she was able to spend 3 1/2 yrs with her Momma Eve & sister Sally because you can't tell the story of one without the other two. They were truly meant to spend their retirement together. I just would never have thought that I'd lose one of the younger 2 first. I've lost many dogs over the yrs but this one truly cuts just a little deeper. Rest in peace my sweet bouncy girl with no more pain. ♡
Gracie (Joel's Shadow)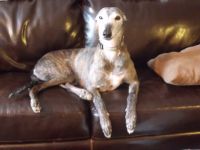 7/12/2000 - 3/25/2014
Tonight we said our final goodbyes to our beloved Queen Gracie. She was the matriarch of our family. We adopted her from GEGR in June 2007. We want to thank Merle and Andrea and her foster mom Lauryn for taking such good care of her before we met her. Gracie was the "Fun Police" of the backyard. She stole our heart. She now runs free with her brother Tommy and sister Abby. "Go chase Abby, Gracie." We will miss you!
Kelsey (Griffon Claws)
10/30/2000 - 2/10/2014
Kelsey was a bounce who was having problems with peeing inside the house. Found out the problem was that she was not in the right house and we were fortunate enough for her to decide that we were the right home! She was my lovebug, in fact when she was trotting away in the back yard she kinda looked like a big black spider with her long spindly legs. I woke up many mornings with those legs either pushing me off the bed or sticking straight up in the air and freaking me out in my half-asleep state. Once she broke her toe chasing after a rabbit. Her toe was at a weird angle and swollen but darn if she did not get that bunny! She has the softest ears and my husband said she made a great pillow. She was my constant companion who was always ready for a hug or to give me a tongue-tap, warm my feet for me or play tag in the back yard. I miss her grace and her elegance. Love you so much, my babygirl!!
Doc (Aggstra)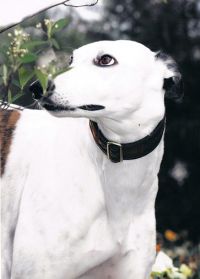 6/2/2001 - 1/7/2013
Doc was trouble from the first day we met him. We were looking for a friend for our girl, Kelsey, and a greyhound for my husband to bond with. Doc was very flashy and my husband decided to try him out. The problem is - Doc could have cared less about my husband. He was a pretty boy who liked the ladies. If you were female and he liked you he would sneak behind you and goose you right in the behind. There were a couple of times that we had some explaining to do to an unsuspecting lady! A few months after we adopted him we found out that the reason he was a bounce is that he ripped a door handle off a refrigerator. I got to discover how strong he was when I discovered Doc chewing up cans of food (full and unopened) and making them into objects d'art. At least he had good taste - he went for the $6.00 cans of cream of crab soup instead of the Campbell's. He was one of the fastest greyhounds I had ever seen. He was always at the head of the pack - until he saw a squirrel, a leaf or some shiny object. The boy had the attention span of a gnat, no wonder he had a terrible track record. My daughter's first word was "Doc". Her first sentence was, "No, Doc!" Doc never met food he didn't like. He also liked and ate rope, crayons (loved the pretty multi-color poop), paper towels and other assorted items. We had 10 years with Doc. I, honestly, never thought he would live this long. We almost put him down so many times from a herniated disc, pancreatitis and other assorted issues. I shouldn't be surprised that he is gone. But he left a hole in my heart. I love you, my big pink dog.
Bretta (Night Ms Brett)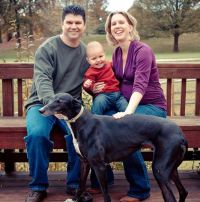 June 22, 2005 - February 27, 2014
We said goodbye to our sweet, lovely Bretta today. She had been diagnosed with advanced cancer in her shoulder. She was eight years old. Bretta came to us two years ago after a full and successful racing career, with more than 100 races. She was such a star that she was then a brood mama. She picked us when my son Finn, Devo (our ancient and grumpy whippet) and I (along with our friend Deb) went to adopt a new greyhound. Bretta was the only one who came to check on Finn when he cried. She didn't have a warm welcome in our house, however, since Devo decided he didn't want a new friend after all and picked a fight. After both dogs' stitches healed they became fast friends. Bretta kept her calm temperament even after we brought home two more of those noisy little people who delighted in crawling on her and dropping food on the floor for her to munch. She never complained, even when recurring corns and, later, a swollen and sore shoulder, kept her from the running she loved. Bretta loved being retired and we are honored we got to give her a couple of years of cushy life. I only wish we could have given her more of them.
Mad-Eye (Whitey Strickler)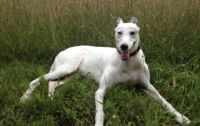 8/9/2005 - 2/24/2014
I just wanted to let everyone know that Mad-Eye Moody passed away today. He was the best dog: gentle, easy going, loving, and always wanting to please. Even at the end, he was wagging his tail, and putting his front paws forward for me to continue to stroke him. He became unable to walk last Monday, we took him to the vet, he rallied, but went downhill very quickly over the weekend. Even as I write this, I'm still crying. I will miss our walks to the beach, car rides to Pennsylvania, and the fact that if he saw a suitcase, he suddenly needed to go "out" and would stand at the top of the porch stairs waiting to be let into the car. I know he's in a better place and that he is free of pain and at peace. But, he left a hole that will never be filled. Jennifer
Jupiter (AMF Jupiter)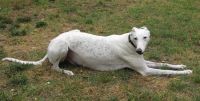 1/1/2003 - 2/20/2014
I adopted him President's Weekend of 2007. His top weight was 83 which we usually kept between 78-83. He was my gentle giant. He loved everyone he met, even puppies. He especially loved men. He never wanted to be an only dog and thrived on being around other dogs. I will miss having him as my bed buddy. It's going to be weird to not have this big white boy meet me at the door every day. I will miss my big goofy love bug. Run Pain Free my boy. I know CJ met you at the gates and you are now running with your first sister!
Charlie (Hallo Rascal)
10/20/2006-2/16/2014
When we arrived at the GEGR adoption day, we got out of our car to see a beautiful dog jumping out of the car next to us. He came right up to us and leaned up against our legs. When we were told he was there to find his forever family, we shared a look because we both knew that we had just found our first dog. We took Charlie home with us later that morning. Charlie was the best. He loved squeaky toys, pillows, his adorable jacket, and spending family time cuddled on the bed with us. He hated when his squeaky toys stopped squeaking, getting his ears cleaned, and pooping in the snow. He had some sort of love-hate relationship with the vacuum. Most of all, though, he loved people. It didn't matter if you were an adult, child, mailman, or vet, Charlie loved you. He was one of the most popular dogs at the vet's office; when Charlie came in, people would run out from the back offices to say hello to him and pet his soft head! We had to say goodbye to Charlie very suddenly to suspected heart failure several years earlier than any of us anticipated. We can't believe how difficult it was to lose him but we're so glad we got to spend three wonderful, wonderful years with him.
Reuben (Conqueror Cody)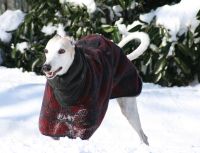 3/22/2002 - 2/12/2014
Rueben, our sweet gentle giant. You left us and took a piece of our heart with you. You had the most gentle spirit and soul and a companion to everyone. You loved everyone and showed such affection. How you loved the snow and the sun porch. Our hearts are broken but know you are running free with Spencer and Grace. You left a family and friends that will always keep your spirit alive in our hearts.
Sissy (Sissy)
2/22/2002 to 11/29/2013
I never did change her racing name...it was just too fitting! She was afraid of everything. She was certainly the boss around here...but when it came to thunder and strange noises she would always let someone else handle it! I have a daughter with special needs ... It was Sissy's job to walk on her right side and Christine would hold part of her leash. It was a favorite job...second only to kitchen clean up! She was always the first to report for duty when I called "I need a dog" or "ohhhhh sh*t!" No one can keep Christine's feeding chair as clean as Sissy did. I miss her terribly... Thanks for choosing me to be her best friend for so many years! Maryanne
Murphy (Iruska Abner)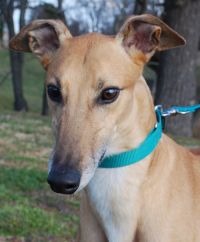 5/3/2008/12/27/2013
Feb '12, Murphy made it beyond obvious that I was his & taking him home. There was zero doubt he had made his choice. I couldn't have dreamed of a better first greyhound. As nervous as I was bringing home a new dog, an adult, he walked right in as if he had always lived here. Time was just too short for us, but I'm grateful for what we had. I wouldn't change anything. As the pain fades, the happiness will be remembered & will help patch the hole in my heart.
(Greys) Greys Live Wire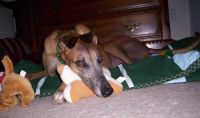 9/15/2001-12/6/2013
I got my first greyhound in 1986. Over the next twenty years, I adopted seven more greyhounds. I always seem to have at least two pups and at times I had four greyhounds sharing my life. These were in addition to numerous fosters who move through my home and some of whom never left. In 2006, I found myself with just one greyhound and was looking for another one to fill the void. I had worked with Chris Makepeace in Seabrook, NH for many years and wanted to adopt a dog from her. She suggested I work with GEGR since they were closer and she was going to be shipping some dogs to them in the near future. I contact GEGR and filled out an application and was approved. If I remember correctly, I was interested in one of the foster dogs, but he had been already been adopted. Diane Wainwright told me they were getting a shipment of dogs and Chris was sending three down that she thought I might like; one male and two females. Since I already had a male, I was leaning toward the females, but Diane told me I could meet all of them and decide then. In the past, I had never "picked out" a dog. They were either chosen for me or I adopted one of my foster dogs. When adoption day came, I got a call from GEGR saying the hauler had been delayed and I was to come two hours later. I waited almost the two hours (I was so excited) and started the two hour trip to Lusby. On the way, I got another call from GEGR saying the hauler was still delayed. I just took my time but continued on to Lusby. When I got to Lisa's house, the dogs still had not arrived. The hauler had been in an accident on the George Washington Bridge which rendered the hauler unable to navigate. A very dedicated group of people preformed a herculean effort to move all the 50 (+-) dogs off the bridge and take them to locations where the rescue groups (who really lived up to their names that day) could go and pick them up. I was so impressed with the group of volunteers that were there that day. They each did their job and called upon others to help where needed. Finally the dogs arrived all safe and sound and I got to see the three dogs I was to choose from. In hind sight, I can't believe how patient Lisa and Diane and all the others were with me. I could not make up my mind. I even think at one point I begged them to choose for me. I did not feel a connection with any of the dogs and my one dog, Casey, seemed really bored with the whole thing. Chris had thought the male would be the best dog for me, so I decided on him. After a long day, we finalized the adoption and went home. That is how Greys Live Wire became a part of my family. Greys settled in quickly and learned the routine of the house. He was a large fawn boy with a black face. He was very handsome. I am very affectionate with my dogs, but he did not seem to like my kisses and hugs. I would lie on the floor with him and talk to him, but not touch him. He would look at me like I was crazy sometimes and other times he would just ignore me. I slowly started toughing his paws and after several weeks we came to an agreement that a little touching was fine. Over the years he learned to accept the hugs and kissed and I even think he sometimes enjoyed them. We had a little game we played when I would kiss him. He would take his paw and try to "wipe off my kisses." I would tell him that my kisses went right to the bone and he could not wipe them off and then I would kiss him some more. My poor pups have to put up with so much from me. Greys was always gentle and he reminded me of an old man. I called him "Mr. Greys" most of the time because he seem to exact that kind of respect. He always stood aside and let the other dogs go out before him and come in before him. It seemed like such a gentlemanly thing to do, but I think he was also staying out of the "rush." When he wanted to go out, he would just come and look at me and I knew immediately what he wanted. He could even wake me up by just looking at me. He put up with a lot of foster dogs, guests (both human and canine), a move and a lot of high and lows in my life. He was always happy to see me and would often bring me his teddy bear. The game was for me to "try" to get it from him. He would show it to me and then run into the other room for me to chase him. When I got close, he would turn and "prance" in the other direction in victory over keeping his bear. Greys was a happy pup and at 12 years old only a little weakness in his hind legs and having only five teeth were his only ailments. One morning in October, he got up and was limping on his left leg. I thought he had just slept on it wrong and didn't pay a lot of attention. Later that day, the ankle joint of the leg started to swell up and he wouldn't put any weight on it. I took him to the vet and, after a series of x-rays, they diagnosed him with bone cancer. They put him on an anti-inflammatory drug and some pain meds. The swelling went down and he seemed to feel better. Then he started coughing and limping on his right leg. He was panting a lot and even increased doses of pain meds did not make him comfortable. I had to make the decision to let him go. He was such a sweet boy. It took us a while to bond, but I know he will be with me forever. I can sometime feel him "looking" at me and I know he is still here with me. Greys gave me lots of love and comfort for which I will always be grateful. He also brought me to GEGR and to all the wonderful folks connected with the group. I was impressed the first day and I am still impressed with the dedication of all involved with the group. I am always honored and proud to say I am a volunteer with this group.
Zook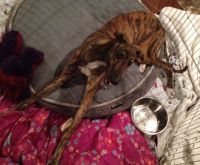 Feb 2013 - Dec 7, 2013
With love rest in peace sweet Zook, we gave you a name and love. You got to take a journey that no other greyhound gets to take, your mom cared for you until the very end my sweets, now go run free! Your name will always make me laugh and think only of good times! Amber
Black Jack (Romantic Moments)
9/24/2004 - 11/6/2013
Blackjack was the sweetest, most gentle, loving dog. He loved going to meet and greets to get pets and give kisses. But most of all, he just loved cuddling up on the couch. I want to thank everyone at GEGR for helping us find this special boy, especially his Foster Mom Cheryl. Where ever he is, I am sure he is sneaking around looking for snacks and finding the most comfortable place in the room.
Thunder (Thunder Shain)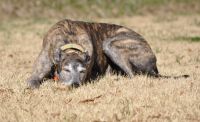 November 1, 2000 - November 4, 2013
We said good bye to Thunder Shain today. She was diagnosed with Squamous-cell carcinoma in her mouth back in January - probably related to her longstanding dental issues. Thunder came to us after running 271 races over a four and half year racing career. It was a privilege to share her retirement with her. She never met anyone that wasn't a long lost friend. She greeted everyone with a happy dance and the same excitement whether it was their first meeting or she saw them every day. I remember the day we met her at GHC. It was overwhelming meeting so many greyhounds and Ted asked what it would take for us to know that we had found the right dog. I told him that the dog that gave me a kiss would be ours. Ted must have whispered something in Thunder's ear because shortly after she wandered up and gave me a big smooch. Kathi & Chuck
Chewie (Malwa Sandstorm)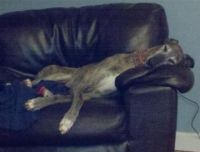 11/1/2005 - 10/17/2013
Chewie took his trip to the rainbow bridge yesterday. We adopted him from GEGR Labor Day weekend in 2007 and he has been at our side ever since. He was a great dog, very easygoing and wonderful personality. He loved riding in cars, hikes at the state park and chasing squirrels in the back yard. The house feels so empty without him already, and without him there to greet us in the morning and follow us around the house. We loved him so much. November 1st would have been his 8th birthday. We hope you are having all the chicken, carrots and cheese you could ever want at the Rainbow Bridge Mr. Chew. See you on the other side old friend
Betty (CKB Betty Boobs)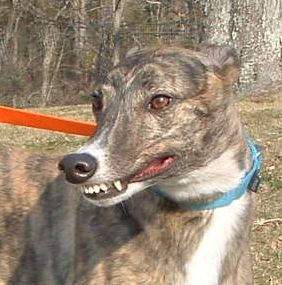 06/17/2003 - 10/4/2013
Run free sweet Betty, we will never forget your little turned up nose.
Zoey (Zeppelins Zoso)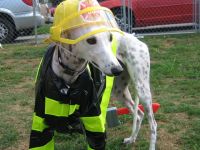 3/10/2007 - 11/28/2013
Zoey was unique and once you spent time with her, you couldn't help but love her. I can't put into words how special she was. Good bye my pink spotted monster.
Brenda (Jawa Bunga)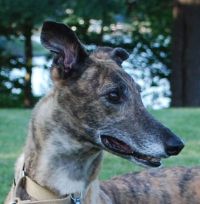 9/10/01-09/16/13
My beautiful Brenda just celebrated her 12th birthday last week. She was a sweet, gentle spirit who loved everyone she met - always patient, always loving and quite the little barker when she got excited about things. She had been diagnosed with bone cancer and yesterday I had to let her go. She took with her a piece of my heart. Mary
Wild Side (Iruska Wild Side)
2/5/2005-9/8/2013
My sweet Wild Side, thank you so much for the love you gave, the rock you were to the pack and the silly happy girl that you became! I will never regret our short time together, 4 months. You sat the past 24 hours and slowly began to deteriorate before my eyes, Cancer (Lymphoma) was taking you from me and I couldnt let you go on like this, I couldnt allow you to have another night full stress and sleeplessness, you were tired, as my final wish to you, I promised to you I would not allow you to feel pain and only love. Good night baby girl, forever in my heart I will always always love you.
Shaina (EW's Lisa Lips)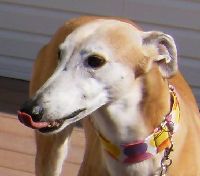 11/21/2000 to 7/23/2013
Shaina had a good long life. She was spoiled and in her old age, she became a cantankerous old woman! She was a diva girl who got her breakfast in bed and teased the other dogs by eating very slowly. She was my rock........ a peaceful, calm being who could sooth frazzled nerves just by being petted and looking into that face...... She was the last of our "original" greyhounds..... Blitz & Shaina. Run free little girl. Keep teasing those boys in heaven. Mimi
Fancy (U Too Fancy)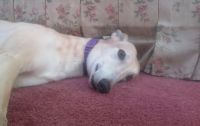 7/13/2002-7/11/2013
In 2004 we were very lucky to adopt our Fancy. She was a beautiful fawn girl with a sweet gentle disposition. She loved to play chase and would dance for a cookie(milk bones). She was the best friend I could have hoped for. About a year ago we noticed that she wasn't playing as much. The vet diagnosed cancer. Fancy lost her battle Thursday. With a broken heart I let her go to the rainbow bridge. I miss my baby so much. I just wanted to say thank you for providing such a wonderful opportunity to have had such a precious friend. We found your site online and made the trip to pick her up from Solomon's island. You guys do a wonderful thing keep it up. Thank you again.
Libby (Jetabb Angelfish )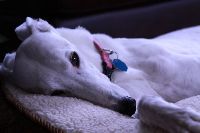 Feb 2002 - July 2013
We had Libby almost 10 years. She was a sweet, gorgeous greyhound. She was a chatterer and she loved couches and beds (sound familiar?). She was fast as lightening and we could never get her fattened up! She ate and ate too. We found out Libby had OS (bone cancer) in January. She did very well until a couple weeks ago when she showed signs of pain. So we decided it was time. This is the first time in over 20 years that we don't have a greyhound. We will have one again in time. RIP Libby we miss you:) --Anne
Onyx (Black Onyx)
10/26/2000 - 7/10/2013
Black Onyx aka Nixxie, Nikki, Doodlebug, Dobug, Wickynikki…. Onyx adopted us in August of 2003 and is one of GEGR's original CLBDs (crazy little black dogs). In the summer of 2003 our 12 year old Greyhound, Annie, was diagnosed with bone cancer. Doug and I knew that we wanted another Greyhound and went in search of a group to adopt from. Annie did not come to us from a group so we had no connections, and after contacting several of Maryland's groups, we found that most would not adopt to us because we were so far south and out of their adoption area. Then one day, I was getting my nails done and overheard a conversation between two ladies waiting for their nails to dry. One was talking about her fostered Greyhound. I apologized for listening in and asked her who she was fostering for and she told me GEGR. To this day, I have no idea who she was and have never seen her again. Anyway, we submitted our application and were approved so all we had to do was wait for the next haul from Chris Makepeace in Seabrook, NH. Deb told me that there was a black dog in the kennel and she was going to ask Chris to send her down for us to meet along with six or seven other dogs. Deb Johnson suggested that we drive up to meet the hauler at the Maryland House at 4 in the morning. She said that it was like birthing your dog when you take them off the hauler. It was a very large haul for GEGR at the time. I called Deb the night of the haul to confirm everything and asked her if the black dog was coming. She called to confirm that with Chris, and Chris had forgotten to put Onyx on the hauler! She caught them as they were getting ready to leave, gave Onyx a quick bath and loaded her up. Ten hours or so later the hauler arrived in Maryland and the fun began. Although we had our choice of several girls from that haul, George Johnson pulled Onyx out and put the slip knot hold around Doug's wrist so he could walk her across the parking lot to the grassy area. Onyx proceeded to buck and rear and dragged Doug half way across the lot before George caught up to them. Doug handed her back to George and told him "there was no way I want this dog". So Onyx rode home in someone else's car and we took three little brindle girls in our car back to the Johnson's house. Doug and I narrowed our choices down and finally settled on one of the brindle girls and waited for our turn to do the paperwork. In the meantime, we were out in the yard and Onyx kept running over to us and poking at us. Long story short, we changed our minds and took Onyx home to meet Annie and our Brittany Spaniel, TJ. Onyx got along fine with the other dogs and I think having her with us made Annie's last few months fun for her having another Greyhound in the house. Life with Onyx has never been dull. In the beginning, every night at about 1 a.m. for about a week, we had Circus Circus in our bedroom. Onyx would come alive and start throwing toys around, spinning, bowing and rooing. She would annoy the other dogs and make sure that we were all fully awake before she would quit and go back to sleep. She had a zest for life and did everything full speed ahead and ended up with stitches more than a few times because she went faster than she should through places that she shouldn't. Nixxie took life in stride and as she approached her 10 year anniversary with us, and just a couple of months shy of her 13th birthday, she was still a CLBD. She was a little slower and had to be careful when she tried to spin and roo because she would fall down if she got off balance. She spent her days hanging out with her brothers Alfie and Mason and recently, our foster Nadine. She would hunt the entire yard every day despite her pain and made it her personal quest to make sure that anything dead in the yard got eaten or rolled in. Onyx always welcomed others into our home, dogs and people alike. She loved her daddy because he is a walking cookie jar and she was his girl. She taught him that when she barked it meant that she got a cookie, even if she really just needed to go out. Even as we were sitting with her waiting for the vet to come in, Doug pulled a baggie out of his pocket that he had packed with her cookies. She ate them until the sedative took effect and she drifted off. ….and we cried. Onyx is the reason that Doug and I got involved with GEGR. We have made so many friends and watched more than a thousand dogs run in this yard and hundreds go off to their forever homes...all because of her. I think we have a really good reason to celebrate her life. Doug and Lisa Parran
Schaefer (Arebit)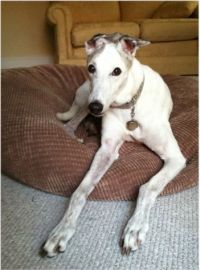 9/1/01 - 6/21/13
I write to let you know that Schaefer has crossed the Rainbow Bridge. He was the most amazing dog -- I called him Schaefie the Wonder Dog, because he was the Wonder Dog. He made the transition with us from Virginia to Rhode Island in 2012, suffering two grand-mal seizures, one in May and one in July; he lived in temporary quarters with us, where he suffered another grand-mal seizure as we were about to move into our permanent home; and he settled into that home where he kept company with Rosemary, who teleworks now. He made it through a terrifically difficult winter, and he helped us get through what has been a very difficult transition year for us, as we acclimate ourselves to life in the Northeast, to a new job and career for me, and a new working arrangement for Rosemary. He had been in failing health, and yet his love for life and his love of people never really left him. He was always ready to "meet and greet," and everyone who met him marveled at him. Boss was a public dog, Sheila Crawford rightly said, and Schaefer was quieter, more private: and yet everyone who met him marveled at his sweetness and goodness. He came to us in the most amazing way. Rosemary had been viewing him on the website for some time. Initially I thought, "no," but she persisted, because there was something about him, a sweetness, that grabbed her heart. We arranged to meet him, but at the last moment, one of us got sick and we couldn't meet him, and so he was placed elsewhere. I remembered the old Hindu proverb: "let it go: if it comes back, it was always yours; if it doesn't, it never was." We heard within a short time that the poor boy had been bounced and he was available. We went to see him, and some other hounds, too; Rosemary fell in love with him again, as she had when she first saw him on the internet ("my one and only internet romance," she says), and he was ours. The poor dog panted hard the two and a half hours to our home in Reston, and we wondered how we would habituate him. But we did; and he habituated us, to his amazing resilience, loyalty and friendliness. How he cried for joy when Ted and Cindy 'ski visited at home one afternoon after showing dogs at Reston. He did the same for Jimmy and Sheila Crawford, too, every time he saw them. The first year with Schaefer was tough, because he wasn't "100%," as a doctor-friend of ours told us upon observing him. I realized how much I'd grown to love him when one morning he woke up gasping for air and I needed to take him to the e-vet. The prospect of losing him was too much for me; and I told him again that we were his forever home and we'd find a way through. It took a while for the doctor and us to figure out he was sick with erlychia; a course of doxycycline that lasted the better part of a year turned him around: his respiration improved, his joints got better, and we were able to pet him without him snapping. That was joy for us. In December 2010 he suffered sudden onset blindness, to our shock and sorrow, which turned to joy when almost immediately he recovered his sight. Later we were to figure out that it had been a petit-mal seizure, and that lots of his peculiar behaviors – biting at the air, sudden rapid blinking, wonky ear-twitching – were all indications of small seizures. We knew he had muscular-skeletal issues when he came to us, and we came to know that he had neurological issues too. It didn't matter to us. We made a promise to him, he loved us unconditionally, he loved everyone unconditionally, and he was our boy. Boss was the glamour-boy, the dog everyone admired. Schaefer was the comforter: himself in chronic pain at one level or another, he had a way of reading who needed his comfort. As I had taken him the vet several times to save his life, Schaefer became my dog in a way I can scarcely describe, nor even write about without welling up in sorrow at his passing. How much he loved! When my left foot was severely broken after the move and I was unable to walk him, he didn't care: just to be at my side was enough for him. He was with us in our joys, and he was with us in our pains. He was the Wonder Dog. The last week was particularly difficult for him. He awakened us several times in the night, something very unusual for him. It was because he had come to endure only the shortest of walks; as soon as taking care of immediate business he'd turn to the house and pull at the leash, and so we were unable to give him a proper walk as we didn't have the heart to push him. We'd taken him off the seizure medicine months prior because it made him miserable and made him whine for hours on end, which was hard for him and for us to endure. As it turned out, the load wasn't even at therapeutic levels, which for us was the final reason to take him off it. He seemed to be fine off the meds, but the deterioration had set in. We all know the day will come to say goodbye to our loved ones, and though we see the evidence before our eyes, our hearts tell us no, life can and should last longer. So, in a sense, we are both ready and not ready when the day comes. The last day he suffered two bad grand-mal seizures. I was privileged to be home with him and to help him through, without him undergoing serious injury. I say it was a privilege, because after he'd given so much to us – to me – it was an honor for me to be sure that he did not incur serious injury while seizing, to be able to hold him during the episodes and to comfort him thereafter. After the first seizure, I was ready to let him go, as I couldn't see putting him back on meds and waiting for the lift, nor could I see having him endure another episode. The second seizure, which occurred only hours after the first, was horrific, and he was terrified afterwards, completely exhausted. At that point Rosemary too decided that the merciful thing, for him and for us, was to let him go. We found a vet who came to the house and we let him go at 4:30. We could not, in good conscience, have permitted him to endure yet another episode, which, evidence told us, would have been forthcoming, and likely within hours. He died with his head in Rosemary's lap, a great consolation for both of them, as I was petting him and helping him. The tourniquet made him yelp, and he yelped at the injection, too, which saddened me, but within a moment he left us and his face was at complete peace. We have the consolation of knowing that we gave him all the love of which we were capable and we provided him all that he needed. He was our loyal friend to the very end, and he made me a better man. He touched me deeply. I promised him when he came to us, after he had been bounced twice, that he had found his forever home, and I kept my word to him. He loved me unconditionally, as does Rosemary, even when I did not at times love myself. How does one adequately give thanks for a gift like that? When the time came for him to leave us, it happened as gracefully as he entered into our lives. We were shocked at the brutality of the seizures; I was honored to be at home for him; and we were beyond grateful to have found a vet to come to the house. We were glad, too, to be able to make the decision swiftly and to spend those last hours together with him. I think he knew he was dying: he'd look at us a certain way in the evenings, yet he held on to get us through our first school year here in Rhode Island. He was eleven and three-quarters years old when he left us. We had hoped he would beat the odds and live to be fourteen or fifteen. We are without greyhounds for the first time in nine years. This is hard for us, but it is also good for us, as we must develop relationships and friendships with the people in our new environment, something we were somewhat inhibited from doing due to his needs and our commitment to him. The house is quieter now, but it is peaceful, as our family member who suffered greatly suffers no longer now. We humans weep and mourn, but we also give thanks for these great, noble-souled hounds, and for everyone who has helped us come to know and love them as we do, and especially you. So many of you knew Schaefer and loved him. He was GEGR's 100th dog. We are so grateful to you for finding him and for placing him with us. We love you all, and especially "Uncle" Jimmy and "Auntie" Sheila, whom he loved to visit. Now he is with our beloved Boss and their beloved Amadeus, and all their other hounds, and we are left to carry on. You all enriched our lives with Schaefer; and he enriched our lives to. Let us be blessings to each other. Life is so short, and we take so much for granted. Cherish your hounds for all they do for you; and cherish each other. Position, power, prestige: these matter not. Love and loyalty are what make us who we are, and what make life worth living. This is what Schaefer taught us.
Kurtis (On The Go Kurt)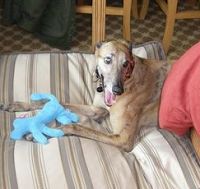 11/8/2005 - 06/26/2013
Kurtis my sweet, sweet boy you came into our lives at a time when Mario needed a friend after he lost his best friend Kick and you stepped up to the plate big guy. The day Mario met you he knew everything was going to be ok and no longer sat on the hill outside by himself. You were so eager to please and your dad thought training with some simple commands and tricks would be fun for you. Just out of a whim your dad said "SIT" and you promptly sat down…., he tried it again and again you promptly sat down. We knew we were blessed with a track favorite, a sit command is not something you were born to do or something you learn without some time with someone that cared for you very much and it had to be difficult to let you go. You were the star at the Annual GEGR Picnic. You had many tricks that you learned up your sleeve and won the talent contest 2 yrs in a row. You were not a morning dog, all the others were ready at the door for first turnout and your dad or I would still be calling you to come down. You would slowly come down the stairs then have to stretch the front legs, then the back legs, then the front ones again, then take the walk around the sectional sofas at least once THEN you would come over to get your muzzle on as we are standing there waiting for you to finish your ritual ……..You LOVED your car rides, if I had the hatch opened and you got into the garage, you would plant yourself perfectly in the middle in a way we could not get you out. I would have to take the car out of the garage thru some country roads and only then would you jump out ….. and boy did you just love to "talk" I would talk to you and we would have this conversation, by you just looking at me, gently barking back like you were really trying to tell my something. I would just say, I knew what you were talking about but, didn't have a clue. Every evening Kurtis, you were at my side when I would get the gliders dinner ready. You loved fruit….apples, mango, cantaloupe, papaya, strawberries, pears, watermelon and grapes… that you were not supposed to have but, I would cut one in half and give it to you anyway. I'd never seen a dog eat so much fruit. You were our M&G dog and touched the lives of so many people, a true ambassador to your breed. Kurtis, I'm so sorry and angry that osteosarcoma ripped you from us so sudden, so cruel and without warning. We had visions of spending so many more years with you. I pray the 4 ½ years we gave you were as good and wonderful as the 4 ½ years of love, laughter and fun you blessed us with. Your gentleness and kindness made loving you more and more each day so easy and looking into your eyes opened up your heart to who ever met you. As many of you know, Kurtis lost his best friend Mario this past Jan. Tom had a feeling Kurtis was depressed over the loss of Mario, that's why we were fostering Denzel in hopes of finding Kurtis a friend, that was not meant to be and Kurtis joined his best friend Mario June 26th.
Jolie (Okie Elana)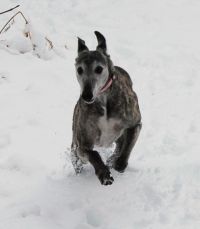 08-18-2000 - 06-20-2013
Words cannot adequately describe what a character Jolie was! She was almost 11 years old when I adopted her, and for all this time, she never told me what had had happened to her tail! Jolie was the best meet and greet girl and thrived on the attention. Until recently, she was a vigorous, outgoing, confident, and bossy girl who did not hesitate to give her opinion about almost everything. Although she was usually a handful, Jolie could also be very loving and and patient, especially with the little dogs. I'm going to miss her.
Rascal (Chas Lil Rascal)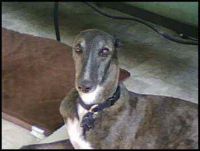 5/26/2005 - 5/10/2013
Rascal went off to the Rainbow Bridge and joined Dotty to wait for us there. Rascal took the job of being a companion very seriously. He accompanied Jay up and down the stairs every weekend to do the laundry. He curled up where ever we were, and if we were in two different rooms, tried to be in between or with Jay. He saw to it that we went walking everyday, bouncing along with a happy grin. He greeted us at the door every time we came in, even if it was just to go out and get the paper. He always had the happiest expression on his face whenever he saw us or went walking with us. He was sweet and affectionate beyond description. He was the most like a cat of any dog I have ever seen: leaning against us, and rubbing along the wall in the hallway. (The streak is still there.) Even the day before he died, he insisted we go to the park...oh so slowly. That he is missed is an understatement. He was with us for over five years. I expected another five. We haven't yet been back to the park, it hurts too much. Never have I know a dog who showed so much affection. We love you, Rascal.
Kincaid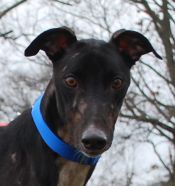 6/20/2010 -6/05/2013
He wasn't with us very long, but he was already a huge part of my life. I have never had such a well behaved dog. He came to me as a foster and I fell in love with his awkwardness and his anti-social behavior. He became such a lush for attention in the last few months and it has been so rewarding. Even though his time with us was short, I wouldn't replace it. Rose
Abby (Solareclipsedame)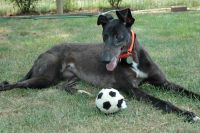 4/13/2005 - 5/29/2013
We have said our final goodbye to our Abby... another victim of the evil Osteosarcoma. She survived her stepbrother, Tommy by only six months. Abby was our 5th foster. After several trips to GHC where she was not picked, we knew she was meant to be ours. She was daddy's girl. She was only eight. She will be missed everyday. Go run free with Tommy and limp no more, Miss Abbigail! .... Bob C
Bill (Water Bill)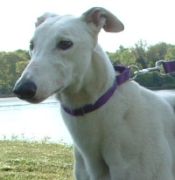 February 24,2004 - May 17, 2013
I will miss my sweet, sensitive, loving, caring boy. He was loved and will be missed. He made our lives better by being in it and I will always be grateful for him getting me through some very hard times with his kisses and just laying by me.
Kohl (Twilite Manchett)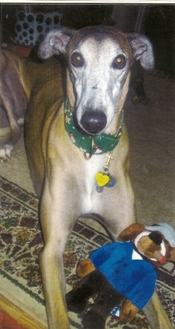 February 200 to October 2012
We had 10.5 wonderful years with Kohl. He loved everyone, human or canine. He loved his stuffed toys and rarely went outside without one of his babies. He loved his daily walks in the state park. He love chasing squirrels and rabbits in the yard. We got in the habit of knocking on the glass slider to warn the little critters that we were letting him out. He was best friends with our yellow lab, Daisy and we all miss him terribly. Carolyn and George
Van (MCP's Van)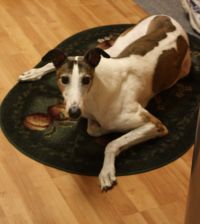 8/11/2001 - 3/16/2013
WE LOST OUR BEST FRIEND, VAN, ON SATURDAY, MARCH 16, 2013. WALT AND I FIRST MET VAN ON JULY 10, 2005. HE WAS BRIGHT EYED AND HAPPY - RIGHT OFF THE TRACK IN SEAFORD, NH, AS HE WATCHED THE JET SKIS ON THE WATER ZOOMING BACK AND FORTH ON THE RIVER. HE WAS SO FULL OF LIFE BUT WHEN HE SAW OUR PRINCESS, A PRETTY LITTLE WHITE FLUFFY DOG, HE JUST GAVE HER A QUICK LOOK THEN SPOTTED A BED TO LIE ON AND WENT RIGHT TO THE BED. WE KNEW WE HAD FOUND THE RIGHT GREYHOUND TO BECOME PART OF OUR FAMILY. VAN LOVED TO GO FOR A WALK…ESPECIALLY WITH HIS DAD IN THE EVENING…JUST THEM, IT WAS THEIR MAN TIME. WALT SAYS THEY MET AND TALKED WITH MORE PEOPLE ABOUT GREYHOUNDS THAN HE CAN COUNT. VAN LOVED EVERY MINUTE…EVEN WHEN HE GOT TO THE POINT WHERE HE HAD TROUBLE WALKING … STILL AT 7 PM EVERY EVENING, HE WOULD COME GIVE YOU A NUDGE AND A WOOF (JUST IN CASE YOU FORGOT WHAT HAPPENS AT 7) HE LOVED PEOPLE - THERE WAS NEVER A PERSON THAT HE MET THAT HE DIDN'T LIKE AND PEOPLE LOVED HIM JUST AS MUCH. THEY WOULD PET HIM AND BE AMAZED AT HOW SOFT HIS FUR WAS…JUST LIKE SILK. TO BE QUITE HONEST…VAN LOVED TO DO ANYTHING HIS FAMILY WAS DOING. HE WENT CAMPING WITH US, WENT ON VACATION WITH US. IF MOM AND DAD WERE DOING IT, IT MUST BE FUN. HE JUST WANTED TO BE WITH HIS PEOPLE. HE LOVED US AND WAS LOVED BY US THEN, NOW AND FOREVER. THERE IS NOT A DAY THAT WILL GO BY THAT HE WILL NOT BE MISSED IN OUR LIVES. WE CAN ONLY HOPE THAT WE GAVE HIM ALL THE LOVE THAT HE GAVE US…WE HOPE HE HAS MET UP WITH PRINCESS AND SADIE (OUR OTHER GREYHOUND) AT THE BRIDGE AND THAT THEY ARE HAPPY AND RUNNING FREE UNTIL WE ALL MEET AGAIN.
Gracie (B's Lady Grace)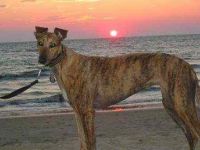 3/24/01 – 3/5/13
Gracie was one of the "original" GEGR dogs. I adopted her from the Johnsons in May of 2003. That was the day I was introduced to the crazy wonderful world of greyhound adoption. Like her name, she was a true Lady. Gentle, neat, quiet, polite and classy. She was very intelligent and always seemed to know what I was saying and could anticipate my every move. She was so brave – I used to call her my protector. Nothing could harm me with her by my side. She was an alpha girl who would growl at any new dog she met, letting them know that she was protecting her people and her pack. But once she knew them, she loved to be with her friends. We went everywhere together and she loved all of our adventures. She charmed everyone she met. I heard "she's so beautiful!" all the time but she was even more beautiful inside. There's a saying: "Saving one dog won't change the world, but it will change the world for that one dog." Well, in this case, saving this one dog changed MY world, forever. I have met so many wonderful people and made lifelong friendships because of that choice I made so long ago when I saw the picture of that small brindle girl on the internet. Gracie, my beauty bug, my little angel, you will always be a part of my heart and soul. A piece of me went with you to The Bridge my precious princess, you will always be with me. Love, Sara
Jenn ( Uss Generosity)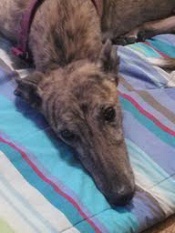 May 8, 2006 to November 27, 2012
In September 2008, we gave Jenn her forever home and she became a part of our family. Such a sweet girl, she became a fixture beside our dinner table as well in our hearts. In the spring of 2012, Jenn developed a knot on her right shoulder, which was ultimately diagnosed as cancer. She underwent an amputation, which relieved her pain, then she began chemotherapy. After doing well during several months of chemo, the cancer returned. Jenn lost her battle with cancer on 27 November 2012. We were very blessed to have Jenn as a family member and we still miss her very much everyday.
Mario (CVS Mario)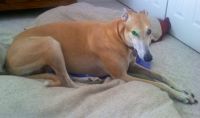 3/23/2003 to 1/27/2013
Mario came into our life June 16, 2005 from the Seabrook track in NH. He did not realize how instrumental he would be, not only did he become a fur brother to our 1st greyhound Kick but, he introduced me to a group of people that I have come to know, love and feel like family. Mario was our 1st GEGR greyhound. Mario sweet big boy, you came to us when you were 2yo, after running your 6 maiden races. You had a big barrel chest and pigeon toes, we were amazed they ran you all 6 but, in our eyes, you won them all and you came to us. You were as big of a scaredy cat as you were in size in the house. You were deemed cat safe but, at times we had our doubts, not because you would go after them but, you would knock over anything in your way to get away from them including stumbling over them , you were deathly afraid of them…… Your mom even got you a collar with cats but, you never knew you had it on .You were sooo stubborn, you never learned any commands except for "up" when we wanted you to go up the stairs but, when the others did their commands you always got a "spectator" treat. You hated, I mean hated the beagles next door and would run up and down the fence barking trying to get one . The more you barked the more then instigated you. The neighbors knew they had a problem with their beagles and a privacy fence went up but, it didn't stop them neither did it stop you but, the supersoaker did . You were our silent alpha big boy . You kept everyone in check usually by not doing anything just walking up to them and standing there. They respected you and they knew......... and you certainly kept the girls in check and that in itself was quite a job …….Oh, you and that Happy Tail, you left us plenty of crime scenes. You would hear us coming and just wave that tail you had gotten to bleed. I should buy stock in peroxide I still find spots but, now I know I will be shedding some tears removing them. You never lost being a puppyhead and even up until the last couple of days, something I loved so about you. I'm going to miss your big goofy self, I'm going to miss you barking for the other dogs to come downstairs when they left you down there when you could easily come up to be with them, I'm going to miss when you come in from outside and you knock me in the legs until I take your muzzle off ,but most I'm going to miss you not being at the door waiting for me when you hear me coming home from work. Mario, as your years went on with us sweet boy you aged gracefully and I had planned to gently guide you into your senior years as you would have been 10 in March but, it wasn't meant to be. Dear Mario, I hope we provided you with half the happiness that you gave us over the last 8 years. You will share the special place I have in my heart with Sophia and Kick and your memory will be with me forever. Run free my sweet boy Run free…………until I see you again.
Tommy (KR Tom-a-Hawk)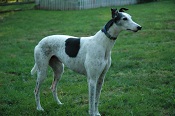 7/28/02-1/19/13
Today we lost our best friend, Tommy (KR Tom a Hawk). Tommy finally succumbed to Osteosarcoma. He was a true fighter up until the end, but the pain caused by the weight bearing on his front left leg became too much for him. Tommy crossed over peacefully at our home surrounded by his best mate Styx, and beloved sisters Gracie and Abby. Tommy will be met at the Rainbow bridge by our beloved Kelly whom he greatly mourned after her passing in 2009. Tommy was my first boy dog, and best boy ever. I would tell him so everyday. He was always a happy boy! He loved children and was a true ambassador for GEGR at all events. He loved my wife more than anyone else in the world. He would wait for her to come home from work at the front door, sametime, everyday, without fail. When we brought Styx home last year, we were afraid Tommy might attack him because he really didn't care for small dogs or other breeds. But Styx took to Tommy as his protector and mentor. The two of them became inseparable. Today there is an aching lonliness in our hearts. Tommy will be greatly missed by all that knew and loved him. Run free my best boy ever! And remember, we never cared that you didn't make the grade at the racetrack, you were meant for a better life with us. Forever in our hearts, until we meet again... Daddy's Best Boy Ever!
Boo (Taboo Daboo )
12/1/2005 - 12/27/2012
She was the most beautiful girl and always so happy. She jumped off the haul truck in November 2007 ready to embrace the world. Boo was such a sweet pup head that I failed (again) as a foster mom. She became my best M&G dog because she never met anyone who she didn't love. Unfortunately for her, though, her beautiful body failed her on more than one occasion. In June 2009, Boo had a devastating stroke, which completely paralyzed her left side, from her eye to her tail. For several weeks she laid on a special bed as I cared for her, turning her every several hours, helping her eat, cleaning up after her. Her type of stroke had a 50% chance of recovery, but Boo's indomitable spirit, and her mortification of going to the bathroom on herself, were enough to pull her through. Within several weeks, I was able to carry her outside and stand her up so she could relieve herself - when she would fall over I'd pick her up and carry her back inside. One day while the other dogs were outside, I decided to let her out to be with them. They were chasing each other around the yard, and as soon as I put Boo down, I watched in disbelief as she took off after them! True, she was only able to go a few strides before she fell over, but I knew then that she would make a good recovery. Boo was gimpy on her left side, but that never slowed her down.Last summer, Boo broke her left front leg. The vet kept looking for signs of cancer in that leg, but nothing definite was ever seen. She lost a lot of weight and began limping, then refusing to use, her left rear leg. I fed her a cup of the satin ball mixture at each meal, and she began to gain her weight back. When they removed the cast in October, she used her rear leg again. But several weeks ago she stopped using that leg and began losing weight. The cancer was in the knee and the tumor had doubled the size of the knee joint. She crossed over today, she went quickly and joined her friends and brothers and sisters at the Bridge. My Boo, sweet Boo. Susan
Winny (Hallo Winable)
4/8/2005-12/25/2012
We first met our precious little girl July 9, 2006 along with pretty Patsy. We took a long time deciding who to bring home to Virginia with us. Winny had been picked out for us...a quiet little girl for the old folks but Patsy looked like the first Greyhound I had ever seen in 2006. So, after many hours at GHC we came home with both girls. Something happened to the shy quiet little girl as she became our wild child. She managed to get hurt several times and was always sticking her nose where it didn't belong. She loved running and continued to run laps every time she was let out. She was always bringing toys to me so we could play tug of war. Zoomies in the house were her thing any time of the day, much to the dismay of the other pups. And yet, there were quiet times with her. If I wasn't feeling well she would snuggled up next to me on the couch or if I was at the sewing machine she would curl up near me. Along the way, we adopted Murphy and 16 months ago we adopted Pippa. Pippa and Winny were running buddies. I always thought that Pippa would help Winny to stay young and we would have her for a long time. Little did we know that, for some unknown reason, Pippa would viciously attack Winny as I was watching them walk towards the deck to come in to eat their breakfast. Dr Leonard and Dr Alexander worked on Winny and managed to save her life so we could get her to 24 hour care. Over the next week we watched Winny improve and had great hope that our precious pup would make it but the last 2 nights we went to visit her she was not herself. We laid with her while she crossed over the bridge Christmas night. Our sweet little girl is no longer in pain after valiantly fighting for 2 weeks. We are so lucky to have had almost 6.5 years with this crazy red head and she will be missed every day. I now have experienced what so many of you have and now understand how much hurt you have gone through. We have never been attached to a pup like we have to this little girl. Mickey and Bob
Dexter (Myoki Dan)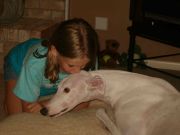 Aug 2000 - May 2012
I've been meaning to send this for a while, but it's been too hard to sit down and actually do it. I wanted to let you know about the passing of a treasured member of our family - Dexter (My Okie Dan) - this past May. We adopted him from Greyt Expectations in the summer of 2002, from Deb Johnson, and he was with us for 10 years. We left Lexington Park in 2003 and moved to Virginia Beach where Dexter continued to enjoy a pleasant, healthy, and fun life. He loved his back yard where he would run laps through his little home-made circuit, and looked forward to his daily walks around the neighborhood, where he would visit his favorite smells. (My daughter called him Mr. Sniffy.) He was a fun-loving, silly dog who enjoyed chasing us, running with his football, singing along to the violin, and laying in the yard on warm spring days. There are too many funny stories to tell, like the time we were on a walk and the leash slipped out of my hand. As I reached to ground to pick it up, he must have taken my motion as a signal to play and off he went...at 40 mph. I didn't know where he would end up, because I didn't think he knew the way home. I followed as far as could, but then had to give up and run home (to begin a search). But there he was ...standing at the front door, waiting to be let in. It was, at the same time, scary, stressful, and funny. That was Dexter. Unfortunately, this spring Dexter lost a hard battle with osteo-sarcoma. For a while, we thought he might recover and adapt to the loss of one of his back legs. He did fine for a while. Getting up, laying down, and walking was hard. But running was easy...and that seemed just fine to him. But he was 12 years old, and it was just too hard for him in the end. We loved him and miss him more than we can express. He was a faithful companion to my daughter and a true friend to me and my wife. This dog was the sweetest, most gentle creature I have ever known. So kind and unconditionally loving was he, that he reaffirmed my faith in God. Creatures like this could not have been created by accident. He will always keep a special place in my heart. Thank you for the opportunity to have known him. Kevin
Tepi ( Sobe Marco)
May 27, 2002 - December 5, 2012
Tepi, our great and true friend of over 7 years, asked for permission to leave us and his remaining greyhound mate, Nefi. The fifth greyhound to adopt and care for us and the fourth to leave for the Rainbow Bridge, December 5, 2012, was our only male. He came to us at 3+ years old under his "track name" of Sobe Marco in October 2005 and joined Cleo, the grand dame at 5 years, and Nefi at 2+ years old both from REGAP of CT. His stable mates had both been re-named by us reflecting their Egyptian heritage, so it was his turn and he became "Amenhotep III" or Tepi for short. Beautifully cared for and primped with spit and polish by Heather Couvillon, he left his sister Macey with Heather his foster Mom. Upon embarking from our car, he went exploring through the garage and out on the pool deck on the way to the dog yard for "travel relief". Deciding to cut across the pool (it had a heat insulator floating on top) he sunk through the cover, and had to be pulled out! Quite an entrance! We got him dried off before he met the "girls". As soon as he entered the house and the introductory ritual was performed, he began the male rite of "marking" his territory. He almost got named "Sir Marksalot" as a play on his track name. Tepi was the "lover" of our "gang", rushing up to greet whoever came into the house, nuzzling and rubbing them until he got their attention and permitting "ear massages and petting" for at least 6 hours at a time! He never learned to graciously navigate a set of stairs, preferring to cover them in 3 jumps, but proved his usefulness to the girls by teaching them to bark and dig holes in the yard. We love him and miss him, and the others who have gone before, immensely. His remaining stable-mate, Nefi, now 10 years old, has taken over barking at the deer, security functions, and keeping critters away, as Tepi has taught her. Thank you for "loaning" Tepi to us! Jane and Stover
Dotty (Blot)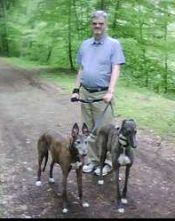 4/21/02 - 11/20/12
She was a very sweet girl with a fun-loving personality who loved sitting on the couch with me to watch TV. She would lean her head on my upper arm and look at me with loving eyes; follow me to the living room and lay down at my feet. Being a retired brood mom, everyone knew better than to surprise her while sleeping or you were likely to lose a little skin!!! She made the den couch her own and rippled a lip anytime Rascal came near just to remind him it was HER couch!!! Of course I 'rippled my lip' whenever I wanted to sit on the couch and she graciously would move over. She will be profoundly missed. She was 10 1/2 years old and was going to celebrate her second anniversary with us December 1. Claire
Ringer (Freeride Ring)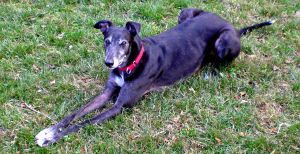 9/2/2000 - 10/6/2012
Ringer. The Ringmaster. Ringerman. Mostly, I called him Buddy because he was my buddy. He was our first greyhound and he wasn't the one we went to meet. We thought we were going to get a young female. We were encouraged to bring our other dog, Toby, to be sure they were compatible. Toby and Ringer hit it off immediately. We looked at the young female, but Toby kept going back to Ringer. Toby made the right choice. Ringer was perfect for us and for him and our two cats. I think we were a good fit for Ringer as well. He could express happiness better than any dog I've ever known and it was so easy to please him. Just greeting us after we had been gone for a couple of hours. Getting a new stuffie that squeaked. Going for walks. Playing with a ball. Chasing Toby. Food. Treats. Standing in the fountain. Meeting people. The beach. His bed. A roadtrip. A warm fire. In other words, he loved life! and he loved us. I told Lisa greyhounds should come with a warning label - you will love me more than you can imagine and I will love you back a thousand fold. We will miss him forever, but, mostly, we are so grateful to have known him - a gentle, happy soul.
Sidney (Emerald Casino)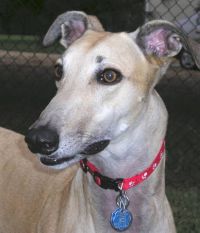 June 1999 - Sept 2012
I wanted to let you know that my Sydney has crossed over that Rainbow Bridge! He was such a trooper....He was 13 years old...Born on June 11, 1999 and ended his journey on Sept 3, 2012. A super crazy long life for a greyhound. He was full of love and shared love at alot of therapy dog visits. We visited hospitals, libraries with the "Paws for Reading " program, nursing homes, special events at schools. He was such a gentle BIG boy!! We also walked our neighborhood every day....everyone knew Sydney because of the Thera Paws boots he would wear because of his corns. He will be missed !!
Abby (Count Me There)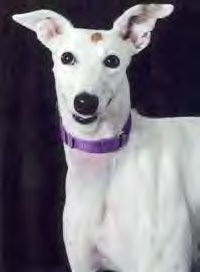 June 5, 2001 – August 28, 2012
Abby, Abby, Abby Abby, racing name "Count Me There" came to us, her third and forever, forever home. We fell in love with her petite little self, adorable ears and that funny overbite. Abby loved running, and when at events at GHC she would run with the big boys and we'd have to catch her and put her in time out or she would run her heart out! She was always a good girl, never gave us a problem. She did figure out somehow, that getting on the couch when we weren't home was a cool thing to do. We would catch her sometimes, and in the last couple of years we just put a towel on the couch when we went out because we knew she would be on it when we left. She had her 'parter' Riley until October 2010 when Riley left us for the bridge. They were great friends and such good company for each other. In November 2011 we got Housey and she was happy to have another 'partner'. Her appetite perked up as well, so we knew that we made the right decision in adopting Housey. We really thought Abby would escape the dreaded osteo and live to be a dignified little old lady. We miss her so, as well as her partner Riley, but they are together waiting for us now.
Celleigh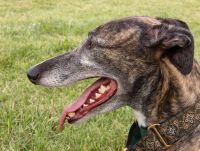 April 2001 - August 2012
It was a wonderful 9 years. Celligh was 2 when we adopted her and filled our lives and hearts with laughter. She was an animal-assisted therapy dog for many years working at the Domestic Violence Center of Howard County as well as Sheppard Pratt with my clients. She loved children in general but was an excellent friend to many of my clients with Autism. She really enjoyed chasing armadillos at my parents ranch in Florida where she spend many summer days sunning herself in the grass. A great many of people loved her across the country, from the road trips to see family in St. Louis and Texas to the historical re-enactments she attended with us as far away as Ohio. She lead a full and adventurous life and we all greatly miss her. Thanks for helping her become part of our family.
Tony (PS Tony)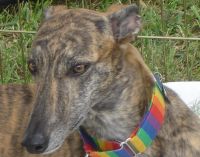 December 2002 - August 2012
We said goodbye to our beautiful brindle baby girl, Tony, on August 13, 2012 after seven wonderful years. We brought her into our family in August of 2005. Our miniature labradoodle, Docker, was thrilled to have a sister, and for the first few months the two would engage in play fights that made us fear for our furniture. Tony quickly decided that the household should revolve around her. For a while each day she would patiently follow us from room to room, upstairs and downstairs. Then she would decide that enough was enough and plant herself in one of the rooms or at the top of the stairs and demand that we join her wherever she wanted to be. It never worked, but she never gave up trying. She loved people, but didn't care much for other dogs (except, of course, for Docker and Rita, our second greyhound). This made walking her a challenge, because she was always on the lookout for other dogs invading her turf -- which included pretty much everywhere in the known universe. We adored her, and it is hard to imagine life without her. We were lucky that she was healthy right up to the end, When her health started to fail, it happened quickly and she didn't seem to suffer much. I'm sure that no matter how much time we have with our pups it can never be long enough. Thank you, Tony, for sharing your life with us.
Foxy (Mx Foxy Flossy)
November 2004 - August 2012
On Aug. 8th we lost our beloved Foxy. She, like all greyhounds, asked for nothing but to return love for love. She started having siezures about 4 years ago, but it didn't change her personality. We loved her and she loved us back. We will always remember her and our first greyhound Reese, we miss them greatly.
Allie (GF Faith)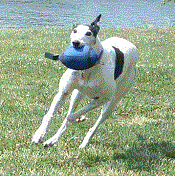 4/28/01 - 7/18/12
Osteo took my sweet girl. Allie, your family loved you every single second of every single day. 5 wonderful years with you just wasn't enough. I'm glad I was able to help you to the Rainbow Bridge today. Run free my beautiful angel.
Rosie (Tsr's Ms Chaos)
March 1998 - July 2012
Rosie came to GEGR when she was 9 years old. She had been a broodmom and has enjoyed every minute of her retired life! If you ever think twice about adopting a senior hound think about Rosie - it will make you smile!
Phoebe (Joe Says Today Girl)
Phoebe, that I adopted from Monica's Heart Greyhound in Altoona, PA, in 2002, passed over the Rainbow Bridge yesterday morning. She was 12 and 1/2 years old . It comforts us that she was able to enjoy her life right up until the end. Not a bad way to go.... Phoebe was a big part of our early success with Greyt Expectations rescue. She was such a playful clown of a girl and nearly everyone who came to adopt from us asked if they could adopt her instead! She was the best advertisement a group could have had, along with her goofy 'brother' Reuben. We will miss her terribly but know that she fulfilled her mission in this life and left a happy place in the heart of everyone who met her. Deb Johnson
Tagger (M's Taylor)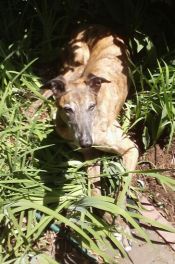 5/3/2001 to 5/22/2012
I've had a few days to process Tagger's passing and I thought we would share with you all what a wonderful sweet and loving dog he was. We use to have a saying - The world won't change because you save one dog... you know I think that dog helped save me. When ever I felt like I needed more out of life Tagger was there to keep me grounded. He was so happy when my wife and I came home he would jump all over the door and would scratch it up but we did not care. We miss that so much. All he wanted was for us to pet his head and sometimes he would stick his nose in my pocket if he did not get enough attention! His brother misses him too. Thanks for all the love Tagger.
Nell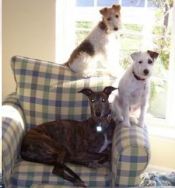 Nell crossed the Rainbow Bridge on May 19, 2012. She was a brindle girl with attitude and managed my household and my life. Robin, my other grey, and I will never know when it is exactly 6:21 am - everyday - because Nell is not here to wake us up. Robin will never get fed on time because Nell could count the clock chimes and start bouncing, thumping and poking me to tell me it was five o'clock and dinner time. My rugs will never have another pee spot because I was 10 minutes late coming home. Nor will there be uneaten crumbs left in her favorite bed because eating crumbs were beneath her. The compounding drug store will go bankrupt because I will not longer need meds made just for her. But most of all, I'll miss her beautiful white face and deep intelligent eyes telling me she loved me and to hurry up with dinner.
Mickey (Sobe Mickey)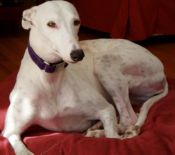 May 27, 2002 to May 16, 2012
Mickey chose my husband Chris eight years ago. When we first met her she had bright pink toenails - she looked like a female bodybuilder! She was the perfect companion for our whippet Devo, who's a worrier. He started taking her cues and he was a calmer boy now that he had a buddy. Mickey's one mission in life was to be petted. She would put her head under your hand, or your elbow, whenever she could (she had a lot of coffee spots on her head from doing that to us at breakfast!) We thought that she would get over that once she realized she was home, but I think she figured she had a good thing going! That neediness made her the go-to girl at meet and greets. Lots of people wanted to adopt her because she clearly didn't get petted enough (ha) - and she always got lots of donations for GEGR. Mickey was not a champion racer. Of the six races she had at the track, her best finish was sixth. And it makes sense - she was such a pack dog, and not competitive at all. I'm sure she got out ahead and then slowed down to be with the group. She also ran like a clown - legs everywhere, not graceful at all. Adorable! Mickey was with us in Springfield for five years, until we got assigned overseas to Ethiopia. She was a trouper. Of course, it helped that in Ethiopia we had a gardener who brushed her for a half hour each day and then made sure her bed was always in the perfect spot in the yard, with some sun and some shade. She was spoiled rotten. Two months ago we found two types of cancer in her leg, and though we did all we could, it did not respond to treatment. Mickey was such a loving, kind sweetheart, and she left us too soon. Abby and Chris
Tina (Miss Ernestine)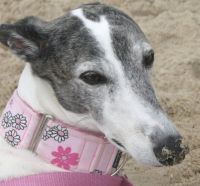 5/22/2002-04/27/2012
Tina was such a happy, silly little creature! She made everyone smile with her funny little nose that always twitched to one side and her huge bunny ears that would pop up when something was really interesting. She really loved life and that positive vibe just filled my days with joy. From the time she would wake me up in the morning by stomping on me and snorting in my face and literally trying to dig me out from under the covers to at night when we would get in bed and she would crawl down under the covers to sleep. She was a big time snuggler and kisser! Always had to be touching and cuddled – she was so precious. On our walks around the neighborhood if she saw someone that she wanted to say "hi" to, she would stomp her feet and give a little "roo" so that they would see her and come over. She loved the snow and the beach – a lot! So much that early on I knew I needed to get her a harness. She would get so excited that she would jump and completely spin around in the air – she was such a crazy little thing! I was so lucky have had her in my life and now she's with so many of her friends who have gone before her, running free at The Bridge. Until we meet again Baby T……………. I will always love you……………………Sara
Ladd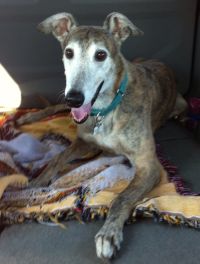 1/22/2000-3/2012
Remembering Ladd I first saw Ladd on the Greyt Expectations website about 8 years ago. He was not available for adoption at the time because of medical issues. It seems his story is too long to tell, but I will give it a shot. Ladd never really raced because his feet were raw and bloody. I don't think he received any treatment at the track and was just left in a cage. A very special worker at the kennel, Anita W., fell in love with Ladd and took it upon herself to make sure he got into an adoption group and found a home. If I remember correctly, Anita would get in the cage with Ladd love on him. Thank you for that Anita. Anita found a very special adoption group for Ladd, Greyt Expectations. They did not hesitate to take Ladd in despite his undiagnosed illness. The group provided medical treatment for Ladd to start him on the road to recovery. Joan and George Nussberger agreed to foster Ladd and lovingly soaked his feet, gave him countless medications and did extensive research on what Ladd's diagnosis might be. Months of antibiotics and foot soaks did not offer much improvement. I followed Ladd's story on the website, but Ladd wasn't available for adoption. I went ahead and applied to adopt him anyway. There was something about those eyes and that face... I knew he was my boy so I offered to foster Ladd and he got to come home with me! From that day on, my life was forever changed by Ladd, the hound with the sweetest and most gentle soul in the world. Once Ladd was home with me (and Ron), we took him to our vet who saw his feet and instantly said "that's his immune system". He put Ladd on Prednisone and in a few weeks Ladd's feet began to improve. Over the years, immune suppressents were added to Ladd's medications, and for the most part, he stayed in remission for the past 7 -8 years. For the past 8 years, Ladd has been our companion and my best friend. I've often described him as my soul mate because we had an unspoken love and understanding of each other. If I had a bad day, all I had to do was touch Ladd and I felt peace. Ladd never demanded anything and appreciated everything. I know we all think our dogs were the most special, but Ladd really was different. Those who had the pleasure of knowing him can attest to that. In Nov. 2010, we found out that Ladd had thyroid cancer. Our vet removed an ugly mass from his throat and the tests showed that the cancer had already started growing into Ladd's esophoghas. We were blessed to have Ladd in our lives until 12:45 am on Thursday, April 19th. I am the most blessed person alive to have know and loved Ladd. Now, my heart is breaking and my world is empty without my boy. Everyone says that time will pass and it won't hurt so much, I hope that is true... To Ladd: You were the best boy in the world, my friend, my companion, and my soul mate. I love you more than words can express. Run free and be happy my sweet boy with the gentle soul and I'll see you on the other side. Wait for me Laddie, I'll be there, I promise. Joan (& Ron) Dillard
Big Red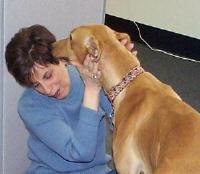 8/12/2000 - 2/29/2012
Red was a one-of-a-kind Greyhound. When I met him for the first time at the NGAP Kennel, all he did was kiss me through the crate and want to be petted. When they let him out of the crate, instead of heading down the aisle to the door to be let out, like most of the dogs do, he immediately put both of his paws on my shoulders and started kissing me all over my face. That sealed the deal for us. He was the first Greyhound that practically sat on your lap and then snuggled under your chin when he got next to you on the sofa. What a love-bug!!! He was a fantastic Greyhound and there wasn't a person he didn't like, especially kids. Everyone commented that he always had a smile on his face. I've always said if they were all like Red, I could easily have a dozen in the house. Rest in Peace, my beautiful boy.
Grant (Iruska Kenny G)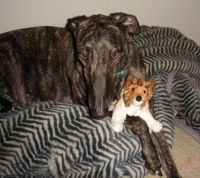 7/16/2002 - 1/21/2012
Our beloved Grant, that we rescued from GEGR 6 years ago had to be euthanized last Saturday evening due to a sudden and very unexpected femur fracture caused by Osteosarcoma. Grant was the absolute love of our lives, as well as that of our 10 year-old female, Destiny, and his absence is painfully felt every minute of every hour of each day. He was pure joy.....we loved him so very much; he was so happy here and was the most unique, loving dog we've ever known. He possessed the sweetest, most gentle disposition. Even at 9 years old, he always exhibited puppy-like behavior in all of his mannerisms. I am so very grateful for the 6 years he gave us and know that the decision we made, albeit excruciating, was the right thing to do for him. When the time is right, we want to adopt another male and will come back to Greyt Expectations to do so. We are also grateful that we were with him through every second of this ordeal and brought him back with us that night to his forever home to be buried in a place of honor on our 20-acre property in a place in front where we can see him from every window in the house which is the place the sun comes in during the day to symbolize the extraordinary bright light he brought into our lives. When Spring comes, we will plant a special dwarf red cloud dogwood tree in his honor and have it illuminated, along with a greyhound stake. We are so very sad; please keep him and us in your circle of prayers....
Albert (Solitary Albert)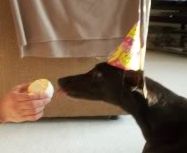 8/25/03 - 1/25/12
We made the painful decision to send Albert to the bridge tonight where he can be reunited with his leg and free from any discomfort he was feeling here on earth. We are absolutely devastated and are left with an massive void in our life right now. Albert was such a special, unique pup. He overcame so many obstacles and had such a zest and spark in life. Through the good times and the bad, he knew he was loved. We only hope that we gave him the best retirement a grey could hope for. Run free, sweetheart, until we meet again.....
Crow (Verbull)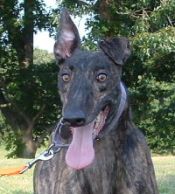 February 2003 to December 2011
I have always been around or owned a dog, but none as been as gentle, and instinctive as Crow. He seemed to have a slightly different relationship with each of us. He became a great younger, big brother to Shuger who has become so much more confident just having Crow around. The vet warned us to watch her as she is 12 and has trouble seeing and hearing now. She went everywhere with Crow and layed with him all summer while he nursed his leg. Thanks so much to Greyt Expectations for the gift of Crow. We will always remember that Crow was not the cutest dog with his broken ear and half tail but for us it added to his charm. He was a frequent visitor to children's church where he participated in several object lesssons to the children's delight. My son will miss his bed buddy and I will miss my walking partner. I know that he is in a better place and doing what he wanted must to do, run. So run sweet Crow and thank you for all you gave to our family. Know that you will always be missed and never fogotten. Carroll, Chris and Melvin
Jammers (Ohk Slam Jam)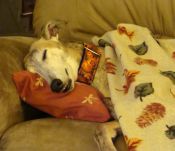 January 2000- November 2011
Jammer came into our lives on June 1, 2002. It took a couple of days to a week for his "true" personality to shine, but boy did it. Soon he was twirling in the living room and roaching on the coach. He had a remarkable sense of time and every night at 8 pm he would trot into the living room and stick his nose right in my husbands face for his bone. My husband, Scott, would say it was his tummy clock going off. He also loved popcorn. As soon as the first kernel would pop, he would come running into the kitchen and stand there looking at the microwave. We had 9 great years with Jammer that I wouldn't trade for anything, he was my baby. I will miss our morning snuggle times and will listen for the sound of feet every time popcorn is being made. Your mommy and daddy love you.
Dazzle
April 2003 to October 2011
She picked us out at the picnic five years ago. While I was orienting Misty to the enclosure, Dazzle came up and placed her head in my hand. She followed Misty off and on throughout the day and finally won a ride home with us on a trial basis. It did not take any time for us to permanently adopt her. Over the years she has been my problem child. Twisting a toe and having to wear a splint for weeks. Turning up her nose at most dog foods. Bouncing constantly on her hind legs to get attention. Always pushing Misty to the side when it came to loving, we called her fondly," Me Too". Always letting us know when someone was at the door or when the storm was coming. She had so much energy I took her to obedience training and agility too. All were impressed with how friendly she was. Who could ever forget that little black dog with the flopped over ear.
Bobbi (Bobby's For Keeps)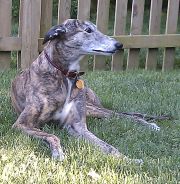 2/8/2002 - 10/10/2011
Our sweet girl crossed the bridge today. After several visits to the vet and a month or so of limping, she was diagnosed with Osteosarcoma this past Friday. Unfortunately, she started to decline fairly quickly and we made the decision to let her pass today with the help of Dr. Donis' staff. ........ After Bobbi arrived at GEGR, the following Monday Diane told me she had just the dog for us. At the time, I was the only one in our home who loved Greyhounds, and had been repeatedly told by my husband that our home wasn't big enough for one. As it happened, my birthday was around the corner and he asked me that night what I wanted. I pulled out the profile of Bobbi from the site, and was firmly told no for the umpteenth time. Unbeknownst to me, he got in touch with Diane a day or two later. Bobbi was waiting for me at the door that Friday afternoon with our little ones when I got home from work. I was told it was a trial run but she never left. Her sweet, quiet ways made the rest of my family greyt fans for life. While we hoped to have her much longer, I'm forever greytful that she joined us. She was well loved by us and all of our friends. Thank you GEGR for our girl and extra special thanks to Diane and Ted and Cindy Ski for guiding us through the ropes with our first Greyhound. She won't be the last but she will always hold a special place in our hearts. Run free sweet girl. Mommy loves you.
Tivo (Acktur)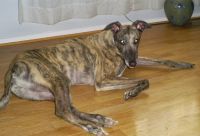 July 2004 - Sept 2011
The life of Tivo: He was a funny Greyhound and my first that I ever adopted. I was proud to call him ours because he quickly took to Luke (black lab) and our family. We all became instant best friends. The first memory that I have of Tivo was when we went out to Lusby to pick out a Greyhound. Luke met every Greyhound that was there and I was starting to get concerned that Luke would never make friends with a Greyhound...I was wrong. Tivo came in a little late and as soon as he came Luke and Tivo hit it off. Tivo instantly started herding Luke and they just kept running around the field. This bond continued to grow between them. We have a fenced in back yard and they would go outside and just start running together and chasing balls. Tivo would always be the first to the ball and that would make Luke upset...he always tried to beat him. Sometimes they would bring the running indoors and that is when you thought the house was going to fall over because of the constant chasing back and forth. I was always told that Tivo had an interesting personality for a Greyhound. They could not believe how hyper he was for a Greyhound. I would tell them that it was probably Luke's fault...but I really think Tivo brought the silliness out in Luke. Tivo loved going for car rides and also tearing apart his stuffy toys. They (Luke and Tivo) would also tear apart doggie beds...thank goodness PetSmart has a return policy. I know that Tivo had a good, albeit short life, off of the track. We gave him so much love and he will truly be missed. I am still finding the strength to cope with his passing, but I know that we did the right thing. Tivo was around for the two births of our sons, Wyatt (3 years) and Thomas (19 months). Tivo loved the boys and would always want to be around them. I know that Wyatt (my oldest) doesn't understand where Tivo went...but I told him that he is running around on the clouds up in the sky looking down on him. Tivo will always be in our hearts and we thank you for bringing him into our lives. The Stanton Family
Dixon (LR's Dixon)
4/18/2002 - 8/29/2011
Monday was a very sad day for us. We had to let go of our precious Dixon. We had found out about a week after our 5th Anniversary that Dixon had bone cancer in his right shoulder.We take great comfort in knowing that he gave us very special memories, lots of laughs, and love. Dixon's Family The Walshes
Bandit (Twister Bandit)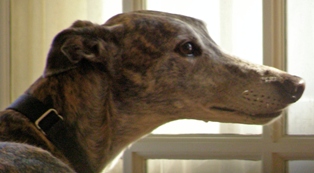 November 1998 to August 2011
Bandit brought such an indescribable wealth of love and kindness into our lives. We miss him dearly and treasure every memory of him. Thank you for bringing him to us.Alanna
Chaos (Erdos)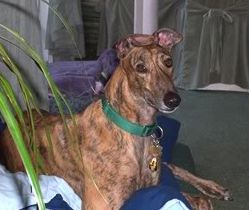 10/17/2000 - 7/26/2011
Today GEGR lost a very special dog. Many of you that adopted a pup that came to GEGR injured, ill, or needed special 24/7 care was most likely fostered in our home at one time or another. Ted and I realized early on that he was a gentle and loving soul. He would guide and gently nudge his charges teaching them the joys of retirement and how to behave. He had such patience with a "normal" foster and earned the nickname The Professor. He had the patience of a saint when we fostered Betty Boop. She really tried pushing his buttons. Around Christmas in 2006 we began to care for an injured GEGR greyhound Finnegan fka "Chasmos Dude". He sustained a severe spinal injury and had surgery to remove a blood clot in his spine after which he came to our home to recover and rehab. It was at this time we discovered just how special our sweet, gentle dog was. As fearful as he was of our kitchen floor, he came into the kitchen where we kept Finn in an ex-pen and laid down on the floor in front of it. He did not move from there for three days. We brought a bed over in front of Finn's ex-pen so he would be more comfy while he watched over his pal. We saw this nurturing behavior over and over again with our most sick and injured foster pups. Ashley, Cosmo, Bobby, Finnegan, Crackers, Lucas, and of course Lava. I know all of our dogs are special. But many of you have dogs in your homes that you can love, kiss and cuddle that our Mighty Chaos kept watch over. We will miss our beautiful, brindle boy with the goofy ears. Our Mighty Chaos. You were not only special to us but also to many of the GEGR hounds that you helped along the way. We love you always. Ted and Cindy Ski
Dancer (Algoa Lil Dancer)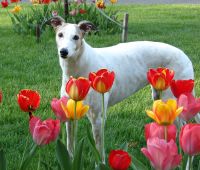 June 1, 1999 - May 23, 2011
Dancer was what they called a "personality plus" greyhound who had a purposeful voice and even though we didn't quite speak fluent greyhound, she had us perfectly trained to know when she wanted to go out on the deck to lay in the sun or when it was time to go for our daily walk which was her most favorite thing in the world. She also knew the exact moves and vocals needed to make us fetch cookies for her from the treat jar in the kitchen. Probably one of her most unique characteristics was her uncanny knack to recognize the sound of a spoon scraping the bottom of a bowl of ice cream (even if she was on a different level of the house). Apparently scraping the bottom of a bowl of uneaten vegetables does not produce the same sounds and she clearly knew the difference! She single-handedly embellished our bedspread with dog fur as she was a true believer in the theory that 'everything is better with dog hair on it.' She had a penchant for snuggling on days you were wearing dark clothing and were probably headed to a meeting. I considered it an outward sign of her love and affection when I'd go to work with what I called evidence of a 'Dancer hug.' She really was full of life and brought us 'greyt' joy for the 8 years we were lucky to be her parents. She would have been 12 years old on June 1 and while we were hoping for her to make that milestone we take comfort in knowing that we were lucky to get to love her and hope that she's walking, running and sunbathing to her heart's content without pain or disability. Art and Janice
Sophie and Katie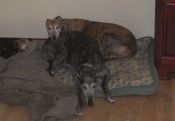 It is with deep regret that I must inform you of the passing of our wonderful Greys, Sophie and Katie. Sophie was 11, Katie was 12. They both touched our lives in ways that we never expected and will never be forgotten, and never stop being loved. Sophie came to us in spring of 2002 after our vet advised us to adopt a 2nd dog. Our Spaniel mix pound-dog, Shadow, suffered from separation anxiety and would tear up our house whenever it rained and we were not home. The vet said that getting a dog for our dog would help keep her calm. Instead of buying one from a pet store, we decided to look for one in need, which led us to greyhound adoption. Greyt Expectations was one of only two that got back to us (the other being from Boston), and after talking to Deb Johnson several times I knew we would be getting our Greyhound from her. At the time she had two Greys available, a tuxedo girl named Bonnie and a black brindle named HLM's Heather. Although Deb recommended Bonnie because of her outgoing personality (and the fact that Heather was very shy... maybe too much so), our feeling is that the dog should adopt us rather than the other way around, so we kept an open mind. After a nearly 6 hour drive, we arrived at Deb's house and were greeted by her, her family, and a hoard of Greyhounds at the front door (I think she owned 5 or 6 of them herself). Fighting through the crowd and squeezing through the front door to greet us was Heather. Throughout the rest of the afternoon, Heather wouldn't let us out of her sight and would wedge herself between us and any other dog that strayed over to say hello. Deb was shocked and said she'd never seen anything like this before - she couldn't believe her shy Heather became so possessive of us, as soon as we arrived. I believe she was not shy at all, but was simply waiting for us to show up during her time with Deb to take her home. When we arrived that day, the look on her face was "Yes! They're finally here." The planets really lined up to get this Texas / Florida racer that was fostered in southern Maryland to our home in NJ. But it was meant to be. That day Heather became Sophie and started her new life in her forever home. The following spring, Shadow developed mammary cancer and was put to sleep on July 2nd, 2003 (ironically, the same day Sophie would pass 7 years later). Sophie, who had really bonded with Shadow, stopped eating and became extremely depressed. After speaking with Deb Johnson, she recommended we get another dog to help her (a dog for our dog that we got for our dog...). She made a special arrangement for us to adopt directly from the racetrack in Seabrook, NH to speed up the process. It was there that we met Chris Makepeace and all the dogs in her kennel. Although many had wonderful, outgoing personalities, two were too afraid to leave their crates without being pulled out. Iris thought that our home would be the perfect environment to rehab Ethyl, a beautiful chocolate colored Grey that had special needs. We have no children (read: quiet house), and had an already established Grey to show her the ropes. So Kayla became Katie and made the drive back to NJ with us that day to start her new life. Although Katie had a difficult time dropping her fears around me and other men, she immediately formed a special bond with Iris and Sophie that would last the rest of her life. She warmed up to me as well over time, and saw me later as her protector (she would hide behind me whenever she got stressed). Katie's quiet, understated way would become to polar opposite of Sophie's loud, boisterous personality. Sophie shed her greyhound ways and became an absolute klutz, consumed by her enthusiasm. Katie would never fall from grace or lose her cool. I always say that once in a lifetime, you get a pet that is just a little more special than the others. It doesn't mean you love the others less, but just that you connect with that one a little deeper. Sophie was that pet for me. I still see her smiling face out of the corners of my eyes as I walk through our house. On the other hand, Iris says that Katie will probably be the best thing we ever do in our lives - we took a tortured soul and gave her the love she never had, and the security and stability so needed so badly. But as we all know, it wasn't a one way street. Sincerely, Brian Killian Iris Roseman
Dixie (C's Chico Maggie)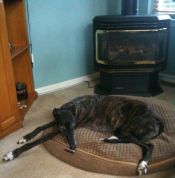 March 2002 - February 2011
I adopted Maggie 8-7-04 from greyt expectations. Once home we changed her name to Dixie. She was the greytest companion. On Feb 10, 2011, just shy of her 9 birthday she pasted away. Healthy up until that day, she suddenly had a heart attack and pasted away quickly. We miss her much. Her brother, Duke, a Great Dane was lost for days. They have been together for 5 years. Attached is a photo of Dixie is her favorite place- in front of the fireplace. Thank you for all you to for this precious breed. Best Alice
Abbott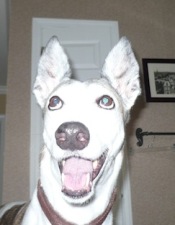 August 1999-March 8, 2011
In August 2003, the most incredibly gentle spirit came into our lives. In fact, when I knelt down to say hello at the Johnson home, he gave me a hug. He even leaned in softly (as if he was worried about putting too much pressure on her tiny frame) when our nearly four year-old daughter hugged him back. My family belonged to him from that day forward. Abbott chose us; we did not choose him. He chose to love us, protect us, comfort us, and fill our home with joy, and for that, we will be eternally grateful. We couldn't have asked for a kinder, more noble, more loyal, and incredibly giving friend. It is with heavy hearts that we had to make the decision to free him to cross the rainbow bridge, but we could not, after all that he had given to us, let him live in pain. It is comforting that he is now with the angels, watching over us up there just as he watched over us here. We were blessed to know him and be able to love him, and we will miss him dearly. Run free, sweet boy!
Tuxedo (Midnight Guzzler)
June 200 - February 2011
Tux was a very beloved pet for both Ray and I, When Ray passed away Tux laid by the door looking for daddy to come home for about a week. He then became very close to me, and that let me know he loved me and wanted to take care of me. He loved to travel in the motor home, and last summer he met two beautiful Greyhound girls from Texas, and they came here to visit him, he was so very happy to see them, and play with them for a few hours. I would take him with me over to Petsmart to get stuff for him, and Tux enjoyed going there and meeting other dogs. I am going to miss him greatly, as he was my four footed love. Here in Arizona I put leather boots on his feet because the pavement was so hot when the sun was shinning, and it was also easier for him to walk on all the stones they have around here. Carol
Ace (Total Ascent)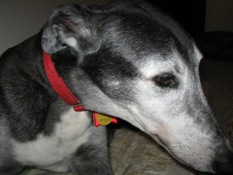 February 1997 to September 2010
We had to help Ace across his bridge the last of Sept. It was very peaceful and I'm glad he's in Grey heaven. We would like it very much if you could put a picture up of Ace as we would like to share that he was such an awesome greyhound friend and companion. A gentler dog I don't think we'll ever know
Cheech and Snickers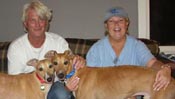 I can remember when we adopted Snickers because I wanted a female and as we were driving away my husband said that we needed to adopt Cheech since they both came from the track together so we turned around and adopted Cheech. I guess they couldn't be parted from each other too long and so they both left within a short time. They are now buried side by side in my yard. I miss them so much. They were very comforting to me when I lost my husband. I know Jim is taking good care of them now and they are running around with him like they use to do here.
Amanda (PS D's Amanda Bo)
5/22/03 - 01/12/2011
Today Amanda went to the Bridge in our loving arms. Last night she was playing in the snow and ran into the back glass door at a full run, resulting in a serious neck injury. She obviously thought it was open. She was cared for overnight at the Leesburg Emergency Vet where she stopped breathing in the middle of the night, and they put her on a ventilator until we could consult the neurologist this morning. The neurologist said this was not really a survivable injury, and so we had to let her go. She was pain free since last night and passed with her head on a pillow--of course! We are incredibly heartbroken and miss her dearly. Amanda was a very, very special dog, and I am not talking about her blue coat. She chose US at the adoption event, and Diane W. said "She just hasn't told YOU yet." Within a week or two she blossomed into the most loving dog imaginable. She was always shy with strangers, cared little for meet-n-greets, and didn't particularly want to be around other dogs (except for Skylar, our brindle). However, with us and our house guests she was very loving, always affectionate, and fiercely loyal. Some of her favorite activities were tossing stuffies, hunting wabbits on her walks, and running in the dog park. She slept in her own bed at night, but in the morning she would hop up and snuggle in between Norman and me. My mother always said Amanda retired and then landed in a honey pot, which means that she won the retirement lottery. I like to think that we hit the jackpot when she came into our life, and we will feel forever blessed. Norman & Deirdre Ellis
Roxy (Unity Betsy)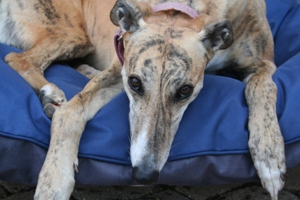 11/14/2002 – 12/19/10
Roxy came into our lives on a hot, summer day in August. I knew the second I laid eyes on her that she was the one for us. She was never a minute's trouble. She was my constant companion, my Velcro dog, my "hairy" daughter. I prefer to remember all the happier days with Roxy because our last ones are just too unbearable to reflect upon. Roxy broke her leg while running in our back yard on a beautiful, but cold Saturday morning. We took her to the 24 hour emergency hospital to have her leg splinted, but in the end, her injuries were just too devastating for her to bear. The decision to let her go was one of the most difficult decisions I've ever made. I loved this dog so much. Never did I ever imagine that an animal could have such a tremendous impact on my life, my family's life. For that, I will be forever grateful to her. I am also indebted to GreytExpectations for introducing us. I miss you my little Roxy and I will love you forever…
Roxy (Cherry Coke)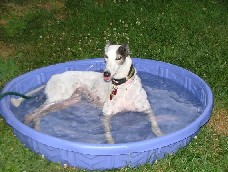 October 2000 to September 2010
Here is a picture of my Roxy...she loved cooling off in the pool!! She had so much personality....she liked to steal your slippers and go run and be in another room with them, she also walked down the hallway with such heavy feet...you could always tell it was her. Plus, she also loved to bark...even at the end....she would bark just to see what other dogs in the neighborhood would hear her. Sydney and she always had such a close relationship, she would stand over him when he was laying on his bed, and just let him smell her. She loved it when he would run and play....she got very excited and ran with him. I enjoyed the 8 years I had her and she shared her quirky self with lots of children with our Therapy work as part of the READ program at our local Libraries and other Therapy opportunities at Nursing Homes and Lots of Meet and Greets. She will be Missed!! Doreen Simcoe
Frankie (Franks Vinex)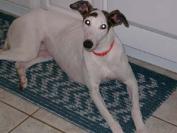 May 2000 to July 2010
When I first got Frankie 7.5 yrs ago she was suppose to be a Foster for a few weeks. She was a bit destructive and not quite house broken. I could not wait to hand her over to her forever family! As that time approached we developed a bond. The day we took her back to Deb we could not leave her. From that point on she was a beloved member of our family. She never chewed another thing in the house nor had another accident. She was gentle, mild mannered, and very sweet. I miss her very much. Mel Donis
Gus (Pk Gus)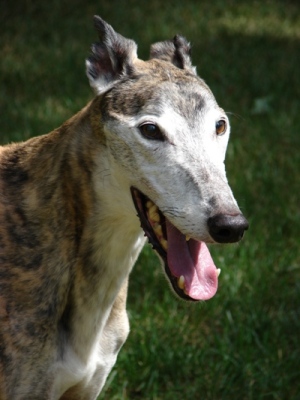 July 1998 - July 2010
Today we had to make the difficult decision to send our beloved greyhound, Gus, over the rainbow bridge. It is never an easy decision for any pet lover but they say you know when it's time and we realized after prolonging it over the weekend, it was time. It was especially difficult for me since he was "my" dog and as I constantly remind Art, the best Christmas gift I've ever received. Gus started getting sick around Christmas '09 and despite numerous tests, numerous medicines and different diets we seemed to only find him some relief but never a cure. Most recently he had dropped a significant amount of weight in just the last two months and then started having frequent trouble walking, getting up and down stairs and even laying down was difficult for him. He back legs began giving out on him and it pained us to watch as he valiantly tried to accomplish what he wanted without letting us know that he was hurting. In the end, even though he rallied several times over the past couple of weeks by trotting around the back yard or even today, playing with one his beloved stuffies, we felt we had to do what was best for him. His spirit was there but physically his body was failing him. Gus truly was the 'Cary Grant' of dogs, always classy and always a gentleman. Every day he brought joy into our hearts and while we're very sad today, we are uplifted by the fact that we got to be his parents and we got to receive his joy, his love and most of all his trust. How lucky we are that fate brought him into our home as a foster dog and our first greyhound Buffy let us know right away that he was a keeper. While Gus' absence breaks our hearts and will take getting used to, we know that his spirit will always be with us, and he will live on in our memories. We just hope now that he is in heaven with our first greyhound, Buffy, and they're both enjoying an unlimited supply of treats and toys with squeakers that never break. Love, Janice, Art & Dancer
'Dominic' (SEs Bet Thefarm)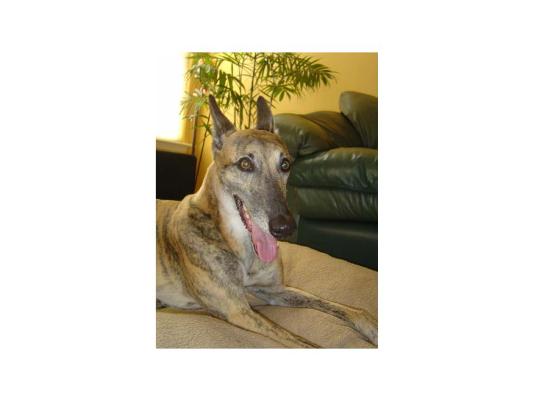 April 12, 1999 –June 1, 2010 A gentle, loving companion…
To my extended family at Greyt Expectations My sincere gratitude for what you do to place my brothers and sisters into loving homes 'Dominic'
Flaming Roy
Jan 2002 to May 2010
We adopted Roy from GEGR in May 2005 from foster Mom, Joy. We feel in love with Roy the minute Joy brought him over to our house. Roy was such a loving and gentle boy, only getting excited on occasion. His tail would spin around in a great big circle during his excitement, which would last all of 10 seconds at a time. Then it was over to us for some pets before laying back down with a great big sigh. He was well loved by our cat Fred, who would rub up between Roy's long legs and even sleep in the dog beds with Roy from time to time. We ended up adopting a second dog from GEGR shortly after Roy; we got a little bouncy girl named Ramona. Roy was so excited to have a play-mate. Roy loved to play frisbee, he loved his walks, he loved being pet, and he loved showing off in front of other dogs - making them chase & chase & chase him around, as they could never keep up with him. He loved playing with Ramona & even loved cuddling up with Ramona (when she would let him). And we loved our Roy-boy so much. We moved to North Carolina last year which brought our pups into an environment of daily walks, which they LOVED. Unfortunately, shortly after our move, around Thanksgiving, Roy started to get very sick. We made several trips back & forth to the vet, and had several rounds of medications & tests done on Roy throughout the holidays & into the New Year. By spring we moved to a house with 6 wooded acres a great big yard & Roy was like a new dog for a good two weeks, running & playing just like old times. But unfortunately, the diagnosis & medication to try to help him came too late - a vet we went to for a second opinion informed us that Roy had cancer in his sinus. We lost him quickly, too quickly. But our Roy-boy was such a good boy, and in his way, he made the choice for us & told us it was time to let him go. Roy was always that way - whatever he could do to make our lives easiest. He is deeply missed to this day. But his affection & gentle manner are always remembered as our introduction to the greyhound breed - we will always rescue greyhounds from here on out. I've attached a picture of Roy chilling out after an exhausting run around my parents' 2 acre yard. Thank you, Andrea & Mike Lesondak
Linus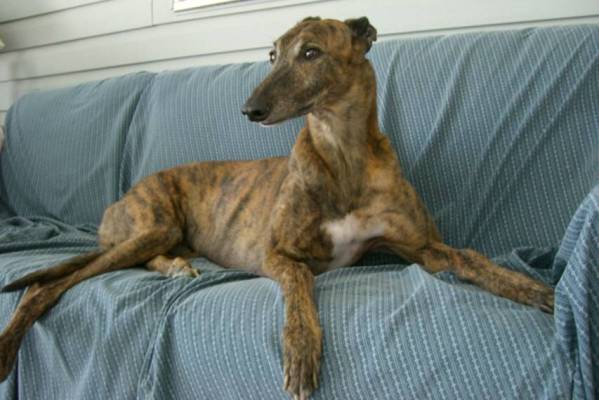 July 20, 2000 – April 29, 2010
This sweet boy entered our lives in January 2003. He had raced in Florida and was rescued by Greyt Expectations Greyhound Rescue. We will always be grateful to Deb Johnson and the folks at Greyt Expectations for making it possible for us to adopt Linus. Linus was a gentle and loving soul. He tolerated the misbehavior of his smaller brothers and sisters. He loved to chase tennis balls, especially if he could beat Jake to getting them. Linus was a love bug and a couch potato. He loved to be petted, scratched and hugged. He would spend hours relaxing on the couch (and you would receive a stare from him if you took his spot). Cancer and swollen lymph nodes that didn't respond to any medications made his last days with us very rough. We will miss him greatly, but take comfort in knowing that he will be playing peacefully and painlessly with his sisters Razzi, Belle and Nina and his good friend Reuben at the Rainbow Bridge.
CJ Justa Swingin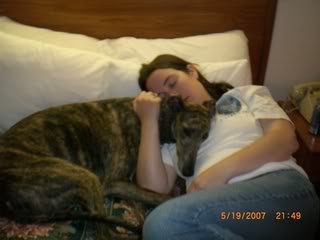 October 2, 2001 – January 19, 2010
I first saw CJ on the GEGR website and fell in love with her. I was in the process of being approved to adopt. My Mom and I traveled 2 ½ hours one Saturday in February of 2006 to meet her. GEGR was having a meet and greet at the Newport News, VA Pet Smart and CJ was going to be there. When we got there, the volunteers found out that I already had an application in and let me in the x-pen with the dogs. All the dogs came up to me and said hi but CJ lingered and gave me lots of kisses. That is all it took and I knew she was the dog I wanted. On the way home that day, I handed the phone to my Mom and she called to get the ball rolling so I could adopt CJ. The following weekend was President's weekend and my Aunt Sandy and I drove the 2 ½ hours to Yorktown, VA to pick her up. When I walked in the door, CJ knew that she was coming home with me. It started snowing on our way home but we made it. CJ was my heart and I miss her still. She always had to know where I was in the house. She had to walk on my right side, eat first, sleep on the bed with me, and lots more. She was a diva and she knew it. She also went through 4 moves with me! She changed my world so much. She was also great at helping little kids who had a fear of dogs get over that fear. A year after I adopted CJ, Jupiter came into my life. Even though it took these two 2 years to really cuddle, they hated being away from each other. CJ you brought so much into my life; new friends, a wonderful support system, love, companionship, and lots more. Just shy of having you 4 years, you were taken. I am so thankful that you did not suffer and that we found the tumor on your heart so quick. Although you passed at a young 8 years old, you had a full and loved life. Everyone who met you loved you right away. I know that you are running free and in no pain at the Rainbow Bridge. One day we will be together again.
Johnny Savage
July 13, 2001 - July 21, 2009
It is with heavy heart and deep regret that I inform you that my beloved Johnny Savage had to be put to sleep on 7/21/09 - He had just turned 8 years old. The ultrasound indicated multiple tumors on his heart and spleen. The humane and loving option was to put him to sleep quickly. The blessing is that he was running and chasing a ball at 8 pm the night before and seemed to be healthy and in no pain—until the quick end. His golden heart stopped beating as he lay in my son Craig & my arms. Though we only had him a little over 3 years, we take comfort in the fact that we gave him the love, peanut butter treats and kind home he deserved. We thank him for giving us joy and loving us unconditionally - we will miss him always. Jeanne & Steve Jenkins & Family
Lucy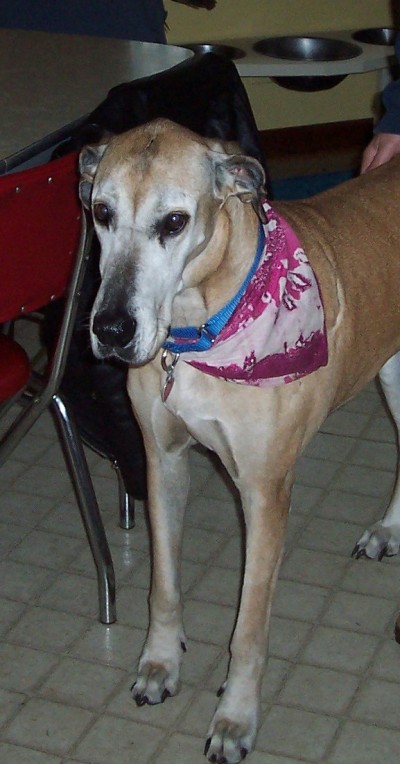 February 1997 to October 6, 2009
Our Beloved Lucy ~~ Lucy was not a Greyhound, but had the pleasure of living with one. When we got Lucy nearly three years ago, she was already 9 ½ years old, quite elderly for a Great Dane. Our wish for Lucy was to give her a wonderful life for whatever time she had remaining on this early and to make that time full of love, fun and relaxation in her golden years. If I had known at the time when we got her that I would eventually have to help her cross the Rainbow Bridge, would I have made a different choice and not brought her home? Not in a million years and one day more. Knowing that I was there for her final moments may have brought us both the peace we needed. Her final days were not pleasant due to her arthritis and whatever else was causing her to let go. However, we kept her comfortable in the end and when it was time to say goodbye, I stroked her head gently, told her what a good girl she was, how much she was loved, how much she would be missed ~~ as she shut her eyes for the last time. What I will remember fondly about Lucy is on her good days she acted just like a puppy. And, there were many more good days than bad, for which I am grateful. Lucy loved to run around the front yard, roll on her back in the warm grass, go for long walks, play with our Greyhound, Jupiter, chew on a rawhide bone until it turned to mush, bark at the squirrels and anyone who came onto the property, play in the surf at the beach (we took her there for her very first time in the ocean), walk lazily around the property looking for yummy things to eat, dig holes in my flower beds (sorry, Mom!), and of course, sleep. It's never easy to say goodbye to someone who brought so much joy and asked for nothing in return. My family and I will miss her forever and one day more. I know that her pain is gone forever and she is playing with all the dogs on the Rainbow Bridge, running happily like a puppy once again. Perhaps, she has met Nero, our Greyhound/Dane mix who we lost just 2 ½ years ago. For now, she is finally in peace. We will always love you, Lucy. Thank you for your generous gift of unconditional love. Lucy will always be loved by Jeanmarie, Sean, Alex, Conner and of course, Jupiter
Dolphin (Indus Dolphin)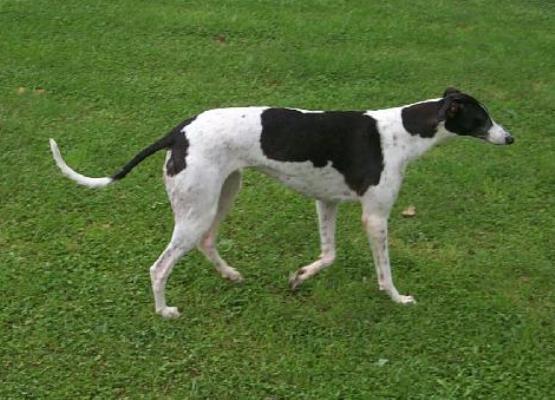 October 2003 - May 2009
On Friday May 22, Dolphin crossed the Rainbow Bridge. I found out on Monday May 18th that she had advanced lymphoma. I had hoped to have a few more weeks with her but it was not possible. Dolphin was the most human loving dog I have ever encountered. She never met a human she didn't love. She would whine and cry when she was in the car or looking out the house window if a human passed by, because she felt she was missing out on the great joy of giving kisses and getting petted. If you ever met her in person, you know what I mean. For me, she left a hole in the fabric of my Universe when she crossed to be sure. But she did not suffer. It was caught before that started and she went to sleep, in my lap on her blankie, eyebrow deep in a lightly seasoned, slow baked, chicken breast. The next time you look out on a beautiful horizon, say a hello to Dolphin. Alice
Lily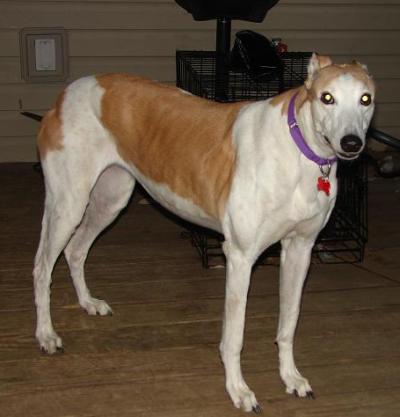 1996 to 2009
Our beautiful Lily crossed the Rainbow Bridge this afternoon. She turned 13 last month. We took Lily in as a senior 5 years ago. She was the most beautiful greyhound lady. She will always live on in our hearts!
Nemo (Frankie the Fly) & Fry (Frye's Alley)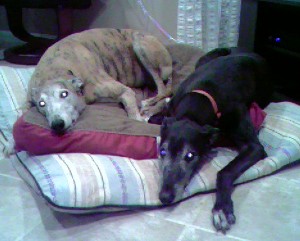 Nemo (April 2000 - February 2008) & Fry (April 2000 - March 2008)
I have lost my two boys, two littermates that had their ups and downs but were destined to be together, apparently in every aspect - rejoined in life and rejoined again at the Rainbow Bridge. We went through so much with these boys and overcame so many obstacles - it's just too much to say, I could write a book. We lost them both, Nemo first on February 24, 2008, and Fry on March 31, 2008. After a lot of work and diagnoses that were incorrect, it was the underlying cancer that took my precious babies at the end. These boys changed my life, changed my priorities, and changed me forever. No matter what the challenges were, we faced them head on and would have never considered not making it work, with love, patience and time. You boys taught me that I could even handle your sister Roxy! And it did work... my little pack worked. I feel that life was cut way too short for these boys and me; I have had my boys taken away from me so soon. I will never get over this; they are with me in my heart every single day of my life. They helped me become active in animal rescues of all kinds. They kept me grounded, they kept me doing what I should be doing - living, and living life in my own house that was so filled with unconditional love - it's a love of animals and the "unwanteds," the throw-aways. That is now my mission and my cause in my life. They made me a better person. I miss them. I miss Nemo laying his 88-pound self right on top of me on the couch. I miss Fry nuzzling at me and talking to me - he was SUCH a talker, a whiner, a barker... He spoke to me to tell me what he needed! I miss nursing him through his epilepsy, I miss worrying about the next seizure, I miss every single thing about them both. I especially miss their eyes looking right into my soul, and I miss the love I felt from them. I still cannot quite face the fact that when I wake up in the morning, it is not Nemo waking me up - he was my alarm clock. I still cannot deal with coming home from work when they were all at the window watching, excited that I was home and right at that front door waiting for me to come in. I think the simplest way to put it is that I did not rescue Fry and Nemo - Fry and Nemo rescued me. They saved me, they turned my life around and because of them, I am helping other animals in need. It is all because of those boys. They saved lives. Because of them, I also have Daisy and Roxy, a rescued cat, and many "throw-away" parrots. I never would have gone this way in my life if I hadn't adopted Fry, my first grey, and then Daisy, and then my Neems... which led to Roxy! And then it took off from there with the birds. Thank you, Fry and Nemo - you boys will remain a part of me forever; you have taught me so so much. I cannot wait to meet you at the Bridge - I cannot wait to kiss you and hug you and tell you thank you, thank you, thank you, for being in my life. I cherish you boys; I cherish every single moment of your lives with me. I love you. Run free, my sweet angels. You have made your mommy a better person and changed me for the better. I owe you my life The Stermer Family
Minnie (Vonda) & Sandy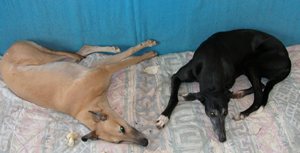 Minnie (June 1999 - May 2005) & Sandy (December 1998 - April 2008)
Minnie was our "spook." She would sleep with one eye opened. Sandy was our sweet girl, always giving kisses. Minnie passed away after a brief battle with osteosarcoma. Sandy died suddenly from a possible seizure. Both girls are missed by the Mathers Family.
Buddy (Ps Ted)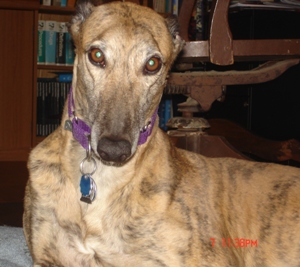 September 2001 - February 2008
What can I say about Buddy? He was my best friend, a member of our family, my faithful companion, and my shadow. A laidback and easygoing guy, he loved to come up to have his head and neck scratched and even when he was sick, he still let me know that he knew when it was dinner time - he loved his food! He had moments of playfulness, and he and our bulldog Maddie got along great - she now sleeps with his blanket; she misses him so much and she still puts out her toys in hopes that he will come back. He loved to help do the laundry - a pile of clothes fresh from the dryer was his favorite thing to sleep on, and he loved to be told that he was a pretty boy, a good boy, and a sweet boy. He would come and great my mom and me at the door when he would come in with a happy, smiling face and a wagging tail. He gave unconditional love, and we will miss him so much. The Humphries Family
Flash (A Bar Hal)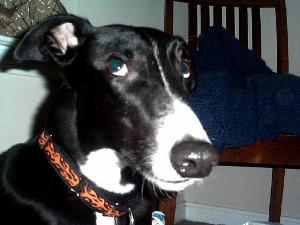 July 2000 - May 2008
Flash first came to live with my family as a bounce that we fostered. At that time, we thought that he would only be with us until he found his forever home. Who knew he was already there! He was so silly and goofy! Everyone that met him fell in love with him. He was so in tune with his family; it was almost as if he could read our minds. We never had to scold him, raise our voices, send him to time out, etc. He was a gentle giant full of love.
While cooking in the kitchen, Flash would lean against my leg always moving with each step. He was such a Velcro boy! I loved to sing silly little songs I made up to him. He would always try to sing along with me by Rooing or barking (or maybe he was telling me to please stop).
When I was told he had osteosarcoma, I felt my heart begin to break. Knowing how deadly and quickly bone cancer spreads, I began to do everything I could to make him comfortable. When it got to the point that I could sense he was in pain, it was time to free him so that he would not have to endure the terrible pain cancer brings. It was the hardest decision I have ever made, but my love for him overrode the selfishness of wanting to keep him here with me while he suffered.
Our girl, Bobbie, was always a lonely spinster grey until Flash came into her life. She never wanted anything to do with any grey. It took a while for Flash to make his way into her heart, but after about a year of persistence, he finally won her over. She has not been the same since he left. He was definitely her special boy!
Over the years he grew to be my heart dog. I never understood what that meant, until I had to say goodbye to him. You will always have an important place in my heart. Good bye, sweet boy! We Love You!
The Richards Family
Shyanne (Birdie Finish)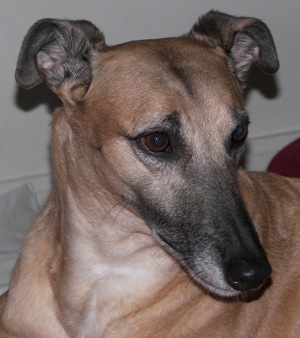 April 2002 - June 2008
From the first time we saw Shyanne's picture, we knew she was the "one" for us. When we inquired about her, we were told she had been adopted out to a family in CT. Three weeks later we received an e-mail saying they found a perfect match for us, and to our surprise it was Shyanne; we were definitely meant to be together. Within two days she was cockroaching on our floor. She was finally home.
Shyanne was the definition of "spoiled." We rarely sat on the couch as Shyanne preferred that we sit on the floor and give her all of our love and attention and yes, we granted her wish. When she got tired of us petting in one spot for what she considered too long, she would turn around and give us a look to let us know, "Move to another spot please." Everybody in the house could eat except for her mom; Shyanne would dig her toe nails into the carpet and bark until she got my undivided attention. This was her way of letting me know it was time for her dog treat.
Although her time with us was too short, only three years, we shared so many wonderful and joyous times with her. We would like to thank Greyt Expectations for giving us the opportunity to share our loving home with such a great dog. She will be truly missed but never forgotten.
The Barboza Family
Pearl (Algoa April)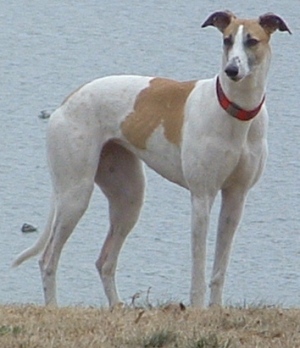 February 2000 - February 2008
We first met Miss Pearl at 4:30 in the morning when we drove to Aberdeen, MD, to meet the hauler that came down from Seabrook. Back then we did not get pictures of the incoming dogs, and Pearl had been sent down for us as a match for our Greyhound, Onyx. As we stood in the cool October night, I was wondering what she would look like and if she really would be a good match. I will never forget that first encounter when Kenny opened the hauler door, lifted her out and lowered her to the ground. She was beautiful! We were lucky to have Pearl in our lives for just shy of 4 years, although we never thought we would say goodbye so soon. Shortly after her 8th birthday, we helped her to cross the bridge when she became ill and was diagnosed with a mass on her spleen. Pearl is buried on the farm with the others that have passed. No doubt they were there to greet her when she crossed the bridge. She did become a great friend for Onyx and later when Alfred came, they became a balanced, happy pack. They miss her too. She loved to meet the people visiting Greyhound Central and welcome the new dogs. She would talk like an Ewok and would carry on an entire conversation with anyone willing to talk back. She was a bit of a clown, and I know that she is making the angels laugh. The Parran Family "We who choose to surround ourselves with lives even more temporary than our own, live within a fragile circle, easily and often breached. Unable to accept its awful gaps, we still would live no other way. We cherish memory as the only certain immortality, never fully understanding the necessary plan." ~Irving Townsend
Sophie (Sobe a Good Girl)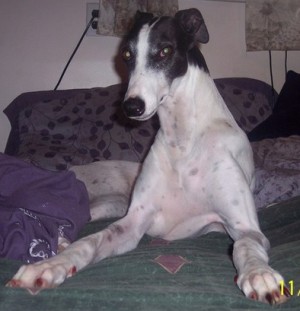 April 2001 - December 2007
We lost our beloved princess, Sophie, on December 10, 2007. Sophie had begun limping on March 31 after a nice romp in the yard with her two grey brothers and a foster girl we had at the time. We hoped she had just pulled a muscle or twisted something. After a few days of no improvement, we took Sophie to the vet and had x-rays done on her rear left leg, and she was put on medication for a soft tissue injury. I was told to return if she didn?t get better. Unfortunately, she didn?t get better, so off to the vet we went again. The vet referred us to an orthopedic surgeon. After our consultation, our worst fears became a reality. Sophie likely had osteosarcoma, a dreadful and very painful form of bone cancer. Sophie went through a painful bone biopsy to try to confirm the diagnosis, but the biopsy didn?t give enough information. The next step was amputation so that they could test the whole bone. This was a very difficult decision for us to make, but we had to give our girl a chance. On May 22 Sophie went in for her operation. She was a brave little girl. After about 2 weeks of waiting, the results were in; Sophie indeed had OS. She was given 9 months at the most to live. Our family was devastated, as our girl had cancer and would never get better. Sophie went through months of chemotherapy and did very well. She was running again and just looked like she was loving life. Matter of fact, in my mind, I really thought she had beaten it. However, in the beginning of December, she seemed to be slowing down, became very depressed and stopped eating. We took her back to the vet where she had chest x-rays, which confirmed that the cancer had spread to her lungs. Sophie didn?t have much longer to live. We took her home and spoiled her like you couldn?t imagine. She continued to go down hill from there. On December 10, Sophie crossed the rainbow bridge in the presence of me, my husband Greg, her two grey brothers Johnny and Shadow, and my dear friend Tracy (Thank you, Tracy). The cancer had won the battle against a brave little cowgirl Greyhound princess. Our sweet princess is greatly missed every day. The Arnold Family
Jay West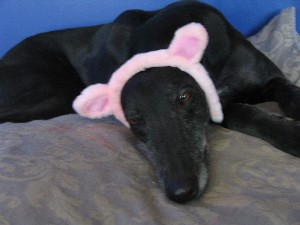 February 2002 - September 2007
It is difficult to describe our Jay, he was quite a character. His personality came out a lot sooner than our first Grey. He had a bit of separation anxiety but we worked that through. Jay loved kids; I remember on his very first walk with us, he saw my neighbors' kids on his way home, and he practically pulled Dave's arm off just to see the kids. His tail never stopped wagging. Two very different personalities between the two dogs; Jay was more energetic than our other Grey, and we were very thankful for that. It got Mr. Hunk off the couch and got him playing with dogs his size. My whole family misses Jay. I miss the clicking of his nails on the floors when I go to let them outside. So many little things that we won't have anymore now that our beloved Jay is gone. I thank GEGR for giving us Jay and letting us share our home with this wonderful, wonderful dog. He will always be in our hearts. Jay, we miss you and love you VERY much!!!! The Huber Family
Nero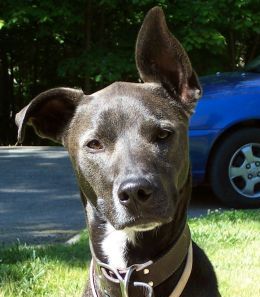 October 2001 - January 2007
We lost our beloved Nero on January 6, 2007. He got out and was, tragically, hit by a car not very far from our home. After a heartfelt, tearful and difficult burial of someone so very special to us, we found it difficult to carry on even the simplest of daily activities. Everything, for each one of us in the family, was a chore to get through. Somehow we got through our days and along the way, we found the GEGR website. After speaking with Joan Nussberger of GEGR, I realized that we were not the only family out there who felt so completely lost and devastated without their companion pet. Joan told me it was not uncommon to get another Greyhound shortly after the loss of one so special. Although Nero was not a retired racing Greyhound, he was a Greyhound mix, with his predominant characteristics definitely that of a Greyhound. His favorite game was to run at us as fast as he could and then dart away at the last moment. If you could manage to dodge him, he would growl impishly and make another pass at you. Nero also loved to ride in the car, and when that was not a possibility, would sit in the car or truck for hours; sleeping and feeling totally content in his world. We felt that Nero led us to GEGR in some way, and now after adopting Jupiter (formerly Kenobi), I firmly believe this to be true. Although we only had Nero in our lives for a short 3 ? years (after rescuing him from the Charles County Humane Society) he has made a lasting impression on us all. We have been changed and now feel compelled to honor his memory by helping rescue and care for other Greyhounds in need. The Hedges Family
Dakota and Hayride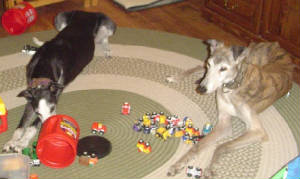 October 1993 & July 1991 - August 2006
Some of you may know the history of Greyt Expectations. As you might have heard, the original Southern MD Greyhound Adoption Agency was a small group called the Last Lap Greyhound Connection. It started with a pair of Greyhounds, Hayride and Dakota. Their adopters, Russ and Erin Cole, brought them to local fairs and festivals so that the area could be aware of the opportunties Greyhound Adoption presented. Many visitors to the promotional booth wanted to adopt Hayride and Dakota themselves, but they already had a home. So, Russ and Erin began fostering for The Ark for Greyhounds, so that they'd have an available dog(s) to take to events. Shortly thereafter, they began making their own rendezvous with the folks in New Hampshire to bring a few dogs at a time down to our neck of the woods. As time wore on, more Greyhound friends were made. Deb and George Johnson were among the many supporters. When Russ and Erin decided to plan their wedding, they admitted to the fact that full concentration could not be given to the Greyhound Rescue efforts. Therfore, they enlisted the help of the Johnson family. Then Greyt Expectations was born. The momentum continues and we are all "greytful." We just wanted you to know that Hayride and Dakota have recently crossed the Rainbow Bridge. Please read about them here: Dakota and Hayride's Stories. Hayride was 15. Her back legs were weakening, and her digestive tract was not absorbing nutrients as well as it used to, not to mention that her senses were failing. Dakota was 13 and old racing injuries had finally caused her spine to degenerate more than Glucosamine could compensate for. Both dogs were in pain, and their suffering needed to be handled responsibly. We held them close as they slipped from this world and headed for the Bridge. It gave us solace knowing they crossed together. We hold many memories and sincere gratitude for all they inspired us to do.
Bellagio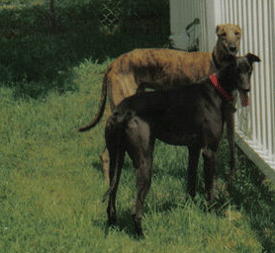 June 2003 - February 2006
In a tragic accident, our Bellagio was hit by a car in front of our home and passed away minutes after. Bellagio was the tuxedo boy and the brindle is Johnny. In Johnny's words, here is what made Bellagio so special. Bellagio was such a good brother to me. When Mom & Dad adopted me I was really scared, afraid and lonely. Mom & dad tried their best to help me come out of my shell and I was slowly doing it. When I heard everyone talking about vacation I thought, "WOW, that sounds neat, I can't wait to go!" Little did I know that I wasn't going with them. I stayed at Miss Joy's house while they were gone and I met their dogs, Buddy & Trey, and their foster, Bellagio. When I saw Bellagio jumping all around and acting goofy when I was dropped off I thought," Boy, glad he doesn't live with me. I hope he isn't like this all the time." Well, I found out that he wasn't too bad; I tolerated him. Everyone was sure nice to me at Miss Joy's but I sure was glad when Mom and dad came to pick me up. Well, Bellagio started acting all goofy again, jumping around, getting into everyones' faces, especially Dad's. Dad looked like he was having a good time with him; he had a big smile. I had heard about how Dad used to always play around with a Rotti he had before I came along. He tried to get me to play with him but I was just too scared. Anyway I couldn't wait to go home to chill & be with them. One night Miss Joy brings Bellagio over and I figured it was for a visit. Boy, was I surprised when I found out he just became my brother. I told him how it was around the house, I showed him around, told him where I slept, explained how things went around here. He didn't listen. You know how those youngsters are, they think they know everything but they don't. Over the next six months, he and I became best buds; he taught me a lot for being younger than me. He helped come out of my shell more; we used to race around the yard together, play tug of war, sleep together, we went to some meet & greets where I met new friends, I could go on and on. All that's changed now, it's so quiet around the house without him. Everyone is so sad and upset here including me. It's just not the same without Bellagio, I'm hardly eating. Instead of racing outside, I just mosy on out, do what I have to do and come in and lay in my bed. ---Bellagio, why did you have to leave us so soon? We really miss you, you will not be forgotten brother. You hold a special place in my heart. I love you, Bellagio. Until we meet at the Rainbow Bridge, may you rest in peace and your soul run free, brother. See you in my dreams Love Johnny
Luke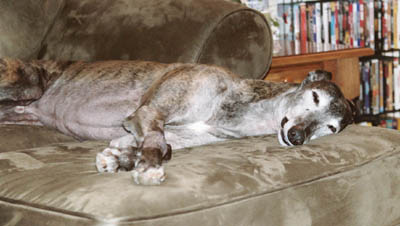 Oct 1997 - Aug 2005
On a warm June evening in 2003 while visiting our house that was under construction, my husband and I met a Greyhound named Luke. He was being fostered by Art and Janice Pruett, our future neighbors at the end of the street. We had already met their dogs Dancer and Gus and assumed that they had added a third. They informed us that Luke was going to be up for adoption and wouldn?t he make a wonderful new house gift to ourselves? He was a sweet and quiet brindle looking for love and we were planning on adopting a dog once we moved in. This grey was a very confident dog; nothing frightened him and he would go up to anyone or anything in search of a willing hand to pet him. On our way home that night we were in the car maybe five minutes when we decided that we wanted to adopt Luke. A day after we moved into our house a month later, we officially became his ?parents?. The beginning was rough getting Luke through his separation anxiety, but the love he gave us and we had for him was instant. He really stole our hearts. Over the past two years we have loved Luke like he was our child and we even called him our ?son?. Without fail, he?d greet us every time we walked in the door, jumping around and rubbing up against our legs. He was so happy to have a forever home and all the spoiling that came with it. Every morning he had his routine, walking with Daddy and then sleeping on the bed with me until I had to get up and get ready for work. He lived for bedtime because that?s when he got his nighttime cookies; performing every trick that he knew to get those treats. What a silly dog, that Luke, and loveable. He made friends wherever he went. He made himself such an important part of our lives. We loved taking care of him and spoiling him rotten with treats and presents and unlimited petting and kisses on the snout. We hoped that he would live forever? We recently found out that he had osteosarcoma, and incredibly malignant and insidious bone cancer. His tumor had grown almost the entire width of his bone and therefore made his leg very fragile. The doctor believed that by the size of the tumor that the cancer probably had already spread and had seen some suspicious spots on his lungs. Because this kind of cancer is so terrible, we did not want to selfishly put Luke through amputation of his leg and chemotherapy just so we could have him around a little longer. Our boy was so special to us that we didn't want him to break his leg or go through any more pain than he was already in. So, on Saturday, August 20, we took Luke to the vet and let him go peacefully. We didn't think that we could love an animal as much as we loved our Luke; he was our baby. We mourn his loss and have cried many tears, but we are thankful for the time that he was with us and for all of the unconditional love that he gave to us. It?s incredibly hard to walk into our house and not have our boy anxiously waiting at the door, or bugging us for treats, or laying beside us on the couch. While his absence breaks our hearts, we know that his spirit will always be with us, and he will live on in our memories. We just hope now that he is in heaven with an unlimited supply of cookies, cushy clouds to lie on, and bunnies to chase all day. We love you Luke! The Paterno Family
Zos Sarah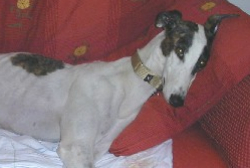 November 2001 - April 2004
Sarah began limping when she went to her foster home. Fearing a muscle injury had been aggravated while she was climbing a staircase, she was given some pain medication and had her exercise restricted. The limping began to get worse. Her foster family was sure that she was in constant pain that was progressing despite the pain medications. During a medical procedure to ascertain the extent of her injury, it was discovered that Sarah had advanced osteosarcoma and the decision was made to relieve her pain forever. Her foster family, The Nussbergers, has since posthumously adopted her. They wanted her to know that she did find her forever home before she passed on, despite the lag in the paperwork.
M's Lady Joy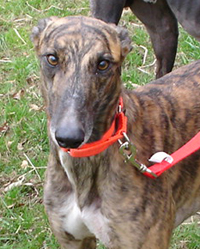 February 8, 2002 - December 27, 2004
Joy was a devilishly intelligent girl who loved to get into all things new. She came off the track ready for a new adventure in her foster home as she searched for her forever home. She actually met someone who wanted to adopt her within the week, but unfortunately she took ill on Christmas Day and passed a few days later before she was formally adopted. We suspect that she died of complications related to a tick borne disease, so please don't let her death be in vain - if you have any doubts check your dogs for tick borne diseases.